Coffee Savings!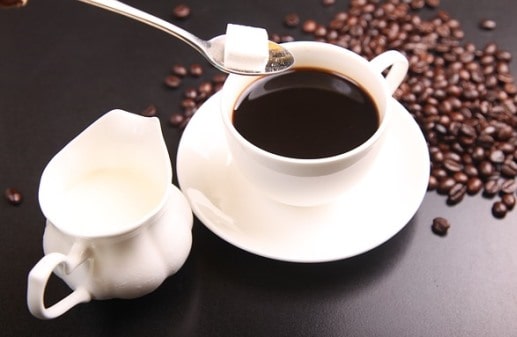 Do you like a good cup of coffee? I drink coffee every morning. And I have for years. Certainly, I do not let it eat up my budget. Furthermore, a few bucks here and there even if it's coffee savings is one key component to building wealth. Most noteworthy, coffee and I have a long relationship.
IN THE BEGINNING
First of all, I started drinking coffee in college. That was way back in the mid-1980s. Grabbing a cup in the dormitory cafeteria or in the student union was the way to go back then. It didn't cost much if memory serves me correctly. In fact, it came with the dorm's food service plan.
During my first professional job, I almost always worked in client offices as an auditor. Just about every office had free coffee, so I would grab a few cups to start the day.
THE NEXT PHASE
When I moved on to a new career opportunity, I had a long commute. That's when I started buying cups of coffee. So I stopped at a local convenience store near my apartment for a large cup every morning. If I didn't do that, I would buy a cup in the company cafeteria when I got to work. I'm guessing the cost of those large cups was around a dollar. It might not have cost much, but there wasn't much coffee savings going on in my life at the time.
It was the early 1990s and coffee houses like Starbucks hadn't become popular. In fact, Starbucks barely existed outside of Seattle. Since then Starbucks has grown from nothing to about 13,000 stores in the US today. And of course, they make a premium brew along with other drinks for a premium price. There are no coffee savings by going there.
COFFEE SAVINGS
After turning 30 years old the world of work was starting to take a toll. So I started looking for ways to save and manage money. Why? Every dollar saved was a dollar closer to kissing "the 9-5" (actually it was more like the 24-7) grind goodbye. Consequently, that dollar or so a day looked like an opportunity.
Remember that you get to keep every dollar you save. On the other hand, taxes take a cut of every extra dollar you earn.
So I bought my first coffee maker, some coffee filters and a container of coffee. Homebrewing had begun. Wow, about 25 years ago.
It would be a lie to say I never buy a cup of coffee anymore. In a pinch, I'll buy a cup here and there, but for the most part, I homebrew. And start every day with my own coffee.
Usually, I drink it at my desk as I read the news, catch up on my teaching work or blogging activities. I have a big commuter mug. So if I have to head out of the house the coffee can come with me.
Here's my current set up.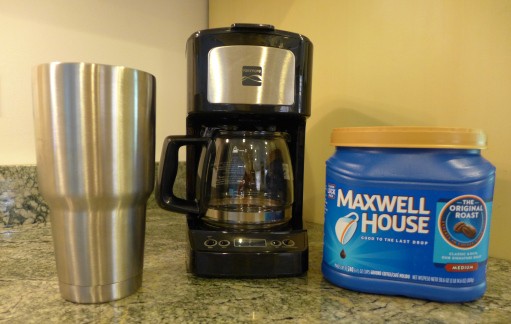 Sweet isn't it!
First, the Kenmore Perk coffee maker. I'm on at least my third one. It costs less than $20 and will last a couple of years. I've had other brands in the past, but this is my favorite. Mrs. DD doesn't drink coffee, so a smaller coffee maker works best for me.
Next up is a Yeti insulated mug. It was a Christmas gift from my niece.
And some good to the last drop Maxwell House coffee. I'm not very fussy about my coffee grounds. Hills Bros. or Folgers will do just fine too.
RUNNING THE NUMBERS
All in all, I figure the 4 cups I drink each morning which fills the Yeti mug to a comfortable level costs me about 15 cents. An equivalent cup at Dunkin or Starbucks probably costs about $2.00 these days. Most noteworthy, I checked the price at my local Dunkin Donuts yesterday and it was $2.39 plus tax. Using $2.00 to be conservative, here's how the savings of my homebrew adds up:
Savings Per:
Day $1.85

Week $12.95

Month $55.50

Year $673.40

25 Years $16,835
And it can be more. If you are tempted to upgrade your drink at your local shop or buy something else while you are there, the savings become more. And with a little extra money on hand, you can always invest in a few dividend stocks to compound your returns!
WRAPPING IT UP-COFFEE SAVINGS
I'm not here to tell you what to do. Furthermore, if you don't mind spending the extra money for your coffee habit, why should I? I'm just here to tell you it's one way to save money.
And saving money is one of the key elements to achieving FIRE and paying off debt. FIRE stands for financial independence retire early.
Do you drink coffee? Homebrew or purchase out? Leave a comment and let us all know!
BE SURE TO SUBSCRIBE
As part of your subscription to Dividends Diversify, you will get 20 wealth building and investment tips free! Also, never miss a new post. I will send a weekly email to all subscribers with a link to the current weeks new content. And thanks for visiting.
PINTEREST
Finally, are you a Pinterest user? Then be sure to follow Dividends Diversify on Pinterest by clicking this link: Pinterest Home Page. Then click the red follow button. And thanks for following!