5 Reasons Why Tennessee Is A Cheap State To Live In
Before deciding to move to Tennessee, the cost of living should be a serious consideration. So, let's explore this question: why is living in Tennessee so cheap?
Please allow me to address the question straight away.
Why Is Living In Tennessee So Cheap?
Living in Tennessee is cheap because of the reasonable real estate prices, low costs for utilities and groceries, and the state's favorable tax structure. Since everyone needs food, a comfortable place to live, and must pay taxes, Tennessee's cost of living is lower than many other places.
Next, let's dig into the information supporting this answer so you will better understand why moving to Tennessee is easy on your budget.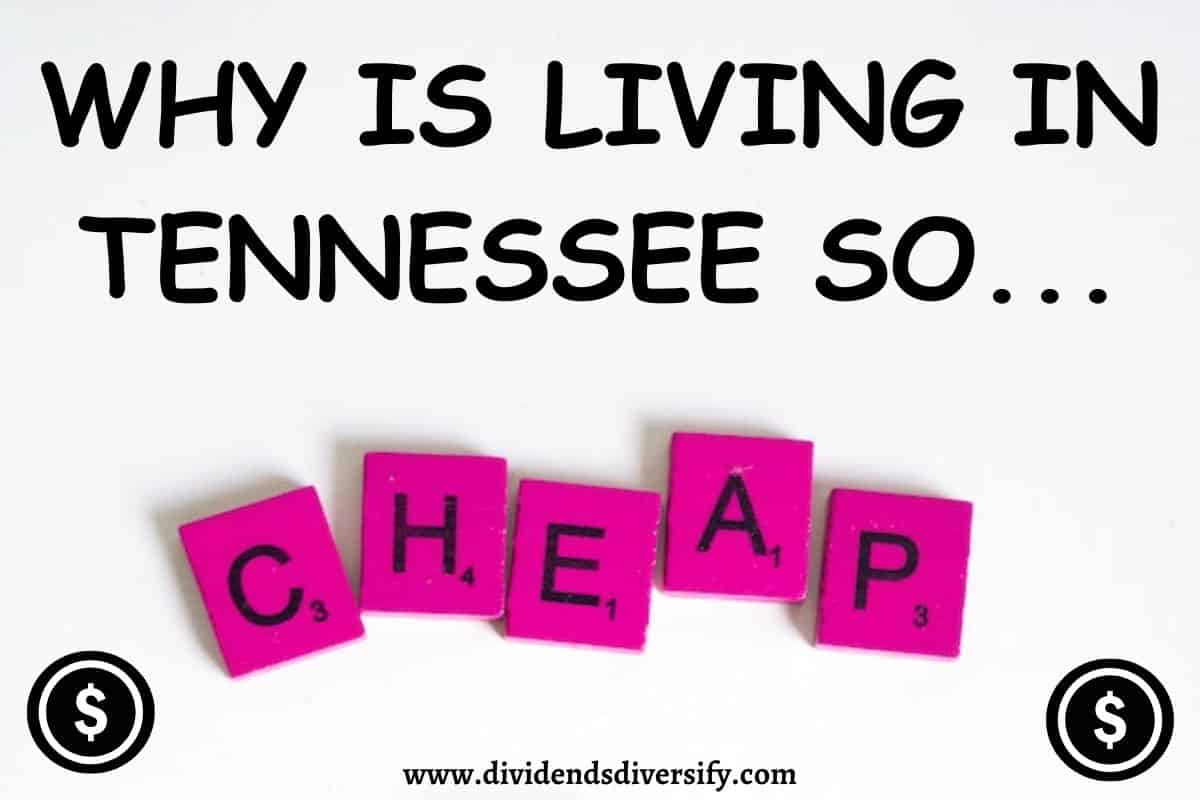 Disclosure: At no cost to you, I may get commissions for purchases made through links in this post.
Criteria For Concluding If Tennessee Is A Cheap State To Live In
Suppose you care about keeping your living expenses in line. In that case, I recommend you focus on the following five cost-of-living areas:
Housing costs
Utilities
Property taxes
Groceries
Income taxes
I highlight these items because everyone needs a place to live and food. Furthermore, the other certainty in life is paying taxes.
At the most basic level, all other budget categories are discretionary. Additional expenses like transportation, health care, and entertainment are noteworthy. However, they will vary dramatically from one household to another.
Here are some examples to explain what I mean.
For transportation, some people have three vehicles parked in the drive, while others choose not to own a car.
The cost of health care may be significant for a couple moving to Tennessee during retirement. But not so much for a healthy 20-something professional concerned about getting out and enjoying the live music and Nashville nightlife.
These additional budget categories (transportation, healthcare, and entertainment) also add to living cheaply in Tennessee. They aren't today's focus; however, I will touch on them before wrapping up.
So, let's get on with today's reasons why Tennessee living is so cheap.
1. Living In Tennessee Is Cheap Due To Reasonable Real Estate Prices And Low Utility Costs
Tennessee's median home value is nearly 10% less than the median-priced home in the United States.
Source of U.S. median home price: Federal Reserve Bank of St. Louis economic research
Source of median Tennessee home price: Redfin
Thus, home prices may be reason enough to buy a house in Tennessee. I recommend engaging with an excellent real estate agent in the area you are interested in to get the best deal.
2. Live In Tennessee For Less Money Because Of Utilities
Tennessee utility bills are affordable. A recent study ranked Tennessee in the lower one-third of all states nationwide for electric, gas, and other energy sources to power your home.
Source: WalletHub
Considering that housing takes up the most significant portion of a family's budget, home prices and utilities are a big reason the average cost of living in Tennessee is so cheap.
3. Low Property Taxes Make For Cheap Living In Tennessee
Living in Tennessee is so cheap because of real estate taxes, also called property taxes.
Whether you rent an apartment or buy a home, you will pay property taxes on your housing. You do so directly as a homeowner and indirectly as a renter.
Your property taxes in Tennessee are based on two things.
First, the assessed value of your home. Second, the property tax rate.
You already know that Tennessee real estate is a good value. And now I'm telling you Tennessee's property tax rate is low.
The state does not assess a property tax. However, county governments in Tennessee do.
Here's the good news. The property tax rates assessed by the state's counties are comparatively low.
What can you conclude from this discussion? Tennessee has some of the lowest property taxes in the entire United States. As a result, Tennessee residents enjoy one of the top ten lowest property tax bills of all states in the country.
4. Tennessee's Cost Of Living Is Low Because Of Grocery Prices
Tennessee's cheap living is partially a result of 7% lower grocery prices compared to the average cost of living index for food in the United States.
Source: Balance Everything – Average Food Cost Per Month
Of the three non-negotiable items in every family's budget (housing, food, and taxes), groceries consume the second largest share of total expenses. So managing grocery spending while keeping everyone fed is a big reason you can live in Tennessee on the cheap.
Be sure to save more by signing up for the cash rebate app from Rakuten. Best of all, Rakuten works no matter where you settle down.
For a limited time, get $10 for signing up and making your first purchase. Then, earn cash back rewards for everything you buy online.
5. For Living On Less, Taxes In Tennessee Make It A Tax-Friendly State
Tennessee living is cheap because the state does not charge residents an income tax. Tennessee is one of only nine states of its kind.
Thus, your earnings from the following items are all free of state income tax:
Job
Business
Social security
Pensions
Retirement accounts
Interest
Dividends
Capital gains
Source: Investopedia
Let me provide an example.
An average household in the U.S. earns about $75,000 per year. By moving to North Carolina versus Tennessee, this household in North Carolina will pay a 4.75% state income tax rate, or about $3,500 in state income taxes each year.
Your current state tax liability will depend on where you live, the tax rate your state charges, and how much money you make.
Thus, living in Tennessee can be significantly cheaper for you as a taxpayer, depending on where you are moving from and how much money you make, because Tennessee has a very low tax burden.
However, Tennessee compensates for its income tax break with a higher-than-average sales tax. The state's sales tax rate approaches 10% in some regions.
More reading: Other tradeoffs associated with Tennessee living
Other Budget Categories That Add To The Cheap Living In Tennessee
Living in Tennessee is inexpensive because other costs I still need to highlight are also affordable. Examples include the following:
Transportation
Health care
Entertainment
Other personal expenditures
Costs in these categories run 5-10% below the national average. However, as I said earlier, the demand for these goods and services can vary significantly from one household to another.
Source: Missouri Economic Research and Information Center (MERIC)
Next, please allow me to wrap up with several concluding thoughts and questions. But first, please save this image to your Pinterest board: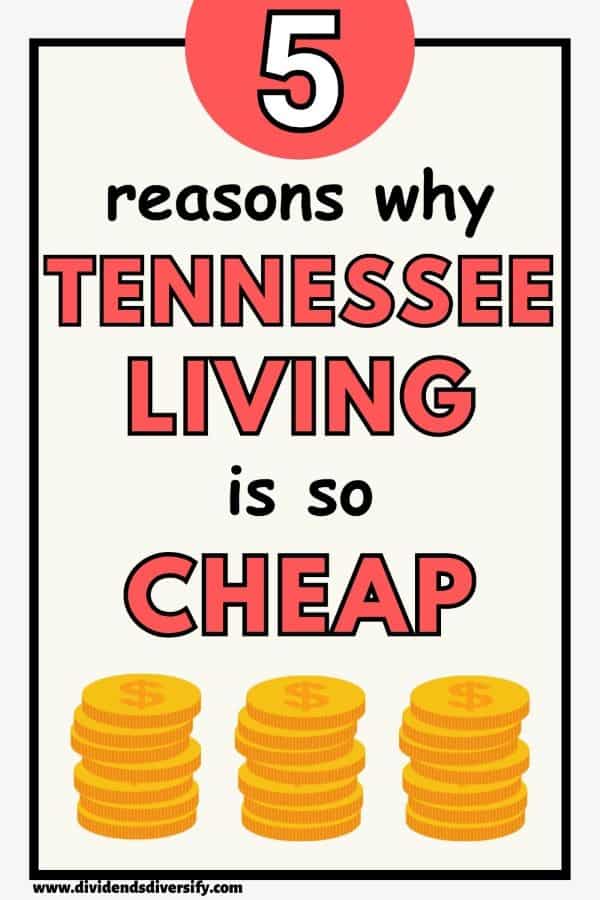 Why Living In Tennessee Is So Cheap: Wrap-Up And Conclusions
Living in Tennessee is so cheap because residents' costs in the following budget categories are typically lower versus other regions of the country.
Housing
Utilities
Property taxes
Groceries
Income taxes
Is It Expensive To Live In Tennessee?
No, Tennessee is a relatively inexpensive state to live in. However, many factors go into deciding where to move. But if you care about saving money, you won't be disappointed about moving to Tennessee.
How Does The Cost of Living in Tennessee Compare To The National Average?
Tennessee's average cost of living compares favorably to the rest of the country. The state frequently ranks in the top 10 of the cheapest places to live in the United States.
Source: MERIC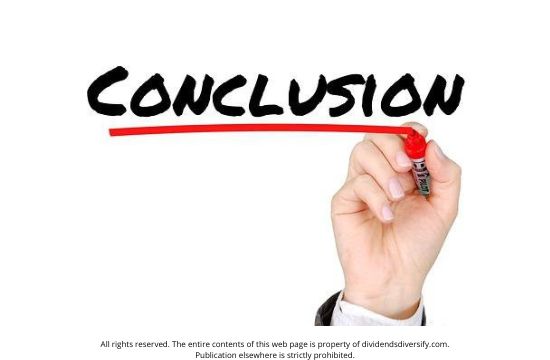 Author Bio, Disclosure, & Disclaimer: Please join me (Tom) as I try to achieve my goals, find my next place to live, and make the most of my money. However, I am not a licensed investment adviser, financial counselor, real estate agent, or tax professional. Instead, I'm a 50-something-year-old, early retired CPA, finance professional, and business school teacher with 40+ years of DIY dividend investing experience. I'm here only to share my thoughts about essential topics for success. As a result, nothing published on this site should be considered individual investment, financial, tax, or real estate advice. This site's only purpose is general information & entertainment. Thus, neither I nor Dividends Diversify can be held liable for losses suffered by any party because of the information published on this website. Finally, all written content is the property of Dividends Diversify LLC. Unauthorized publication elsewhere is strictly prohibited.
Full Explanation For The Question Why Is Living In Tennessee So Cheap?