6 Good Reasons To Buy A House In Tennessee
Should you buy a house in Tennessee? If that's your question, you have come to the right place because that's today's topic. So, let's fully explore the answer.
First, please allow me to address the question head-on.
Why Should You Buy a House in Tennessee?
Tennessee is a great place to buy a house for anyone seeking affordability, low real estate taxes, and favorable long-term investment prospects. Furthermore, Tennessee homeowners benefit from the robust state economy, urban amenities, beautiful natural scenery, and fun year-round things to see and do.
Next, let's dig into the details behind the answer so you will better understand the benefits of buying a house in Tennessee.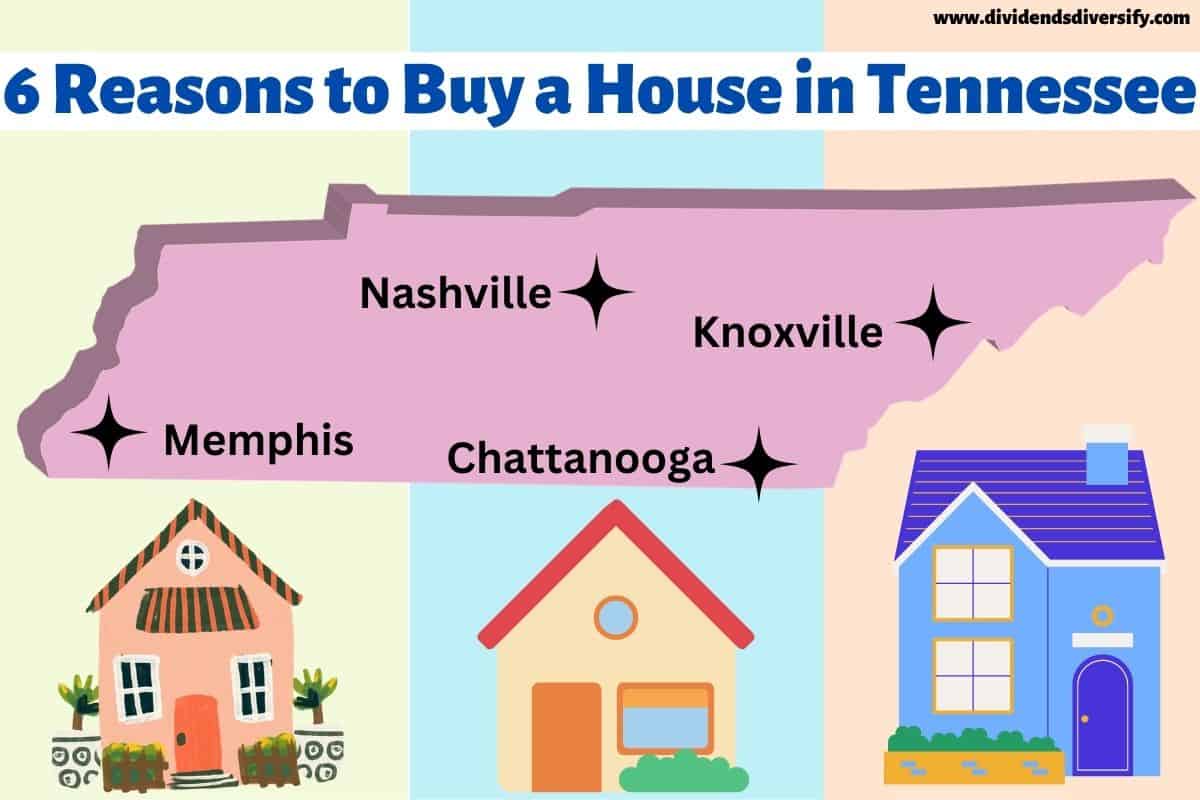 Disclosure: At no cost to you, I may get commissions for purchases made through links in this post.
1. Tennessee Houses Are Affordable
The first reason to buy a house in Tennessee is affordability.
I ran the numbers and found that the median price of a Tennessee home is about 10% less than the national average.
Next, I dug deeper for additional research to support my Tennessee housing market analysis. Here are the findings.
Tennessee houses rank as the least expensive in the country – source: Rocket Mortgage.
Finally, the Missouri Economic Research and Information Center indicates that Tennessee housing costs are 17% less than the national average.
Each local real estate market is different. So, it's wise to employ an experienced real estate agent to find the best location and deal for your circumstances.
More reading: Is Tennessee a safe place to live?
2. Houses In Tennessee Have Low Property Taxes
The second reason to buy a house in Tennessee is the low property taxes, also called real estate taxes.
Homeowners incur many additional and hidden expenses after buying a house. Property taxes are one such cost. Fortunately, these taxes help make it cheap to live in Tennessee.
A state's real estate taxes are a function of two things, the tax rate and the value of your property.
First, we already know Tennessee houses represent one of the best values for your money in the United States. Also, the state's average property tax rate falls in the lowest one-third of all states in the country.
By putting these two pieces of data together, Tennessee homeowners enjoy some of the lowest out-of-pocket costs for real estate taxes.
Finally, no matter where you buy a home, save money on your online purchases with the money-back app from Rakuten. When you are moving, every dollar counts, so why pay more if you don't have to?
You can learn more about Rakuten here.
3. Tennessee Home Prices Are Appreciating
The third reason to buy a house in Tennessee is the favorable long-term investment prospects.
Tennessee median home prices have increased by an average of 9% annually over the last five years. I calculated the return on investment based on Redfin's Tennessee housing market overview data.
The price appreciation of Tennessee houses means two things.
First, the longer you wait to buy a house in the Tennessee real estate market, the less affordable your home becomes. Second, you delay the benefits of owning an appreciating asset.
Thus, sooner is better than later to start house hunting in Tennessee.
4. The State Has Plenty of Jobs To Pay Off Your Mortage
The fourth reason to buy a house in Tennessee is the economy.
Most people like you and I buff up our credit scores, shop for the best interest rate, and take on a mortgage when we buy a home.
And how do we pay off that mortgage? Simple. We have a job and make money.
Here's the good news. The state has a diverse, productive, and growing economy. Furthermore, the low unemployment rate means high job security for paying off your mortgage.
For example, Nashville has one of the fastest-growing economies of any metropolitan area in the United States. Jobs here go well beyond the country music scene the city is well known for.
Chattanooga has become a hub for technology and other types of business startups. In comparison, the state's eastern region thrives on tourism. Finally, Memphis is home to the global shipping giant FedEx headquarters.
Related reading: Moving to Tennessee vs. North Carolina
5. Tennessee Is An Excellent Place To Retire
The fifth reason to buy a house in Tennessee is that it's a great place to retire.
Most people work or seek a new job to pay their mortgage. However, you may be in or approaching your golden years of retirement. Thus, careful financial planning has allowed you to own a home without working.
Retirees love living in Tennessee because of the following:
Reasonable cost of living
Zero state income taxes
Mild winter weather and distinct seasons
Access to highly-rated healthcare services
An exceptional quality of life
On the other hand, you may need more time before deciding to pack up and move to Tennessee. If that's the case, here's the sixth and final reason to buy a house in Tennessee.
6. Tennessee Is A Great Place To Buy A Vacation Home
Buy a second home in Tennessee and make it a vacation destination. Whether you enjoy urban getaways or hiking in the mountains, the state has something for everyone.
Owning a vacation home provides several benefits.
First, you can save on lodging costs when relaxing away from your primary residence.
Furthermore, Tennessee is a popular vacation destination. So, rent out your home when you aren't using it to help cover expenses.
Finally, your new vacation home may become your perfect retirement destination. Thus, you won't have to deal with the issues of moving to Tennessee right now.
Okay. That concludes my review of six reasons you should buy a house in Tennessee.
So, please allow me to close with a summary and some parting thoughts. But first, please save this image to your Pinterest board: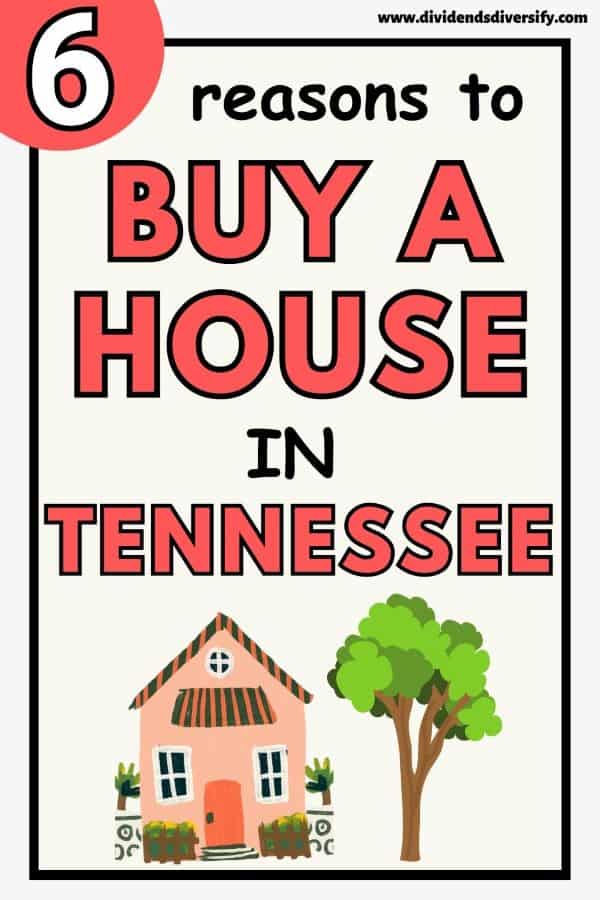 Wrapping Up: Why Should I Buy A House In Tennessee?
The main reasons you should buy a house in Tennessee include the following:
Affordability
Low property taxes
Home price appreciation
Good jobs in a growing economy
Top-notch retirement destination
Opportunities for a second home
However, owning a home in Tennessee may only be for some. After all, home ownership is a big commitment, no matter where you choose to settle down.
Also, some things could be better about living in this state. As a result, you should carefully examine the pros and cons of Tennessee living before taking the plunge into home ownership.
Best of luck, regardless of your final decision.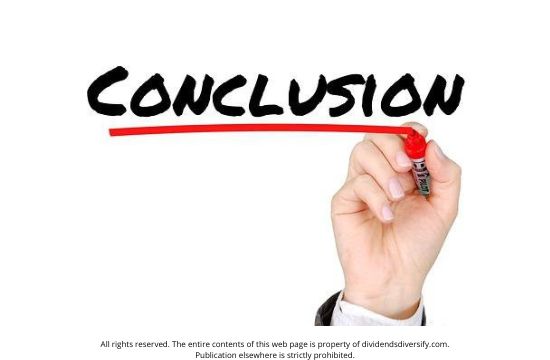 Author Bio, Disclosure, & Disclaimer: Please join me (Tom) as I try to achieve my goals, find my next place to live, and make the most of my money. However, I am not a licensed investment adviser, financial counselor, real estate agent, or tax professional. Instead, I'm a 50-something-year-old, early retired CPA, finance professional, and business school teacher with 40+ years of DIY dividend investing experience. I'm here only to share my thoughts about essential topics for success. As a result, nothing published on this site should be considered individual investment, financial, tax, or real estate advice. This site's only purpose is general information & entertainment. Thus, neither I nor Dividends Diversify can be held liable for losses suffered by any party because of the information published on this website. Finally, all written content is the property of Dividends Diversify LLC. Unauthorized publication elsewhere is strictly prohibited.
Why Should You Buy a House in Tennessee? – Answer Fully Explained