Debating Monthly Vs. Quarterly Dividends
I continue my series on frequently asked questions about dividend investing. Today's question is:
Are monthly dividends better than quarterly?
My short answer to this question is a hard no, partly because I'm not a big fan of monthly dividend stocks. But the reasons for my dislike are a topic for another day.
However, I will offer a couple of flimsy arguments for monthly dividends vs. quarterly. Then refute those arguments just for fun.
I like debating with myself because I always win! That's the plan. Let's get moving.
Are Monthly Dividends Better than Quarterly?
Monthly dividend payments are better than quarterly in two cases.
First, for anyone spending their dividend income, monthly dividends better align with ongoing living expenses.
Second, monthly dividends compound more quickly over time for anyone immediately reinvesting dividends received.
While this answer is technically correct, please allow me to explain why this answer doesn't make monthly dividends better than quarterly.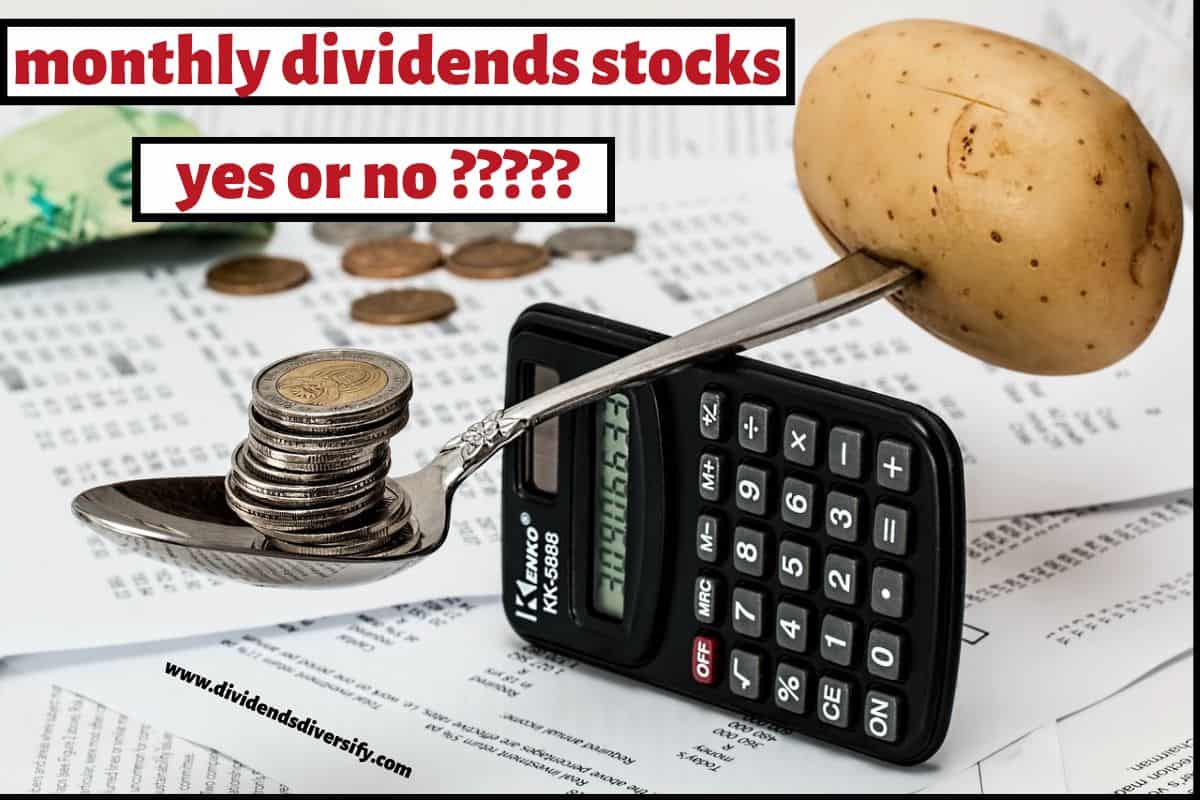 Disclosure: At no cost to you, I may get commissions for purchases made through links in this post.
3 Reasons Why Monthly Dividend Stocks Are Not Better Than Quarterly Dividend Payers
Here are my top three reasons why monthly dividend stocks are not better than quarterly dividend stocks:
A cash reserve can compensate for less frequent dividends
Building a 12-month dividend portfolio provides dividends every month
Only in rare cases is faster compounding of monthly dividends a benefit
Next, allow me to explain each of these reasons.
1. Create A Cash Reserve To Compensate For Less Frequent Quarterly Dividends
Anyone with the time, financial savvy, and discipline to build a portfolio of quarterly dividend stocks can create a cash reserve fund.
For example, assume an individual with $2,000 monthly living expenses and a $6,000 quarterly dividend income.
I say, pay all these expenses by first building up a $4,000 cash reserve fund. This point is valid even after receiving all dividends at the end of the quarter.
Example Of Using A Cash Reserve With Quarterly Dividends
Here is what I mean with numbers using one calendar quarter as an example:
Reserve fund Jan 1: $4,000
January expenses: ($2,000)
February expenses: ($2,000)
March Quarterly Dividends: $6,000
March Expenses: ($2,000)
Reserve fund Mar 31: $4,000
Thus, by building a cash reserve, quarterly dividend stocks can be used to pay monthly expenses.
Hold the cash reserve in high-yield savings or money market account to earn interest on the balance. The interest income might be more than the dividends you can make on the money.
As a result, in today's debate about monthly vs. quarterly dividends, someone needs to convince me that monthly dividend income is better than quarterly.
So, do you still need more evidence that monthly expenses can be paid with quarterly dividends? If so, here is another way to forget monthly dividend stocks and focus on high-quality quarterly dividend payers.
2. Build A 12-Month Dividend Portfolio From Quarterly Dividend Stocks
Just because many good stocks pay quarterly vs. monthly dividends doesn't mean all dividends are received at the end of the quarter. And you can still set up a portfolio to receive roughly equal monthly dividend income.
What's the solution? Build a 12-month dividend portfolio to receive dividends every month.
So, what is a 12-month dividend portfolio?
A 12-month dividend portfolio is a collection of dividend stocks. Each stock held in the portfolio is explicitly selected to generate dividend payments each month of the year.
However, you must know the predominant dividend payment patterns to create a 12-month dividend portfolio from quarterly dividend stocks.
The most typical quarterly dividend payment patterns are:
1) Stocks that pay dividends in January, April, July, and October
---
2) Stocks that pay dividends in February, May, August, and November
---
3) Stocks that pay dividends in March, June, September, and December
Thus, you can build a 12-month dividend portfolio by selecting at least one stock from each pattern.
However, each month's dividend income may differ slightly depending on the stocks you hold in your portfolio. So, a small cash flow reserve may still be necessary to cover monthly expenses.
Okay. There you have two ways to pay monthly expenses with quarterly dividend stocks. Thus, investing in monthly dividend stocks is not required. Quarterly dividend payers are just fine.
But what about the second reason I gave in support of monthly dividend payers? Specifically, monthly dividends compound more quickly over time for anyone immediately reinvesting dividends received.
Allow me to find the problems with this logic next.
3. The Rare Case When Faster Compounding Of Monthly Dividends Is Better
There is only one situation I can think of where the faster compounding of dividends monthly has value.
It is when there are two dividend stocks of equal quality, dividend safety, and dividend yield,
When this is the case, the stock paying monthly dividends is better than one that pays quarterly.
Why?
The dividend can be reinvested sooner rather than later. Thus, the situation creates an accelerated compounding effect for the investor.
However, This is a rare situation. Finding two dividend stocks of equal dividend yield, quality, and safety is unusual.
And suppose they are similar at a point in time. However, the dynamic nature of companies, stock investments, and stock markets will soon make them unequal.
Okay. There you have two reasons why monthly dividends are better than quarterly—also, three explanations why those two reasons make no sense to me.
Before wrapping up, I will mention some of my favorite resources for making monthly money off dividends. Then I will offer a few parting thoughts before saying goodbye.
Resources For Finding Monthly Or Quarterly Dividends From The Best Companies That Pay Them
I like the Simply Investing Report and Analysis Platform for finding and researching the best dividend stocks, whether they pay dividends monthly or quarterly.
The no-nonsense interactive database and stock recommendations from Simply Investing are spot on for me.
Secondly, I like the Motley Fool Stock Advisor for receiving thoroughly analyzed stock recommendations each month. Stock Advisor is the perfect solution when I'm too busy to do stock research.
Are Monthly Dividends Better than Quarterly? – Wrapping Up
I only own one monthly dividend stock in my portfolio: Realty Income (NYSE: O), a real estate investment trust (REIT).
Realty Income is a great company and has been an excellent long-term holding in my portfolio. However, all of my other holdings pay quarterly dividends.
Building a diversified, high-quality investment portfolio from quarterly dividend stocks is much easier.
Monthly dividend stocks vs. quarterly tend to be clustered in relatively few industries. Also, they have higher dividend payout ratios than I'm comfortable taking on in my portfolio.
But these are just generalizations based on my years as a dividend investor. There may be monthly dividend stocks besides Realty Income that make suitable long-term investments for you.
For example, other popular stocks that pay monthly dividends include the following (none of which I own):
Main Street Capital Corporation (MAIN)
Gladstone Investment Corporation (GAIN)
Stag Industrial (STAG)
Shaw Communications (SJR)
So, do your research and decide for yourself. After all, it's your money, not mine.
Are you interested in reading more about dividend investing and dividend stocks? If yes, check out my:
Entire Archives Of Articles About Dividends
Most importantly, good luck with your dividend stock investments. And before you go, save this image to your favorite Pinterest board!
Save To Your Money Board On Pinterest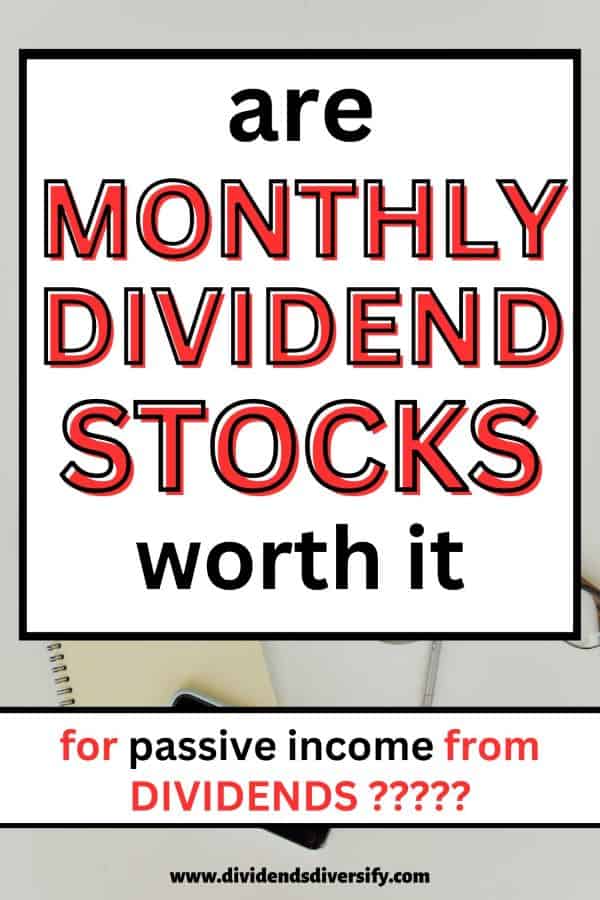 Author Bio, Disclosure, & Disclaimer: Please join me (Tom) as I try to achieve my goals, find my next place to live, and make the most of my money. However, I am not a licensed investment adviser, financial counselor, real estate agent, or tax professional. Instead, I'm a 50-something-year-old, early retired CPA, finance professional, and business school teacher with 40+ years of DIY dividend investing experience. I'm here only to share my thoughts about essential topics for success. As a result, nothing published on this site should be considered individual investment, financial, tax, or real estate advice. This site's only purpose is general information & entertainment. Thus, neither I nor Dividends Diversify can be held liable for losses suffered by any party because of the information published on this website. Finally, all written content is the property of Dividends Diversify LLC. Unauthorized publication elsewhere is strictly prohibited.
Debating Whether Or Not Monthly Dividends Are Better Than Quarterly