Best March Dividend Paying Stocks For Quarterly Dividends
Let's find good St. Patrick's day money and luck with stocks that pay dividends in March!
First of all, what is an important goal for a dividend investor? It is to achieve a consistent stream of monthly dividends.
Furthermore, it is key to know a stock's dividend payment pattern to hit this goal. Specifically, the month that each of its dividends is paid.
So, to help with your dividend calendar, I want to share some of my favorite stocks that pay dividends in March.
On the other hand, check out this page for all our dividend-investing articles if you want something different. There are more than 100 posts neatly organized for your review.
Otherwise, please stick with me right here. First, I will detail ten companies that pay dividends in March.
Later, before we wrap up, I will add another five March dividend payers to the list. Let's go!
Stocks That Pay Dividends In March
Stocks for March dividends:
Johnson & Johnson
McDonald's
Microsoft
NextEra Energy
Norfolk Southern
Southern Company
Target
United Parcel Service
Wisconsin Energy Group
Realty Income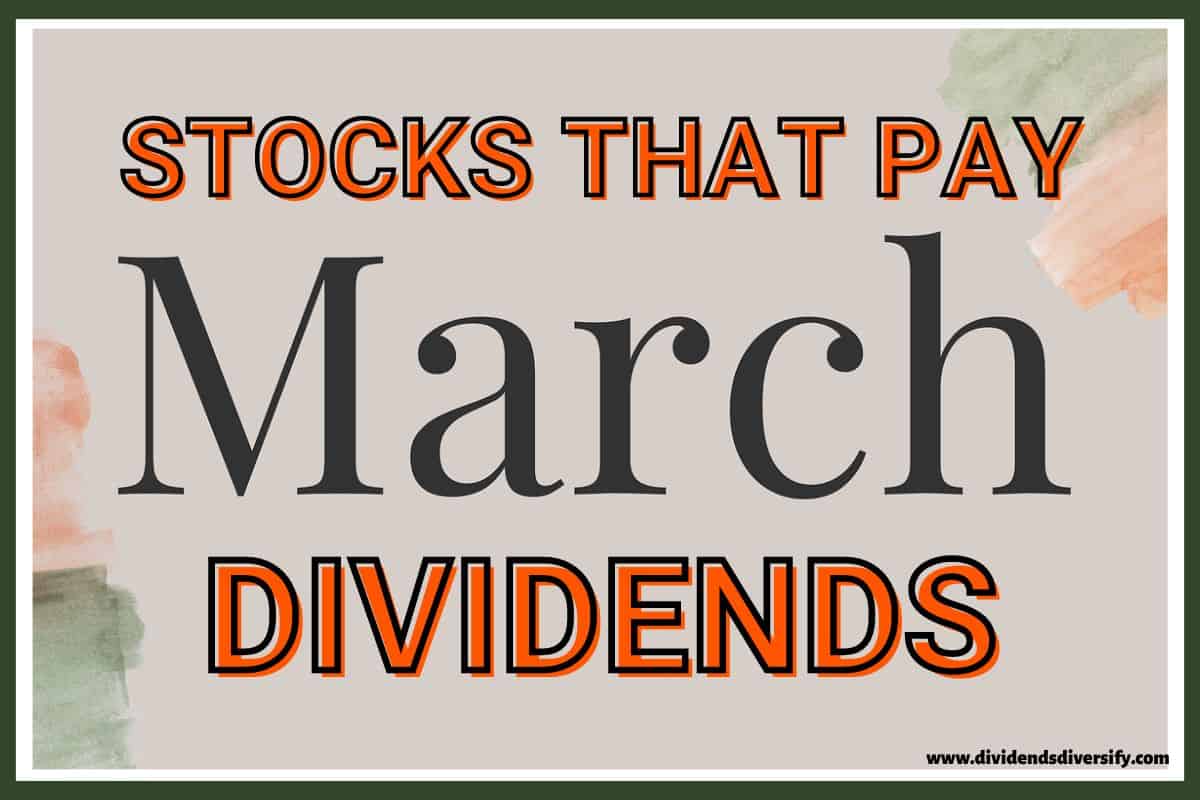 Disclosure: At no cost to you, I may get commissions for purchases made through links in this post.
We will review each of these fine March dividend payers in a moment.
But just in case you need more March dividend ideas. See this list of dividend stocks that also pay during the 3rd month of the year. And other months too!
Now, a brief review of the first 10 stocks that pay dividends in March that made today's list.
1. Johnson & Johnson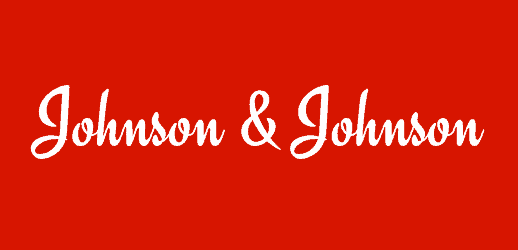 Stock symbol: JNJ
Increased dividend annually since 1963
Dividend King
The ex-dividend date for the March dividend: mid-February
First, JNJ aspires to help millions of people live healthier lives by developing and selling innovative healthcare products.
Furthermore, the company should benefit as the world's population ages. And people need and demand greater healthcare services and products.
Finally, JNJ's brand recognition, product diversity, and complexity of the R&D underlying its products provide tremendous competitive advantages.
Related: JNJ stock and dividend analysis
2. McDonald's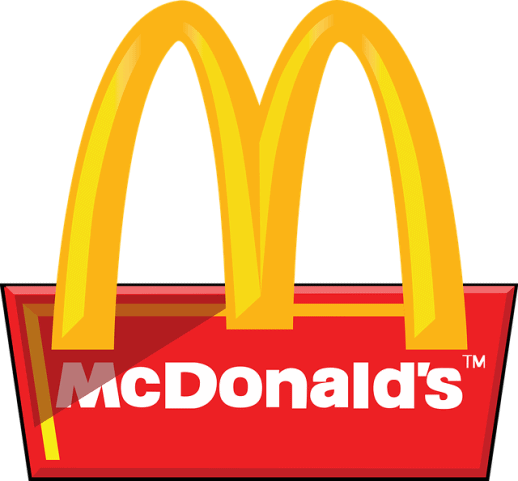 Stock symbol: MCD
Increased dividend annually since 1976
Dividend Aristocrat
The ex-dividend date for the March dividend: late-February
McDonald's was founded in 1940 and has become one of the world's largest restaurant chains. Furthermore, McDonald's brand is truly global. Because the "golden arches" are recognized internationally.
However, thousands of small and mid-sized operators own and operate most of their restaurants. These business owners are known as franchisees.
More than 80% of restaurants worldwide are locally-owned franchises. And the count is even higher in the United States at more than 90%.
So, this may surprise you. McDonald's makes most of its money from franchise fees. Not by selling burgers and fries.
Related: McDonald's dividend growth stock review
3. Microsoft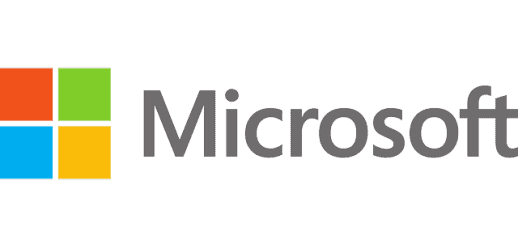 Stock symbol: MSFT
Increased dividend annually since 2002
Dividend Achiever
The ex-dividend date for the March dividend: mid-February
Microsoft emphasizes 3 primary business segments.
First, productivity & business processes. This area comprises Microsoft Office products and services, LinkedIn services and subscriptions, and Microsoft Dynamics business solutions.
The Intelligent cloud comprises public, private, and hybrid server products and cloud services that power businesses.
More personal computing is a "catch-all" for other products and services. Sales of tablets, gaming devices, and personal computer accessories fall into this category.
Related: Microsoft stock review for total investment returns
4. NextEra Energy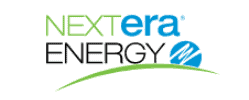 From a technology company to an electric utility. Yet another March dividend payer is NextEra.
Stock symbol: NEE
Increased dividend annually since 1996
Dividend Aristocrat
The ex-dividend date for the March dividend: late-February
NextEra Energy is one of North America's largest electric power and energy infrastructure companies. The company is also a leader in the renewable energy sector.
NextEra has two primary businesses, Florida Power & Light (FPL) and NextEra Energy Resources (NEER).
FPL is the largest electric utility in the state of Florida. It is also one of the largest electric utilities in the U.S.
Also, NEER is the world's largest generator of renewable energy. The energy comes from the wind and sun.
Related: My favorable experience with NextEra stock
5. Norfolk Southern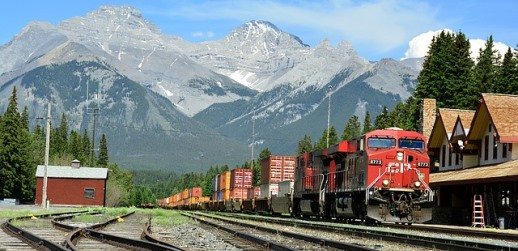 Stock symbol: NSC
Increased dividend annually since 2017
The ex-dividend date for the March dividend: early-February
NSC operates approximately 19,500 miles of railroad. They do so in more than 20 states and the District of Columbia. And serve every major container port in the eastern United States.
They also have the most extensive intermodal network in this region. And provide efficient connections to other rail carriers.
The company does not raise its dividend every year. So, it doesn't qualify as a King, Aristocrat, or Achiever.
But over the long run, dividend growth is strong.
Related: NSC stock, a freight company paying dividends
6. Southern Company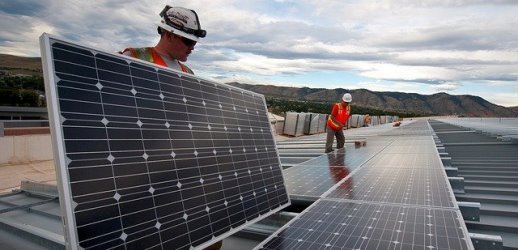 Next up, Southern. One of the best utility stocks that pay dividends. And another Dividend Achiever on our list.
Stock symbol: SO
Increased dividend annually since 2002
Dividend Achiever
The ex-dividend date for the March dividend: mid-February
Southern provides energy to customers in the United States through:
Electric operating companies
Natural gas distribution companies
A generation company serving wholesale customers in all states across America
Furthermore, Southern Company is a nationally recognized provider of energy solutions, fiber optics, and wireless communications. The company's service territories are in the Southeastern and Mid-South United States.
Related: Southern Company stock analysis & dividend review
7. Target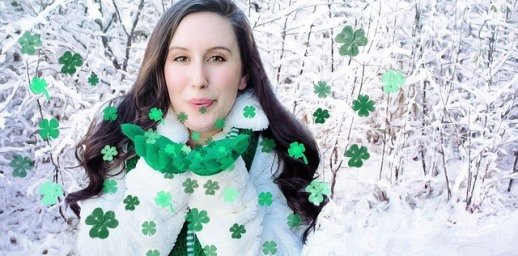 Stock symbol: TGT
Increased dividend annually since 1972
Dividend King
The ex-dividend date for the March dividend: mid-February
Over the past few years, Target has transformed itself into a multichannel retailer. Furthermore, consumers are seeking to consolidate their shopping trips or order online. Thus, Target positioned itself correctly to be in the right places at the right time.
Related: Target stock review: Is the company hitting its stride?
8. United Parcel Service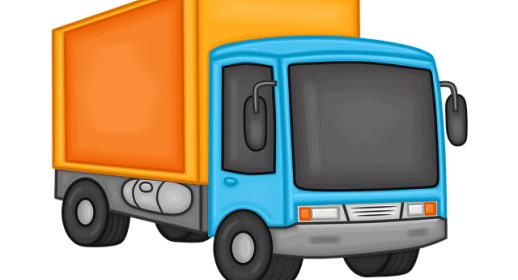 Stock symbol: UPS
Increased dividend annually since 2010
Dividend Achiever
The ex-dividend date for the March dividend: late-February
UPS is one of the world's largest package delivery companies. They are a leader in the U.S. less-than-truckload freight delivery segment also known as "LTL" for short. Also, UPS is a premier provider of global supply chain management solutions.
UPS uses more than 500 planes and 100,000 vehicles to deliver millions of packages daily to residences and businesses worldwide.
Related: UPS stock: benefiting from changes in consumer behavior
9. Wisconsin Energy Group
Next, another utility is on today's list of stocks that pay dividends in March. It is Wisconsin Energy Group.
Stock symbol: WEC
Increased dividend annually since 2004
Dividend Achiever
The ex-dividend date for the March dividend: mid-February
WEC, a Fortune 500 company, is one of the largest electric generation, distribution, and natural gas delivery holding companies in the United States. This utility company provides energy services to more than 4.5 million customers in Wisconsin, Illinois, Michigan, and Minnesota.
WEC is an example of a multi-utility. It does business through several energy companies and subsidiaries.
Related: WEC stock review: high quality dividend growth
10. Realty Income

Last but not least, let's move into the real estate sector. Realty Income is one of the most consistent dividend-paying stocks.
And I saved this stock for last because it is a monthly dividend stock. All of the other stocks we have reviewed pay dividends quarterly.
Stock symbol: O
Increased dividend annually since 1994
Dividend Aristocrat
The ex-dividend date for March dividend: late-February
Realty Income owns and rents out commercial properties. Most importantly Realty Income is known as the Monthly Dividend Company.
Yes. The company pays dividends in March. And as I mentioned, it is one of the relatively few high-quality stocks that pay dividends monthly.
Do you want to make money from dividends every month? Then Realty Income is a good dividend stock to consider.
Related: Monthly dividends from Realty Income stock
Okay now. That concludes the review of 10 of my favorite stocks that pay dividends in March.
However, I have much more for you to think about before you go.
Some Tips And Things To Think About March Dividend Stocks
Next, before investing in any of these stocks. Please consider these important points…
Why This List Of Stocks That Pay Dividends In March?
As I said in the introduction, most dividend stock investors seek a steady amount of monthly dividend income.
Whether you are retired and need dividends to pay bills. Or seeking financial freedom and trying to build a reliable passive dividend income stream for the future.
So, you not only need good stocks that pay dividends in your dividend portfolio. But you need stocks that pay dividends during each month of the year.
Having some good March dividend payers to choose from is a step in the right direction.
Resource: Buy your stocks using the latest technology from Webull
But wait, it gets better…
Stocks That Pay Dividends In March, June, September, and December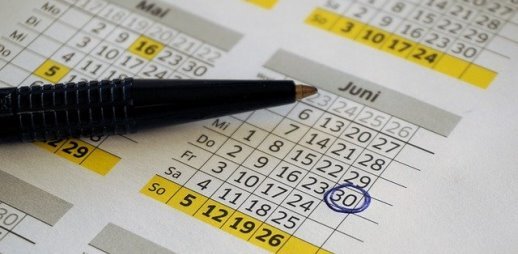 Of course, every stock on the list is a March dividend payer. Furthermore, all of the listed stocks also pay dividends in June, September, and December.
Except for Realty Income, they are stocks that pay dividends quarterly, starting in March each year. This is a very popular dividend payment pattern for U.S.-based companies that pay dividends.
Resource: Manage all your extra cash from dividends fast and free with Personal Capital
And it gets better yet…
March Dividend Stocks That Pay Dividends & Increase Them Every Year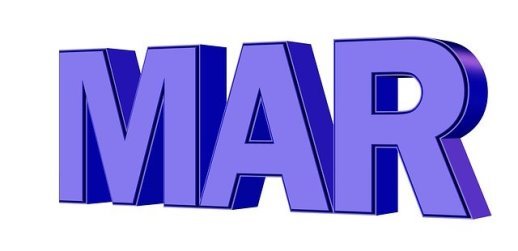 These stocks not only pay dividends in March, June, September, and December. But, they almost always increase their dividends annually.
So, your dividend in March of the next year will likely be higher than it was this year. And you have very little to do to make that happen. Just buy and hold the stock.
And the same goes for the other dividend payment months. For example, next year's September dividend will be higher than this year's September dividend.
In this way, the company does all of the work for you. It is the beauty of creating a growing stream of passive income from dividends.
We Are Talking About Dividend Growth Stocks
I value companies that increase dividends regularly. So, today's list is full of high-quality dividend growth stocks. Let me explain…
First, some of these stocks that pay dividends are Dividend Kings. They have increased their dividends annually for at least 50 years.
Furthermore, today's list includes some other top stocks that pay dividends. They are Dividend Aristocrats. An Aristocrat has increased its dividend annually for at least 25 years.
Finally, we also have some Dividend Achievers. These blue-chip stocks that pay dividends have increased their payout for at least 10 consecutive years.
How To Use This List Of Stocks That Pay Dividends In March
To use today's list, check your monthly dividend income. Is March one of your lower months for receiving dividends?
Or maybe you just want more dividend income this month to pay for your Saint Patrick's Day party!
I don't know. But whatever your reason. Then consider investing in one or more stocks from the list.
Before You Invest For More March Dividends…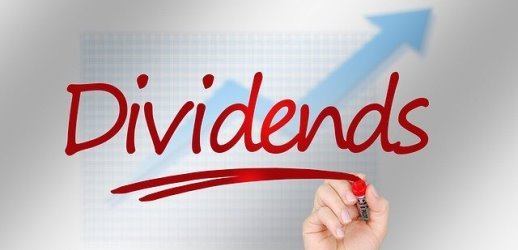 Never buy a stock only because it pays its dividend at a certain time. It is far more important to buy the best stocks that pay dividends, regardless of when they pay.
So, it's essential to do your stock research. Because investing has a risk of loss.
After all, it's your money. So, make smart investments and manage your money wisely.
Helping With Your Research On March Dividend Stocks
Each of today's stocks that pay dividends in March is a holding in the Dividends Diversify model portfolio. And also a personal stock holding of mine.
Since I'm invested in these stocks, I've done more research. So, if any of these stocks interest you for investment purposes. Then, just follow the link I have included above for a complete dividend stock analysis.
But again, my research is just a guide. Thus, think and invest for yourself. Because it's your money.
Hopefully, if you read my dividend stock analysis, you will learn more about dividend investing and selecting dividend stocks for your investment portfolio.
Facts & Figures For Our March Dividend Payers
When compiling today's stock group, I looked hard at their dividend metrics before I put them on the list.
Specifically…
Dividend yield
Dividend payout ratio
The historical dividend growth rate
The year dividend increases began
Status as a Dividend King, Aristocrat, or Achiever
Ex-dividend date for the March dividend
Note that any metrics discussed or presented will be as of the publication date. So be sure to check for any changes before you invest.
Most noteworthy, the dividend yield is one metric that can change quickly.
Since dividend yields have an inverse relationship with a company's stock price. And we all have experienced how quickly stock prices can change.
Finally, a few words on dividend payout ratios.
I prefer payout ratios to be based on accounting earnings. But sometimes earnings are not the best indicator of dividend coverage. Or a company's dividend payment capacity.
If that's the case, I compute the payout ratio using the company's free cash flow. Cash is a great indicator of dividend payment capacity since dividends are paid with cash. Not accounting earnings.
Next, another point that do-it-yourself investors should know regarding this list of stocks that pay dividends in March…
Stocks That Pay Dividends In March: Ex-Dividend Date
You must invest before the ex-dividend date to receive a stock's March dividend.
Typically, but not always, a stock's ex-dividend date falls in the month before it pays dividends. But the timing of each company's ex-dividend date varies.
Also, the date can change with every dividend declared because the company's board must approve each one.
So check the company's investor relations website for the exact date. If and when you are ready to add to your investment portfolio and want to receive the March dividend.
In most cases, be prepared to make your investment(s) no later than the middle of February. That is if you want to make money from dividends in March.
Further Timing Up Your March Dividends
In a few cases, you will see stocks from the list going ex-dividend in late February or early March. Thus, in these cases, you have a little more time to invest to receive March dividends. That is if you choose to.
However, if you are a little behind the calendar and too late for March dividends check out this list of stocks paying dividends in April.
Second, note that this list does not represent all stocks that pay dividends in March. Not even close. They represent several good dividend stocks I own and cover here at Dividends Diversify.
You can find more stock ideas and analyses provided by Simply Investing. I have used their interactive research database for many years.
Learn more here about Simply Investing:
The Simply Investing Report for more dividend stock analysis & recommendations
Bonus Coverage: 5 More Dividend Stocks That Pay In March
At the beginning of this article, I promised 15 stocks paying dividends in March. But so far, I have only delivered 10, all of which I own.
So, here are another 5 stocks for March dividends that I also hold. Thus, rounding out today's number to 15.
Becton Dickinson
Cummins
Exxon Mobile
Raytheon
Walgreens
Okay, that's 15. So, I have delivered on my promise. As a result, please allow me to wrap up with several concluding thoughts.
But first, save this pin to your favorite Pinterest Board so you can return to this post later!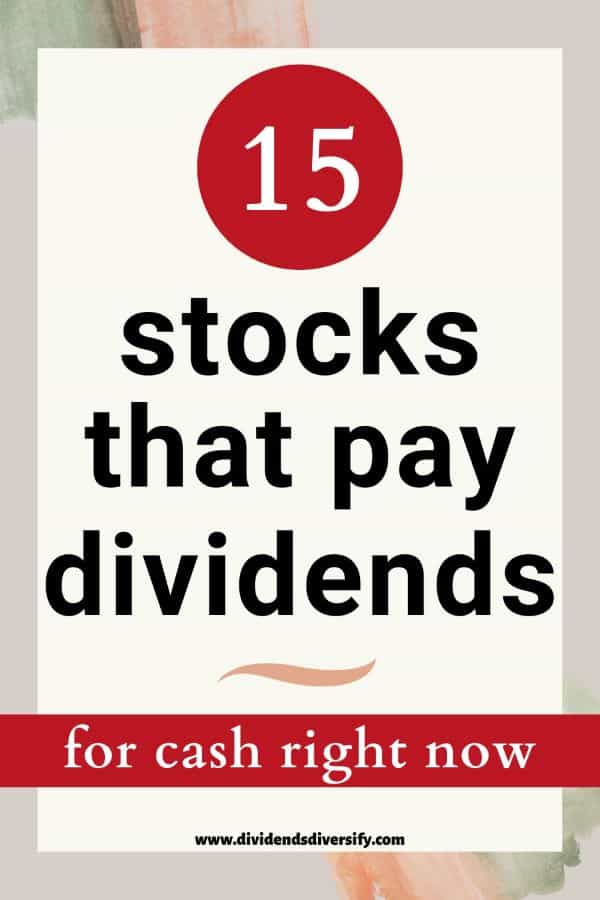 Final Thoughts: Stocks That Pay Dividends In March
First of all, are you looking to make a substantial dividend income? If so, you now know some good stocks that pay dividends in March.
Furthermore, this group is represented by Dividend Kings and Dividend Aristocrats. Also, some Dividend Achievers too.
Finally, here is a list summarizing 15 favorite stocks that pay dividends in March:
Becton Dickinson
Cummins
Exxon Mobile
Johnson & Johnson
McDonald's
Microsoft
NextEra Energy
Norfolk Southern
Raytheon
Realty Income
Southern Company
Target
United Parcel Service
Walgreens
Wisconsin Energy Group
Investments in these companies will earn more dividends payable in March credited to your brokerage account.
Further Reading About Stocks That Pay Dividends
My Favorite Resources For Making Money With Dividends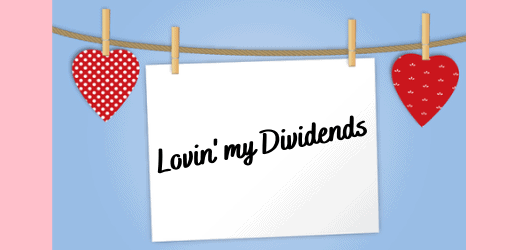 Author Bio, Disclosure, & Disclaimer: Please join me (Tom) as I try to achieve my goals, find my next place to live, and make the most of my money. However, I am not a licensed investment adviser, financial counselor, real estate agent, or tax professional. Instead, I'm a 50-something-year-old, early retired CPA, finance professional, and business school teacher with 40+ years of DIY dividend investing experience. I'm here only to share my thoughts about essential topics for success. As a result, nothing published on this site should be considered individual investment, financial, tax, or real estate advice. This site's only purpose is general information & entertainment. Thus, neither I nor Dividends Diversify can be held liable for losses suffered by any party because of the information published on this website. Finally, all written content is the property of Dividends Diversify LLC. Unauthorized publication elsewhere is strictly prohibited.
I own all of the March dividend-paying stocks on today's list