Good Things To Know Before Moving to Venice, FL
Let's review the pros and cons of living in Venice, FL today.
It's a continuation of our series of articles about Southwest Florida living. A popular area of the country, for sure.
Pros And Cons Of Living In Venice, Florida
So, here's our list of advantages and disadvantages of the Venice lifestyle for your consideration…
A small-town feel
Great location
Access to beaches
Plenty of parks
Great fishing
A boaters paradise
Nice biking trails
Ample golf courses
Spring training baseball
Fresh seafood
No state taxes
High cost of living
Mostly older residents
Many tourists and snowbirds
Overcrowded
Limited public transportation
Bad traffic
Threat of hurricanes
Hot and humid summers
Lots of bugs
Limited hiking options
We will cover each of these points about Venice living next.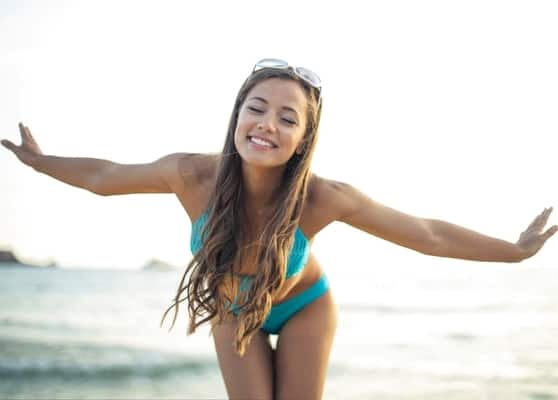 Disclosure: At no cost to you, I may get commissions for purchases made through links in this post.
Then, before you go. You might enjoy our round-up of…
Southwest Florida's Best Places for Living
But now, back to today's topic. Starting with 11 pros of living in Venice…
A Small-Town Feel
Located in Sarasota County with a population of nearly 25,000 residents. Venice has a small-town feel about it.
Nothing like the hustle of the Fort Myers area. That is more commercialized and congested.
It's a beautiful waterfront city, with a charming downtown area.
Where careful planning and architectural requirements are evident. It's how a quaint but vibrant town square was meant to be.
There is beautiful Centennial Park. Many shops and boutiques to explore. And weekly farmers' markets.
Then, when you get hungry, you won't be disappointed. Since there are plenty of restaurants, pubs, bakeries, soda fountains, coffee shops, and wine bars to enjoy.
Most noteworthy, Venice is named after a well-known city in Italy. Thus, excellent Italian food is easy to find.
Next, another one of the great benefits of living in Venice…
Great Location
When it's time to get away and explore, Venice is conveniently located.
First, for a change of scenery, the coastal city of Sarasota is less than 20 miles away.
And offers residents easy access to its amazing cultural and arts scene.
Another 60 miles to the north will have you in the thriving city of Tampa.
For professional sports, a major international airport, and other big-city amenities if and when you need them.
Access To Beaches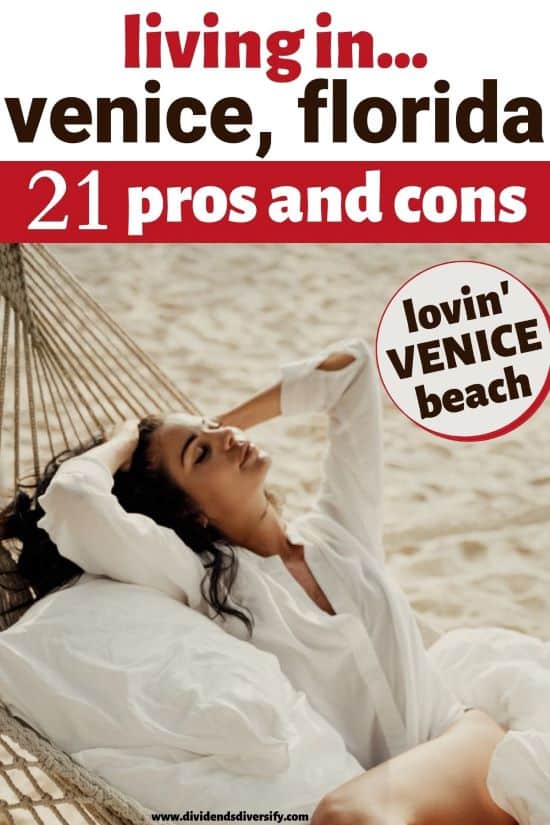 Southwest Florida is well-known for its world-class beaches. And Venice is no different.
However, it is located right on the Gulf of Mexico. And has no barrier islands like many of its neighbors in the region.
Thus, from downtown, you can take a stroll right along Venice Avenue. And find yourself at beautiful Venice Beach. Known for its abundance of shark teeth fossils, of all things.
But, there's more. Consider enjoying time at:
The beach at Chauncy Howard Park
Caspersen Beach
Brohard Beach
Next, and continuing for all of you outdoor lovers. We have another one of the best reasons to move to Venice…
Plenty Of Parks
According to venicegov.com, there are approximately 35 parks in and around town.
Ranging from tiny nooks tucked away in intimate settings. To larger parks that show off the natural plants and habitat of the area.
Some parks and other nearby outdoor spaces that you will want to check out include:
Humphris Park (South Jetty)
Park at Brohard Beach
Ponce De Leon Park
Shamrock Park & Nature Center
Sleeping Turtles Preserve
Great Fishing
If you like to drop a line and fish recreationally, this is a great place to do so.
There are so many options. But, look no further than the Venice Fishing Pier. To find your catch of the day.
A Boaters Paradise
And as long as we are talking about water sports, there is ample opportunity for boating here.
Kayaking is especially popular. But you will see sailboats, fishing boats, charters, and boat tours.
Much of it is made possible by the intercoastal waterway that was constructed in the 1960s. Not to mention the calm waters of the Gulf of Mexico itself.
You will find plenty of boat launches to meet your needs. From the Venice Train Depot public boat ramp for dropping a boat from a trailer. To the Caspersen Canoe and Kayak Launch for smaller watercraft.
Just to name a couple of the possibilities.
Next, options for staying fit are some of the best things about Venice…
Nice Biking Trails
For anyone who likes to get on their bike. You will find many trails in the area.
First, be sure to check out the Legacy Trail and Venetian Waterway Trail.
This paved traffic-free path goes all the way to Sarasota. For a 30 plus mile scenic round-trip with views of forests, wetlands, and pastures.
Furthermore, consider riding the 13 mile Venice Island Loop. Also, the BoldlyGo Bike Trail.
Finally, consider joining a bike club. For a little companionship while you ride
In town here or nearby in Sarasota. Such as…
Coastal Cruisers Bicycle Club
Friends of the Legacy Trail
Sarasota County Off-Road Riders
Sarasota Manatee Bicycle Club
Ample Golf Courses
There are dozens of golf courses in the area. Both public and private courses are available to meet any skill level.
Try the Capri Isle Golf Club or Waterford Lakes. Just a couple of public courses to get you started.
Other courses and clubs to consider…
Lake Venice Golf Club
Pelican Pointe Golf & Country Club
Venetian Golf and River Club
Plus many more.
Spring Training Baseball
Want to experience your sports from the stands? Rather than being an active participant.
Then, check out your favorite team during spring training in and around the area.
The Yankees call Tampa home. While the Baltimore Orioles train in nearby Sarasota.
Another nearby option is Port Charlotte. Where the Tampa Bay Rays play their spring ball.
So, are all of these activities making you hungry. Well, I already mentioned the active restaurant scene.
But, don't' forget…
Fresh Seafood
Living on the Gulf of Mexico means you are in for a treat. That is if you like fresh seafood.
The Gulf Shrimp, Gulf Oysters, and fresh-caught Florida Grouper are my favorites.
Last but not least, and switching gears a little…
No State Taxes
You can save a lot of money here because there are no state income taxes. Of course, this applies to anywhere when deciding to live in the state of Florida.
Depending on how much money you make. And where you are moving from. The annual tax savings can be substantial.
Also, you can save a little more money by using the cash rebate app from Rakuten. And you might want to do so. Given the next point coming up.
Because it's time to balance out the conversation.
So, will we will move on to 10 cons of living in Venice…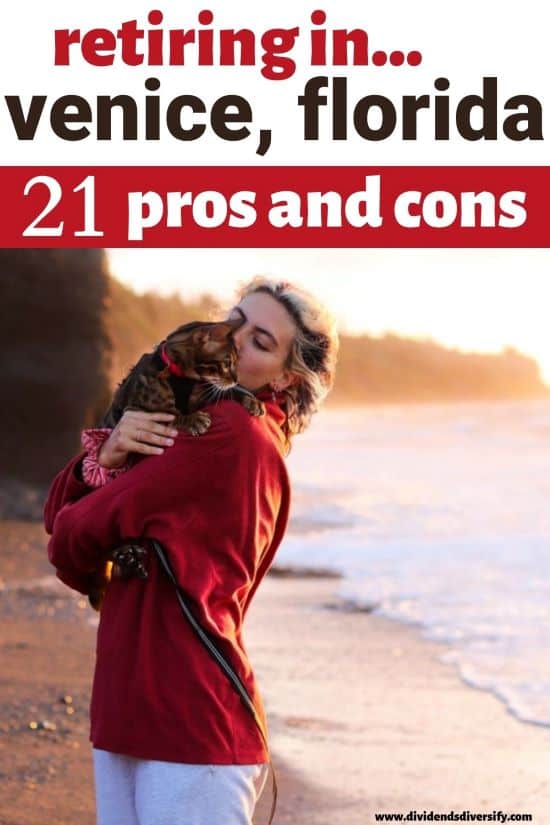 High Cost Of Living
This isn't the cheapest of all places to live in Florida. After all, popularity has a price.
On the other hand, the overall cost of living is just a couple of percentage points higher than the national average.
However, home prices have gotten expensive. At about 10% more than the average home price across the United States. While premium waterfront property is significantly more expensive than the rest.
So, the best advice…
Set a budget for what you can afford. And stick to it. Since you will find a variety of housing options here to choose from.
For budgeting, managing expenses, and seeing all of our investments in one place, I like the free online tool from Personal Capital.
After all, moving is a big expense. So, make sure you have your financial house in order before, during, and after your move.
Mostly Older Residents
Similar to many a Southwest Florida community. There are a lot of seniors and older residents living here. Not that there is anything specifically wrong with that.
It's just that if you are single and in your 20s or 30s, you may be looking for a little more nightlife. And companionship with people your age.
If that's the case, and you have your heart set on southwest Florida. Consider moving farther south to Estero.
Near Florida Gulf Coast University. There you will find a little younger crowd.
Next, depending on your perspective, this coming item is one of the worst things about Venice living…
Many Tourists And Snowbirds
The peak months for tourists and snowbirds are January through March.
That is when part-time residents stream to the area for the warm winter climate. And families take late winter and spring break vacations.
So, if you don't like putting up with tourists and part-time residents. Then, making a life in Venice may not be for you.
Overcrowded
The area suffers from overcrowding. Especially during the peak season. Again, popularity has a price.
Restaurant reservations, tee times, space at the beach. Well, they are all in high demand. So, plan on waiting for the best of everything Venice has to offer.
Limited Public Transportation
There are few, if any, convenient public transportation options. That will get you where you want to go when you want to get there.
So, unless you plan on living, working, and recreating in a confined area of town. Plan on owning a car. Since the majority of residents find them a necessity.
Bad Traffic
Overcrowding and car ownership can only mean one thing. That is bad traffic. Especially during the peak winter season.
So, get used to it. And plan on spending extra time in your car when you need to be on the go.
Next, I have one of the important reasons not to move to Venice. If potentially dangerous weather is a problem for you…
Threat Of Hurricanes
Similar to other areas in Florida. Venice is subject to hurricanes and tropical storms.
On the other hand, the immediate area is not known for taking direct hits. From these violent and dangerous weather events.
Nevertheless, they are an annual risk during the peak storm season. It runs from June through November.
Hot And Humid Summers
On the one hand, the winters are great here. With highs reaching into the 70s and 80s.
Accompanied by plenty of sunshine. That's one reason why so many people come to the area. So, I should have probably included it in my list of living in Venice pros.
On the other hand, summers are very hot. Highs run up into the 90s. And can hit 100.
It's very humid too. With afternoon rains making it feel like a sauna.
As a result, plan on spending a good deal of time in the air conditioning during the summer. Or, under an umbrella at the beach.
Lots Of Bugs
Bugs, mosquitos, and biting insects love the heat and humidity. And, just like us humans, they love living in Venice too.
So, they can be annoying. And something to get used to. If you are moving from somewhere without a lot of pesky bugs.
Finally, our last item on the list of disadvantages of living in Venice…
Limited Hiking Options
You know by now that there are plenty of outdoor recreational options after moving to Venice.
On the other hand, if you like to put on your hiking boots. And get out in rolling or mountainous terrain to do a little trail hiking.
You won't find much of that here. First, the area is mostly flat. Second, there aren't many good options for getting out for hikes.
Nature trails and beach strolls, yes. But, not much quality hiking to speak of.
Okay. That wraps up my review of the top living in Venice, Florida pros and cons.
So, allow me to conclude with a few parting thoughts…
Pros And Cons Of Living In Venice, Florida
If you are thinking about moving to Venice, you are likely pondering the following question. So, let me take a stab at an answer…
Is Venice, Florida A Good Place To Live?
Yes, Venice is a good place to live. For those who enjoy water sports, beaches, golf, and other outdoor activities in a year-round warm climate.
But, you will have to put up with a few downsides of living in Venice too. Because summers are hot, and winters are crowded. While the cost of housing has been on the rise due to the location's popularity.
So, make sure you give a lot of thought to the moving to Venice pros and cons we discussed today.
There were 11 pros to the Venice lifestyle:
A small-town feel
Great location
Access to beaches
Plenty of parks
Great fishing
A boaters paradise
Nice biking trails
Ample golf courses
Spring training baseball
Fresh seafood
No state taxes
And 10 cons of choosing to live in Venice:
High cost of living
Mostly older residents
Many tourists and snowbirds
Overcrowded
Limited public transportation
Bad traffic
Threat of hurricanes
Hot and humid summers
Lots of bugs
Limited hiking options
Best of luck with your decision on where to relocate. No matter what you decide.
And if you think Florida isn't the best place for you and your family. Then check out all of our…
Guides about Where to Live and Why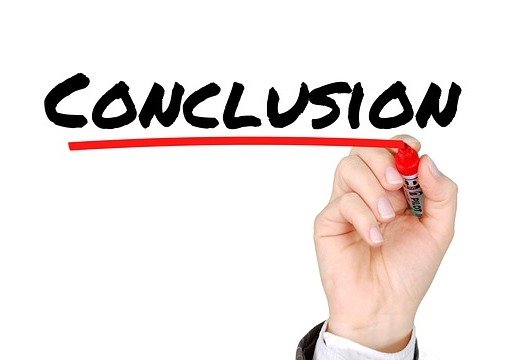 Author Bio: Tom Scott founded the consulting and coaching firm Dividends Diversify, LLC. He leverages his expertise and decades of experience in goal setting, relocation assistance, and investing for long-term wealth to help clients reach their full potential.
The Pros And Cons Of Living In Venice, Florida Explained