For Anyone Thinking About Moving To Fort Myers
Let's see if Southwest Florida is the right place for you. By reviewing the pros and cons of living in Fort Myers.
Whether you are considering a Fort Myers retirement home. Or, just need a fresh start in a warm and sunny location to bring out your best.
Either way. We have it covered today.
So, let's get on with the 20 living in Fort Myers pros and cons…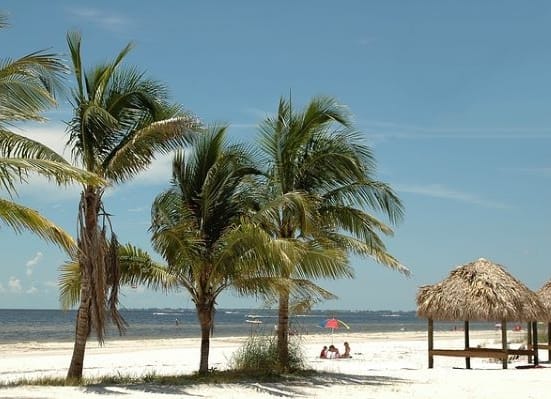 Disclosure: At no cost to you, I may get commissions for purchases made through links in this post.
Pros And Cons Of Living In Fort Myers
To get us started. Here's what we see as the good and bad of your possible Fort Myers lifestyle:
Nice weather
Lots of outdoor activities
Beautiful beaches
Charming and historic downtown
Plenty of entertainment options
Affordable cost of living
Low taxes
Centrally located
Convenient air transportation
Good schools
Great for retirement living
Extreme weather
Densely populated
Limited public transportation
Bad traffic
Low household incomes
Too many tourists
Congested beach access
Flat landscape
Lots of bugs and critters
We will cover each of these points in detail next.
But first, before you leave, I want to encourage you to check out all of our objective evaluations of the best places to live.
Furthermore, we have a growing group of articles about Florida living. Plus coverage of the rest of the United States too.
Otherwise, stick with me here. As we start with the list of the pros of living in Fort Myers…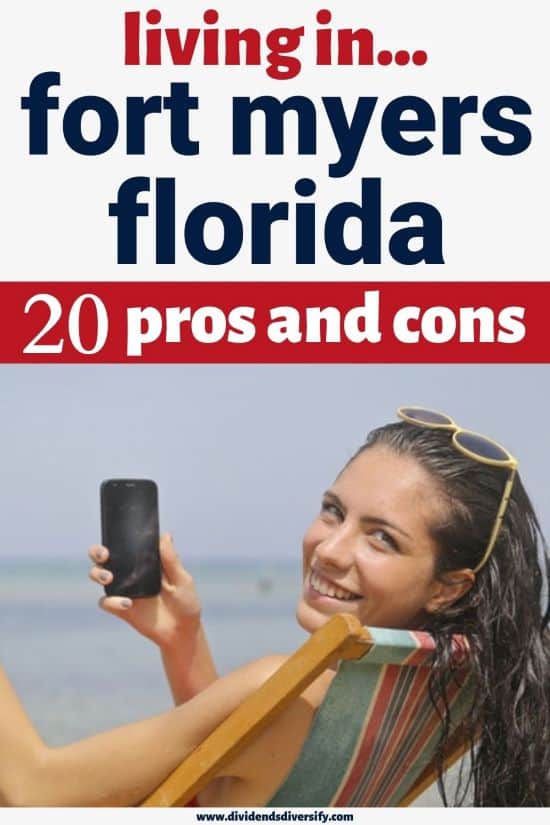 Nice Weather
Up to 9 months every year, the weather in Fort Myers is delightful.
Located in Florida. Also called the Sunshine State. You can count on nearly 300 sunny days every year.
If that's not enough to lift your spirits know that winters are very nice. With mild temperatures, comfortable humidity, and lower chances of rain.
So, leave your winter hat and snow shovel behind. Because you won't need them.
What you will find is a healthier more active lifestyle. Since the weather won't get in your way.
Speaking of being active…
Lots Of Outdoor Activities
You will find that there are plenty of things to do outdoors.
First, water sports are very popular. So, if you like to…
Fish
Boat
Swim
Paddleboard
Kayak
… there will be plenty of options to keep you fit and entertained.
For the golfers in the audience, you will not be disappointed. Since Florida has the most golf courses of any state in the country.
In the Fort Myers area alone. There are more than 40.
From public to private. Beginner to advanced. You will be able to find a course that suits your tastes and skills.
For the more adventurous, there are stunning natural parks and preserves. Since life in Fort Myers means a short drive to Big Cypress National Preserve and Everglades National Park.
And for a manicured outdoor setting. There is the Edison and Ford Winter Estates.
It is home to a 21-acre botanical garden, historical museum, and retail garden center.
But I save the best outdoor activity for its very own section…
Beautiful Beaches
Because the Fort Myers beach is quite stunning. It is located in the town of Fort Myers Beach. It is a barrier island that people live on nearly 7-miles long.
There are more than two dozen public access points. So anyone can enjoy the white sand and calm Gulf of Mexico waters.
Plus the plentiful marine wildlife that inhabits the area. Is also showcased at the Ostego Bay Marine Science Center.
The beach area is truly a gem. To explore and enjoy as part of living in Fort Myers.
Anywhere from the northern access point of Bowditch Point Park. To the south end of Estero Island where a bridge will take you to Lovers Key State Park.
Finally, you are not far from other spectacular beaches. Specifically, the beaches of Naples and Marco Island.
Okay. We are just getting warmed up.
As the pros and cons of living in Fort Myers, Florida continues…
Charming And Historic Downtown Area
Because of the town's history. Dating back to its incorporation in the late 1800s. There is a certain historic charm.
Streets are lined with original bricks from the 1920s. Adorned by many period buildings. They make up the greatest concentration of historic structures still standing in southwest Florida today.
Adding to the history is the fact that Thomas Edison spent more than 50 winters in the area.
Mr. Edison was best known for inventing the light bulb, motion picture camera, and phonograph. His work and life are honored at the local museum that bears his name.
But a lot has changed over the years. Providing the next one of the benefits of living in Fort Myers…
Plenty Of Entertainment Options
Because the town's popularity has given rise to a modern bustling commercial district. With government buildings, hotels, shopping, theatres, clubs, bars, fine restaurants, and sidewalk cafes.
Thus, providing residents of Fort Myers and nearby Cape Coral with numerous entertainment options. That is when you are done enjoying the beaches and all the outdoor activities we have already discussed.
Grab something to eat in one of the top-notch restaurants. Where fresh-caught seafood, Cuban-inspired dishes, and more traditional southern fare are readily available.
Enjoy the festivals and street fairs that provide fun possibilities throughout the year. Such as the Fort Myers…
Farmers Market
Film festival
ArtFest
Seafood and music festival
Bike nights
Car shows
…to name just a few options for your consideration.
Okay. I know what you are thinking.
If Fort Myers is great. It must cost a fortune to live there. Not so fast…
Affordable Cost Of Living
Since Fort Myers is one of the more affordable locations in Florida. Versus what you may think.
First of all, the state of Florida has a reasonable cost of living. In general, costs run near the national average.
Furthermore, consider the Fort Myers cost of living index. Since it runs approximately 6% less than Florida's overall rate.
On the other hand, the secret is out. And costs have been rising here.
Beach and waterfront real estate are in high demand. Thus driving up average property costs.
But know that Fort Myers' home prices still run nearly 8% below the national average. This suggests that even with some high-priced properties driving up the average. Diverse housing options are available in the area.
At more affordable costs. Especially when compared to the popular nearby city of Naples.
To that end, we track our spending, keep a budget, and monitor our investments in the Personal Capital online tool.
I suggest it only because moving to Fort Myers is a big deal. And having a good handle on your finances is a must before you go.
Furthermore, you can find a little extra money by using the cashback app from Rakuten.
Since every little bit of savings helps. No matter where you decide to move.
And here's another way to help balance your budget. It is our next reason to move to Fort Myers…
Low Taxes
Because residents save money on taxes here.
First, and most importantly. Florida is one of the great states, of only a select few that has no income tax.
Thus, depending on how much money you make. And what state you are moving from. The tax savings can be substantial.
Furthermore, property taxes are quite reasonable. Nothing like the high real estate taxes in Illinois and parts of the northeast.
Since real estate tax rates in Florida run near the national average. And Lee County, where Fort Myers is located, runs in the middle of the pack. Versus other places in the state of Florida.
Finally, if your Fort Myers property is your primary residence. You can apply for a homestead exemption. And shave a little more off your property tax bill.
Centrally Located
Another positive about living in Fort Myers is its convenient location. For example, interstate highway 75 will get you started on a variety of journeys.
For example…
A little over 2-hour drive will put you on Miami's South Beach. For all the partying and luxury amenities most people could want.
The central Florida city of Orlando is about 150 miles away. So you can visit all the theme parks with the kids or grandkids.
While an hour and a half drive north will have you exploring Tampa.
A vibrant metro area with great restaurants, pro sports, and an active entertainment scene.
And on your way to and from Tampa. Check out Sarasota.
A small town with a big-city vibe. As it relates to dining and culture.
Then, for a smaller town near Sarasota. There is Venice.
With its quaint downtown for shopping and dining. Also, a short stroll from the town square will have you on Venice Beach.
But for exotic fun and adventure. This next place can't be beaten.
Since you are close enough to try out the Florida Keys. For a tropical island resort-style vacation.
Just take the Overseas Highway across this chain of islands. Without ever leaving your new home state.
And as long as we are discussing getting around. Here I have another one of the good things about living in Fort Myers…
Convenient Air Transportation
Because Southwest Florida International Airport is here. It is located within 15 miles to the south and east of downtown.
You won't find the breadth of flights provided by living near Miami International Airport. But what you will find is a lower-stress, hassle-free airport to travel from.
Security is efficient. There are fewer crowds. And it is easy to get in and out of.
You can get off the plane, grab your luggage, and head to your ground transport. With an ease that only a mid-size airport can offer.
Are the pros of moving to Fort Myers starting to sway you? Well then, don't forget to bring kids…
Good Schools
Since the Fort Myers public schools offer a quality education. Nowhere is this more evident than Fort Myers High School.
It has been frequently recognized by national publications like U.S. News and Newsweek. Specifically as one of the top 200 high schools in the United States.
Excellence in the classroom has led to high graduation rates. And great scores for reading and math proficiency.
Finally, it's easy to conclude when the city has an elite high school. That the K-8 programs feeding that school meets high education standards too.
Thus, based on everything we know so far. Fort Myers is a nice place to live and raise a family.
Great For Retirement Living
Have you got the picture yet? If not, let me piece a few things together for you.
Mild winters, moderate cost of living, no state taxes, and fun things to do. Just the things people look for.
Especially when thinking about a Fort Myers retirement home. Or, retirement in any destination for that matter.
So, yes. I think it's easy to conclude. That this isn't just a place to raise a family.
Fort Myers is a great place to retire in Florida too!
But….
Yeah, you knew there was a but coming. Right?
And there is. Since that's all the good stuff I can think of about living in Fort Myers.
So, let's balance this discussion out.
And review the cons of living in Fort Myers next…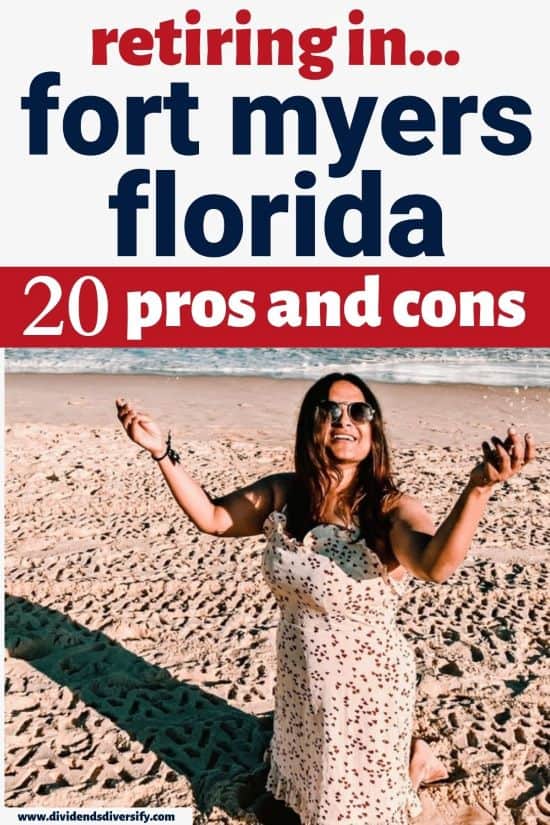 Extreme Weather
We already talked about the weather. But, I must start on the same topic to discuss the disadvantages of your potential Fort Myers lifestyle.
Yes. We began with how nice the weather is. And that's true for up to 9 months a year.
On the other hand, summers are very hot and humid. Temperatures consistently rise into the low 90s.
And the heat is accompanied by high humidity. Making it feel sticky and uncomfortable. Thus, it's not the dry heat experienced in Arizona versus Florida.
Next, it rains a lot. Since the area receives nearly twice the annual average rainfall. Versus the rest of the United States.
The heaviest rain falls mainly in the summer season. When thunderstorms crop up just about every day.
Finally, this is hurricane country. Similar to when comparing Texas living to Florida. Two of the most hurricane-prone states in the country.
Hurricane Irma was the worst storm to have hit the Fort Myers area. As recently as 2017. Causing billions of dollars worth of damage.
Next, is another one of the reasons not to move to Fort Myers…
Densely Populated
Simply because it seems like everyone is moving here. The area is very densely populated. And becoming more congested.
So, all the good things that the city and area offer. Have come at a price.
That is population growth. Making Fort Myers one of the fastest-growing cities in the country.
For example, using some round numbers. There are about 100,000 residents. In a 50 square mile area.
That's about 2,000 people per square mile. While this is nothing if you are moving from New York City, Chicago, or Los Angeles.
It's still pretty dense. And I'm only counting permanent residents. More on that a bit later.
Limited Public Transportation
The available public transportation is limited. It also has a reputation for being inconvenient and less reliable than residents would like.
But if you must, there is LeeTran. It is a transit bus service operated by the Lee County Transit Department.
It serves Fort Myers and several surrounding communities. Including some of the public beach access points. Also Southwest Florida International Airport.
Bad Traffic
Putting a couple of these negative together. Here's what we find…
Lots of people in a small area. That offers very little in the way of convenient public transportation. Means a couple of things…
First, everyone owns a car to get around.
Second, traffic congestion is one of the bad things about Fort Myers.
Unfortunately, you can say the same of just about any other metropolitan area or big city in Florida.
Low Household Incomes
Since Fort Myers is not known as a commercial or industrial center. There aren't a lot of higher-paying jobs in business, finance, or industry.
According to the U.S. Census Bureau, the Fort Myers median household income is low. Coming in at nearly one-third less. Versus the household income in the United States.
This is partly due to many jobs being in the hospitality industry. Or in important, but basic work like retail and government services. Which typically pay a little less.
Too Many Tourists And Snowbirds
It's important to understand this one thing. Of all the pros and cons of moving to Fort Myers. It is so important…
During the winter season through spring break. There are droves of tourists and snowbirds that descend on the area.
They are looking for a break from the winter weather. That is happening wherever they are coming from.
These visitors intensify the negative things about Fort Myers. Because it increases the population density.
The traffic gets worse. There are wait times at the best restaurants. And the beaches get crowded.
So, as I said earlier. Popularity comes at a price.
Leading me to another pitfall of life in Fort Myers…
Congested Beach Access
Since Fort Myers Beach is located on an island. There are a limited number of roads that provide access to the white sandy waterfront.
Essentially, there is one bridge to access the north end of Fort Myers Beach.
And one access point from the south. That arrives by traveling through the nearby town of Bonita Springs.
These roads are congested and heavily traveled. Especially during the peak winter season.
Flat Landscape
It is flat here in Fort Myers. This makes the inland scenery quite boring.
So if you like foothills, mountains, and valleys. For hiking and mountain bike riding. Or any other recreational activity that needs anything but flat land.
You can forget about it!
Lots Of Bugs And Critters
Finally, rain, heat, and humidity bring us another downside to Fort Myers living. It is bugs and critters.
Mosquitos, biting insects called no-see-uns, cockroach-like Palmetto bugs all can be found. Looking to ruin your day.
Plus, don't forget you are not far from a wild and remote area of south Florida.
This means snakes, alligators, bears, and rodents. They all like living in and around Fort Myers too!
Okay. I hope you have had enough.
Because that's all I have for today. So, allow me to wrap up with a few parting comments…
Pros And Cons Of Living In Fort Myers
We have covered a lot of ground. And I think it's plain to see that Fort Myers living has a lot to offer.
But before moving to Fort Myers, be sure to consider all of the advantages and disadvantages. So you make a good decision for yourself, your family, and your life.
For quick reference, here's our list of living in Fort Myers pros and cons:
Nice weather
Lots of outdoor activities
Beautiful beaches
Charming and historic downtown
Plenty of entertainment options
Affordable cost of living
Low taxes
Centrally located
Convenient air transportation
Good schools
Great for retirement living
Extreme weather
Densely populated
Limited public transportation
Bad traffic
Low household incomes
Too many tourists
Congested beach access
Flat landscape
Lots of bugs and critters
Think through each of these points carefully. They will help you answer some important questions. Such as:
What is Fort Myers like to live in?
and
Should I move to Fort Myers?
Finally, good luck with your move. No matter where you choose to settle down.
Before you go. Just one more reminder…
More Reading About Living In Florida And Beyond
Remember to check out all of our strategic living guides.
Just in case Fort Myers isn't the right place for you.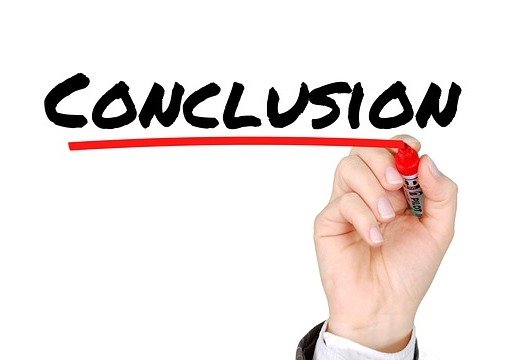 Author Bio, Disclosure, & Disclaimer: Please join me (Tom) as I try to achieve my goals, find my next place to live, and make the most of my money. However, I am not a licensed investment adviser, financial counselor, real estate agent, or tax professional. Instead, I'm a 50-something-year-old, early retired CPA, finance professional, and business school teacher with 40+ years of DIY dividend investing experience. I'm here only to share my thoughts about essential topics for success. As a result, nothing published on this site should be considered individual investment, financial, tax, or real estate advice. This site's only purpose is general information & entertainment. Thus, neither I nor Dividends Diversify can be held liable for losses suffered by any party because of the information published on this website. Finally, all written content is the property of Dividends Diversify LLC. Unauthorized publication elsewhere is strictly prohibited.
The Pros And Cons Of Living In Fort Myers Explained