Good Goals To Set In October For Self-Improvement
The fall season will soon be in the air. Thus, it's time for another edition of monthly goals. Today, I'm discussing ten possible October goals for monthly goal-getters.
Let's get moving.
October Goals To Set
Here are my best recommendations for October monthly goal-setting ideas:
Schedule holiday time off
Plan a month of fall meals
Clean out the pantry
Do sober October
Choose a closet and clean it out
Have a no-spend month
Enjoy sports
Celebrate Halloween
Plan for how to get a raise
Update your resume
There's your list of new month new goals October. Next, let's go through each of them one at a time.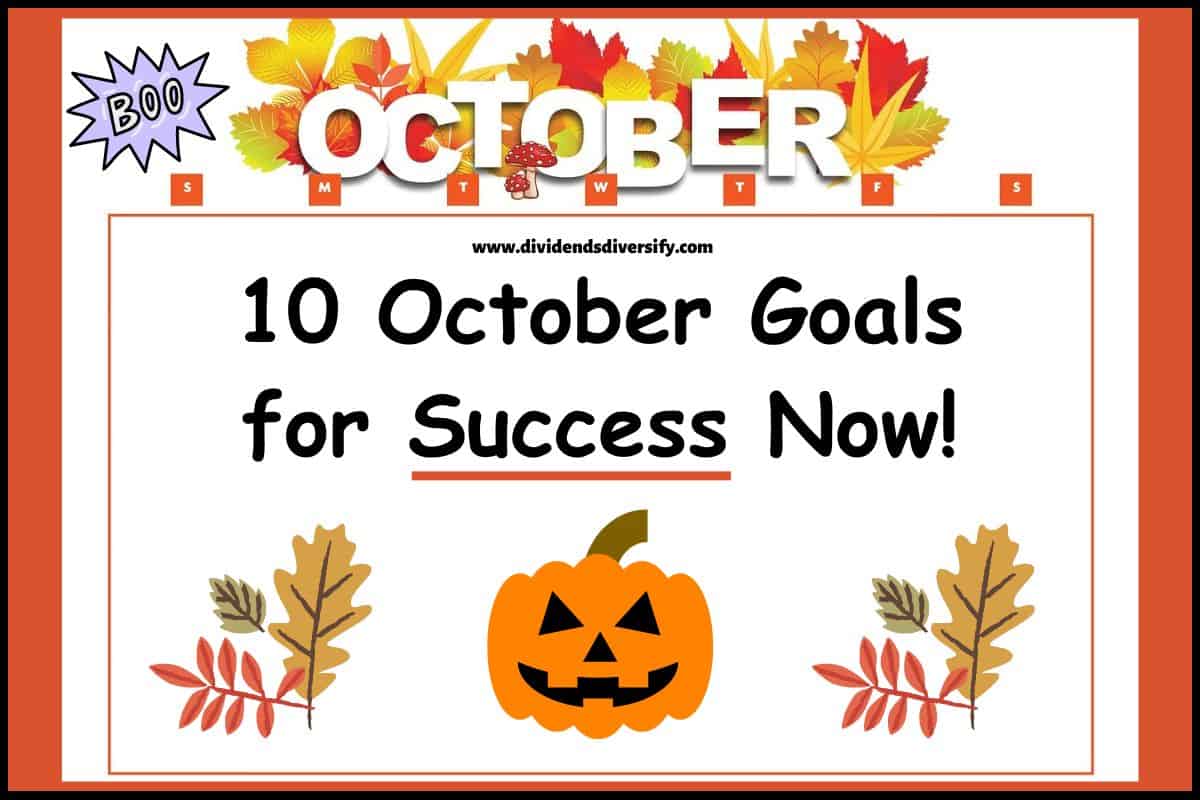 Disclosure: At no cost to you, I may get commissions for purchases made through links in this post.
1. Schedule Holiday Time Off
Your summer vacation may still be fresh in your mind. However, it's a good time to start goal planning your end-of-year holiday schedule.
Get your requests in now, before your coworkers, since many organizations require minimal coverage during the holiday season. And, of course, everyone wants the same days off.
Plus, your boss will appreciate the advance notice.
2. Plan A Month Of Fall Meals
Peak grilling season has come to a close. Summer salads may have less appeal as the temperature drops.
As a result, plan some great fall meals as part of your good goals for the month of October.
Soups and stews will warm your soul. At the same time, comfort foods like pizza, tacos, and chili are fan favorites in my house.
Finally, chocolate chip cookies and pumpkin bread cap your meal times off with sweetness.
Put your fall meal list together and have it handy for your next trip to the grocery store.
3. Clean Out The Pantry
Next, while thinking about meal planning, clean out your pantry.
Doing so may give you some ideas for fall meals. Other good reasons to clean out your pantry include the following:
Getting rid of expired food
Making room for new items
Using up things you forgot about
Discouraging pests in your home
Here's a checklist of what to do when cleaning out the pantry:
Empty the shelves
Wipe down the storage areas
Restock
Label containers
Put similar items together
4. Do Sober October
Okay, here's my confession. I have a love-hate relationship with alcohol.
Yes. I love my cocktail hours before dinner time. On the other hand, I'm not too fond of the after-effects of drinking.
For the first time this year, I participated in dry January as part of my beginning-of-the-year goals. So, I also plan on doing Sober October.
You should, too, if you need to take a break from drinking. Here are some of the benefits to motivate you:
Improve your health
Sleep better
Lose weight
Save money
Practice self-discipline
5. Choose A Closet And Clean It Out
For those who know me, you know I like a clean and tidy house. However, I break clean-up and clean-out projects into small monthly goal-setting activities.
Simply put, I target one room at a time to deep clean and de-clutter. I seek to complete at least one space in my house every month.
How about cleaning up one of your closets this month? I suggest your bedroom clothes closet. It's a great time to put away your summer clothes and bring out your fall seasonal gear while cleaning up and out.
However, any closet will suffice. Just do it! You will be glad you did.
6. Have A No-Spend Month
Any month is a good month for goals related to saving money. Planning your goals for October is no exception.
Why? Because your summer trips and parties are over. The fall holiday season has yet to arrive. So, consider limiting your spending to essentials such as food and shelter.
I have already given you some good ideas for going about it. For example, plan your meals and shop sales at the grocery store. Stop ordering food or dining out this month. Eliminate alcohol.
Also, limit your entertainment spending, but continue having a good time. Pull out the movie list I suggested you create as part of your September goals and enjoy your favorite films at home.
Other options include streaming music, working a puzzle, or finishing your summer reading list. Do you remember? The reading list I suggested you put together as part of your June goals.
None of these ideas are free. However, they are low-cost and often paid for as part of your ongoing monthly expenses.
7. Enjoy Sports
Another way to entertain yourself at home is to enjoy some sporting events on television. October may be the best time of year to do so.
The Major League Baseball playoffs are underway. Pro basketball and hockey are kicking off their new seasons. College football and the NFL are in the midst of their seasons.
So, for sports fans, it's your dream month. Plan some comfort foods, hit the couch, relax with your favorite sports, and root for your hometown team.
8. Celebrate Halloween
End the month on a high note by celebrating Halloween to its fullest.
Why not? You've been hanging out at home, not drinking, and saving money. So, it's time to let loose a little. You deserve it. The month is over, and you have made the most of every day and every week.
Take the kid's trick or treating. Go to a Halloween party. Carve pumpkins and decorate your home.
Okay. It's been a great month. Relaxing, fun, and fulfilling in its unique way. Next, let's get more serious with the last two goals for the month of October.
9. Plan For How To Get A Raise
Year-end review time at work is fast approaching. So get ready to put your best foot forward when asking for a raise.
Don't just ask for a raise. Get prepared to put the odds of success in your favor. Here are a few suggestions:
Research what your worth
Document your accomplishments
Practice your pitch
Be ready to negotiate
Anticipate and prepare for questions
Asking for a raise is an intimidating task. Be positive and confident. For this, I recommend this MasterClass on cultivating a winning mindset.
10. Update Your Resume
Finally, are you underpaid? Or do you have the desire to take on a new challenge?
If you answered yes, update your resume as part of your goals for October. It would be best if you did so every year, and October is a great time.
Companies are putting their budgets in place for the new year. Open positions are often advertised and posted after the end-of-year holiday season. So, get ready.
I use MyPerfectResume to put my accomplishments in the best possible light.
Okay. That's today's list of October goals to have. So, please allow me to wrap up with some final thoughts.
But before those parting words of wisdom, save this image to your Pinterest board: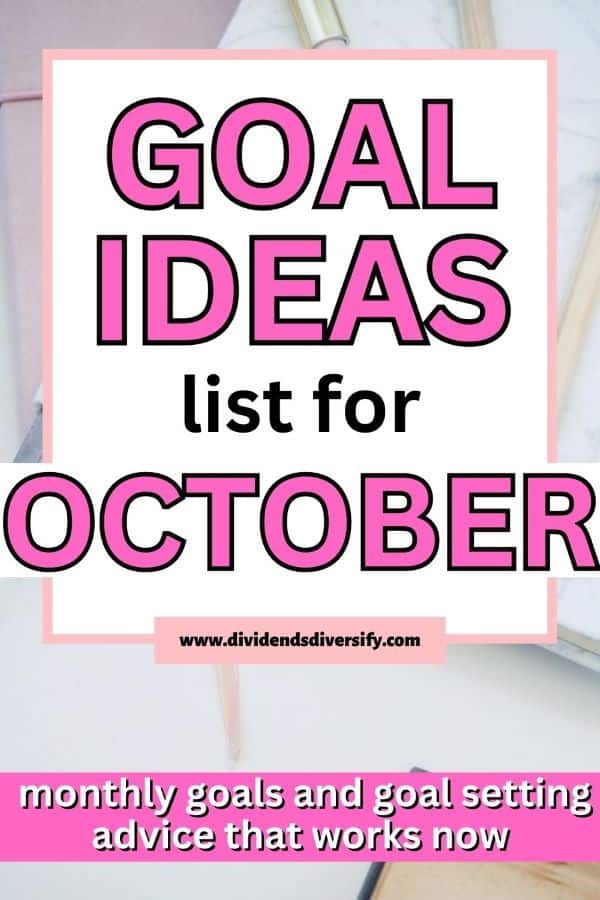 Final Thoughts: New Month New Goals October
Monthly goals are the key to long-term success.
Thus, take it one day, one week, and one personal goal at a time. Don't let this month of your life pass you by.
Most importantly, good luck with your October goals.
Goals For Each Month
As you look out long term, you may also like to have plenty of ideas for monthly goals to support whatever it is you are trying to achieve.
To assist, here are ten goals for all the other months of the year.
Are you ready for more steps on your success journey? If yes, check out the site's personal growth and self-improvement articles.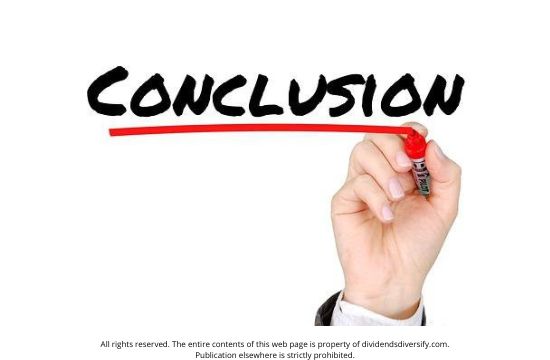 Author Bio, Disclosure, & Disclaimer: Please join me (Tom) as I try to achieve my goals, find my next place to live, and make the most of my money. However, I am not a licensed investment adviser, financial counselor, real estate agent, or tax professional. Instead, I'm a 50-something-year-old, early retired CPA, finance professional, and business school teacher with 40+ years of DIY dividend investing experience. I'm here only to share my thoughts about essential topics for success. As a result, nothing published on this site should be considered individual investment, financial, tax, or real estate advice. This site's only purpose is general information & entertainment. Thus, neither I nor Dividends Diversify can be held liable for losses suffered by any party because of the information published on this website. Finally, all written content is the property of Dividends Diversify LLC. Unauthorized publication elsewhere is strictly prohibited.
Best October Goals For Self-Improvement