New Month New Goals For June
Today I will put the spotlight on setting June goals for self-improvement. This article is from my multi-part series on setting small monthly goals for long-term success.
Let's get moving so you and I can start improving.
List Of June Goals: Ideas For A New Month
Here's my top list of June goal ideas:
Adopt an outdoor exercise buddy
Practice breathing deeply
Backup your computer files
Cut down screen time
Make Father's Day special
Do a good deed for someone
Remove a negative person from your life
Turn a weakness into a strength
Make your summer reading list
Read a book for pleasure
More reading about goal ideas for every month.
Next, I have a few thoughts on each of these objectives for June.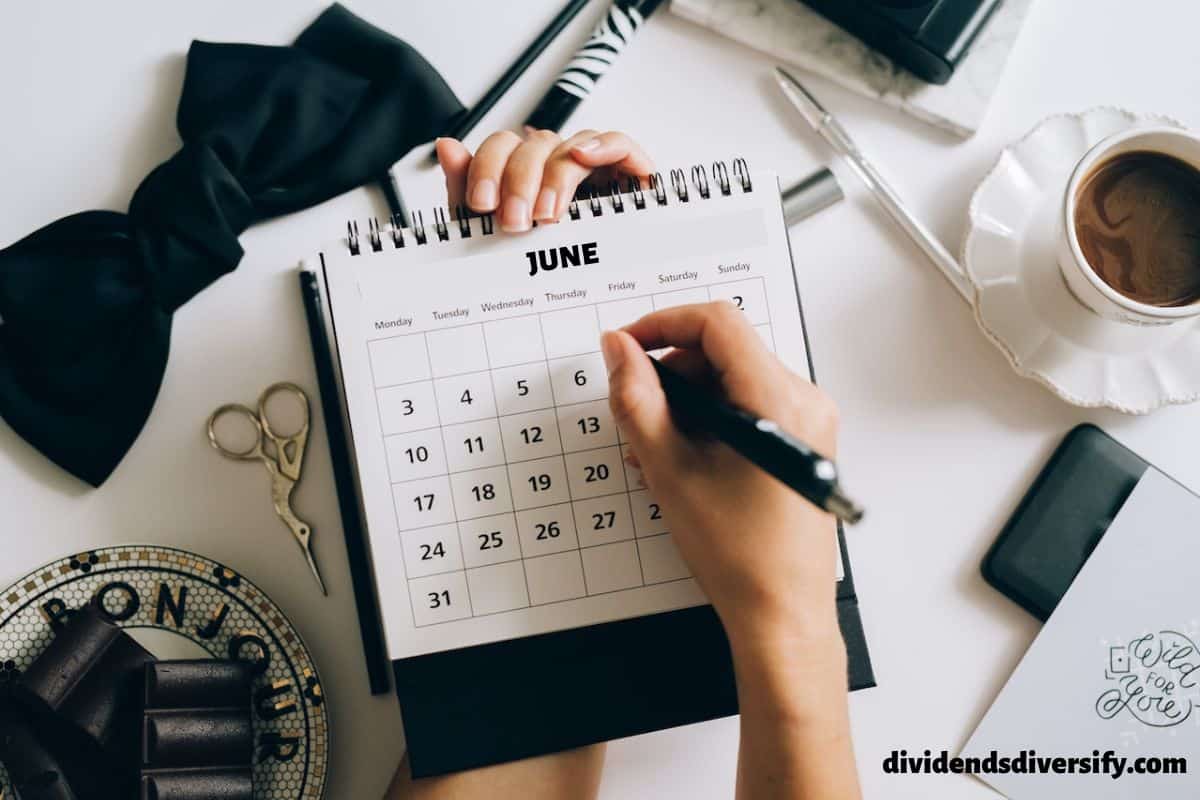 Disclosure: At no cost to you, I may get commissions for purchases made through links in this post.
1. Adopt An Outdoor Exercise Buddy
In my list of May goals, I suggested you start a summer exercise program. It is an excellent time of year to get out and walk, jog, bike, hike, or swim.
Keep up your momentum in June by finding an exercise buddy to keep your motivation high. For example, go on walks with your partner. Or, join a hiking club.
Thus, surround yourself with like-minded people who want to get and stay fit.
2. Practice Breathing Deeply
Summer is a busy time of year. First, for example, the kids are off school, making your days all crazy. Second, your boss might be on you to do more at work.
So, pause and take deep breaths when seasonal stress takes a toll. But, at the same time, I like to close my eyes and let them rest.
Here's my mini-mantra for reducing stress any time of the day:
With eyes closed, on the inhale, I say to myself, "relax."
On the exhale, I say, "let go."
Thus, try practicing this little routine when stress creeps into your life. Consider it your 60-second rest and reset break.
I just did it myself. As a result, I'm ready to keep charging through my top suggestions for monthly goals to set in June.
3. Backup Your Computer Files
Don't wait for the hard drive on your personal computer to crash. Thus, take a moment to back up your files.
I'm not operating on the cloud, so I'm old school. As a result, I use a USB flash drive.
No matter how you choose to do your backup, do it. Someday you may thank me for the reminder.
4. Cut Down Screen Time
Since we are discussing technology, here's another goal idea for June. Specifically, reduce your non-work time in front of the screen.
Take back control of your screen time by checking how much time you are wasting.
Then, replace unnecessary usage with other activities, such as going out for a walk or a hike. For example, see today's June goal number 1.
Here are a few other tips to get out from behind your screen:
Track your screen time
Don't eat in front of a screen
Keep screens out of the bedroom
Turn off notifications
Leave your phone behind
Okay. That's enough about technology. Let's focus on monthly goals for the people in our lives.
5. Make Father's Day Special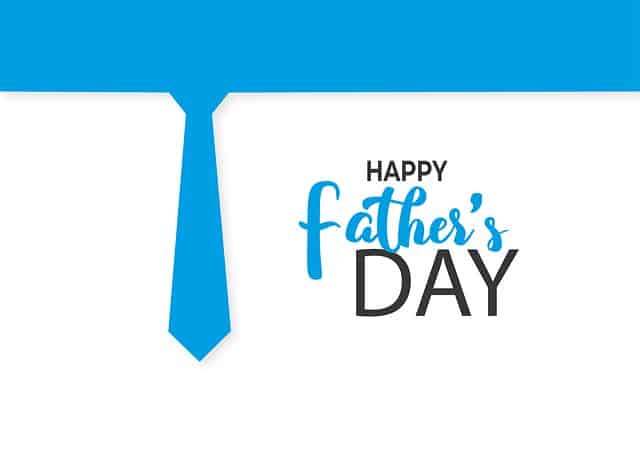 Of course, be sure to remember all of your favorite Dads on Father's Day.
I don't know about you, but I owe my Dad a lot since many of his values stick with me today.
On the other hand, some of his traits and behaviors do not resonate with me. And that's okay.
He raised my brother and me to be independent thinkers. And most importantly, to be true to ourselves first and foremost.
So, I incorporate his best qualities into the vision I've set for myself and my goal planning.
Here are a few suggestions on how to give Dad your best on Father's Day:
Treat him to a barbecue
Wash his car
Spend time together
Do some chores at his house
Go for a long walk
Shop for something special
6. Do A Good Deed For Someone
After taking care of Dad, turn your short-term objectives to others.
With so much "stuff" going on in the world, can we use a few more unprovoked random acts of kindness? I certainly think so.
Some say there is a "helper's high," and I believe it. Doing something nice for someone always makes me feel good. Furthermore, my mother used to say, "you get back twice as much as you give."
Don't overthink it, do it. So, here are some ideas for simple good deeds:
Hold the door for someone
Bring in the neighbor's trash can
Leave a good tip for that excellent server
Donate to a charity
Complement the next person you encounter
Okay. Next, I want you to look outward one more time. Here is what I mean.
7. Remove A Negative Person From Your Life
As we progress through our daily lives, the last thing you need is someone saying you can't achieve your goals this month, next month, or the following year.
So, look around and take stock. Identify toxic people in your life. Then run away as fast as you can!
Now it's time to turn your thoughts inward and return the focus to yourself.
8. Turn A Weakness Into A Strength
Choose one thing you would like to improve about yourself. Then, for one month, turn that weakness into a strength.
Some ideas for self-improvement include the following:
Adopting a positive attitude
Eliminating junk food
Being more decisive
An online course is another excellent way to better yourself. For example, this MasterClass on developing a winning mindset is an outstanding option. After all, setting and achieving goals starts with a winning attitude.
The list of things each of us can improve upon is virtually endless. So, please choose one of your weaknesses during June and make it disappear.
9. Make Your Summer Reading List
I hope you will enjoy some free time this summer. And getting lost in a book is an excellent way to relax and unwind.
So, put your summer reading list together. A list of books to read is a good idea, whether at the beach or on your home's patio.
My wife is a librarian and an avid reader. Thus, I asked her to recommend a few good books for my visitors reading this post.
Here are her recommendations for achieving your monthly goals to read more:
A Gentleman in Moscow by Amor Towles
A Psalm for the Wild-Built by Becky Chambers
Himself by Jess Kid
The Nightingale by Kristin Hannah
The Socrates Express by Eric Weiner
We Should Not Be Friends by Will Schwalbe
10. Read A Book For Pleasure
Last but not least, select one of those books just mentioned. Or one of your choosing. And give it a good read.
After all, it's summertime. So relax a little and lose yourself in a good book. Or, even better, get started on your goals for July.
Next, I have several tips for setting your June personal development goals. Then I will wrap up.
And be sure to save this image to Pinterest so you can return here later.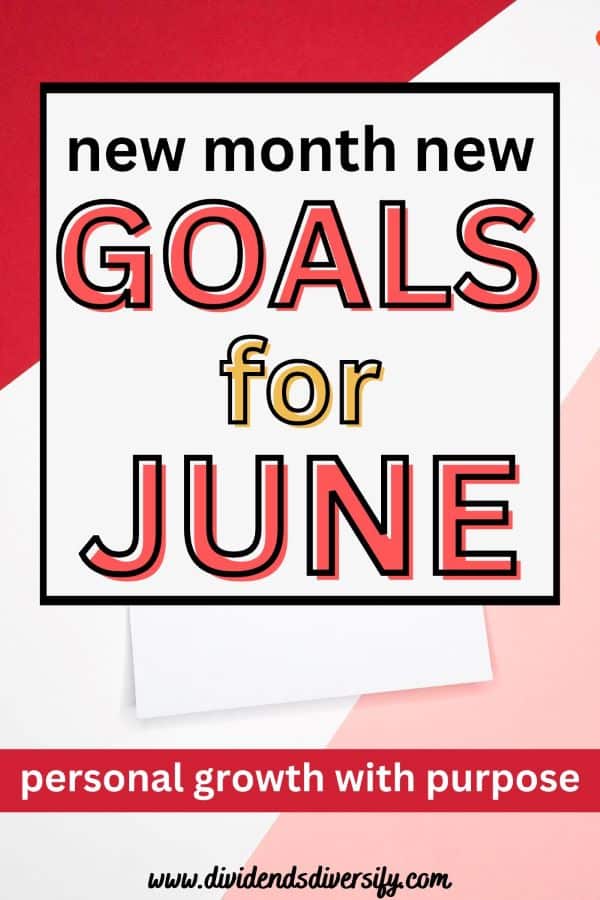 How To Set Your June Monthly Goals And Achieve Them
Here you can find a robust but straightforward checklist for setting and achieving monthly goals.
However, to keep your June goal-setting process simple, consider the following four steps to set and achieve your goals for June.
First, decide what you want to accomplish this month.
Second, write your goals down.
Third, look at your good June goals daily.
Finally, do something productive daily that supports one or more of your goals, no matter how small. Then, reassess your progress each week.
Okay. That's all I have for today. Here are a few parting thoughts.
Choosing, Setting, And Achieving June Goals Examples
Summer is here, but it will whiz by before you know it. So, don't waste a precious second before focusing on your new goals for the month.
Start the summer out right by achieving some of your goals during June.
Goals For Each Month
As you look out long term, you may also like to have plenty of ideas for monthly goals to support whatever it is you are trying to achieve.
To assist, here are ten goals for all the other months of the year.
Are you hungry for more? If yes, check out our:
Archives of Self-Development Articles
Most importantly, good luck. I hope you found these ten examples of June goals helpful.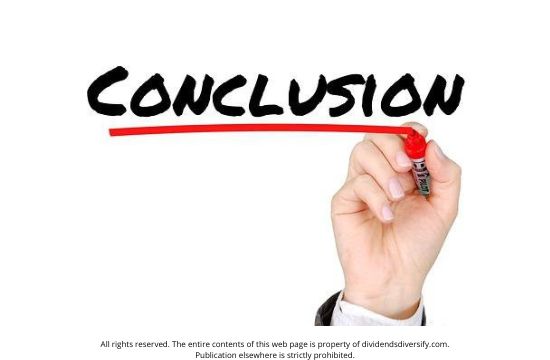 Author Bio, Disclosure, & Disclaimer: Please join me (Tom) as I try to achieve my goals, find my next place to live, and make the most of my money. However, I am not a licensed investment adviser, financial counselor, real estate agent, or tax professional. Instead, I'm a 50-something-year-old, early retired CPA, finance professional, and business school teacher with 40+ years of DIY dividend investing experience. I'm here only to share my thoughts about essential topics for success. As a result, nothing published on this site should be considered individual investment, financial, tax, or real estate advice. This site's only purpose is general information & entertainment. Thus, neither I nor Dividends Diversify can be held liable for losses suffered by any party because of the information published on this website. Finally, all written content is the property of Dividends Diversify LLC. Unauthorized publication elsewhere is strictly prohibited.
Best June Goals To Set For A Better You Right Now