Setting Self-Improvement Goals For September
It's time for another edition of monthly goal setting. And today, we are talking about ideas for your September goals.
With August coming to a close, it's time to get moving.
10 Good September Goals To Have
My top 10 September goal ideas include the following:
Reassess your vision
Set yourself up for work success
Have a Labor Day barbecue
Commit to a morning routine
Eliminate a bad habit
Make a daily to-do list
Plan a fall adventure
Make a list of movies to watch
Take a hike
Improve your home's lighting
Next, let's unpack each of these ten good monthly goal ideas one at a time.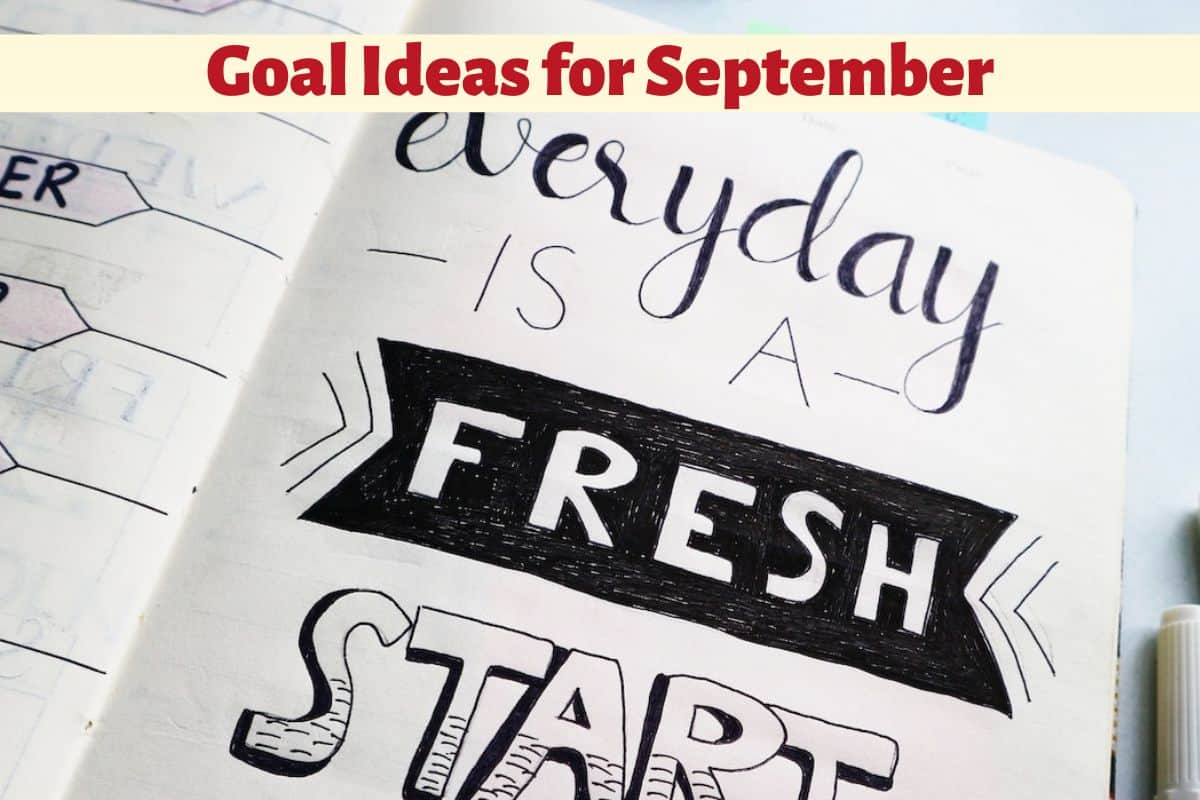 Disclosure: At no cost to you, I may get commissions for purchases made through links in this post.
1. Reassess Your Vision
Do you remember back in January, I had you develop a vision for your life?
Your vision is the big picture of what you want to accomplish long term, not just for the new year. It includes your future objectives regarding family, work, recreation, and where you live.
If you still need to create a vision, do so as part of your September goal ideas. But, on the other hand, September is an excellent time to reassess it if you have one.
Please keep it simple and concise, and write your vision down. Does your future image still reflect what you want out of life? If not, revise it.
Finally, make sure all of your September goals align with your vision. Think of it this way. You would only plan a trip after first selecting a destination. And the same applies to your goals.
Figure out your perfect future self. Then, set your short-term goals to help get you there.
2. Set Yourself Up For Work Success
The summer fun season is coming to a close, so it's a perfect time of year to refocus on your goals for work. So put in a good push at the office between now and Thanksgiving.
Put yourself in the best light with the boss as the year ends. You will get a better performance review and a better raise too.
Thus, pick two or three things at work and set smart goals to get them done.
For example, solve a nagging problem. Assist your staff and associates in developing professionally. Or take on a new project that needs to get done.
3. Have A Labor Day Barbecue
Speaking of work, recognize your success as a hard worker as part of your goals for the new month.
Thus, take advantage of the last big holiday of the summer season. Plan a barbecue before the height of the grilling season comes to a close.
Pull the family together for a bit of quality time. Invite some friends. Have a good time. Keep it casual. No one needs an uptight host on Labor Day weekend.
Read more: October goal ideas
4. Commit To A Morning Routine
The fall season is an excellent time to recommit to a morning routine. But, most importantly, an effective morning routine is essential to developing the right frame of mind to tackle the day.
Remember, your brain power is critical since success always starts between your ears and in your head. So, I suggest taking your thoughts to the next level with this MasterClass:
How to Develop a Winning Mindset
As a result, my morning routine has changed, but I have always had one.
Furthermore, I'm careful not to unintentionally break my morning habits because when I do, it typically leads to an unproductive day.
Finally, the many benefits of a morning routine include:
Reduced anxiety
Lower stress
Improved focus
Heightened confidence
Greater productivity
Increased positivity
So, for your goal-setting activities in September, establish and fine-tune your morning routine!
5. Eliminate A Bad Habit
With the last one of my recommended goals, you have established a good habit – precisely an enjoyable and productive morning routine.
Next, however, allow me to flip the script. Thus, I suggest eliminating a bad habit.
We all have a few bad habits. So, why not pick one of yours and make it go away?
Here are a few bad habits to eliminate:
Smoking cigarettes
Eating junk food
Drinking too much alcohol
Scrolling social media
Watching television
Remember, moderating your behavior will go a long way to sending you in the right direction when trying to kick a bad habit. Little steps turn into big wins for the month.
6. Make A Daily To-Do List
So, we have added an excellent habit (morning routine) to the month's goal list and eliminated one or more bad habits.
Next, as part of setting the entire month's objectives, how about making a goal to be more productive? If you agree, create a daily to-do list. But keep it concise and include only 3-5 items.
Create your to-do list at the end of the work day. Then you can hit tomorrow on the run after you complete your morning routine.
Put something easy but essential to accomplish at the top of your list of goals.
Thus, start your day by checking an item off the list. Then, move on to more challenging tasks. Working in this order will increase your confidence as you move to the more demanding things.
To sum up, commit to creating a short daily to-do list. And ensure the first item on the list is a confidence builder for the day.
7. Plan A Fall Adventure
Besides your Labor Day Barbecue, thus far, we have focused on work and productivity. But, on the other hand, I want you to avoid always having your nose to the grindstone.
We all need time to recharge our batteries. So, plan a fall trip or adventure to relax, have fun, and unwind.
Here are some suggestions to spice up your fall:
Take in a football game
Go apple picking
Plan a turning leaves tour
Have a camping weekend
Next, let's stay on fun and relaxation as you and I set monthly goals.
8. Make A List Of Movies To Watch
For my wife and I, movies are a great source of entertainment and relaxation. Moreover, they are a great source of fun as the evening temperatures cool, the daylight hours wane, and we move deeper into the fall season.
Yet, we tend to be indecisive if we don't have a movie watch list. So, I recommend you compile a short list of goals for the movies you want to watch.
Then you will be ready the next time you want to enjoy a movie at home. Or when a new release hits the theatre.
9. Take A Hike
My wife and I love to hike. Unfortunately, we do not live in the most exciting area for hiking. However, there are several forest preserves nearby where we can log a few miles.
Yes, we live in a very walkable city. However, something is inspiring about getting out in nature.
So, for your September goals to set, TAKE A HIKE! Or, for anyone living in a walkable city, head out on the sidewalks and get your steps in.
Make it one of your goals for this month or any month. Better health depends on it.
10. Improve Your Home's Lighting
As the summer's daylight hours diminish, it's an excellent time to reassess the lighting in your house.
The right lights create a better mood. Furthermore, lighting can brighten your day or usher you and your family into a peaceful evening.
Thus, consider the power of good lighting in your home. Then, make a September goal to tune up your lights and lighting. If you are like me, you will be glad you did.
There you have it, my 10 recommended goals for September. So, please let me wrap it up with a few parting thoughts.
And before you go, pin this image to your Pinterest board to save for later.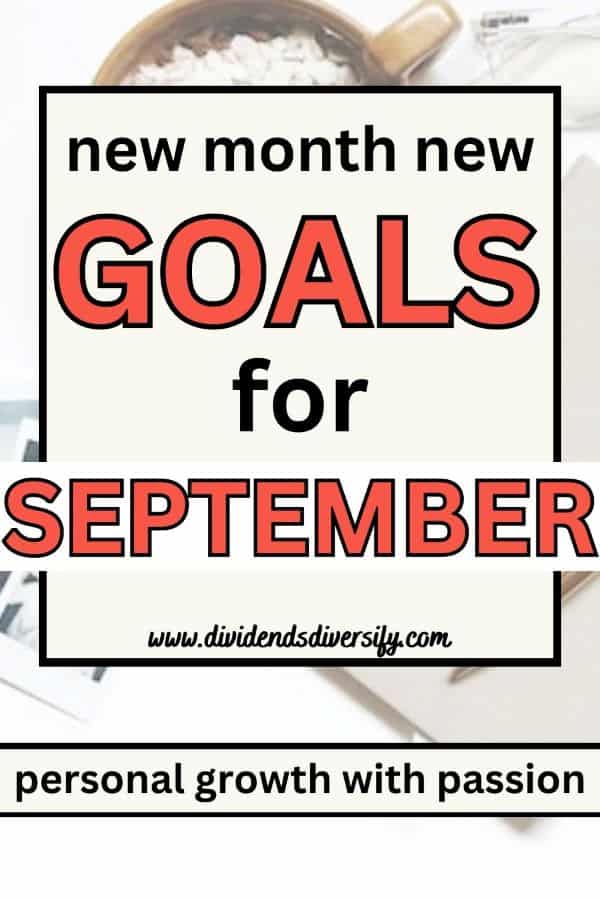 Wrap-Up: New Month, New Goals For September
September is the gateway leading us from summer to a successful last one-third of the year. It is when our thoughts turn from summer fun to better habits and fall seasonal activities.
As a result, set yourself up for success with new goals to ensure your September is the best it can be. Make it a 30-day challenge.
Goals For Each Month
As you look out long term, you may also like to have plenty of ideas for monthly goals to support whatever it is you are trying to achieve.
To assist, here are ten goals for all the other months of the year.
Okay. That's all I have for today. However, if you are hungry for more, check out all of our:
Goal Setting Articles For Personal Growth
In the archives are dozens of tips to take your game for last month, this month, and next month up a level. Good luck, and thanks for reading!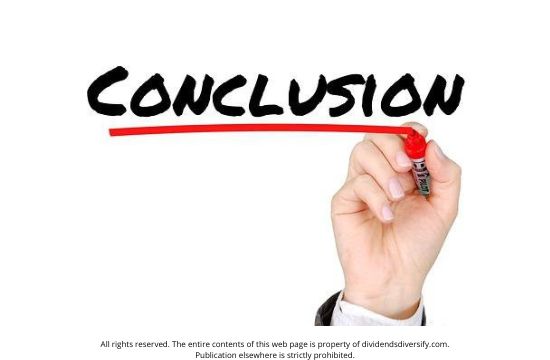 Author Bio, Disclosure, & Disclaimer: Please join me (Tom) as I try to achieve my goals, find my next place to live, and make the most of my money. However, I am not a licensed investment adviser, financial counselor, real estate agent, or tax professional. Instead, I'm a 50-something-year-old, early retired CPA, finance professional, and business school teacher with 40+ years of DIY dividend investing experience. I'm here only to share my thoughts about essential topics for success. As a result, nothing published on this site should be considered individual investment, financial, tax, or real estate advice. This site's only purpose is general information & entertainment. Thus, neither I nor Dividends Diversify can be held liable for losses suffered by any party because of the information published on this website. Finally, all written content is the property of Dividends Diversify LLC. Unauthorized publication elsewhere is strictly prohibited.
10 Goal Ideas For September Fully Explained