Setting Good Goals For March Is Vital for Self Improvement
Today, I'm laying out examples of good March goals. But, most importantly, setting goals for each month is a great way to practice continuous self-improvement.
Thus, it's time for a new month and new goals. So, let's get moving so you can make March your new best month this year.
March Goals For Self-Improvement
Here's my list of 10 examples of March goals for your consideration:
Reflect on February
Declutter your home
Get started on your garden
Tune up the lawn mower
Complete your income tax returns
Fund your tax-advantaged accounts
Complete your annual physical exam
Improve your work-life balance
Celebrate St. Patrick's Day
Enjoy a spring break vacation
Related goal ideas: List of goals for every month
Next, I will review these ten points to make March a better month.
Later, before wrapping up, I have some more ideas for setting your monthly goals.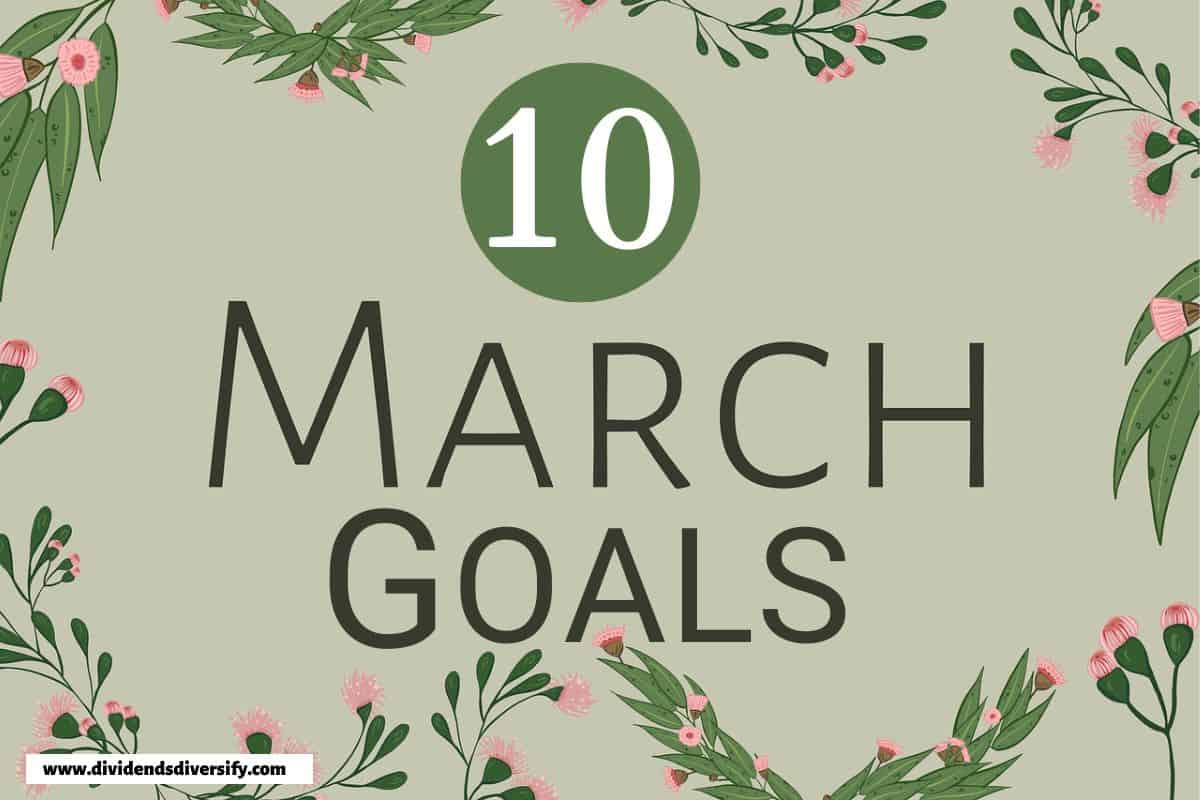 Disclosure: At no cost to you, I may get commissions for purchases made through links in this post.
Reflect On February
It's always a good idea to take a step back and make a little time to think. Furthermore, I suggest thinking about February for better near-term results in March.
With only 28 days, February is a short month. So, if you are like me, it probably whizzed right by.
Ask yourself questions like the following:
How did the month go?
What did I do well?
How should I improve?
If you keep a journal, this is a perfect time to review it.
Through this process of reflection, I recommend you come up with some ideas for March goals that I have yet to consider. Or are specific to your unique situation.
For a bit of motivation, check out this MasterClass right now on:
You won't be disappointed because, as I like to say, "success always starts between your ears."
Okay. We are just getting warmed up. There are more possible goals for the month to come.
So, let's move on to item number 2 on today's list of March goals.
Declutter Your Home
It's a little early in the year to focus on spring cleaning. However, in March, I prefer to focus on spring decluttering.
Getting rid of stuff or throwing your old belongings out takes a lot of work. At least, it is for me.
However, here's a good rule of thumb. Identify belongings that have not been touched or used in the last year.
I call it the "one-year rule." Yes. I'm so creative.
Thus, if you last used or touched something more than a year ago, consider getting rid of it.
Perfect candidates for this March goal include:
Books
Clothes
Computers
Electronics
Games
Kitchenware and utensils
Magazines
Smartphones
Tools
Next, let's focus outdoors with the next couple of March goal examples. After all, if you live in a cold climate, it's probably been a long winter.
Get Started On Your Garden
Whether you own a house with a yard or live in a multi-unit dwelling with a patio, you can always do some garden work and planning in March.
Then, later in the year, watch your garden goals for summer blossom!
Here are a few ideas:
Plant hardy cool-weather annuals
Buy some new containers
Prune trees and shrubs
Map out your beds
Clean up winter debris
As long as we are thinking about the outside, consider this next one of the March goals to set.
Tune Up The Lawn Mower
March is the perfect month to ensure your lawnmower is in good condition and ready for the spring growing season.
I used to do this myself. But now, I take my mower to a local shop and let them tune it up for me.
Good things to do include:
Changing the oil
Sharpening the blade
Replacing the air filter
Cleaning up the chassis
Scraping the undercarriage
Unfortunately, I'm not that handy and don't care to be. So, that's why during March, I will haul my mower off to the repair shop.
These next couple of items are always on my March goal list. Because as the saying goes, there are only two certainties in life: death and taxes.
And for what it's worth, I prefer focusing on my taxes rather than the other subject. You should do so too!
Complete Your Income Tax Returns
Did you follow my advice about February goals?
Your income tax documents that arrived last month are neatly filed and organized if you did. And that is a big step in the right direction.
Now it's time to prepare and file your tax returns.
Yes, I know. Your tax filings are due in the middle of April. However, I believe in getting them done and filed by April 1.
So, if you are like me and prepare your returns, complete them this month. Otherwise, if you use a tax professional, get your tax documents to them as soon as possible.
So, now you have a little window into my world.
I'm not a mechanic. Thus, I pay one to tune up my lawnmower.
However, I am a Certified Public Accountant. As a result, I prepare my tax returns.
Fund Your Tax-Advantaged Accounts
As long as you are thinking about taxes, here is another item on today's list of March goals to have.
Specifically, fund your tax-advantaged accounts. Most have funding deadlines tied to the date for filing taxes.
You should consult with a tax professional in this area. Everyone's tax situation is unique, and there are so many possible accounts with tax benefits. However, this is just one of many attainable financial goals.
Some examples of these accounts include the following for individuals:
Roth IRA
Traditional IRA
Health Savings Account
While small business owners may have one of these types of accounts too:
SEP IRA
Simple IRA
Individual 401(k)
As I said, this tax stuff can get complex. So, talk to a tax expert.
Regardless, these accounts are potent ways to secure your financial future. Thus, utilize them to your full benefit.
Okay, I'm switching gears and turning to your physical and mental well-being. Health is a vital area to consider in your March goals for self-improvement.
Complete Your Annual Physical Exam
When I was younger, I rarely went to see a doctor. But, "knock on wood" because I'm generally pretty healthy.
However, I set a goal to find a doctor and see them annually for a physical exam after turning 40. And I have done so annually ever since.
I like to complete my exam in March. By then, I have worked off the excesses from the winter holidays. Furthermore, you know by reading my suggested January goals I participate in dry January.
Thus, it's an excellent time for me to see the doc. And get that appointment out of the way before the summer beach, beer, and barbeque season arrives.
Next, let's touch on your state of mind as part of the new month new goals for March.
Improve Your Work-Life Balance
Where I live, January and February tend to be dark, cold, and snowy. Couple this with working in a profession where the busiest season coincides with this time of year.
Thus, when March rolls around, I'm ready to restore a better work-life balance to my daily routine.
And these next two March goal ideas are perfect ways to go about it.
Celebrate St. Patrick's Day
Take a break and enjoy St. Patrick's Day. Here are some ideas:
Attend a parade
Have dinner out
Get together with friends
Have a family gathering
Take a vacation from work
Okay, congratulations. We have made it to the last of today's 10 March goals for a better you.
Enjoy A Spring Break Vacation
Did you follow my advice last month and plan your spring break vacation?
If so, great. Enjoy it because you deserve it.
If you didn't plan a trip, don't worry. You can still book a visit to that warm-weather destination you have been dreaming about all winter.
Or get busy and plan a staycation.
That completes today's ten goals for March. Next, I have a few words about setting monthly goals.
Then, I will wrap it up. I promise!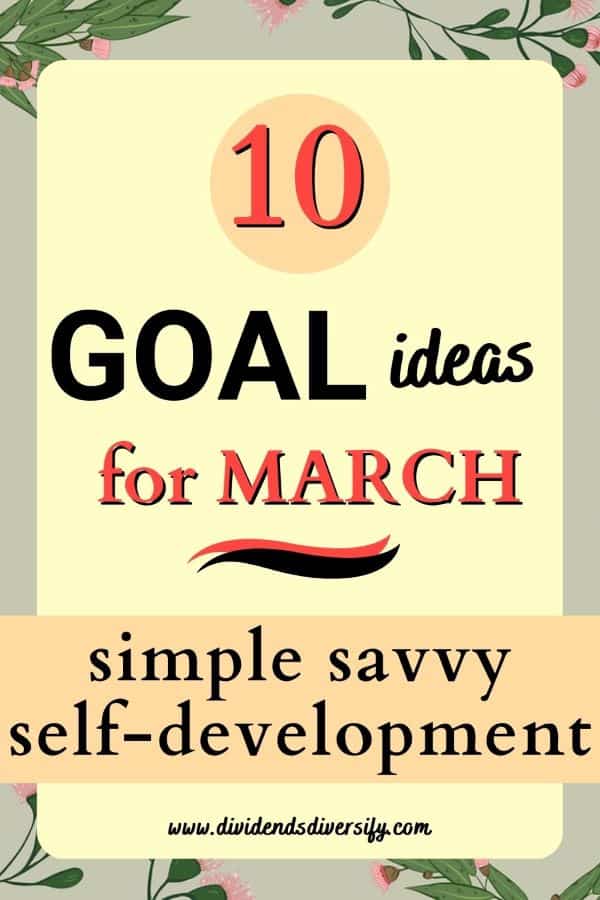 How To Set March Goals
I'm not into fancy March goal-setting systems when working on monthly goals. Yes, SMART goals have their place, but we can simplify the process.
First, write your goals down. Then, be detailed about precisely what you want to accomplish and when.
Second, put your written goals where you will see them. I want you to be reminded daily about your objectives.
Finally, all that's left is for you to get busy and take action to achieve your goals for March!
Okay. That's all I have for today. So, allow me to wrap up with a few parting thoughts.
Wrap-Up: Setting March Goals For Personal Growth And Development
February has zipped past us all, and March will soon be here. Before you know it, this year will be one-quarter done.
Thus, make use of every precious second.
Think carefully about how you can improve. Then set your goals to be better in March than in February.
Goals For Each Month
As you look out long term, you may also like to have plenty of ideas for monthly goals to support whatever it is you are trying to achieve.
To assist, here are ten goals for all the other months of the year.
Finally, for more inspiration, check out all of my:
Best Ideas for Setting and Achieving Goals
Accelerating your success depends on it.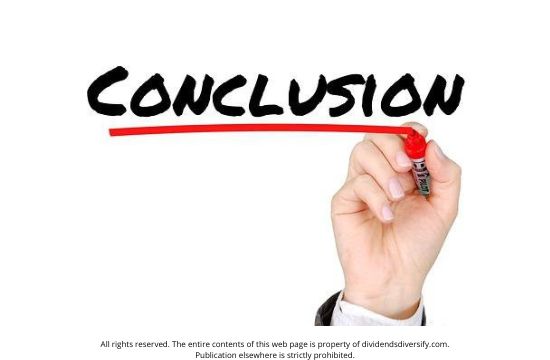 Author Bio: Tom Scott founded the consulting and coaching firm Dividends Diversify, LLC. He leverages his expertise and decades of experience in goal setting, relocation assistance, and investing for long-term wealth to help clients reach their full potential.
Best March Goals For A Better You Fully Explained