Savvy Self-Improvement By Setting Good Goals For November
Focus on your November goals because there's still time for a fresh start to a year rapidly coming to a close.
To assist, I have ten personal growth tips you (and I) can accomplish during the month. Ten great ideas for results right now.
So, get on the move so you can set these November monthly goal ideas and start to improve.
November Goals For Gaining Momentum At The End Of The Year
New month new goals, November! Here are my best suggestions for your November goal-setting consideration.
Make plans for the holidays
Refocus on exercise
Eliminate fast food
Schedule doctors appointments
Spend time at the local library
Find a new wall hanging
Store the patio furniture
Complete autumn yard cleanup
Be grateful for what you have
Donate to your local food pantry
Next, let's discuss each of these points one at a time. Then you can set up your next 30-day challenge starting in November.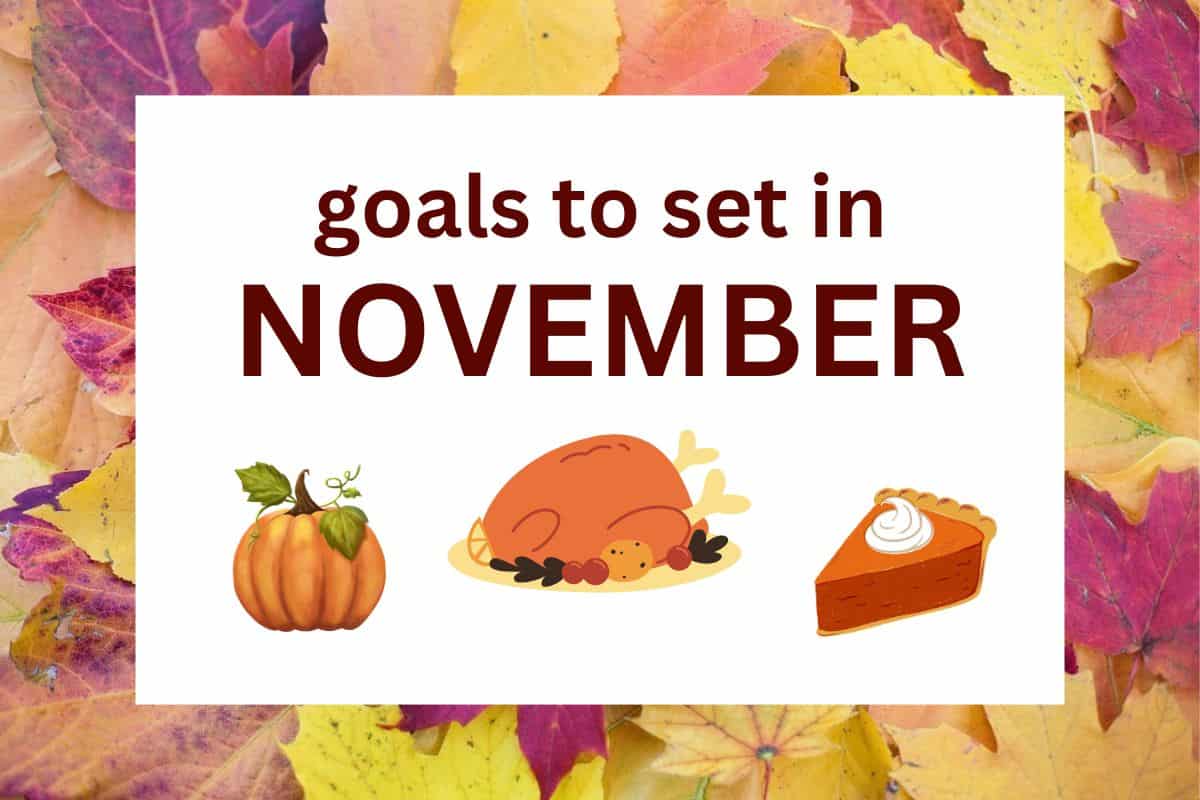 Disclosure: At no cost to you, I may get commissions for purchases made through links in this post.
1. Make Plans For The Holidays
The seasonal holidays are fast approaching. December is right around the corner.
First, make plans for Thanksgiving. Whether you like to spend your time on football, food, family, friends, or all of the above, make it an enjoyable day.
Second, organize for Christmas, Hanukkah, Yule, Kwanzaa, Festivus, or whatever else meets your desires. Some of the best ways to get organized for the holidays include:
Make a to-do list
Set a budget
Shop early
Get your Christmas cards
Decorate your home
Plan your meals
2. Refocus On Exercise
Most of us know how easy it is to gain weight during the last six weeks of the year. As a result, it's a great time to refocus on your exercise routine. Or start a new training regimen for motivation.
Here are the fitness areas I like to concentrate on:
Cardio: Walking, jogging, and biking
Strength: Dumbell exercises, planks, ab crunches
Flexibility: Yoga poses, static stretches, foam roller exercises
Here's another tip that works for me. Keep a short journal documenting the exercises you do each day. Doing so motivates and encourages you to follow your planned routines.
3. Eliminate Fast Food
We have plenty of opportunities to overeat and overconsume calories during the holiday season. It starts in October with Halloween and continues for the rest of the year.
There always seems to be food at home, treats at the office, and snacks at the next party.
Try to enjoy it all in moderation. But do yourself a favor: eliminate fast food for the month.
4. Schedule Doctors Appointments
One of the things I like to do in November is schedule my doctor's appointments for next February and March.
My doctors' schedules are booked solid these days. To get an appointment it takes forever to get in and see them.
So, I like making and grouping my doctor appointments for February. Thus. I call in November and can typically get in when I want to.
As a result, my physical exam, dental check-up, eye exam, and any specialty appointments I need are scheduled. Next year, I get them done, and I'm usually good to go for the remainder of the year.
5. Spend Time At The Local Library
As the daylight hours shorten starting in September and the daytime temperates cool, I like to spend some time at my local library. Doing so makes me feel more connected to the community.
I browse the stacks looking for things to read that will expand my horizons. Pick up a few books to enjoy at home. Research topics that I want to know more about and browse magazines.
Most importantly, I reflect on last month and spend some time looking forward.
Somehow that I can't fully explain, being in the library takes me away from my day-to-day responsibilities and allows me a little mental playtime.
Enjoying time at the library is a great way to establish a positive and winning mindset.
Try it. You might like it too.
6. Find A New Wall Hanging
One of the things I enjoy doing is going to thrift and second-hand stores. I like finding something new and unique to display on a wall at home.
My eyes get accustomed to the same old stuff hanging on the walls. So, it's nice to inject some variety from time to time.
7. Store The Patio Furniture
Pick one area of your home to clean up and declutter monthly. For this month, it's the patio.
It's an excellent time to store your patio furniture unless you live in a warm winter climate. Don't let it sit out in the winter weather so it will be in good condition for next year.
This point leads me to another one of my monthly goals for November.
8. Complete Autumn Yard Cleanup
Before the snow falls, complete a thorough fall cleanup in your yard, including the following tasks:
Rake
Remove debris
Plant new trees and shrubs
Mulch beds to protect roots
Fertilize the lawn
Most people don't realize it, but late fall is one of the best and most important times to feed your lawn. Give your grass some nutrients to munch on over the winter so it will be strong in April.
9. Be Grateful For What You Have
Any time of the year makes for an excellent month to be grateful for what you have. But why not put a particular emphasis on doing so as part of your November goals? After all, Thanksgiving is right around the corner.
Here are some tips for being a little more grateful every day:
Start a gratitude journal
Be kind to a stranger
Seek out ways to help others
Be mindful and present
10. Donate To Your Local Food Pantry
For those of you who have so much, donating to your local food pantry is one way to give back. You can contribute to your food pantry in several ways, including:
Doing so supports your community, helps those in need, and might make you feel extra good about yourself this month.
There you have my ten recommendations for November goals to set.
Next, here are a few tips for setting your November goals, then I will wrap up.
But first, enjoy this image and save it to your Pinterest board: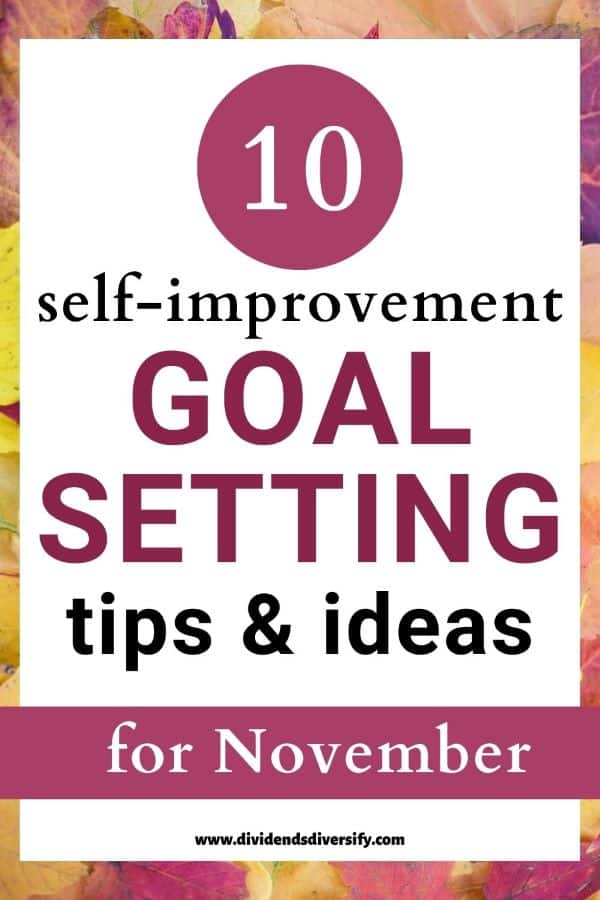 November Goal Setting Tips
First, the great thing about any 30-day challenge is that you must give yourself a deadline. As a result, make sure each November goal you set for yourself is achievable in the short term.
Naturally, you have a deadline. It is the end of November!
Second, write your goals down. Be as specific as possible about what you want to accomplish.
For example, don't just write down "refocus on exercise." Instead, write down how many times a week you will exercise, what exercises you will do, and when. Leave nothing to chance.
Finally, take action by following your specific monthly plans.
If you suffer a setback, don't let it hinder your accomplishments for the month. Put it behind you and resolve to have a better and more productive tomorrow.
Go deeper: The best ways to set monthly goals
That's all I have for today. Please allow me to wrap up with some parting thoughts.
New Month New Goals – November: Wrap Up
Accomplishing small monthly goals is an excellent recipe for long-term success. Thus, every month is a new opportunity to improve.
One approach is to think about your future self and what you want to become. Then set monthly goals that support those objectives. Exercise, health, and nutrition goals fit in this category.
A second method is to be tactical and accomplish the necessary things to build a strong foundation around your daily life. A tidy yard, a new wall hanging, or storing the patio furniture fit this objective.
Goals For Each Month
As you look out long term, you may also like to have plenty of ideas for monthly goals to support whatever it is you are trying to achieve.
To assist, here are ten goals for all the other months of the year.
All for now. Best of luck with setting your goals for November. If and when you are ready for more, check out our many helpful goal-setting guides.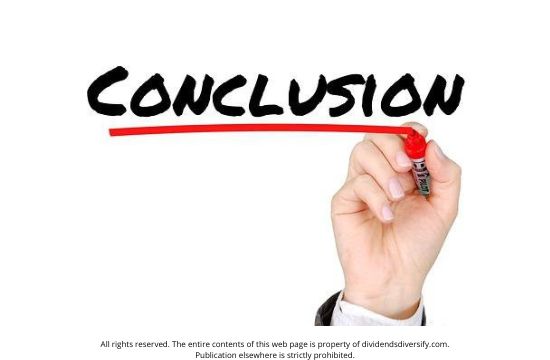 Author Bio, Disclosure, & Disclaimer: Please join me (Tom) as I try to achieve my goals, find my next place to live, and make the most of my money. However, I am not a licensed investment adviser, financial counselor, real estate agent, or tax professional. Instead, I'm a 50-something-year-old, early retired CPA, finance professional, and business school teacher with 40+ years of DIY dividend investing experience. I'm here only to share my thoughts about essential topics for success. As a result, nothing published on this site should be considered individual investment, financial, tax, or real estate advice. This site's only purpose is general information & entertainment. Thus, neither I nor Dividends Diversify can be held liable for losses suffered by any party because of the information published on this website. Finally, all written content is the property of Dividends Diversify LLC. Unauthorized publication elsewhere is strictly prohibited.
Ideas You Can Use To Set Goals For November