New Month New Goals For April
It's starting to feel like spring, so let's put a laser-like focus on your April goals.
This time of year, I like to have a good variety in life. That's why today's goals for April are a mix of work, play, indoor and outdoor objectives.
So, let's get moving. Then, you and I can start improving!
Examples of April Goals For Self-Improvement
Here's my list of April goals for your careful consideration:
Take time to reflect
Prep the patio for summer
Clean up the yard
Store your snow removal equipment
Tune up your bike
Organize and file your tax work
Invest your tax refund
Create a clutter-free workspace
Recommit to your goals at work
Plan your summer vacation
Next, let's discuss these ideas for April goals one at a time. Then you can set up your 30-day challenge.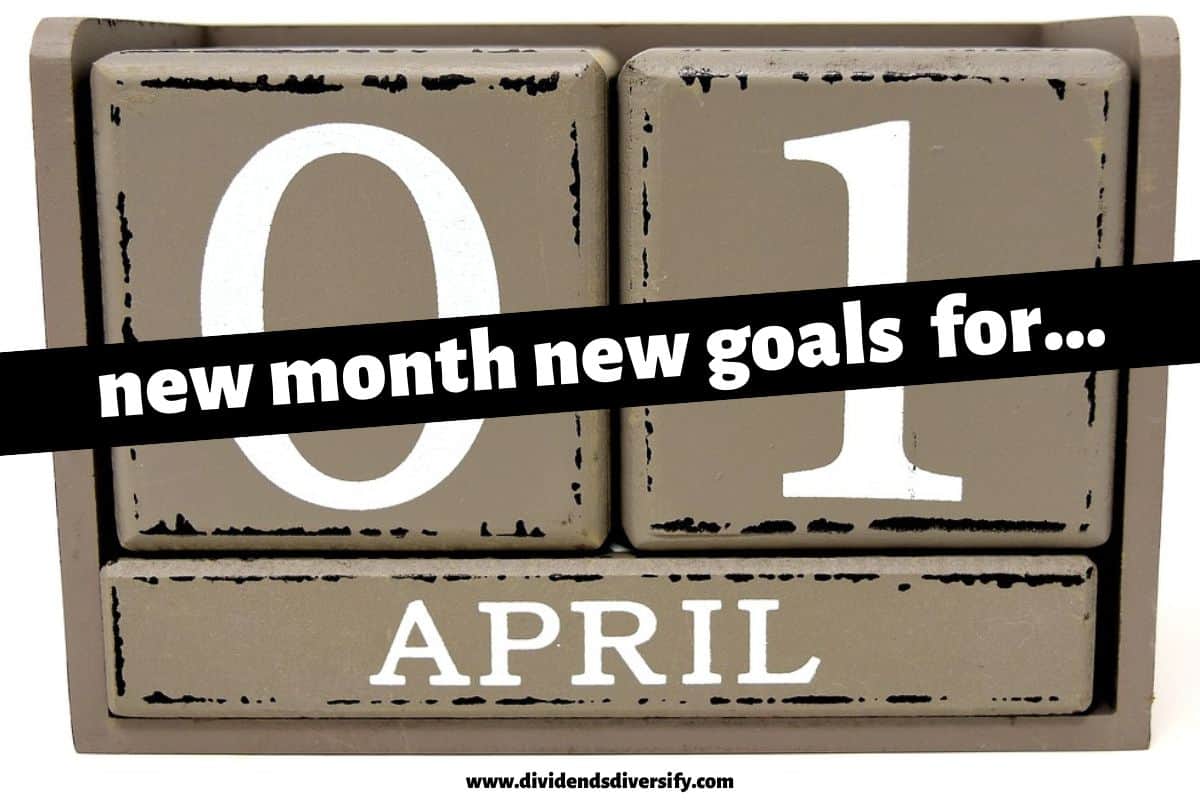 Disclosure: At no cost to you, I may get commissions for purchases made through links in this post.
Take Time to Reflect
If you keep a journal, pull it out and read through the last few weeks. Thus, reflect on March.
Think about what went well and how you can extend that progress. Also, think about what you can improve.
Also, reflect on your life vision. Thus, ask yourself what the perfect you will look like in the distant future.
How will you spend your time and with who? Where will you work? How much money will you make and have?
Setting a positive long-term vision makes the future look and feel brighter. So, for a bit of motivation, check out this MasterClass right now:
You won't be disappointed because there is one and only one thing in life you can control. What's that?
It is your thoughts.
So make your thoughts positive. And make a plan to win, whatever winning means to you.
Okay. We are just getting warmed up.
So, let's move on to another item on today's April goal ideas.
Prep The Patio For Summer
After getting through the worst winter months of January and February, prepare to set outdoor goals for this month.
Thus, clean off the patio and clean up your outdoor furniture. Next, plan for flowers and plants to create a pleasant outdoor space.
Getting outside as soon as you can improves your mood.
Okay. Let's stay on the practical side of things with another one of many April goal-setting ideas you can achieve in the next 30 days.
Clean Up The Yard
Since you are doing some minor outdoor cleanup on the patio, focus on monthly goals for your yard too.
Throw away any debris that blew into the yard over the winter. Pick up all the sticks and rake up any leaves.
Why? Because you will only have an enjoyable afternoon on your patio if you have a tidy yard.
As long as we are thinking about the outdoors, consider the following two April monthly goals to set.
Store Your Snow Removal Equipment
Let's put winter in the rearview mirror. For most of us, the chance of significant snow accumulation reduces in April.
So, run the gas out of the snowblower. And put your snow shovels out of the way in the back of the garage. I put mine up in the rafters.
The result? Out of sight and out of mind.
How about a fitness goal for April? I've got a couple of excellent short-term goal ideas for you next.
Tune Up Your Bike
Since you are in the garage, how about getting your bike out to make sure it's ready for the summer season?
Check the tires, clean the chain, and wash it well. Then, if it requires more work than you can handle, take it to the local bike shop.
Then get out for a ride. Alternate biking and walking for 30 minutes three times per week during April.
Not only will your bike be tuned up and ready to go, but so will your body. You can look your best for the fast-approaching summer shorts and t-shirt season.
Next, let's switch it up. The following good April goals to have related to your finances are next.
So, stick with me. These goals are important!
And be sure to save the image below to your Pinterest board so you can return here later.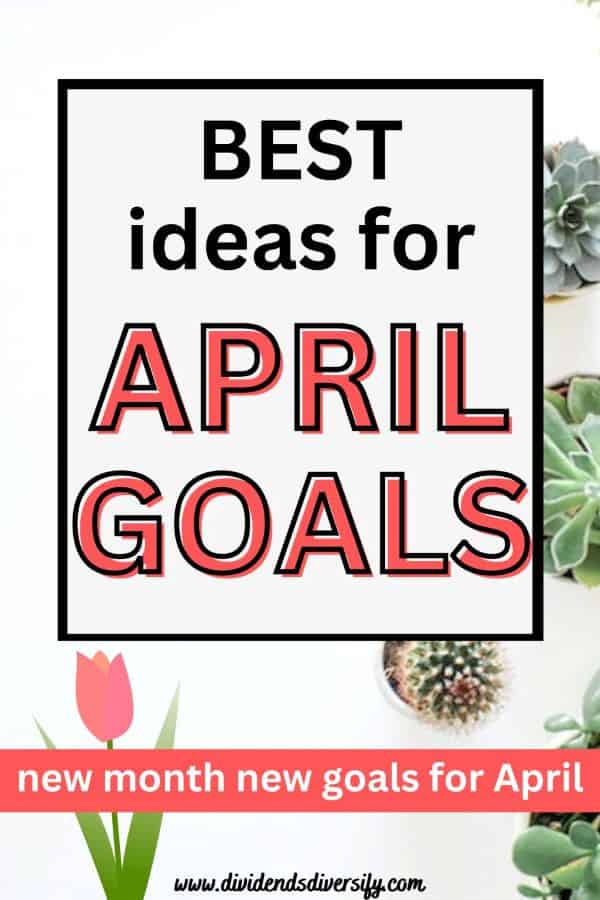 Organize And File Your Tax Work
If you still need to file your taxes, April is the month to make it happen. Furthermore, don't waste time filing an extension or anything like that.
Procrastinating with your finances is a bad habit. After your taxes are done and filed, organize your documents and file them away.
Doing so is a good practice in case you ever get audited. Or need to refer to those documents next year during tax time.
Here's another one of many possible financial goals for April.
Invest Your Tax Refund
With your tax filing completed, maybe you will receive a refund. If so, don't spend it.
Here are two suggestions for putting your tax refund to good use.
First, set aside the money for when something unexpected comes up. In other words, establish or top off your emergency fund.
Second, if you have an emergency fund, congratulations. Now you can put that refund money to work for the long-term benefit of your finances.
To do so, deposit the money in an individual retirement account (IRA) and save for financial security in the future.
Next, let's touch on an organizational objective as part of today's new month goals for April.
Create A Clutter-Free Workspace
Okay. You have your tax work filed away. And have put your tax refund to good use.
While at it, take a hard look at your home office space. Please clean it up, declutter, and make it an inviting space for the next time you need to consider your monthly goals for money and investments.
Now, I don't want to bring you down. However, setting at least one April goal for your job is a good idea.
Recommit To Your Goals At Work
If you are like me, your boss probably made you set goals for the year. And by now, you probably filed them and forgot about them.
So, please do yourself a favor and pull them out. Don't wait until the end of the year to scramble and complete your work goals.
Thus, see what you can do in April to accomplish something extra in the workplace. You will be glad you did.
Last but not least, I have possibly one of my favorite ideas for April goals. Then you will be ready to move on to your May goals.
Plan Your Summer Vacation
Finally, it's time to plan for a bit of fun.
The summer months of June, July, and August are approaching. You can lounge at the beach, read a good book, hike in the mountains, or save money on a staycation.
Love the season, and start planning for whatever you want to do to make the summer memorable. Also, look at your budget and see what you can afford this year.
To save some money, try the cash rebate app from Rakuten. The easy-to-use money-back tool is a great way to save on everything you buy online.
You can learn more about Rakuten here
Okay. Let me wrap it up with a few parting thoughts.
Since that's all I have today about monthly goal-setting for April.
Wrap-Up: Setting Monthly Goals For April
Personal growth and personal development don't have to be complicated.
Instead, focus on small daily steps. Set monthly goals and make the next 30 days the best they can be. Most importantly, be mindful and kind to yourself.
Goals For Each Month
As you look out long term, you may also like to have plenty of ideas for monthly goals to support whatever it is you are trying to achieve.
To assist, here are ten goals for all the other months of the year.
Then, when you are ready to take your goal setting up a notch, check out my:
Dozens of Posts about Achieving Your Goals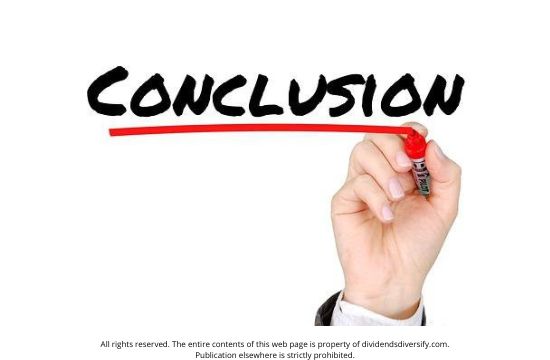 Author Bio: Tom Scott founded the consulting and coaching firm Dividends Diversify, LLC. He leverages his expertise and decades of experience in goal setting, relocation assistance, and investing for long-term wealth to help clients reach their full potential.
10 Monthly Goal Ideas For April Fully Explained