Good Things To Know Before Moving To St. Petersburg
This article is about the pros and cons of living in St. Petersburg, Florida. Including 21 important things to know before moving.
Let's get started…
Pros And Cons Of Living In St. Petersburg, Florida
Our list of the living in St. Petersburg, FL pros and cons includes:
Great winter weather
Beautiful beaches
Very walkable
Nice diversity
Plenty of museums
Fun festivals & music scene
Great downtown nightlife
Lots of sports
Convenient access to Tampa and beyond
Reasonable cost of living
No state taxes
Housing prices are rising
Hot and humid summer weather
Chance for hurricanes
Dangerous lightning
Plenty of tourists and snowbirds
Limited public transportation
Heavy traffic
Lots of retirees
Limited diversity of jobs
Higher crime in certain areas
Disclosure: At no cost to you, I may get commissions for purchases made through links in this post.
We are going to cover each one of these points in more detail. However, if you think this isn't the place for you.
Then, check out all of our…
City and State Livability Guides
… for finding your perfect place to settle down.
But now, back to the pros and cons of moving to St. Petersburg. Starting with the pros…
Great Winter Weather
The great thing about the winter here is this: there isn't any. Daytime temperatures rise into the 60s and 70s.
While nighttime temperatures fall into the 50s. Sometimes 40s, but not often.
Warm breezes flow off the water. And you will never have to deal with snow.
I think this type of weather accompanied by abundant sunshine puts residents in a good mood. Making for a casual and friendly vibe about town.
Beautiful Beaches
The area is known for some of the most beautiful beaches in the world. From the southern tip of this Florida peninsula to farther north, you will find:
Fort De Sota Park
St. Pete Beach
Treasure Island Beach
Madeira Beach
Indian Rocks Beach
…just to name a few that have some of the nicest white powdered sand your toes can touch.
You can even head a little farther to the north to visit popular Clearwater Beach. Near the quaint town of Dunedin.
Most noteworthy, living in St. Petersburg means being surrounded by water. With the beaches on the Gulf of Mexico to the west. And Tampa Bay to the east.
Sunsets are spectacular. And there are water sports galore.
And we are just getting warmed up here. As the living in St. Petersburg pros and cons continue…
Very Walkable
Aside from strolling on the beach. The city is very walkable.
First, running north to south along the bay is Bayshore Drive.
There are restaurants and bars. Some with views of the bay and downtown Tampa
Not far away is the recently built St. Pete Pier. Where you can walk out to the pier and enjoy the water and the views.
Then there is Central Avenue which runs east and west.
It is more than 30 blocks long and connects several neighborhoods. Great for window shopping and feeling the city's vibe.
Next, one of the great reasons to move to St. Petersburg…
Nice Diversity
Yes. The city is known for its large population of retirees. However, there are plenty of younger residents attracted to the vibrant downtown culture.
Also, there is an active LGBT community. Plus a large population of veterans. So, most of us find it fairly easy to fit in.
Next, we will go through several benefits of living in St. Petersburg that highlight the excellent arts and culture scene…
Plenty Of Museums
For museum lovers, the city has:
Museum Of Fine Arts
Salvador Dalí Art Museum
Museum Of History
The Florida Holocaust Museum
The Imagine Museum Of Contemporary Glass Art
Fun Festivals & Music Scene
For good music venues and festivals, St. Petersburg living has it covered. Consider…
Saturday Morning Farmers Market
The Sunshine Music Festival
First Friday Block Party Music Series
Palladium Theatre
Jannus Live Concert & Music Venue
Duke Energy Center for the Arts – Mahaffey Theater
The Floridian Social Club (formerly The State Theater)
Great Downtown Nightlife
After the sun sets in the sky. And the lights go on. There is great nightlife to be found in downtown St. Pete.
Restaurants, bars, clubs, brewpubs, and movies are easy to find. And it's simple to see why.
Because downtown has been completely rebuilt in recent years. With shops and restaurants. Also, the surrounding area has many new and very beautiful condos.
Next for sports lovers. Here is one of the advantages of living in St. Petersburg…
Lots Of Sports
For pro sports, you can take in the Tampa Bay Rays major league baseball club. They play their homes games at Tropicana Field located in St. Petersburg.
Also based here is the Tampa Bay Rowdies. A professional soccer team.
During spring, many major league baseball teams hold their spring training camps in the area. The Phillies, Yankees, and Blue Jays all train nearby.
Then cross the bay into Tampa for pro football (Buccaneers) and hockey (Lightning)
For all of you amateur athletes trying to stay in good health…
There are many excellent golf courses. Plus salt and fresh water fishing, hunting, and tennis are popular too.
Boating, swimming, paddle boarding, and jet skiing opportunities are plentiful. Even a little surfing can be found. But realize the waves in the Gulf of Mexico aren't that big.
Finally for those who need to team up. You can find plenty of recreational leagues for basketball, softball, and soccer.
And since I just mentioned Tampa…
Convenient Access To Tampa And Beyond
If St. Petersburg doesn't have what you are looking for. Then check out Tampa.
Just by leaving the southernmost tip of Pinellas County. Where St. Pete is located.
You cross the bay to the east, which is a scenic drive across the water. And find yourself in Tampa in about 30 to 45 minutes.
However, Tampa is more of a "working" city versus St. Petersburg. At least in terms of corporations and big company employment opportunities.
This is partly a result of Tampa being the 3rd largest of all cities in the state of Florida. With about 50% more residents than its neighbor to the West, St. Petersburg.
As an alternative, cross the bay heading south. To discover what southwest Florida has to offer.
You can check out the canals of Cape Coral. Or, the historic town of Fort Myers.
Even closer to your new home in St. Pete. You may enjoy exploring a popular town like Sarasota with its fantastic arts scene. And its amazing beaches.
Reasonable Cost Of Living
This is a popular and heavily populated metro area. But the cost of living is fairly reasonable.
For example, BestPlaces.net shows the St. Petersburg cost of living to be slightly below the United States average. The same goes for median home values.
Also, you can always save a little more money. By using the cash rebate app from Rakuten.
We use it for everything we buy online. It's easy to sign up and use for getting money back on your everyday purchases.
Next up, another one of the great things about Florida living…
No State Income Taxes
There are no state income taxes levied on Florida residents. Of course, this includes living in St. Petersburg and anywhere else in the state you may choose to live.
Depending on how much money you make. And what state you are moving from. The tax savings can be substantial.
Okay. That's all of the St. Petersburg pros I have. Now it's time to flip the script.
And talk about the cons of living in St. Peterburg. For the first one, we will continue with the topic of money.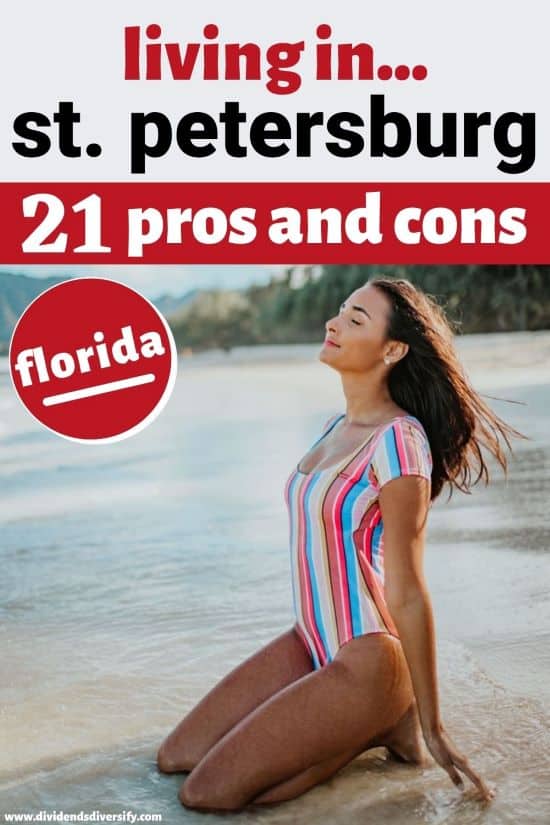 Prices Are Rising
The average cost of living in St. Petersburg has been rising.
Partly due to new construction, home prices and real estate prices are increasing. This has also translated into rapidly increasing rents for anyone not interested in owning.
For buyers, what you will find is most of the purchase opportunities lie at the market extremes. For example, homes and condos for $400,000 or more are generally nice and desirable. But that bracket prices out a lot of buyers from the market.
On the other hand, there is available housing stock below the $250,000 price point. But you have to sacrifice location, condition, or both.
What you won't find much of is newer or remodeled homes in good locations between these two price extremes. Making it harder for the average family to make ends meet. And live in a quality home of their choice.
So, I recommend you get your financial house in order before you move. No matter where you end up going.
To assist, the free online tool from Personal Capital is a great option. To pull your spending, budget, and investments together in one place online.
Hot And Humid Summer Weather
If you don't like the summer heat and humidity. You probably won't like living in St. Petersburg.
Because temperatures routinely rise into the 90s. While the humidity makes the "real feel" temperature exceed 100 on many days.
Also, you won't experience the change of seasons.
It is green year-round. There is no fall foliage. During the holidays, it may not feel right if you are used to a cold and white holiday season.
Chance For Hurricanes
On a positive note, the city rarely takes direct hits from hurricanes. Only twice has this been the case in recent decades.
Most hurricane activity comes from the Atlantic Ocean. And by the time it gets here, the intensity is much less severe.
On the other hand, each hurricane season runs from June through November. And there is always a chance one of these storms will occur. Disrupting lives and damaging property in the area.
Dangerous Lightning
It rains a lot in this part of the state. While the rain makes the surroundings lush and green. The storms are often accompanied by thunder and lightning.
Statistics show that lightning kills more people in Florida than any other weather hazard. So, you have to be mindful when storms are blowing in.
Next, depending on your perspective, I may have one of the worst things about the St. Petersburg lifestyle…
Plenty Of Tourists And Snowbirds
I often like to say that popularity has a price. And because St. Petersburg is a great place to live and visit it attracts a crowd.
During the peak winter season, there is mass migration.
When part-time residents descend and tourist season begins. They come to escape winter to the north. And enjoy the warm weather and beaches in the south.
However, the influx of visitors and part-time residents adds to the congestion. And brings many people to the most popular attractions.
Limited Public Transportation
You can take a ferry across the bay. And find bus routes here and there.
But this Florida city doesn't offer convenient public transit options. So, you won't find light rail, train, or subway systems for commuting purposes.
So, unless you can manage to live, work, and play in a confined area. Plan on having a car.
Next, another one of the bad things about St. Petersburg living is…
Heavy Traffic
Since everyone has a car. Also, because of limited public transportation. And combined with a densely populated urban area.
All of this can only mean one thing. And that is bad traffic. So, be prepared to spend extra time on the road.
Lots Of Retirees
Yes. I already mentioned there is a fair amount of diversity in St. Petersburg. On the other hand, this is a popular spot for the retirement crowd.
So, if you don't like having to deal with senior citizens on the roads, at the cultural centers, and about town. Then St. Petersburg may not be for you.
Limited Diversity Of Jobs
St. Petersburg is still a relatively small town. And there are plenty of jobs to be had.
On the other hand, this is not an urban business center. With lots of big corporations and the professional jobs in management that come with them.
It is more likely that you will find these opportunities across the bay area, in Tampa.
Just in case you are a corporate professional. And are thinking about moving to St. Petersburg.
Higher Crime In Certain Areas
There are plenty of safe places to live in St. Petersburg. But more so than in some other communities safety can vary greatly from area to area.
As you explore, you will see an inconsistency between the neighborhoods.
Some are beautiful and picturesque. With remodeled homes and a unique charm.
While just a short distance away, you may find run-down homes and abandoned lots.
So, it's important to do your homework. Before you settle on your exact location.
Okay. I've come to the end of today's list. So, allow me to wrap up with a few parting thoughts.
Pros And Cons Of Living In St. Petersburg – Wrap Up
From my perspective, St. Petersburg is a good place to live.
You can enjoy getting out year-round. Without having to worry about cold and winter weather.
And once you get out, there are so many fun things to do and places to visit. Specifically, beaches, sports, arts, culture, restaurants, and entertainment venues.
As long as you can tolerate the summer heat and some of the disadvantages that come with the peak population surge. Then moving to St. Petersburg might just be a great decision to make.
More Reading About Living in St. Petersburg And Beyond
Looking for something completely different? Then check out our…
…designed to help you find your best place.
Or, stick in the west Florida area with these helpful articles…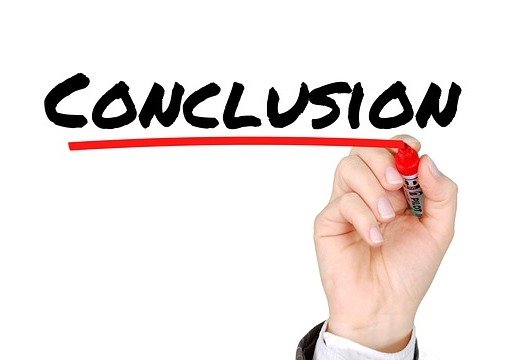 Author Bio: Tom Scott founded the consulting and coaching firm Dividends Diversify, LLC. He leverages his expertise and decades of experience in goal setting, relocation assistance, and investing for long-term wealth to help clients reach their full potential.
The Pros And Cons Of Living In St. Petersburg Explained