In Case You Are Thinking About Moving To Destin, FL
This article discusses the pros and cons of living in Destin, FL.
The city is located in the Florida Panhandle on the Gulf of Mexico. Contributing to its fun atmosphere and scenic beauty,
But, the Destin lifestyle may not be for everyone. So, let's examine the good and the bad…
Pros And Cons Of Living In Destin, Florida
Here is our list of top pros and cons you should know before moving to Destin:
Very accessible
Great beaches
Scenic harbor boardwalk
Amazing weather
Water sports
A healthy outdoor lifestyle
Plenty of good restaurants
Nice people in a relaxed atmosphere
Good public school options
Nice for retirement living
Higher cost of living
Too many tourists
Bad traffic congestion
Hot and humid summer weather
Threat of hurricanes
Pesky insects and wildlife
Limited job market
Lacking big city amenities and diversity
Access to hospitals
Limited options for higher education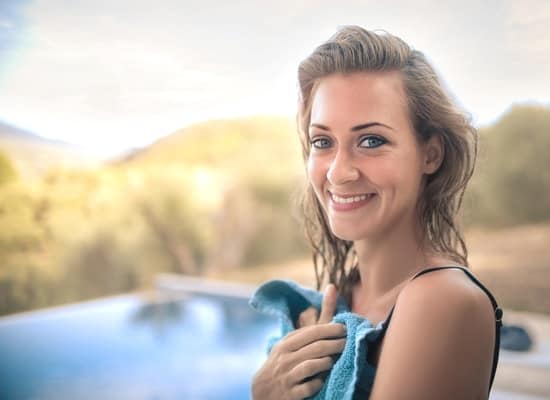 Disclosure: At no cost to you, I may get commissions for purchases made through links in this post.
With that preview of the pros and cons of moving to Destin under our belt. You may be thinking this is not the place for you.
If so, check out all of our…
Town, City, and State Living Guides
It's nicely organized so you can find the best places to live. That meets your unique interests.
Otherwise, stick with me here. As we go through the pros and cons of Destin living one at a time.
Let's kick it off on a positive note. And start with the pros of living in Destin…
Very Accessible
First of all, ease of access has made the area a popular destination. Because it is located within a reasonable driving distance of so many states.
For example, Texas, Georgia, Arkansas, Mississippi, Louisiana, and the nearby state of Alabama too. They represent some of the most frequent regions from which people drive to visit Destin.
Also, there are good options for air travel in the vicinity. Including Destin-Fort Walton Beach Airport and Pensacola International Airport.
After arriving, you will be taken back by the next one of the benefits of living in Destin…
Great Beaches
This area of the Florida Panhandle is called the Emerald Coast. Because of the emerald green water of the Gulf of Mexico.
Made so because it is crystal clear. And green from the brilliant sunshine that reflects off the algae.
Combine the watercolor with the white, dry, crystal-like sand. Also, the stunning pink sunsets.
And what you get is a beautiful beach town living experience to enjoy.
Some of the best spots include:
Henderson Beach State Park
Norriego Point
Crab Island
Scenic Harbor Boardwalk
If you like to enjoy a good boardwalk? This town has one!
It stretches about a quarter of a mile along the harbor. Thus providing increased access to the waterfront.
It is lined with shops, bars, restaurants, piers, activities, and entertainment.
Amazing Weather
The weather is great here. Because for 40-45 weeks out of every year, you can count on it being nice.
Summer and summer-like weather prevail.
With high temperatures running between 60 and 90 degrees.
Winters aren't cold. But do bring a refreshing chill. Unlike other areas in the south and southwest Florida.
High temperatures during the 8-12 week winter season bottom out in the 40s and 50s. Mostly during the worst 4-6 weeks of winter.
Yes, winter temperatures can go lower. But, it's rare.
And one thing is for sure. You won't ever have to worry about snowfall accumulations. Or, icy sidewalks and roads.
Next, another one of the great things about Destin…
Water Sports
Because of the city's proximity to the Gulf of Mexico. Water sports are very popular here.
First, there is fishing. As the area is known throughout the United States as a sports fisherman's paradise.
Both salt water and fresh water too. As a result, Destin calls itself "the luckiest fishing village".
Then round out the water sports with boating, paddle boarding, pontoon boats, jet skis, and more.
I think you get the idea. Destin is located on the water. And residents take advantage of it.
Next, when it's time for a break from the water. There are more good things Destin offers…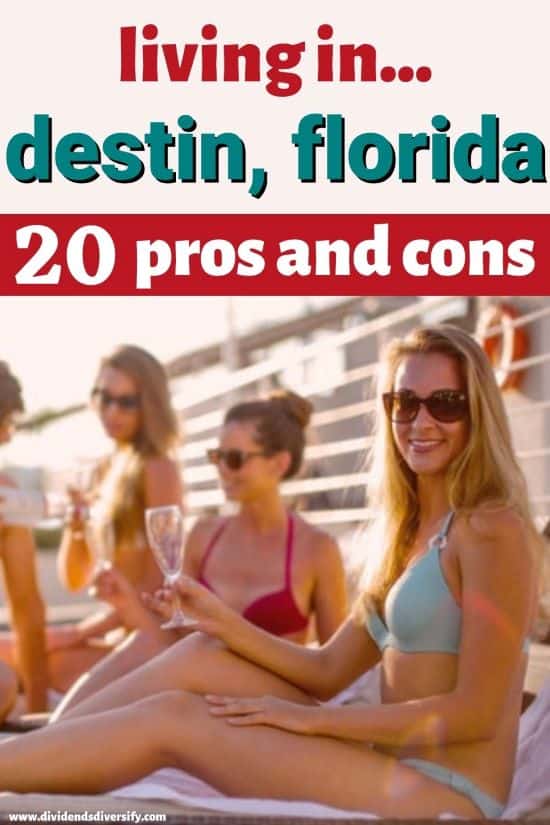 Healthy Outdoor Lifestyle
And we are sticking with the outdoor theme. Since the city is located in the heart of the action for the region's outdoor activities.
You will find festivals, window shopping, and strolling the waterfront to be great options.
For the more active, golfing opportunities abound. With public and private courses to meet every skill level.
Tennis and biking are popular too.
Finally, the growth in equipment rental services has made exploring new outdoor options cheaper and more convenient.
So, rent a bike. Try out a pontoon boat. Without the commitment of making a big purchase.
Okay. We are just starting to roll.
So, the moving to Destin pros and cons continue…
Plenty Of Good Restaurants
Because of the vibrant hospitality and tourism industries. Great food and dining options are plentiful here.
With hundreds of restaurants in this area.
From fine dining to local mom and pop spots. And old places that have been serving the locals for decades. You will find them all right here.
Fresh seafood from the Gulf of Mexico is one of the featured dishes. From red snapper, mackerel, and tuna to name of few of the options.
From the salt waters to your table in a matter of hours. The freshness factor is hard to beat when it comes to the local seafood.
Next, could this point be tops on the list of all the good things about Destin living?
Perhaps. Only you can decide…
Nice People In A Relaxed Atmosphere
You must know that the people and atmosphere are just wonderful here.
Southern charm, a relaxing and slower pace, a small-town feel, plus friendly people all serve to describe what it's like to live in the Destin community.
And as a new resident, it's relatively easy to fit in. Partly because it's a military community.
Thus many people are accustomed to moving in. And making new friends quickly. As a transplant to the area.
Finally, residents find that November through February is especially peaceful.
Primarily because of the cooler temperatures. As compared to other areas in Florida.
Thus, the area doesn't draw crowds of tourists and snowbirds during this time. As other places with warmer winter climates do.
Good Public School Options
For those of you with kids thinking about moving to Destin. Public schooling options are good and have been expanding.
First, according to U.S. News, Destin Elementary School has been ranked in the top 100 of all Florida elementary schools.
Next, there is Destin Middle School. Ranked in the top 200 of Flordia middle schools also according to U.S. News.
Both the elementary and middle schools reside in the Okaloosa County School District.
Finally, to meet growing interest. The city recently opened its first high school, Destin High (DHS).
It is a tuition-free, public charter high school. Where previously, local students were required to attend high school in nearby communities.
On the other hand, if your child-raising days are over…
Nice For Retirement Living
And you are looking for a resort-like atmosphere. With plenty of dining and outdoor recreation options for enjoying your retirement years.
Then retirement living in Destin just might be for you.
Okay. That concludes the pros.
Next, it's time for the cons of living in Destin…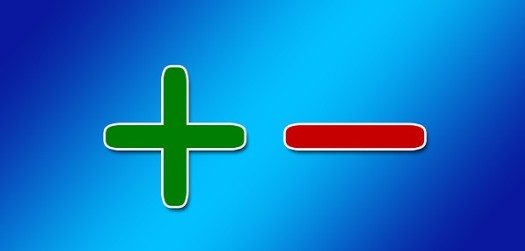 Higher Cost Of Living
Unfortunately, all the good things about living here come at a price. And that means the cost of living in Destin is considerably higher than the national average.
You can find a much cheaper place to live in Florida. Without a doubt.
Consider that BestPlaces.net marks the median home value at 68% more. Versus the median-priced home across the United States.
Although lower-priced homes are available in respectable neighborhoods. If you are willing to sacrifice some of your requirements.
Also, because of demand from tourism, grocery, restaurant, and entertainment costs tend to run higher too.
On a positive note, for anyone moving to Florida from a high-income tax state. You will catch a break here. Since Florida does not charge residents an income tax.
Regardless, make sure you have your financial house in order before moving. For this, I recommend Personal Capital.
We use Personal Capital to consolidate our financial life in one place. For managing expenses, budgeting, and investments.
Because Personal Capital makes managing your money less of a chore. And remember, moving is a big financial commitment.
Next up, probably the worst thing about living in Destin…
Too Many Tourists
Starting with the spring break season in March. And continuing until early November, Destin plays host to 3-4 million visitors.
All descending on this small town in Florida with a full-time population of fewer than 20,000 residents. Accommodated by the many area high-end resorts and short-term rentals available in the area.
But this makes for long waits at restaurants. Plus jammed grocery stores on Saturday when new arrivals show up.
Resulting in empty store shelves on Sunday. If that's when you like to do your shopping.
But that's not all the havoc that the tourists create. They bring on this next downside to Destin living…
Bad Traffic Congestion
Combine the influx of tourists. With lacking road infrastructure and limited public transportation. In what was originally a small beach town fishing village.
And what do you get?
The answer is very bad traffic when living here. Since it's almost always congested during peak season.
And expect it to be at its worst during a summer rainstorm. That drives people off the beach and into their cars. Or, on Saturdays, when rental units typically turn over their guests.
So, for residents, it's best to get your driving and errands done during the early morning hours.
Since vacationing tourists aren't usually early risers. On a mission to get out and about at the crack of dawn.
Thus, plan accordingly. Because during the worst traffic periods. Driving just a few miles can take a long time.
Next, we know the weather is generally great here. But, there are a few exceptions that can spoil your outdoor fun…
Hot And Humid Summer Weather
Because it is very hot in the peak summer months. Especially when there is not a refreshing breeze off the waterfront.
June, July, and August temperatures routinely head into the high 80s. And sometimes 90s.
Combine the temperatures with high humidity, on a still day. And the feeling can be wet, sticky, and unbearable. If you are not accustomed to it.
Throw in the frequent summer rains. That can delay your outdoor plans. And make it feel like a steam bath when the sun shines again.
Hey. It's summer. And part of the Florida lifestyle.
That people either love, hate, or just accept as part of life in the Sunshine State.
But the uncomfortable summer weather isn't the worst of it. As we continue our journey through the living in Destin pros and cons…
Threat Of Hurricanes
Since the threat of hurricanes is persistent here. Thus, large-scale evacuations are required sometimes for the safety of residents.
As a result, it takes approximately 30 hours to evacuate the area. And when sustained winds exceed 40 miles per hour, the bridges close to traffic.
So, you have to get out before that. Or, risk needing to ride the storm. Which isn't advisable.
Finally, after a storm. Your life will be disrupted by the clean-up efforts.
Even if you live a few miles inland. And experienced minimal damage.
Next up, there are other inhabitants here that you should be aware of. Just one of the minor problems with living in Destin…
Pesky Insects & Wildlife
Because the water and tropical weather make for a nice environment for pesky neighbors. And not just tourists.
Since snakes, sharks, bears, bugs, mosquitoes, flies, and other biting insects like to live here too.
On the other hand, unlike the rest of Florida. There aren't a lot of alligators.
Next, are several other downsides to living in Destin. Especially for anyone moving from a larger metropolitan or urban area.
Limited Job Market
First, you won't find the broad breadth of job opportunities in this Florida region. That other more urban areas provide.
As the economy is dominated by the United States military, defense contractors that serve them, and the hospitality industry.
Thus, there are relatively few well-paying private-sector jobs.
And it's not easy to land one of the better public sector jobs. Such as at one of the nearby military installations.
Lack Of Big City Amenities & Diversity
Because of the small number of full-time residents. There aren't many amenities like the big city Florida living options offer.
Outside of what the hospitality industry provides. Specifically, outdoor activities, food, and beverages.
So if you're used to the amenities, cultural options, luxury shopping, and services of an area with hundreds of thousands of permanent residents. You will likely be disappointed.
Finally, the area is politically conservative and religiously centered too. Similar to other areas of the deep south.
So, if you're a non-churchgoing liberal. Not that there is anything wrong with that.
Just realize that you may have a little harder time fitting in.
Access To Hospitals
As we know, this is a small area, population-wise. While you can find good health care for all of your family's basic needs.
If you have a major illness, expect to travel to one of the regional metropolitan areas. For advanced or specialized care.
Tallahassee, Birmingham, Mobile, and Jacksonville all have better options for good hospital care. But they are hours away by car.
Limited Options For Higher Education
Your kids may be well-served as they progress through grades K-12. On the other hand, there are few higher education options.
So, if keeping the kids local for college is your desire. This may not be a top Florida location for higher education.
Since Northwest Florida State College is about all you have to choose from locally.
Although, there are other possibilities. Not far away from here.
For example, the University of West Florida in Pensacola. And Florida State University is located in nearby Panama City.
Okay. That's a wrap for today. About the moving to Destin pros and cons.
Allow me to conclude with a few parting thoughts.
Pros And Cons Of Living In Destin, Florida
Because the big question is this…
Is Destin, Florida A Good Place To Live?
Destin is a good place to live if you do not mind residing in a town dominated by tourists and the hospitality industry.
And can put up with the inconvenience that results from thousands of visitors. Descending on your home town year after year.
Because Destin is a beautiful place on the Gulf of Mexico. With plenty of fun things to do.
Such as outdoor activities and entertainment options. In a warm, resort-like setting.
You might say that living in Destin is like being on vacation. 12 months out of the year!
More Reading About The Best Places To Live In Florida
And don't forget to check out all of our…
Posts on the best places to live in the U.S.
…just in case Florida isn't the right place for you!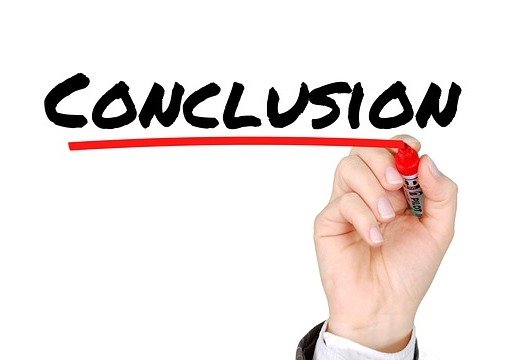 Author Bio, Disclosure, & Disclaimer: Please join me (Tom) as I try to achieve my goals, find my next place to live, and make the most of my money. However, I am not a licensed investment adviser, financial counselor, real estate agent, or tax professional. Instead, I'm a 50-something-year-old, early retired CPA, finance professional, and business school teacher with 40+ years of DIY dividend investing experience. I'm here only to share my thoughts about essential topics for success. As a result, nothing published on this site should be considered individual investment, financial, tax, or real estate advice. This site's only purpose is general information & entertainment. Thus, neither I nor Dividends Diversify can be held liable for losses suffered by any party because of the information published on this website. Finally, all written content is the property of Dividends Diversify LLC. Unauthorized publication elsewhere is strictly prohibited.
The Pros And Cons Of Living In Destin Explained