Realty Income stock for monthly dividends!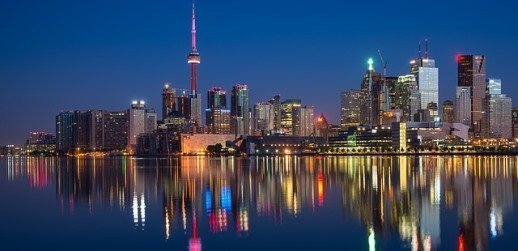 To be perfectly honest with you, I don't like real estate. One single-family residence is enough real estate for me.
In fact, we are considering selling our home and moving to an apartment in the future.
I can analyze stocks all day long and form an educated opinion on their value. On the otherhand, real estate values tend to be challenging for me to judge.
In contrast, I do think it is important to have real estate represented in a well-diversified investment portfolio. And Real Estate Investment Trusts (REITs) are one way to do that without getting your hands dirty with individual properties. And I do not like getting my hands dirty!
So today we are going to dividend deep dive into one of my favorite REITs, Realty Income. Let's take a close look at this company, the Realty Income stock, and the Realty Income dividend.
COMPANY BACKGROUND
Realty Income is also known as The Monthly Dividend Company. They are one of a small minority of companies that pay dividends each month.

In contrast, most US-based companies pay dividends quarterly. And companies located outside the US oftentimes pay dividends only twice per year.
Realty Income makes money through ownership of over 5,700 commercial properties. These properties generate rental revenue from long-term net lease agreements from tenants.
Realty Income's customer base is diversified with 262 commercial tenants operating in 48 industries, located throughout 49 states and Puerto Rico. Their properties are generally freestanding buildings in prime locations with good access and visibility.
Source: Realty Income – About Us
REALTY INCOME STOCK (O STOCK)
Realty Income stock trades on the New York Stock Exchange. Their ticker symbol is easy to remember. It is the letter "O". Sometimes Realty Income stock is referred to as O or O stock, for short.
MAJOR TENANTS
You have likely been in one of their properties. Since many of their tenants are recognizable names. Their largest 20 tenants are listed below.
Walgreens
7-Eleven
FedEx
Dollar General
LA Fitness
Dollar Tree & Family Dollar
AMC Theatres
Walmart & Sam's Club
Circle K
BJ's Wholesale Clubs
Treasury Wine Estates
CVS Pharmacy
Life Time Fitness
Regal Cinemas
GPM Investments
Super America (Marathon)
TBC Corporation (Sumitomo)
Kroger
Rite Aid
Home Depot
Source: Realty Income Investor Fact Sheet
Bricks and mortar retail is being challenged by e-commerce. But as you can see by Realty Income's tenant list, many do not compete directly with the likes of Amazon.
REALTY INCOME BUSINESS STRATEGY
The Realty Income dividend is paid out of the cash flows generated from earnings. So how does Realty Income grow earnings and ultimately the dividend over time? Well, they do this in two primary ways.
First of all, they acquire more properties to increase the size of their real estate portfolio. By leasing the new properties to tenants for rental revenue that exceeds the cost of funds to acquire the properties, Realty Income makes more money.
Realty Income also makes more money by regularly increasing the rent on existing leases by about 2% annually.
Finally, Realty Income is structured as a real estate investment trust (REIT). REIT tax status provides the company with tax treatment favorable to the payment of dividends.
Source: Realty Income Business Model
WHAT IS A REIT?
REITs are companies that own or finance income-producing real estate in a range of property sectors.
Most REITs operate a straightforward business model. They lease space and collect rent. These companies generate income which is then paid out to shareholders in the form of dividends.
Furthermore, REITs allow anyone to invest in portfolios of real estate assets without the responsibilities of being a landlord.
REIT REQUIREMENTS
REITs have to meet a number of requirements to qualify. The company must:
Invest at least 75 percent of its total assets in real estate
Derive at least 75 percent of its gross income from rents from real property, interest on mortgages financing real property or from sales of real estate
Pay at least 90 percent of its taxable income in the form of shareholder dividends each year
Be an entity that is taxable as a corporation
Be managed by a board of directors or trustees
Have a minimum of 100 shareholders
Have no more than 50 percent of its shares held by five or fewer individuals
Source: REIT.com
REITs AND TAXES
As long as they qualify, REITs pay no federal income tax. This eliminates the "double taxation" of their income generated and the dividends they pass along to shareholders.
On the other hand, the dividends received by the investor do not receive preferential tax treatment as qualified dividend income. They are taxed as ordinary income.
Under current tax law, your tax rate on the dividends received from Realty Income stock will depend on your tax bracket. It could be as high as 37%.
Because of the tax treatment, it is usually best to hold REITs in tax-advantaged accounts, like Individual Retirement Accounts (IRAs).
Now we know a little bit more about this company and REITs in general. So let's dig into the Realty Income dividend and Realty Income stock metrics.
REALTY INCOME STOCK DIVIDEND YIELD
Realty Income stock pays an annual forward dividend of $2.79 per share.  Based on the recent stock price, that dividend payout puts the Realty Income stock dividend yield at 5.5%.
The dividend yield is a little low versus other REITs.  But it is a high dividend yield compared to my target range between 3-5%.
REALTY INCOME STOCK DIVIDEND GROWTH
| | | | |
| --- | --- | --- | --- |
| 1 Year | 3 Years | 5 Years | 7 Years |
| 4.1% | 5.0% | 4.2% | 6.1% |
Based on the table you can see Realty Income stock dividend growth is very consistent. In early 2019, management increased the dividend another 2%.
HOW THE REALTY INCOME STOCK DIVIDEND GROWS
Realty Income has a unique track record for increasing the dividend. They typically increase the dividend by a small amount 4 times per year. These increases are usually about one quarter of 1%.
Then in January of each year, they announce a larger increase of 3-5%. The multiple dividend increases average out to 4-6% on an annual basis as shown in the table above. Looking forward, I believe annual dividend growth will slow to the 3-4% range.
A DIVIDEND ARISTOCRAT
Finally, the Realty Income dividend has been increased annually by management since the company went public in 1994. This is a 26-year annual dividend increase streak and qualifies Realty Income as a Dividend Aristocrat.
Dividend Aristocrats are those rare companies that have increased their dividend annually for at least 25 consecutive years.
TOUTING THE REALITY INCOME STOCK DIVIDEND
This company is really proud of its dividend-paying heritage. First of all, going by the nickname "The Monthly Dividend Company" tells us just how serious they are. Furthermore, they also boast about their dividend metrics on their website.
This is what I found…
REALTY INCOME STOCK DIVIDEND AMOUNT & TRACK RECORD*
584 consecutive monthly dividends paid (since our founding in 1969)
101 dividend increases
86 consecutive quarterly increases
Dividend growth of 201.3%
Compound average annual dividend growth rate of approximately 4.6%
*as of 3/12/2019 and since our 1994 NYSE listing, except as noted
Source: Realty Income Monthly Dividend Commitment
Let's move on to some of Realty Income's business fundamentals and the underlying trends.
REVENUE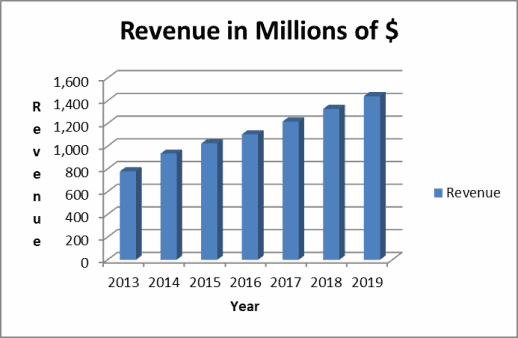 We know how Realty Income grows. Remember? They acquire new properties and increase rents on existing properties. The chart shows us their growth strategy has been working quite well.
REALITY INCOME STOCK DIVIDEND AND FFO PER SHARE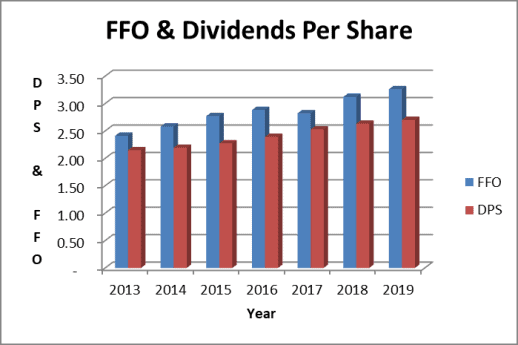 Realty Income displays stable and consistent Funds from Operations (FFO) growth as shown in the above chart. Dividends as a percent of FFO generally run at about 85% and grow along with earnings.
WHAT IS FFO?
I mainly cover traditional dividend-paying corporations here at Dividends Diversify. I evaluate dividends against earnings per share and sometimes free cash flow.
In fact, Realty Income is the only REIT represented in the Dividends Deluxe model portfolio. Because of that, FFO is not frequently discussed here. So let's improve our knowledge about FFO next.
FFO DEFINED
For REIT's, FFO is a better measure of dividend payment capacity and income than traditional earnings per share. Investopedia explains FFO this way
FFO is calculated by adding depreciation and amortization to earnings and then subtracting any gains on sales of property. It is sometimes quoted on a per-share basis. The FFO-per-share ratio should be used in lieu of earnings per share when evaluating REITs and other similar investment trusts.
The formula for FFO is: FFO = Net Income + Depreciation + Amortization – Gains on Sales of Property
CREDIT RATING AND BALANCE SHEET
Realty Income states that they seek to maintain a conservative capital structure with two-thirds equity and one-third long-term, fixed rate debt.
Overall, debt to equity checks in at a very conservative .84 times.
While Moody's and S&P give Realty Income A3 and A- credit ratings, respectively. They are "Investment Grade – Low Credit Risk" evaluations.
Based on these metrics, Realty Income appears to have a strong balance sheet and maintains excellent credit ratings as a good dividend growth stock normally does.
REALTY INCOME STOCK VALUATION MODELS
Let's judge value in several ways:
Dividend Discount Model
Morningstar fair value estimate
Personal Finance investment newsletter buy target
Realty Income stock price to FFO ratio
Dividend Yield
Dividend Discount Model
The single stage dividend discount model considers several factors I have discussed thus far
Current dividend payment – $2.71 per share
Projected dividend growth – 3.5%
My desired annual return on investment – 9.0%
Using these assumptions, the dividend discount model puts the value of Realty Income stock at $51 per share.
Morningstar Fair Value
The investment analysis firm Morningstar believes Realty Income stock is fairly valued at $60 per share.
Personal Finance Investment Newsletter
The longtime investment newsletter Personal Finance places a buy target at $65 per share.
Realty Income Stock Price to FFO Ratio
The Realty income stock price to projected fiscal 2019 FFO is 22 times. To compare, retail REITs historically carry FFO to earnings ratios ranging between 13 to 17 times. Source: REIT.com Market Commentary
Reality Income Dividend Yield
With future dividend growth likely to be in the 3-4% range, I would like to see a higher dividend yield, closer to 5%. This puts a target price in the mid $50s per share.
REALTY INCOME STOCK VALUATION SUMMARY
We have a range of valuation here from these different sources. Every measure shows Realty Income stock to be over valued at the current price level. To summarize:
Dividend Discount Model Fair Value – $51
Morningstar Fair Value – $60
Personal Finance buy target – $65
Price to FFO versus industry average – $50
Price to achieve 5% dividend yield – $55
REALTY INCOME STOCK AND DIVIDEND ANALYSIS – CONCLUSION
Realty Income holds a large position in my dividend growth stock portfolio. I established my position in 2008 and have added to it over the years. The stock price has nearly tripled in value over this time.
The stock is an excellent way to invest in real estate passively. And the company has a stellar track record of paying a rising dividend stream.
In my opinion, Realty Income stock is currently overvalued. It has a lower than desired dividend yield relative to its dividend growth prospects.
I hold Realty Income stock in my IRA. Because of this, I trade O stock a little bit more than dividend stocks in my taxable accounts.
When the valuation gets stretched, I sell off some of my position. And then reinvest when the stock and market correct. I recently sold 10% of my shares at $73 per share. I would consider purchasing back shares below $60.
Related: 3 top dividend stocks
Disclosure & Disclaimer
This article, or any of the articles referenced here, is not intended to be investment advice specific to your situation. I am not a licensed investment adviser, and I am not providing you with individual investment advice. The only purpose of this site is information & entertainment. We are not liable for any losses suffered by any party because of information published on this blog. See this site's Disclaimer and Privacy tab for more information.
I currently own Reality Income stock.