The Realty Income Dividend Is Paid Every Month!
The Realty Income Stock Dividend satisfies my real estate investment needs.
Because I'm not a big fan of real estate investments. One single-family residence is enough physical ownership of real estate for me.
I can analyze stocks and form an opinion on their prospects. On the other hand, real estate values are difficult for me to judge.
So today we are going to work through a Realty Income dividend stock analysis. I want to take a close look at the company, Realty Income stock, and the Realty Income dividend.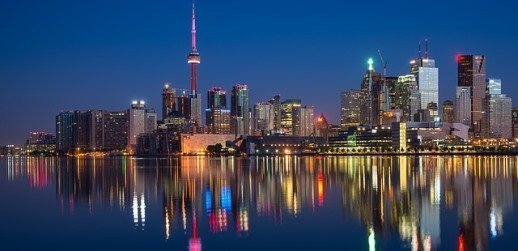 Disclosure: At no cost to you, I may get commissions for purchases made through links in this post.
REAL ESTATE, REITs & REALTY INCOME'S DIVIDEND
First of all, I think it is important to have real estate represented in a diversified dividend stock portfolio. And Real Estate Investment Trusts (REITs) are a great way to do that.
Furthermore, by owning REITs, there is no need to get involved with individual properties. Finally, in my opinion, Realty Income is one of the best REIT stocks that pay regular dividends.
To get started, I'd like to address a couple of frequently asked questions.
IS REALTY INCOME A GOOD INVESTMENT?
I believe Realty Income is a good dividend stock and a good investment. Investing in Realty Income stock is an excellent way to passively participate in the positive economics of real estate.
And the stock is a solid holding when building a diversified dividend investment portfolio. Most importantly, the company is well managed and has a stellar track record of paying a rising dividend stream to shareholders.
IS REALTY INCOME A GOOD STOCK TO BUY NOW?
Realty Income stock appears slightly overvalued to me right now. I base this mainly on its current dividend yield and slowing dividend growth prospects.
For me, I would prefer a larger dividend yield relative to its potential for dividend growth. At the time of this update, I would consider purchasing more shares at or below $60. Pushing the dividend yield closer to 5%
Next, let's learn a little about the company known as Realty Income. And dig into the details that support the questions I just answered.
HOW DOES REALTY INCOME MAKE MONEY TO FUND ITS DIVIDEND?
Realty Income makes money for growing dividend payments through ownership of thousands of commercial properties. These properties generate rental revenue from long-term net lease agreements from tenants.
Realty Income's customer base is diversified with hundreds of commercial tenants. They operate in dozens of different industries.
And are located throughout the United States, Puerto Rico, and the United Kingdom. Their properties are generally freestanding buildings in prime locations with good access and visibility.
Source: Realty Income – About Us
MAJOR TENANTS
You have likely been in one of their properties. Since many of their tenants are recognizable names. Some of their largest tenants are listed below.
Walgreens
7-Eleven
Dollar General
FedEx
Dollar Tree & Family Dollar
LA Fitness
AMC Theatres
Regal Cinemas
Walmart & Sam's Club
Sainsbury's
Lifetime Fitness
Circle K
BJ's Wholesale Clubs
CVS Pharmacy
Treasury Wine Estates
Super America (Marathon)
Life Time Fitness
Kroger
GPM Investments/FAS Mart
TBC Corporation (Sumitomo)
Home Depot
BUSINESS STRATEGY
The Realty Income dividends come from the growing cash flows generated by earnings. So how does Realty Income grow earnings and ultimately the dividend over time? Well, they do this in two primary ways.
First of all, they acquire more properties to increase the size of their real estate portfolio. By leasing the new properties to tenants for rental revenue that exceeds the cost of funds to acquire the properties, Realty Income makes more profits.
Realty Income also makes more money by regularly increasing the rent on existing leases. They do so by a small percentage increase each year.
BUSINESS RISKS
Bricks and mortar retail businesses are being challenged by e-commerce. But, take another look are Realty Income's tenant list. Many do not compete directly with Amazon. That is definitely a plus.
Also, some tenants have been negatively impacted by the global health crisis. Cinemas and fitness clubs have suffered large losses while their facilities have been closed.
This has placed a strain on Realty Income's ability to collect some rents as they come due.
REALTY INCOME STOCK (O STOCK)
Realty Income stock trades on the New York Stock Exchange. And their stock market ticker symbol is easy to remember.
The stock symbol is the letter "O". Sometimes Realty Income stock is referred to as O or O stock, for short (NYSE: O).
On a side note, I trade my dividend stocks for free. Using the fast and powerful Webull app. It has some very good research capabilities too.
You can check out the Webull app here. And for a limited time, Webull is offering free stock to new customers that open and fund their account.
REALTY INCOME PAYS MONTHLY DIVIDENDS

Realty Income is also known as The Monthly Dividend Company. Why? Because they choose to pay dividends to shareholders every month of the year. Monthly cash payments to shareholders are a part of their dividend policy.
In contrast, most U.S.-based company's dividend policies dictate the payment of dividends quarterly or 4 times per year. And companies located outside the U.S. often pay dividends only twice per year.
There are not many stocks that pay dividends monthly. And some of them are riskier than the typical stock I like to invest in.
On the other hand, I think Realty Income is one of the safest monthly dividend stocks. That an investor can find.
REALTY INCOME'S DIVIDENDS ARE NOT QUALIFIED DIVIDENDS
As we know, Realty Income is structured as a real estate investment trust (REIT). REIT tax status provides the company with tax treatment that requires minimum dividend distributions. That's great for investors that place a high value on dividend payments from their investments.
On the other hand, Realty Income's dividends are not considered qualified for tax purposes. So, as an investor, they are taxed as ordinary income. And, are not "qualified" for the lower dividend tax rate.
This is an important point about REITs. Since Realty Income is a REIT, let's learn a little bit more about them before we go any further.
WHAT IS A REIT?
REITs are companies that own or finance income-producing real estate in a range of property sectors.
Most REITs operate a straightforward business model. They own space, lease it out to tenants, and collect rent. The income from this process is then paid out to shareholders in the form of dividends.
Furthermore, REITs allow anyone to invest in portfolios of real estate assets without the responsibilities of being a landlord.
Finally, when looking for dependable dividend stocks. Be sure to consider companies operating in this sector of the market.
REIT REQUIREMENTS
REITs have to meet a number of requirements to qualify. A REIT must:
Invest at least 75 percent of its total assets in real estate
Derive at least 75 percent of its gross income from rentals of real property, interest on mortgages, the financing of real property, or from the sales of real estate
Pay at least 90 percent of taxable income to shareholders in the form of dividends each year
Be structured as a taxable corporation
Be managed by a board of directors or trustees
Have a minimum of 100 shareholders
And have no more than 50 percent of its shares held by five or fewer individuals
Source: REIT.com
REITs AND TAXES
As long as they qualify, REITs pay no federal income tax. This eliminates the "double taxation" of their income generated and the dividends passed along to shareholders.
Because of this, a REIT's dividends received by an investor do not receive preferential tax treatment known as qualified dividend income. Therefore, dividends paid are taxed as ordinary income.
So, under current tax law, your tax rate on the dividends received from Realty Income stock will depend on your tax bracket. Because of the tax treatment, it is usually best to hold REITs in tax-advantaged accounts, like Individual Retirement Accounts (IRAs).
If you have been meaning to open an IRA. And save for retirement. Consider M1 Finance.
You can open and fund your M1 IRA account online in minutes. And M1 has a suite of powerful money management tools once you are on board.
My other "go to" online tool for managing money is Personal Capital. It pulls all of my investments AND expenses together in one place.
Best of all, Personal Capital is free to sign up and use. You can check Personal Capital out here.
That concludes our background lesson about REITs. But there is much more to come. Next, it's time for my favorite part of stock analysis. Talking about the monthly Realty Income dividend!
FACTS AND FIGURES ABOUT THE REALTY INCOME DIVIDEND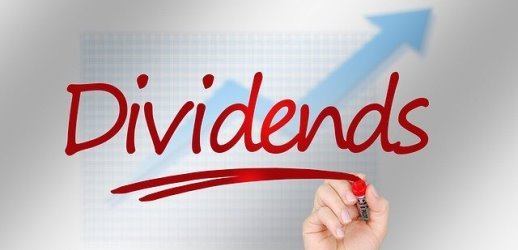 So, let's dig into the Realty Income dividend metrics now. How do the dividends work for a company like this?
We will answer that important question. And many more…
REALTY INCOME DIVIDEND PER SHARE
Realty Income stock pays an annual forward dividend of $2.82 per share. As of the time of this update.
What does the annual forward dividend mean? Simply put, the last dividend approved by the company. Multiplied by the number of times per year a dividend is paid. In this case, monthly dividends mean 12 times per year.
WHEN IS THE REALTY INCOME DIVIDEND PAID?
We already know the Realty Income dividend is paid every month. Monthly dividends are very helpful if you use dividends to pay living expenses.
To receive Realty Income's next monthly dividend payment, you must complete a purchase of Realty Income stock by the ex-dividend date.
Furthermore, the ex-dividend date is typically the last business day of each month. Then, as a shareholder, your Realty Income dividend is paid out on or around the 15th day of each month.
What happens if the 15th falls on a weekend or holiday? Then, the Realty Income dividend is paid on the last business day prior to the 15th.
Thus, there is no need to worry. This company pays recurring dividends like "clockwork".
REALTY INCOME DIVIDEND YIELD
Dividend yields for all stocks move in the opposite direction of the stock price.
At the time of this update based on the Realty Income stock price. Also, its annual dividend per share. Realty Income's dividend yield is 4.2%.
The dividend yield is a little low versus other REITs. But it has a high dividend yield compared to many other stocks. My target dividend yield range when I make a stock purchase is between 3-5%.
REALTY INCOME DIVIDEND HISTORY
Realty Income has paid dividends every month of the year since it became a public company in 1994. Also, the dividend has been increased annually by management since its inception.
TOUTING THE REALTY INCOME STOCK DIVIDEND
This company is really proud of its strong dividend-paying heritage. First of all, going by the nickname "The Monthly Dividend Company" tells us just how serious they are.
Furthermore, they also boast about their impressive dividend achievements on their website. This is what I found…
REALTY INCOME STOCK DIVIDEND AMOUNT & TRACK RECORD
600+ consecutive monthly dividend payments for investors
100+ dividend increases
Nearly 100 consecutive quarterly dividend increases
Dividend growth of more than 200%
Compound average annual dividend growth rate greater than 4%
Source: Realty Income Monthly Dividend Commitment
REALTY INCOME IS A DIVIDEND ARISTOCRAT
Having paid and increased dividends since 1994, qualifies Realty Income as a Dividend Aristocrat.
Dividend Aristocrats are those rare companies that have increased their dividends annually for at least 25 consecutive years.
We now know Realty Income increases its dividend every year. But what does the dividend growth rate look like?
REALTY INCOME DIVIDEND GROWTH RATE HISTORY
Based on table 1 below, you can see the Realty Income dividend growth rate has been declining. Furthermore, this is especially true when I look back beyond the 7 years shown in the table.
Using history as a guide. I expect this year's dividend appreciation to come in at 3% once again.
The company is becoming larger and more mature. It's looking more like steady, reliable, but slower-growing utility stocks. In my opinion, there are fewer properties that meet its investment profile to support higher dividend growth rates.
But I think the monthly dividend payments and annual dividend growth have been and will continue to be a nice combination for a dividend stock investor.
Table 1: Realty Income Compound Annual Dividend Growth Rate
| | | | |
| --- | --- | --- | --- |
| 1 Year | 3 Years | 5 Years | 7 Years |
| 3.1% | 3.4% | 4.2% | 3.8% |
REALTY INCOME DIVIDEND INCREASE PROCESS AND TIMING
Realty Income has a unique track record for increasing dividend payments to shareholders. They typically increase their dividend by a small amount 4 times per year. These increases are usually very small.
Then in January of each year, they have announced a larger dividend increase. As Table 1 shows, the multiple dividend increases have averaged out to 3-4% in recent years.
So, Realty income pays a monthly dividend. That is increased quarterly. There are very few other types of dividends paid by companies that can beat this formula.
REALTY INCOME DIVIDEND GROWTH RATE FORECAST
In the last couple of years, I have noticed that the January dividend increase has become smaller. This is what has caused a decline in the historical dividend growth rate.
Looking forward, I believe the trend will continue. So, I project an annual dividend growth rate for Realty Income stock of 2-4%.
BUSINESS FUNDAMENTALS UNDERLYING THE REALTY INCOME DIVIDEND
Now we know a lot about the Realty Income dividend! So, let's move on to business fundamentals. And the underlying trends that support those ongoing dividend payments.
REVENUE TREND
We know how Realty Income grows. Remember?
They acquire and rent out new properties and increase rents on existing properties.
CHART 1: 7 YEAR REVENUE TREND SUPPORTS REALTY INCOME'S DIVIDEND GROWTH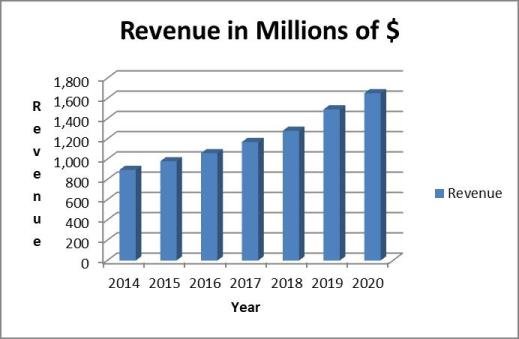 Chart 1 shows us their growth strategy has been working quite well. Revenue has nearly doubled over the past 7 years.
REALTY INCOME DIVIDEND AND FFO PER SHARE
Realty Income has stable and consistent Funds from Operations (FFO) from which its dividends are paid. See chart 2 shown below.
CHART 2: REALTY INCOME DIVIDENDS PER SHARE VS, FFO PER SHARE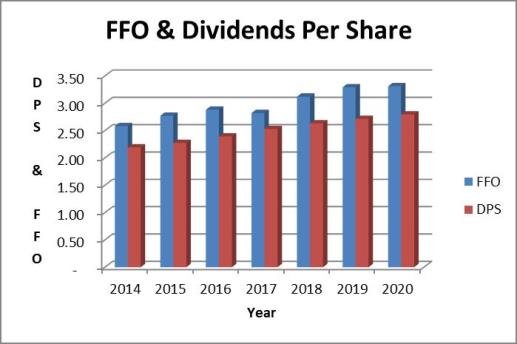 WHAT IS FFO?
I mainly cover traditional dividend-paying corporations here at Dividends Diversify. Therefore, I evaluate dividends against earnings per share and free cash flow.
In fact, Realty Income is the only REIT represented in the Dividends Deluxe model portfolio. Because of that, FFO is not frequently discussed. So let's take the opportunity to improve our knowledge about FFO next.
FFO DEFINED
For REITs, FFO is a better measure of dividend payment capacity and income than traditional earnings per share. Investopedia explains FFO this way
FFO is calculated by adding depreciation and amortization to earnings and then subtracting any gains on sales of property. It is sometimes quoted on a per-share basis. The FFO-per-share ratio should be used in lieu of earnings per share when evaluating REITs and other similar investment trusts.
The formula for FFO is: FFO = Net Income + Depreciation + Amortization – Gains on Sales of Property
REALTY INCOME DIVIDEND PAYOUT RATIO
Realty Income dividends as a percent of FFO run at about 85% each year. This is known as the dividend payout ratio.
My concern here is how will the global health crisis impact FFO now and in the future? Since some of Realty Income's customers have had to temporarily close their facilities.
Only time will tell. It's very hard for me to project what the long-term impact will be. But, I want to keep an eye on this issue.
On a positive note, many of Realty Income's tenants have investment-grade credit ratings. And have paid their rent on a timely basis.
Furthermore, most tenants have not been required to shut down their operations. Finally, the breadth and diversity of Realty Income's tenant base are substantial.
To endure difficult economic times. Company's need a strong financial position. Let's see how Realty Income stacks up in this area.
FINANCIAL POSITION: CREDIT RATING AND BALANCE SHEET
Realty Income states that they seek to maintain a conservative capital structure. Overall, debt to equity checks in at .8 times.
And Moody's and S&P give Realty Income A3 and A- credit ratings, respectively. They represent "Investment Grade – Low Credit Risk" evaluations as shown in table 2 below.
TABLE 2: CREDIT RATING EVALUATION GRID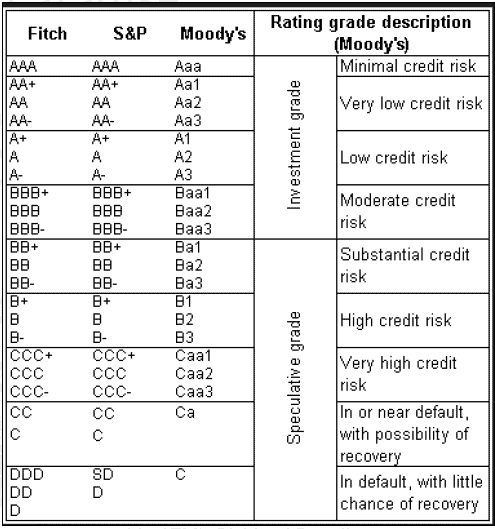 Based on these metrics, Realty Income appears to have a strong balance sheet. They maintain excellent credit ratings as a good dividend growth stock normally does.
On a side note. Do you need to check your personal credit score? If yes, Credit Karma is an excellent and free resource to do so.
REALTY INCOME DIVIDEND SAFETY
Having successfully navigated the real estate collapse, financial crisis, and bear market of 2007-2009, I have little doubt that Realty Income will make it through the most recent economic challenges.
Also, based on its business fundamentals, financial position, and dividend metrics, I judge Realty Income's dividend safe from a reduction in the foreseeable future.
And to me, dividend safety is critical. For making a consistent income from dividend stocks.
Finally, let's check into Realty Income's stock valuation. Then, I will wrap up.
REALTY INCOME STOCK VALUATION
Let's judge value in several ways:
Dividend Discount Model
Morningstar fair value estimate
Utility Forecaster investment newsletter buy target
Realty Income stock price to FFO ratio
Dividend Yield
REALTY INCOME DIVIDEND DISCOUNT MODEL
The single-stage dividend discount model considers several factors I have discussed thus far
Current dividend payment
Projected dividend growth
Also, my desired annual return on investment of 9.0%
Using these assumptions, the dividend growth model sets the intrinsic value of Realty Income stock at $48 per share.
MORNINGSTAR FAIR VALUE ESTIMATE OF REALTY INCOME STOCK
The investment analysis firm Morningstar believes Realty Income stock is fairly valued at $66 per share.
UTILITY FORECASTER INVESTMENT NEWSLETTER BUY LIMIT TARGET
Regular readers know I follow Utility Forecaster. The publication is best known for its analysis of utility stocks.
To a lesser extent, the publication also follows REITs. And, several consumer staples companies.
So, I checked in to see what it had to say. And, Utility Forecaster places a buy limit on Realty Income stock at $70 per share.
REALTY INCOME STOCK PRICE TO FFO
The Realty income stock price to fiscal 2020 FFO is about 20 times. To compare, retail REITs historically carry FFO to earnings ratios ranging between 13 to 17 times.
Source: REIT.com Market Commentary
REALTY INCOME DIVIDEND YIELD AS A BASIS FOR STOCK VALUATION
With future dividend growth likely to be in the 3% range, I would like to see a higher dividend yield, closer to 5%. This puts my personal target price at or below $60 per share.
REALTY INCOME STOCK VALUATION SUMMARY
We have a range of values from these different sources. I judge Realty Income stock to be slightly overvalued at the current price level. To summarize:
Dividend Discount Model Fair Value – $48
Morningstar Fair Value – $66
Utility Forecaster buy limit target price – $70
Price to FFO versus historical industry average – $50
Stock price to achieve a 5% dividend yield – $57
REALTY INCOME STOCK AND DIVIDEND ANALYSIS – WRAP UP
Realty Income is a high-quality dividend-paying company. It holds a large position in my dividend growth stock portfolio.
I established my position in 2008 and have added to it over the years. At its 2019 highs, the stock price had more than tripled in value during this time.
I hold Realty Income stock in my IRA. Because of this, I trade O stock a little bit more than dividend stocks in my taxable accounts.
When the valuation gets stretched, I sell off some of my position. And then reinvest when the stock price declines.
For example, I sold 10% of my shares in 2019 at $73 per share. Then, I added half of the shares sold back during the depths of the 2020 bear market at $41 per share.
When I'm investing, I do not specifically target monthly dividend stocks. But I know many investors who do so.
But, if I were to build a portfolio of monthly dividend stocks. Realty Income would be the first stock I would consider.
I usually do not trade like this. Because I prefer to buy and hold forever.
FURTHER READING ABOUT DIVIDEND INVESTING AND DIVIDEND STOCKS
My Favorite Dividend Investing & Finance Resources
Disclosure & Disclaimer: I am not a licensed investment adviser, financial adviser, or tax professional. And I am not providing you with individual investment advice, financial guidance, or tax counsel. Furthermore, this website's only purpose is information & entertainment. And we are not liable for any losses suffered by any party because of information published on this blog.
I currently own Realty Income stock and collect the Realty Income dividend.