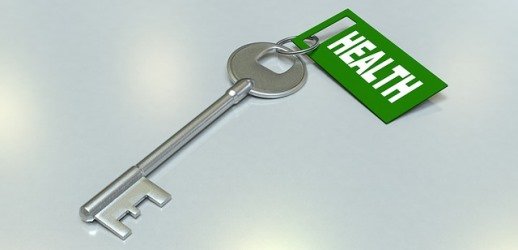 Let's dip our toe back into the health care sector for some dividends. Abbott Labs stock holds a special place in my dividend portfolio.
Why? I worked at Abbott for nearly 10 years. Grinding my way up the finance and accounting ranks. But that was a long time ago. I'm glad to be just an owner now and not an employee.
The company has changed dramatically since I worked there. So let's dig in and do a dividend deep dive to see how the Abbott Labs stock dividend stacks up.
COMPANY BACKGROUND
Abbott has been in business for more than 125 years. The company is truly global and operates in over 150 countries with 100,000 employees.
Abbott's product lines are focused in 6 main areas.
First of all, Cardiovascular. These products provide innovative technologies that can improve the way doctors treat people with vascular diseases, irregular heartbeats and diseases of the heart's valves.
Diabetes helps people manage their health more effectively and comfortably. Abbott's testing products provide accurate data to drive informed care decisions.
Diagnostics makes instruments, tests, automation tools and information solutions. They allow for fast and accurate diagnosis of the patient's condition. These products are sold to hospitals, reference labs, blood centers, emergency departments, physician offices and clinics.
Neuromodulation treats people living with chronic pain and movement disorders. Abbott's portfolio of therapies helps them move and feel better. Hence, reducing chronic pain.
Nutrition produces science-based nutrition products for people of all ages. Brand name products include Similac, PediaSure, Pedialyte, Ensure, Glucerna, EAS and ZonePerfect.
The pharmaceutical area brings trusted brands to people in developing countries around the world. Treatments concentrate on gastroenterology, women's health, cardiovascular, pain management, central nervous system disorders, respiratory and influenza.
Finally, Abbott Labs stock trades under the ticker symbol ABT.
ABBOTT LABS STOCK DIVIDEND YIELD
Abbott Labs stock pays an annual forward dividend of $1.28 per share.  Based on the recent stock price, the dividend payout puts the Abbott labs stock dividend yield at 1.7%.
On the Abbott investor relations website, the company states the following about its dividend payment practices.
Dividends are an important part of Abbott's heritage and investment identity. Abbott has declared 380 consecutive quarterly dividends since 1924 and has increased the dividend payout for 47 consecutive years.
Abbott is a member of the S&P 500 Dividend Aristocrats Index, which tracks companies that have annually increased their dividend for 25 consecutive years.
I really like it when a company touts their dividend track record. Certainly this is not a high yield stock to get excited about. But their long term dividend record is impressive.
So let's check out the dividend growth and see how it measures up.
ABBOTT LABS STOCK DIVIDEND GROWTH
| | | |
| --- | --- | --- |
| 1 Year | 3 Years | 5 Years |
| 5.7% | 5.3% | 14.9% |
Recently, Abbott announced its dividend would increase another 14.3% for 2019. With such a low dividend yield, it is nice to get a double digit percent dividend increase.
I believe it's a reasonable assumption that Abbott will increase their dividend 7-9% annually in future years.
REVENUE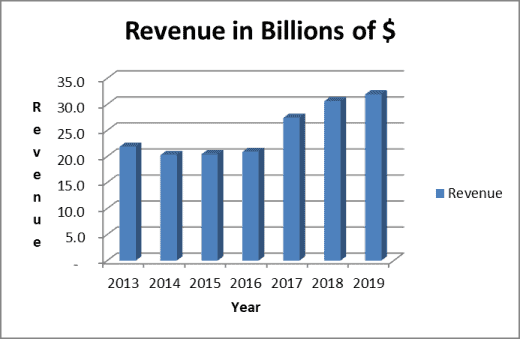 Acquisitions have fueled Abbott's revenue growth.
In 2017, the company purchased St. Jude Medical for $25 billion. This acquisition established Abbott as a leader in the medical device arena.
After clearing regulatory hurdles, they also acquired Alere for $5.3 billion in 2017. This made Abbott a leader in the $7 billion point-of-care diagnostics market.
On the downside, financing these acquisitions likely kept 2017 and 2018 dividend increases on the smaller side.
ABBOTT LABS DIVIDENDS AND EARNINGS PER SHARE
Due to the acquisitions, accounting earnings are difficult to interpret.
Because of this, Abbott also reports an adjusted earnings number. They factor out the impact of intangible asset amortization restructuring costs and other expenses. Adjusted earnings provide a much smoother profit trend.
Rather than wrestle with all the accounting, let's look at free cash flow to assess dividend safety.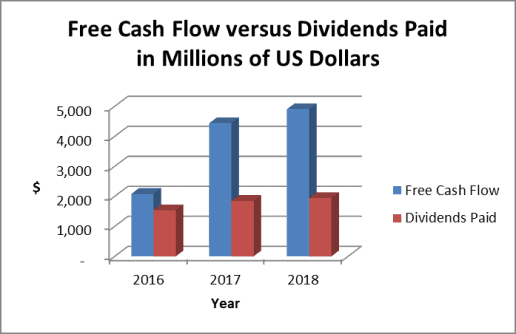 For the past two years, dividend payments have run at about 40% of free cash flow. This is a comfortable payout ratio. Judging from Abbott's long and rich history of dividend payments and stable demand in the health care sector, I judge the dividend to be very safe.
In fact, I expect Abbott stock to be a dividend King in a few years. Dividend Kings have increased their dividend each year for 50 straight years!
CREDIT RATING AND BALANCE SHEET
Moody's and S&P rate Abbott Baa1 and BBB, respectively.  Their ratings represent "investment grade-moderate credit risk" evaluations.
Abbott took on a significant amount of debt to fund the acquisitions in 2017. However, the debt to equity ratio stands at only .76.
After paying dividends Abbott has been diligent at using its cash flow to reduce debt in last half of 2017 and in 2018.
ABBOTT LABS STOCK VALUATION
Since accounting earnings are depressed from acquisition accounting and restructuring costs, it is difficult to find meaning in the price to earnings ratio.
To judge value, I'm going to use the Gordon Growth Model to calculate a fair value for the company's stock price. The model considers several of the factors I have discussed thus far. Specifically,
Current dividend payment – $1.28 per share
Projected dividend growth – 8%
My desired annual return on investment – 10%
Using these assumptions, the Gordon Growth model estimates fair value at $69 per share.
I will go one more step to determine my desired buy price, that being dividend yield. I would prefer more income from my purchase. Because Abbott stock yields less than 2%. Based on that, I will set my buy price at $64 per share to provide a 2% yield.
CONCLUSION
Abbott stock holds a mid-sized position in my dividend stock portfolio.  It currently looks a little over valued based on the Gordon Growth valuation model.  And I would prefer a higher dividend yield to add to my shares.
Abbott is a very solid company with a strong operating track record. And an excellent dividend growth stock to keep an eye on. And perhaps to add to your own portfolio.
If you are interested in other health care sector dividend growth stocks, check out the Medtronic analysis.
Disclosure
This article is not intended to be investment advice specific to your personal situation. Invest at your own risk. You are responsible for any investment gains or losses. See this site's disclaimer policy by following this link: Disclaimer and Privacy Policy.
I own Abbott Labs stock.