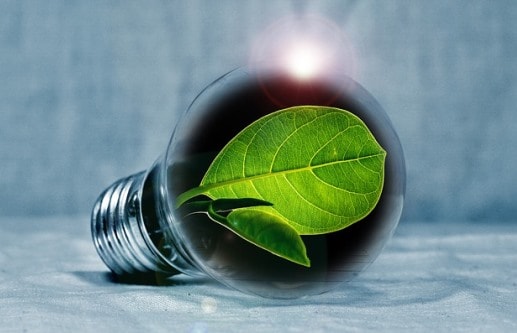 The stock market has been on a bumpy ride. Volatility increased as the year went on and the major indexes ended down. You can't eliminate the ups and downs, but with AEP stock, you can possibly smooth the ride a little.
So today, let's dividend dive into American Electric Power or AEP for short. Maybe AEP stock is a good place to stash some cash this year.
Disclosure: This article contains referral links.
COMPANY BACKGROUND
AEP calls itself a "premier regulated energy company". They make money primarily by producing, transmitting and selling electricity to 5.4 million customers in 11 states centered around Ohio in the Midwestern United States and Texas in the South.
AEP STOCK DIVIDEND YIELD
AEP pays a forward dividend of $2.68 per share. At the recent AEP stock price of $74 per share, we get a 3.6% dividend yield
COMPOUND ANNUAL DIVIDEND GROWTH
| | | | |
| --- | --- | --- | --- |
| 1 Year | 3 Years | 5 Years | 7 Years |
| 5.9% | 5.6% | 4.2% | 4.6% |
Dividend growth has been steady in recent years averaging about 5%. Heading into next year, the company announced a very substantial dividend increase of 8.1%!
The company stated in its recent investor presentation materials that they expect earnings to grow 5-7% annually.  And they intend to increase the dividend each year at a similar rate.
Related: Duke Energy dividend stock analysis
REVENUE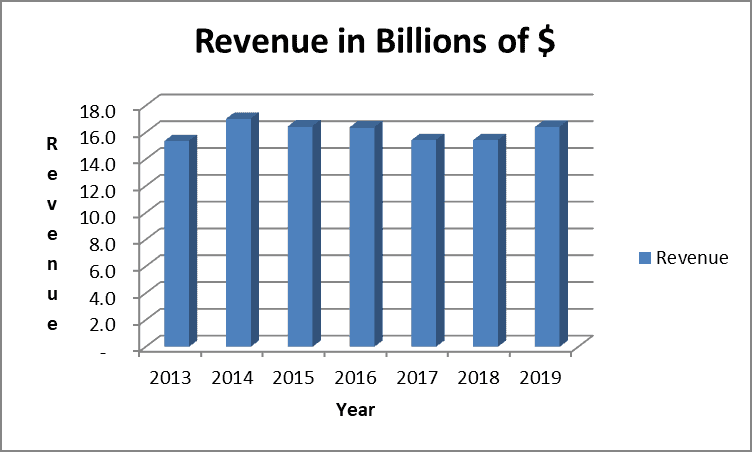 As one might expect, revenue growth is minimal as it relates to AEP and the AEP stock. As a regulated utility, this company is not a high growth story. The underlying demand for the company's energy products grows slowly. Growth in the very low single digit percentages on an annual basis is common. Similar to the rate of growth within the local economies in which it operates.
Revenue and profits also grow over the long run as the company invests in capital improvement projects. The cost of these projects plus a profit margin is then passed on to their customers. This is the essence of a regulated utility business model.
AEP STOCK DIVIDEND, EARNINGS & PAYOUT RATIO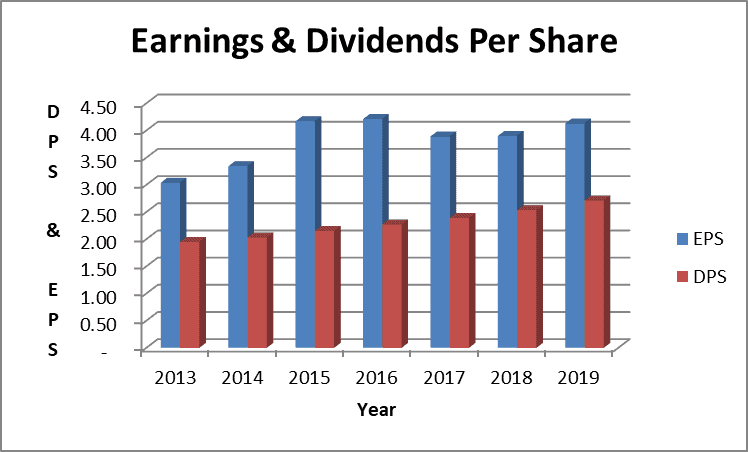 Over the years shown in the chart, earnings have grown on average a little over 5%. Dividend growth has been similar and the dividend payout ratio runs around 60% of earnings consistently.
In terms of earnings and dividends, management's projections for the future are similar to how they have operated in the past. As they say, past performance does not guarantee future results. But this track record gives me confidence that AEP's dividend is safe and will continue to grow consistently in the coming years.
CREDIT RATING AND BALANCE SHEET
We are mainly focused on the AEP stock fundamentals, but let's check their credit rating. According to Moody's and S&P, AEP is rated Baa1 and BBB+.
This is "investment grade-moderate credit risk". Although not the highest of ratings, they are still investment grade.
And the consistency of AEP's business gives me little concern about their ability to pay off or refinance debts as they come due.
In general, regulated utilities are very capital and asset intensive. AEP chooses to finance about 70% of those assets with debt and other liabilities. This is a relatively high debt load, but not uncommon for the regulated utility industry.
AEP STOCK VALUATION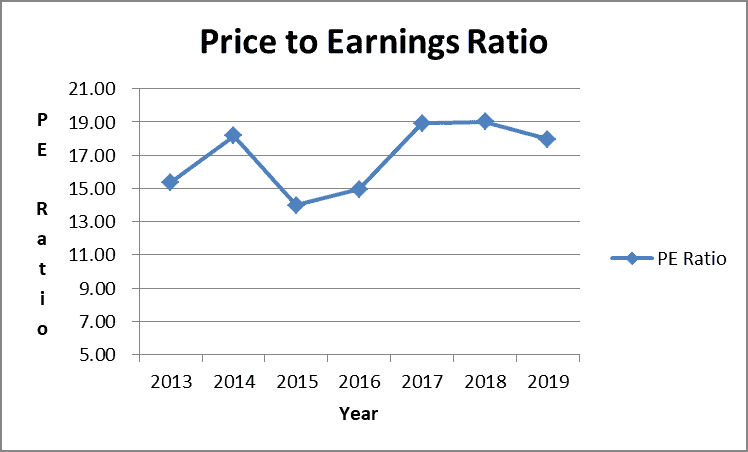 AEP's price to earnings ratio clocks in at about 18 times projected next year earnings. It's a little pricey given the slow earnings growth profile. However, such a reliable and consistent company often fetches a higher price.
CONCLUSION – AEP STOCK DIVIDEND
I like the income and stability that good regulated utilities can bring to an investment portfolio. AEP stock is one of my smaller positions and I would like to add to it.
In my opinion, it's not a bad buy at the current price level. I would love to add on at $70 per share or less.
This would set up nicely at about 4% current yield and 6% projected annual dividend growth. That is a really nice yield and growth profile from my perspective.
Related: Duke stock and dividend analysis
Disclosure & Disclaimer
This article, or any of the articles referenced here, is not intended to be investment advice specific to your situation. I am not a licensed investment adviser, and I am not providing you with individual investment advice. The only purpose of this site is information & entertainment. We are not liable for any losses suffered by any party because of information published on this blog. See this site's Disclaimer and Privacy tab for more information.
Thanks for reading about AEP stock!