Best Long Term Investment – Yourself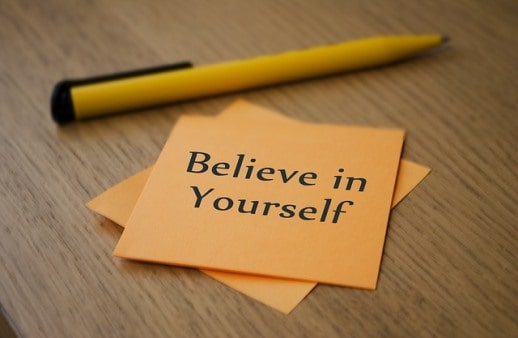 Being an investor, I strive for good investment returns.  They are really important to build one's wealth and achieve financial independence. I've always had a hunch of what my best long term investment has been.  Most noteworthy, I want to prove it out.  My hunch is it was my undergraduate degree in accounting and the CPA I earned at the same time.
Education was the springboard to a productive business career.  That is before I hung up my calculator and declared financial independence.
Higher education is an intangible asset investment.  But an investment in oneself that can really pay off.
HOW MUCH DID MY BEST LONG TERM INVESTMENT COST?
First of all, to calculate return on investment, we need to know the amount invested.  Having gone to college in the mid-1980's it took me a little time to piece the facts together, but I think I got it pretty close.
I went to a state university as an in-state student.  It was far from the best university in my state.  I didn't get accepted to the best one.  Rather it was serviceable and had a good accounting program.  Above all, here is what my 4-year undergraduate degree cost:
| | |
| --- | --- |
| Tuition and Fees | $5,300 |
| Room & Board (2 years in dorm and 2 years in a dump apartment with a couple of dudes) | $11,400 |
| Books & Supplies | $1,100 |
| Total Gross Cost | $17,800 |
Finally, divide it by 4 years and that is an average cost per year of $4,450.  Just for fun, I looked up what a year at my Alma mater costs now for an in-state student.  It is $26,000.  Furthermore, that is about a 5.3% annual inflation rate which doesn't seem out of line to me.
SCHOLARSHIPS & INTERNSHIPS HELPED OUT
Even more, it gets better.  I was a pretty lousy high school student, but I really buckled down in college.  Because of my grades and ability to write good essays on application forms, I was fortunate to get $5,600 in merit-based scholarships my junior and senior year.
Also, I got an internship through the accounting program during the summer before my senior year.  I had to pay tuition because I got 6 college credit hours for the internship, but the company paid me a whopping $7.95 an hour.  I worked about 400 hours that summer traveling all over the U.S. as an internal auditor.  As a result, I made $3,200.
So let's take out the scholarships and internship earnings and get to my out of pocket costs.
| | |
| --- | --- |
| Total Gross Cost from above | $17,800 |
| Less:  Scholarships | ($5,600) |
| Less: Internship wages | ($3,200) |
| Total Gross Cost for 4-year undergraduate accounting degree and CPA | $9,000 |
So I got an undergraduate degree in accounting and my CPA at the same time for $9,000.  I paid for some of it from my part-time jobs and my parents paid the rest.  I left college with no debt.  Certainly compared to today's cost for education it just blows my mind.
RETURN ON INVESTMENT
Another question is what's my return on this type of investment?
In writing a prior article called The Tussle With My Main Hustle, I had summarized all my historical earnings in the chart below.  It starts my senior year in college – Year 1 at zero.  Year 2 is my first year working at an international public accounting firm.  I started right after college at an average salary for a college graduate at the time.  That years salary is the base year.  The remaining years are indexed off of this base.  Here's the chart: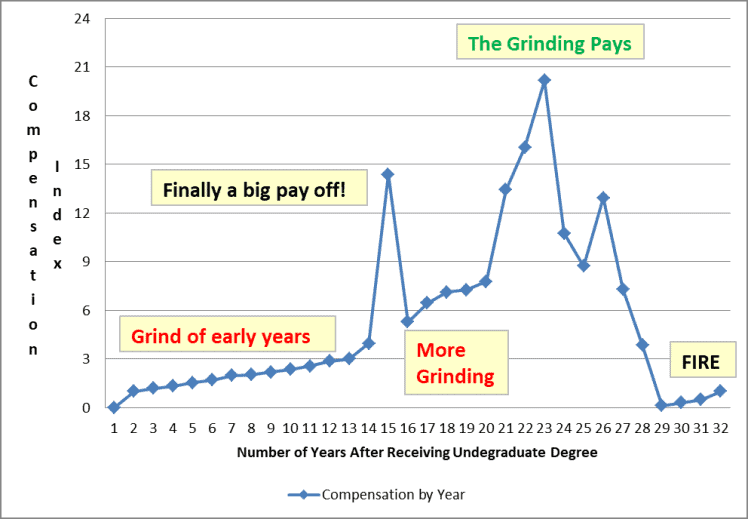 Finally, I take the net investment and factor in 30 plus years of earnings and  I come up with an annualized rate of return on my investment of about 309%.
I don't have to go through any of my other investments to tell you none of them come anywhere close.  My education is clearly my first and best long term investment.
BEST LONG TERM INVESTMENT – CONCLUSIONS
I'm a big believer in higher education and investing in oneself.  YOU are your best asset, in my opinion.
I recognize times are different and my case may be extreme.  Even more, shouldn't some of the basic rules of common sense and sound investment principles apply to higher education?
Keep costs low

Pick a marketable major that pays well

Maximize scholarship and internship resources

After graduation, maximize earnings by focusing like a laser on your chosen career
Readers, what am I missing here?  I don't have children so some of this is easy for me to say.  What if my hypothetical Tom junior looked me in the eye and said Dad, "I want to go to a private liberal arts college 1,000 miles away from home at $50,000 per year."  Could I tell him no?  As a parent do you have thoughts on that?  Also, what is your best long term investment?
SUBSCRIBE
In addition, be sure to subscribe.  As part of your subscription, you will get 20 wealth building and investment tips free!  Most noteworthy, never miss a new post.  In addition, I will send a weekly email to all subscribers with a link to the current weeks new content.  Finally, thank you for visiting.
PINTEREST
Are you a Pinterest user?  Then be sure to follow Dividends Diversify on Pinterest by clicking this link:  Pinterest Home Page.  Then click the red follow button.  Thanks for following and be sure to save this pin for later!