Chubb Dividend Stock Analysis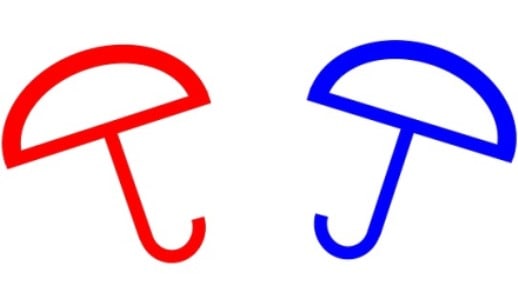 I've been a little disappointed with my investment in Chubb Limited. Why? Slowing dividend growth. So I thought it would be a good time to revisit the company's investment prospects.

Please join me for a dividend deep dive of this multinational insurance company.
COMPANY BACKGROUND
Chubb is the world's largest publicly traded property and casualty insurance company. In addition, they are the largest commercial insurer in the U.S. The company provides
Commercial and personal property insurance

Casualty insurance

Personal accident and supplemental health insurance

Reinsurance and life insurance
As an underwriting company, they apply their expertise to assess, assume and manage risk.
CHUBB DIVIDEND YIELD
Chubb is paying an annualized forward dividend of $2.92 cents per share. This translates to a 2.1% dividend yield at the recent price of $140 per share.
COMPOUND ANNUAL DIVIDEND GROWTH RATE
| | | | |
| --- | --- | --- | --- |
| 1 Year | 3 Years | 5 Years | 7 Years |
| 2.9% | 3.0% | 7.7% | 11.70% |
Most recently, the Chubb dividend was increased by 2.8%. In addition, Chubb has increased its dividend annually for 24 consecutive years. However, dividend growth has slowed dramatically over the past 3 years.
REVENUE

Revenue increased significantly in 2016. This was the result of a merger with another large insurance provider called ACE. The combined companies now operate under the Chubb name.
There were strategic benefits to the merger. Since each stand-alone company focused on different areas of the insurance market. ACE concentrated on large global clients. While Chubb focused on middle market businesses. Chubb also carried personal policies targeting higher net worth individuals.
CHUBB DIVIDEND, EARNINGS AND PAYOUT RATIO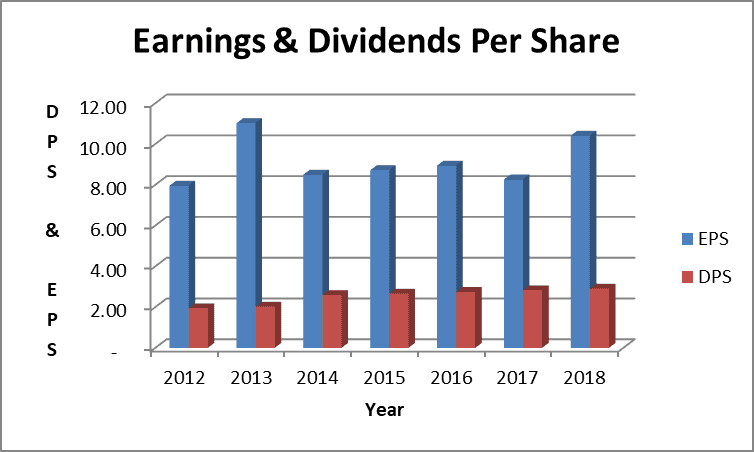 One of the challenges of the insurance business is the unpredictability of expenses. Expense levels for every year are heavily impacted by the level of insurance claims. Like other insurers, Chubb was hit by a flurry of natural catastrophes in 2017 that depressed earnings. However, earnings are expected to recover in 2018.
The company targets a 30% dividend payout ratio which is where they are projected to operate in 2018. Largely stagnant earnings over the past several years, partly due to the large claims paid in 2017, have limited recent dividend growth.
The dividend appears very safe at roughly 30% of both earnings and free cash flow. Over the long term, I expect the dividend to grow at the same rate as earnings, or about 7-8%.
A lower dividend payout ratio is a positive metric. It shows the company has ample room to raise the dividend in the coming years. Or, withstand an earnings drop without having to reduce the dividend. In an industry with unpredictable costs, a conservative payout ratio like Chubb's is a very wise strategy.
VALUATION & CONCLUSION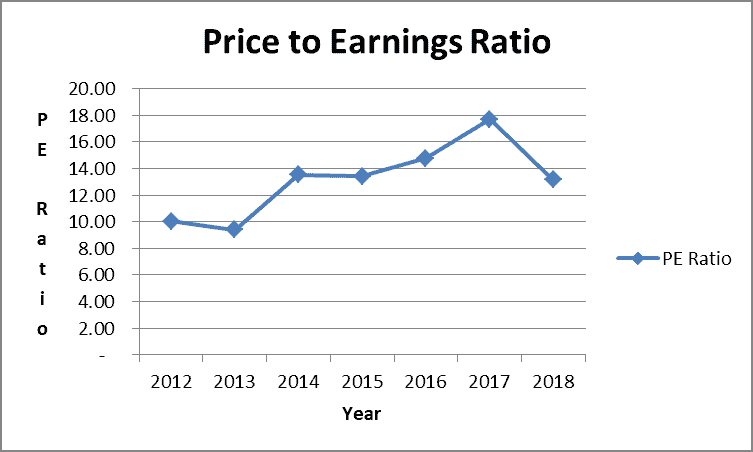 Chubb's stock price has corrected and is 11% off its 52 week high. The reduction in the stock price coupled with an earnings recovery anticipated in 2018 has brought the price to earnings ratio down to a modest 13 times 2018 projected earnings. A lower ratio typically represents a better value for the investor.
WRAPPING IT UP
Although I am disappointed in recent dividend growth, I find it understandable. The combination of a disciplined dividend payout policy. And depressed earnings growth due to the natural disasters during 2017 has influenced management to increase the dividend a very small rate in the last 2 years.
Chubb holds a small position in my personal portfolio. I like to have exposure to the insurance industry for diversification purposes. Unlike real estate investment trusts (REITs) and utilities; insurance companies tend to benefit from higher interest rates. Because they carry large investment portfolios that benefit from those higher rates.
As much as I would like to add to and build my current position, I will only do so below $105 per share. The low current yield combined with recently low dividend growth is not a great combination to me at the current stock price.
WHAT ARE YOUR COMMENTS?
Do you own Chubb? Who is your property and casualty, insurance provider?
Leave a comment and let us all know!
Related: Paychex stock and dividend analysis
Related: Dividends Deluxe model portfolio
BE SURE TO SUBSCRIBE
As part of your subscription to Dividends Diversify, you will get 20 wealth building and investment tips free! In addition, never miss a new post. I will send a weekly email to all subscribers with a link to the current weeks new content. Last but not least, thanks for visiting.
Disclosure & Disclaimer
This article, or any of the articles referenced here, is not intended to be investment advice specific to your personal situation. I am not a licensed investment adviser, and I am not providing you with individual investment advice. The only purpose of this site is information & entertainment. We are not liable for any losses suffered by any party because of information published on this blog. See this site's Disclaimer and Privacy tab for more information.