Chubb Dividend Stock Analysis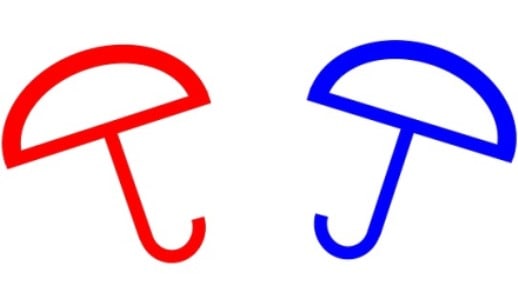 I've been a little disappointed with my investment in Chubb Limited. Why?
Low and slow dividend growth. That fact, combined with a low Chubb dividend yield is not usually a combination I find attractive in a dividend stock.
Fortunately, Chubb holds one of the smallest positions in my dividend stock portfolio. When I last reviewed the company, I decided to be patient. And take a wait and see approach.
While I waited, at least I would hold the stock and collect the Chubb dividend.
But that was months ago. So I thought it would be a good time to revisit the company's investment prospects. And see if the patient, wait and see approach still makes sense.
But let's not wait and see any longer. So please join me for a dividend deep dive of Chubb, a multinational insurance company.
Hopefully, it will provide some insight on what I should do with my Chubb stock investment. And maybe that insight can help you too!
Company Background
Chubb is the world's largest publicly traded property and casualty insurance company. In addition, they are the largest commercial insurer in the U.S. They have a highly focused business model since insurance is their only line of business.
Source – Chubb, Who We Are
Insurance Products
The company provides:
Commercial and personal property insurance

Casualty insurance

Personal accident and supplemental health insurance

Reinsurance and life insurance
Profitable Growth
They apply their expertise to assess, assume and manage risk on the insurance they underwrite. This is one of Chubb's core business strengths.
In fact, Chubb has proven to be very good at balancing their desire to grow while maintaining high profit margins.
I worked at a company for several years that operated under the "grow at any cost by doing anything for anyone" philosophy. It was a poor strategy.
So I admire Chubb's focused and disciplined approach to their business.
Customer Diversity
Finally, Chubb services a diverse customer base that includes:
Multinational corporations

Mid and small size businesses

Individuals

Insurers managing exposure through reinsurance
Related: How to Get Dividends From Real Estate
Chubb Dividend Yield
Chubb is paying an annualized forward dividend of $3.00 per share. This translates to a 1.9% dividend yield at the recent stock price.
Regular readers know I prefer dividend yields in the 3%-5% range. At times, I am willing to accept a lower dividend yield, like Chubbs. But then, I want and expect faster dividend growth.
So let's check out Chubb's dividend growth profile next.
Chubb Dividend Growth Rate
| | | | |
| --- | --- | --- | --- |
| 1 Year | 3 Years | 5 Years | 7 Years |
| 2.8% | 2.8% | 2.9% | 6.3% |
Unfortunately, as you can tell from the above table, dividend growth is nothing to get excited about. And for 2019, management increased the Chubb dividend by only 2.7%.
Chubb Dividend Policy?
Sometimes companies will inform investors about their intentions as it relates to their dividend. Some companies go so far as to have a dividend policy statement.
I really like it when companies communicate a dividend policy. Especially as I question Chubb's commitment to faster dividend growth.
So I dug into Chubb's last 2 investor presentations available on their website. I was hoping to see what, if anything, I could learn about their intentions regarding dividend growth.
Unfortunately, there wasn't one mention of the dividend in the nearly 50 pages of PowerPoint slides.
Chubb Dividend Growth Forecast
So it's difficult for me to set an expectation for future dividend growth. But I always do so for my dividend stocks.
Sometimes I am more confident in my forecast than other times. This time I'm going to use 5% as my forecast for Chubb dividend growth. It's really just an educated guess from looking at their historical trend. And Chubb's dividend-paying capacity.
When we look at Chubb's dividend payout ratio in a moment, you will see that they have plenty of room to increase the dividend more rapidly if they chose to do so. I'm just not sure that they will.
Chubb Is A Dividend Aristocrat!
Let's close out the Chubb dividend growth section on a positive note.
That note being that management has increased the Chubb dividend for 26 consecutive years. That makes Chubb a Dividend Aristocrat.
Dividend Aristocrats are those rare and special companies that have increased their dividend annually for 25 or more years.
Related: A Favorite Dividend-Paying Food Industry Stock
Chubb Revenue Growth Trend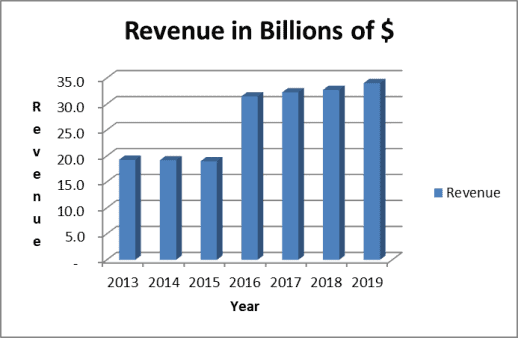 Historical Revenue Growth
Revenue increased significantly in 2016. This was the result of a merger with another large insurance provider called ACE. The combined companies now operate under the Chubb name.
There were strategic benefits to the merger. Since each stand-alone company focused on different areas of the insurance market.
ACE concentrated on large global clients. While Chubb focused on middle-market businesses. Chubb also carried personal policies targeting higher net worth individuals.
Since the merger with ACE, revenues have grown less than 3% annually.
Projected Revenue Growth
Chubb management expects low to mid-single-digit percentage growth in the U.S. and other developed markets. And double-digit annual growth from international markets and other growth segments.
Given their current mix of business in these segments that blends out to a roughly 7% annual revenue growth forecast.
I will have to watch and wait on this revenue forecast. The company hasn't been able to achieve growth like this since they merged with ACE. So far, 2019 revenue growth looks more in line with the past, at less than 3%.
Source: Chubb December 2018 Investor Presentation
Chubb Dividend, Earnings, And Payout Ratio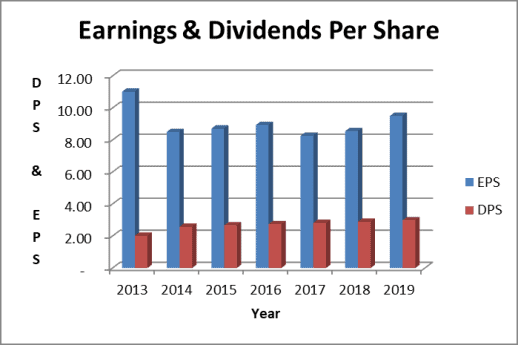 One of the challenges of the insurance business is the unpredictability of expenses. Expense levels for every year are heavily impacted by the level of insurance claims.
Like other insurers, Chubb was hit by a flurry of natural catastrophes in 2017 that depressed earnings. However, earnings are recovering through 2018 and 2019.
The Chubb dividend payout ratio is 30%. Stagnant earnings over the past several years, partly due to the large claims paid in 2017, combined with a stable dividend payout ratio have constrained dividend growth.
Chubb Dividends & Free Cash Flow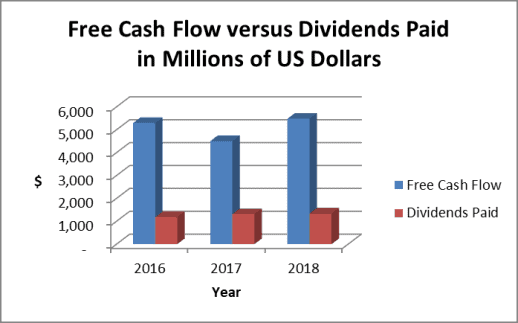 As the chart above shows, Chubb's free cash flow generation is very strong. And, the dividend consumes only 25% of that free cash flow.
Chubb Dividend Safety
Chubb's ample free cash flow and the low dividend payout ratios lead me to conclude the Chubb dividend is very safe from a reduction for the foreseeable future.
A lower dividend payout ratio, like Chubbs, is a positive sign. It shows the company has ample room to raise the dividend in the coming years. Or, withstand an earnings drop without having to reduce the dividend.
In an industry with unpredictable costs, a conservative payout ratio like Chubb's is a very wise strategy.
On the other hand, it's tough for me as a dividend growth investor to accept. As I have stated, I do not like the combination of low dividend yield and slow dividend growth.
Especially, when the company appears to have the capacity to share more of its profits with investors. Specifically, in the form of higher dividends.
Chubb Financial Position
Having a strong balance sheet and positive credit ratings also give clues about a company's dividend safety.
In addition, a strong financial position allows a company and its stock to withstand difficult economic times. A strong position is especially important for an insurance company. Who wants to make an insurance claim and find out they are unable to pay it.
Overall, Chubb has a very strong financial position. Let's see why that is the case.
Chubb Credit Ratings
Chubb has an "A3" rating from Moody's. And they have an "A" rating from S&P. These ratings represent a solid "investment grade – low credit risk" evaluation.
Source: Financial Industry Regulatory Authority (FINRA)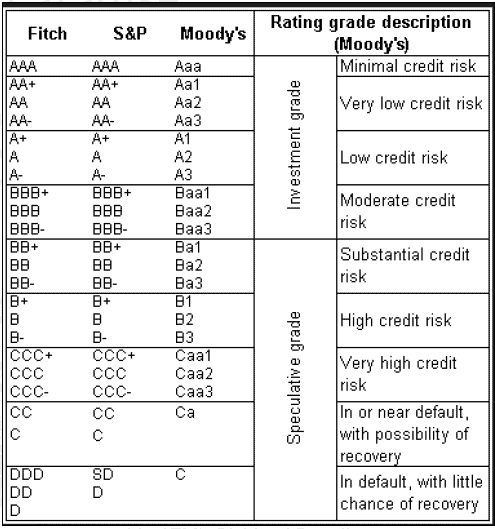 Most companies with a long track record of annual dividend increases have investment-grade credit ratings. And Chubb is no different in this regard.
Chubb Balance Sheet
Chubb's balance sheet is strong and positioned in a conservative manner. They have a debt to equity ratio of just .25 to 1. In comparison debt to equity of all S&P 500 companies is .86 to 1.
Source: Yardeni Research
Chubb Stock Valuation
Let's judge the Chubb stock valuation in several different ways.
Dividend discount model

Morningstar fair value estimate

Price to earnings ratio
Chubb Dividend Discount Model
The single-stage dividend discount model considers several factors I have discussed thus far.
Current annual dividend payment – $3.00

Projected dividend growth – 5%

My desired annual return on investment – 9%
Using these assumptions the dividend discount model gives us a fair value estimate of $79 per share.
It is not a surprise to me that the dividend discount model considers Chubb stock to be significantly over-valued. Why?
Because the dividend discount model highly values large and rapidly growing dividend payments. We have established that the Chubb dividend has neither of those characteristics.
Morningstar Fair Value
The investment analysis firm Morningstar believes Chubb stock is fairly valued at $140 per share.
Source: Morningstar
Chubb Stock Price To Earnings Ratio
Chubb's stock price trades near its all-time high. Yet the company's price to earnings ratio is still only a little over 16 times 2019 earnings.
For comparison, the S&P 500 price to 2019 earnings ratio is 17.5 times. Chubb stock trades at a discount to the overall market.
Can Chubb achieve its growth forecasts? That's a big question. I believe its price to earnings multiple would expand to that of the overall market if it can.
Valuing Chubb at the market valuation of 17.5 times earnings gives us a Chubb stock price target of $166 per share.
Related: How About This Tech Stock For Dividends
Chubb Stock Valuation Conclusions
We have looked at a number of different value measures. And they provide a wide range of values.
More traditional measures as provided by Morningstar and price to earnings analysis suggest the stock is trading at or near its fair value. On the other hand, the dividend discount model suggests Chubb stock is significantly overvalued.
I tend to take sides with the dividend discount model. Since a large and growing dividend is my primary objective for investing in dividend growth stocks.
Chubb Dividend & Stock Review-Conclusions
We have covered a lot of ground as it relates to Chubb stock and the Chubb dividend. Let's examine the positive and negative and decide on the next steps for my personal Chubb stock recommendation.
What I Like About Chubb and Chubb Stock
Chubb provides exposure to the insurance industry for diversification purposes.
Real estate investment trusts (REITs) and utilities are typical holdings in a dividend stock portfolio. Unlike companies in those industries, insurance companies tend to benefit from higher interest rates. Because they carry large investment portfolios that benefit from those higher rates.
Chubb is an excellent company.
The company is well managed. Management operates with focus and discipline. And Chubb is a market leader in the global insurance industry.
Chubb is a dividend aristocrat.
26 years of annual dividend increases is an amazing accomplishment. And the current dividend payment appears to be very safe from a reduction in the foreseeable future.
What I Don't Like About Chubb & Chubb Stock
The dividend yield is low.
It is less than 2% at the time of this article. I prefer dividend yields in the 3-5% range.
Dividend growth is slow.
I am disappointed in recent dividend growth. I do not mind a low dividend yield if I am being rewarded with fast dividend growth. But, this has not been the case.
My Path Forward With Chubb Stock
As much as I would like to hold on and wait to see. I have lost patience and have sold all of my shares of Chubb stock.
The low current yield combined with recently low dividend growth is not an attractive combination to me at the current stock price. With Chubb stock trading near its all-time high, this looks like a good time to exit what is a small position in my dividend stock portfolio.
Related: Paychex stock and dividend analysis
Related: Dividends Deluxe model portfolio
BE SURE TO SUBSCRIBE
As part of your subscription to Dividends Diversify, you will get 20 wealth building and investment tips free! In addition, never miss a new post. I will send a weekly email to all subscribers with a link to the current week's new content. Last but not least, thanks for visiting.
Disclosure & Disclaimer
This article, or any of the articles referenced here, is not intended to be investment advice specific to your situation. I am not a licensed investment adviser, and I am not providing you with individual investment advice. The only purpose of this site is information & entertainment. We are not liable for any losses suffered by any party because of information published on this blog. See this site's Disclaimer and Privacy tab for more information.
I sold all of my Chubb stock and no longer collect the Chubb dividend.