Love Those Technology Stocks That Pay Dividends
I'd like to walk through a Cisco stock analysis & Cisco dividend review today.
Because Cisco Systems has powered the internet since 1984 with a broad range of technologies. But, as the company's growth slowed, Cisco started paying a rising stream of dividends to investors.
Here are several key takeaways from the Cisco stock analysis to get us rolling…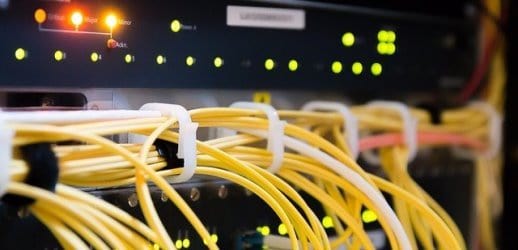 Disclosure: At no cost to you, I may get commissions for purchases made through links in this post.
Cisco Dividend Stock Analysis: Key Takeaways
1. Technology stocks that pay dividends, like Cisco, can provide sector diversification for dividend stock portfolios.
2. The company has a very strong financial position and cash flows that support a high degree of dividend safety.
3. Cisco started paying dividends in 2011 and has increased its dividend every year since.
4. However, Cisco's dividend growth rate has slowed dramatically in recent years.
5. Finally, Cisco stock looks fully valued as of the time of this update. For a safe dividend stock with slow-growth prospects.
Now, let's dig deeper into all of these key points…
Cisco: A Dividend Stock For Tech Sector Diversification
A good money management plan calls for diversification. So, wanting to increase the sector diversity of my dividend-paying stocks, I bought my first Cisco shares in 2013.
In order to increase my portfolio's exposure to technology stocks that pay dividends. You may be considering the same?
Or, are you looking for other dividend stock investments to diversify your holdings? Then be sure to check out the Dividends Deluxe model portfolio.
The Dividends Deluxe holds 39 stocks in total. And each dividend stock, including Cisco, is linked to its most recent dividend stock review.
But now, no further delays. You are here to learn about Cisco.
So, let's dig into the Cisco stock analysis and the Cisco dividend details! The company is a favorite stock pick by many dividend investors for its rising stream of dividend income.
We will get started with a brief review of the company's business operations.
Cisco Company Background
Cisco remains a dominant player in computer networking equipment. Their products are critical for network performance, stability, and security.
They supply their customers with:
Switches
Routers
Firewalls
Complimentary networking products
The company groups its products and technologies into the following categories:
Infrastructure platforms
Applications
Services
Security
Other products
Revenue share by category is shown in the chart below.
Chart 1: Cisco Revenue Breakdown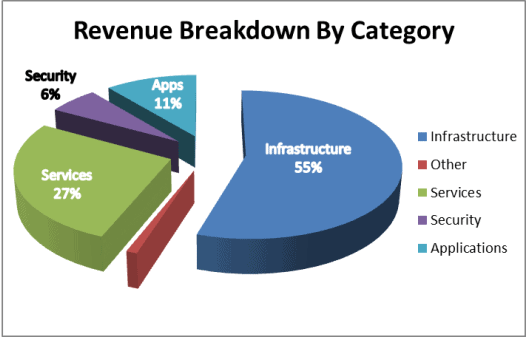 Cisco's Growth Strategy
Cisco's growth strategy involves
Enabling network automation to improve efficiency and enhance security
Increasing the value of the network by unlocking the power of data and by supporting cloud computing
Selling more software and services to supplement hardware product sales
Cisco Stock Symbol
Finally, Cisco stock trades on the NASDAQ stock exchange. The stock uses the symbol CSCO (NASDAQ: CSCO).
Next, let's dig into all of the facts and figures about the Cisco dividend. This is my favorite part of the Cisco stock analysis.
Does Cisco Pay Dividends?
Yes. Of course. Cisco pays dividends.
Even though its dividend history is rather short. Cisco is a dividend growth stock. More specifically, a technology stock that pays dividends.
Cisco Dividend Payout Per Share
So, what is the Cisco dividend per share? In other words, how much dividend does Cisco pay?
Cisco pays an annual forward dividend of $1.48 cents per share.
The forward dividend per share is the most recent quarterly dividend paid. Multiplied by the 4 calendar quarters the company pays dividends each year.
Cisco Dividend Yield
The forward dividend per share gives us a 2.8% Cisco dividend yield at the recent Cisco stock price. Specifically, the annual dividend rate and stock price. At the time this post was updated.
This is a good dividend yield from my perspective. But, I like dividend yields of at least 3%.
As long as the company also provides consistent annual dividend growth. I will settle for a lower yield. Because the current dividend income plus dividend growth are the ingredients for compounding wealth.
How Often Does Cisco Pay Dividends?
Cisco pays dividends every 3 months or 4 times per year. Each quarterly dividend payment is one-fourth of the annual rate.
When Does Cisco Pay Dividends?
Cisco has been consistently paying dividends in January, April, July, and October.
During these months, the Cisco dividend is typically paid on the 3rd or 4th Wednesday. This usually falls on the 23rd day of the month. Give or take a day or so in either direction.
Since Cisco's dividend payable date can vary. It is a good practice to check its investor relations website.
Or, their latest dividend announcement press release. These sources will provide the exact date for each quarterly dividend.
In case you are interested. These stocks pay in January, April, July, and October too.
Cisco Ex-Dividend Date
As a potential new shareholder or one looking to make an add-on buy, you may want to receive the next Cisco dividend payout. To do so, you must complete your investment by the ex-dividend date.
Cisco's ex-dividend date falls on the first Thursday of the month in which it pays dividends. On rare occasions, the first Thursday of the month falls on a holiday. Then the ex-dividend date is moved by a day.
Once again, refer to Cisco's website for the precise date. Or its quarterly press release announcing the next dividend.
Cisco Dividend History
Cisco is a relative newcomer to the ranks of dividend-paying stocks.
The company was founded in 1984. But did not start paying dividends until 2011.
Since 2011, Cisco has increased its dividend at least one time each year. In 2012, Cisco increased its dividend twice!
Cisco Is A Soon To Be Dividend Achiever
Dividend Achievers are stocks of companies with 10+ years of dividend increases in a row. The stocks must also meet certain minimum size and liquidity requirements.
Based on my count, Cisco will become a dividend achiever very soon. That is barring any drastic changes to its dividend policy
I love a company that pays dividends and increases that dividend consistently! And Cisco has been doing a great job of doing just that.
I promised we would cover Cisco's dividend growth rate. So, let's look at that now.
Cisco Dividend Growth Rate
Since paying its first dividend in 2011, the company's dividend has grown steadily. From its very first quarterly dividend payout of just 6 cents per share.
Although, as the table below shows, dividend growth has been slowing.
Table 1: Cisco 7-Year Dividend Growth Rate
| | | | |
| --- | --- | --- | --- |
| 1 Year | 3 Years | 5 Years | 7 Years |
| 4.4% | 8.8% | 12.2% | 12.6% |
Most Recent Cisco Dividend Increase
And the company's slower dividend growth trend has continued. Earlier this year, the company announced another 2.8% dividend increase.
Cisco Dividend Policy
It does not appear that Cisco has communicated a formal dividend policy statement. Some companies do so. And that helps an income investor like me set expectations for future dividend increases.
So, lack of a policy statement is not uncommon nor is it a red flag. Besides, it appears that Cisco views dividends as an important part of their capital allocation planning. And an important aspect of total shareholder return.
Let's continue on with the next area in the Cisco stock analysis. And move from the dividend metrics to business fundamentals. And see what the company's financial reports tell us.
Cisco Stock Analysis: Revenue Trend
As the computer networking industry has slowed from its hot growth in the 1990s and early 2000's, Cisco's revenue has held in a tight range hovering around 50 billion dollars.
Chart 2: Cisco 7-Year Revenue Trend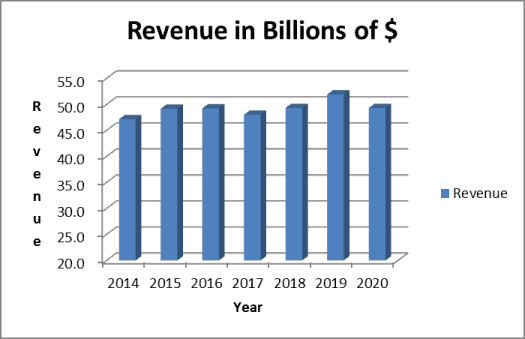 Even more recently, revenue growth has been tough to come by. Like another tech stock that I own.
Analysts expect a flat to slightly declining revenue profile for 2021 as compared to 2020.
Cisco sites a difficult economic operating environment. Issues include:
Slowing spending by telecommunications companies
Global economic weakness from the recession in 2020
With stagnant revenues, can Cisco grow profits and cash flow? We shall check on those areas next.
Cisco Dividend Payout Ratio Based On Earnings
Cisco's earnings have increased steadily in recent years. Profit growth is partly due to the transition to more profitable business categories.
Specifically, the shift to software and services. And, away from hardware.
Chart 3: Cisco 7-Year Dividends & Earnings Per Share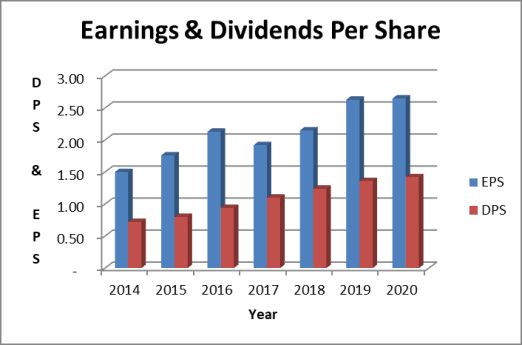 Also, earnings have increased due to share buybacks. With fewer shares trading in the market, the earnings per each share rise. Sometimes this is referred to as the "financial engineering" of earnings.
So, higher earnings per share are being generated through the buyback of shares in addition to the actual dollar growth in profits.
Earnings growth has kept the dividend payout ratio at a comfortable level. It is just over 50% based on accounting earnings.
A lower dividend payout ratio is generally better. It shows the company has ample room to raise the dividend in the coming years. Or, withstand an earnings drop without having to reduce the dividend.
I like to cross-check the dividend payout against cash. Let's see what it looks like next. Since our dividends are paid from cash.
Cisco Dividend Payout Ratio Based on Cash Flow
Cisco is a company that generates large amounts of free cash flow. And, the Cisco dividend payments consume only 40% of that cash flow.
Chart 4: Cisco Dividends & Cash Flows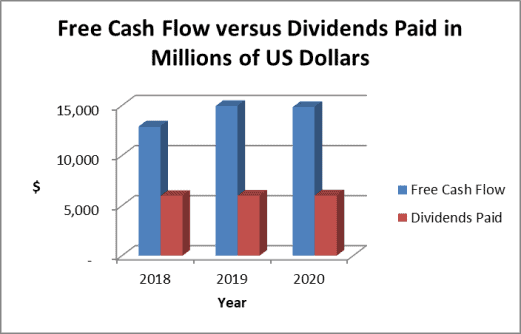 Dividend coverage by cash is a good sign for dividend safety. Also, it signals the potential for future dividend growth. That is if management decides to allocate more of that free cash to dividend increases.
Cisco uses its remaining free cash flow to:
Buyback shares in the market
Acquire other companies
Reduce debt
I've got enough to go on now to draw some conclusions about Cisco's future dividend growth. Let's do it.
Cisco Dividend Growth Forecast
I make a dividend growth forecast for all of my dividend stock holdings. The forecast helps me better plan for my future income from dividends.
And it also provides a key input for assessing a dividend stock's valuation. To make my forecast, I review and evaluate the following:
Historical dividend growth rates
Past and current dividend payout ratios
Management's stated objectives for the dividend (if any)
The company's business health and growth strategy
Until top-line growth resumes, I don't expect very high dividend increases from Cisco. On the other hand, I believe Cisco has the capacity to reward shareholders with 4-6% annual dividend increases over the long-term. Even if that requires the dividend payout ratios to increase in the short term.
The question is, will they do so. Without a firm dividend policy statement, it's hard to tell.
Next up in our Cisco stock analysis, the company's financial position. We will review credit ratings and debt levels.
Cisco Credit Rating
Knowing a company's credit rating is important. A corporation's credit rating is similar to how your credit score works.
You can check your credit score for free with Credit Karma. On the other hand, I will check Cisco's credit score for you.
Higher credit ratings mean lower risk to those who lend the company money. Also, higher ratings mean lenders are more likely to get their loans paid back.
Cisco has an A1 and AA- credit rating from Moody's and S&P, respectively.
According to table 2, this is an investment-grade, low to very low credit risk evaluation.
Table 2: Credit Rating Evaluation Grid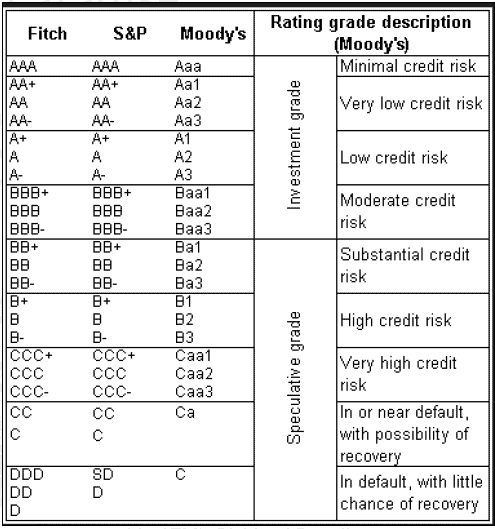 Cisco's credit ratings are very positive. Most good dividend-paying companies are rated investment grade.
Cisco is no exception. In fact, Cisco has one of the highest credit ratings for dividend stocks that I cover.
Cisco Debt To Equity Ratio
Debt to equity checks in at a low .38 to 1. Also, Cisco has about $30 billion of cash and investments sitting on its balance sheet. Enough to pay off all of their debt if they chose to.
This company has a VERY strong financial position. It is evidenced by a conservative balance sheet, a modest amount of debt, significant cash reserves, and very favorable credit ratings.
With these points in mind, let's talk Cisco dividend safety.
Cisco Dividend Safety
Are you trying to build a dividend portfolio for reliable and steady income? Then, dividend safety is a must.
I look at several factors to judge the safety of a company's dividend. Those factors are:
Dividend payout ratios
Historical dividend payment track record
Dividend yield
Free cash flow generation
Balance sheet and credit ratings
Overall business health
Because of Cisco's sizable free cash flow, modest dividend payout ratios, and excellent credit ratings, its dividend appears safe for the foreseeable future.
Let's wrap up the Cisco stock analysis with a look at the stocks valuation.
Cisco Stock Analysis: Valuation
We will look at Cisco's stock valuation from several different angles.
Cisco Dividend Discount Model
The single-stage dividend discount model estimates the fair value of Cisco stock to be $39 per share. This value is based on the assumptions we have discussed. Specifically:
Current annual dividend payments
Projected dividend growth
And one additional assumption. My desired annual return on investment of 9%.
Morningstar Fair Value Estimate
The investment analysis firm Morningstar believes Cisco stock to be fairly valued at $48 per share.
Source: Morningstar
Simply Investing Report
The Simply Investing Report is a monthly publication. It provides high-quality dividend stock analysis and recommendations.
Be sure to read my full review about Simply Investing. There you can learn more about how the publication values a dividend stock.
The most recent Simply Investing report showed Cisco stock to be undervalued.
Also, in a recent issue, Simply Investing profiled Cisco as one of its "favorite 5" dividend stock picks.
They represent stocks that are of high quality and undervalued. These are stocks that have met most of the 9 quantitative rules of Simply Investing.
In the long-term these stocks have solid potential for capital appreciation and dividend growth.
You can learn more about Simply Investing here.
Cisco Stock Price To Earnings Ratio
Cisco's stock price to earnings ratio is about 20 times fiscal year 2020 earnings. A lower price-to-earnings ratio typically represents a better value for the investor.
This is a fairly modest valuation. Not surprisingly, it appears that investors are discounting the company's slower growth potential. Versus other highly valued technology stocks.
Cisco Stock Valuation Summary
The different valuation methods give us a range to consider. My instincts suggest the stock is trading near its fair value.
Perhaps slightly overvalued, in my opinion. Given the company's slowing dividend growth prospects.
Okay, let's wrap up this Cisco stock analysis. With a few concluding comments.
Cisco Stock Analysis & Dividend Review: Summary & Wrap Up
Cisco has been challenged to grow its top-line revenues. They operate in a mature segment of the technology market place which limits their growth potential.
Also, the company's revenue growth has been negatively influenced by economic conditions. As companies and institutions delay spending on technology infrastructure.
On the other hand, Cisco is very profitable. Furthermore, it generates significant amounts of free cash flow. Finally, the company has a rock-solid balance sheet.
Is Cisco A Good Dividend Stock?
Cisco's ample free cash flow provides for a safe and rising dividend payment stream. The dividend appears positioned to grow 4-6% annually.
The current combination of dividend yield. In addition to the potential for annual dividend growth of 4-6%. Is certainly adequate for a safe and consistent dividend stock.
Is Cisco A Good Stock To Buy?
Cisco stock does not appear to be significantly overvalued. However, I'd like to see either a higher dividend yield induced by a drop in the stock price. Or have better evidence that future dividend growth will be higher than 4-6%.
Either of those events would make me excited to buy shares of Cisco stock. But, in the short term, I will only consider adding to my position on pullbacks in the Cisco stock price.
Further Reading About Technology Stocks That Pay Dividends
Are you interested in other technology stocks that pay dividends? If yes, then check out some of my other reviews.
My Favorite Dividend Investing And Finance Resources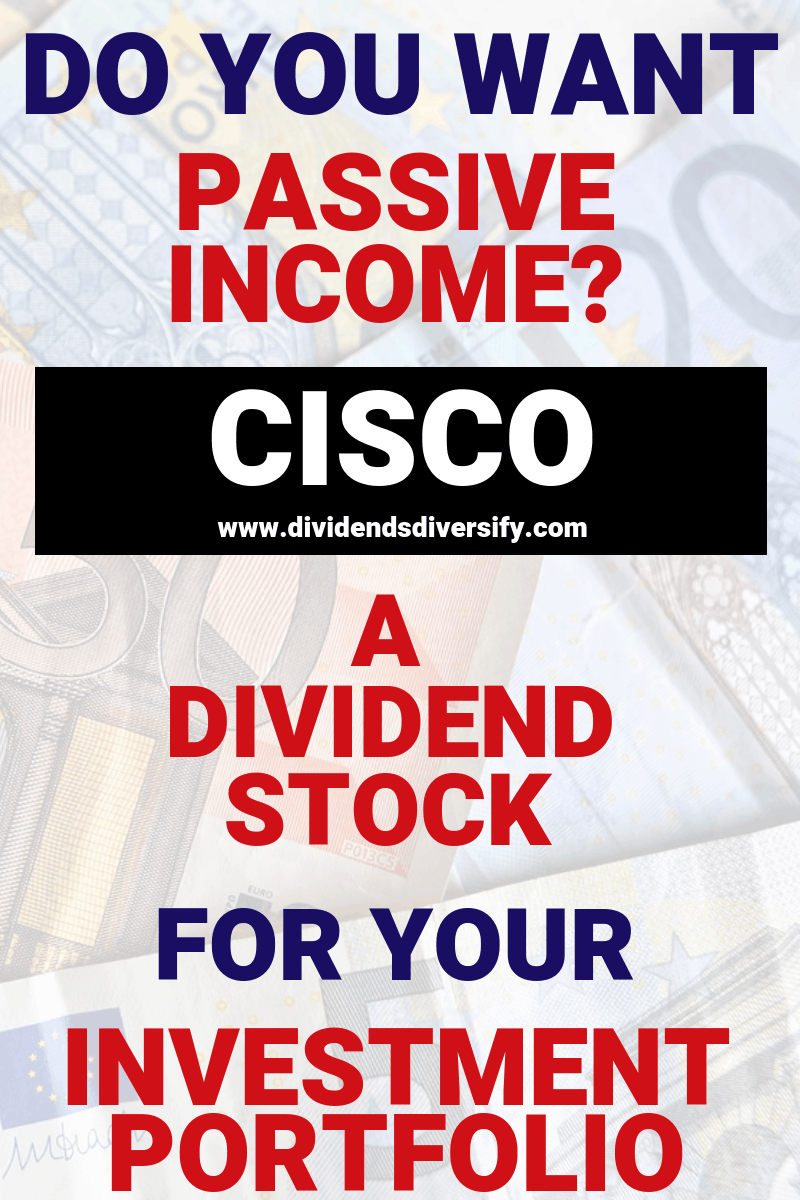 Disclosure & Disclaimer: I am not a licensed investment adviser, financial adviser, or tax professional. And I am not providing you with individual investment advice, financial guidance, or tax counsel. Furthermore, this website's only purpose is information & entertainment. And we are not liable for any losses suffered by any party because of information published on this blog.
I own Cisco stock and collect the Cisco dividend.