Cummins Stock and Dividend Analysis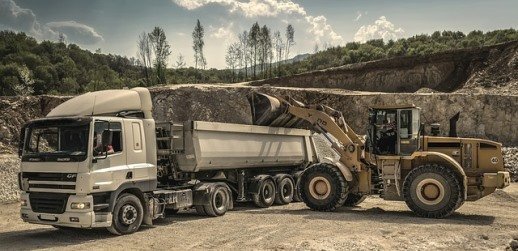 Let's hit the road with my favorite engine maker and check out Cummins stock and the Cummins dividend.
Cummins stock is a long time personal holding of mine in the industrial sector. However, Cummins dividend growth has slowed the last couple of years. So let's take Cummins for a dividend deep dive test drive.
COMPANY BACKGROUND
Cummins designs, manufactures, sells and services
Diesel and alternative fuel engines
Diesel and alternative-fueled electrical generator sets
Related components and technology
Customers are serviced through a network of
500 company-owned and independent distributor facilities
Nearly 8,000 dealer locations
The company operates in more than 190 countries and territories with almost 60,000 employees worldwide. Finally, 2019 represents a significant milestone. Cummins will celebrate the 100 year anniversary of the company!
Related: 5 high growth dividend stocks
BUSINESS SEGMENTS
Cummins is organized into distinct but complementary business segments. Note that the percentage in each heading represents the segments share of 2018 revenue.
ENGINE SEGMENT – 34%
The Engine Segment designs and manufactures diesel and natural gas powered engines for on-highway and off-highway use. The company has a strong brand reputation for diesel engine technology. Their engines are known for quality, reliability and innovation.
POWER SYSTEMS SEGMENT – 11%
Power Systems offers engines, power generation systems, components and services, and alternative-fuel electrical generators. The products are used across a variety of applications and industries including:
Residential standby
Commercial industrial
Mining
Marine
Rail
Oil and gas
Defense
Data centers
Telecom
Healthcare
COMPONENTS SEGMENT – 22%
The Components segment is organized around four different businesses. They provide key technologies for delivering integrated and complementary solutions for customers across Cummins product offerings.
DISTRIBUTION SEGMENT – 33%
This segment provides sales, service and support to customers around the world. They do this through the largest number of certified service and support locations of any engine manufacturer.
ELECTRIFIED POWER SEGMENT
This is the newest business segment and is very small based on revenues. The goal of the Electrified Power Segment is to develop and provide fully electric and hybrid powertrain solutions to serve all markets as they adopt electrification. Electric power may be the wave of the future and Cummins wants to give the area special focus as it evolves.
CUMMINS STOCK
Finally, Cummins stock trades on the New York Stock Exchange under the symbol "CMI".
Now with all of that background information out of the way, let's dig into the CMI stock dividend.
CUMMINS STOCK DIVIDEND YIELD
Cummins stock pays an annual forward dividend of $4.56 per share. Based on the recent stock price, that dividend payout puts the Cummins stock dividend yield at 2.9%.
CUMMINS STOCK DIVIDEND – HISTORICAL GROWTH
| | | | |
| --- | --- | --- | --- |
| 1 Year | 3 Years | 5 Years | 7 Years |
| 5.5% | 4.4% | 14.6% | 18.8% |
In addition to past Cummins dividend growth metrics, the company has increased their annual dividend payment for 13 consecutive years.
In the company's final 2018 earnings release, they highlighted that "78 percent of Operating Cash Flow was returned to shareholders in the form of dividends and share repurchases".
CUMMINS STOCK DIVIDEND – FUTURE GROWTH
As part of the 2018 earnings release they provided future guidance too. Specifically, they stated an expectation to "return 75 percent of Operating Cash Flow to shareholders in 2019 in the form of dividends and share repurchases".
I would prefer more specific guidance as it relates only to the dividend, but this information gives us an indication of what may happen. Let's interpret these facts and others next to project what future Cummins dividend growth might look like.
Dividend growth slowed over the past 3 years not because of business performance, but due to capital allocation. Cummins management opted to allocate more cash to share repurchases in 2015 and 2018.
During both 2015 and 2018 the Cummins stock price was under pressure and fell significantly. This indicates to me that management felt the shares were undervalued and cash was put to better use buying back shares. Rather than increasing the dividend more substantially. I can appreciate their decision making. It is better to buy back more shares when the price falls.
As I said, the business looks very sound. I believe the 2019 dividend increase expected to be announced in July will be in the 7-9% range. So let's look at some of the fundamentals to verify my thinking.
REVENUE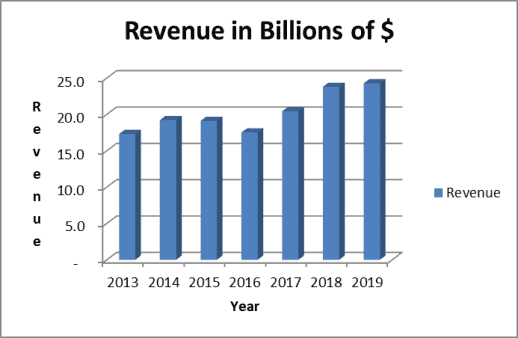 Revenue growth has been steady. It has grown 6.6% annually over the past 5 years. Management believes 2019 revenue will grow in the 0%-4% range.
Cummins revenue growth is subject to the health of the global economy. Their revenues have benefited from global economic growth over the past several years.
In addition, Cummins engine and component segments have taken advantage of both rising fuel-efficiency standards and emissions-reduction regulations. Specifically, as engine technology requirements have strengthened, so has Cummins market share. This in turn has fueled revenue growth.
CUMMINS STOCK DIVIDENDS AND EARNINGS PER SHARE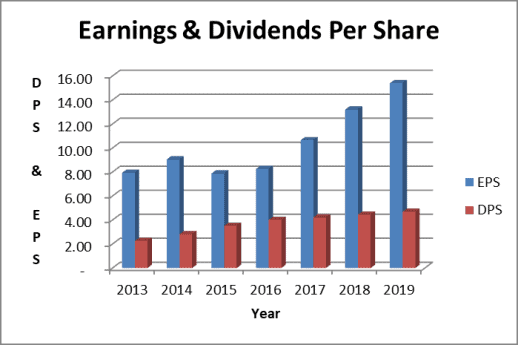 Earnings per share have grown almost 15% annually over the past 5 years. Aggressive use of cash for share repurchases is partly responsible for this growth. The rest is due to revenue gains and cost efficiencies.
As we know now, dividend payments have grown more slowly. These facts have brought the dividend payout ratio down to 34% for 2018.
A lower payout ratio is better for the investor. It allows the company to maintain the dividend during difficult times. Or increase it even when earnings are not growing. A lower payout ratio is good to see for an economically sensitive company like Cummins. It gives me good reason to believe the dividend is safe even during the next recession.
With the Cummins stock price rising again in 2019, I believe management will allocate a little more of the available operating cash flow to the dividend increase. And less to share repurchases. A 7-9% dividend increase seems reasonable to me this year. Over the longer run dividend growth may be a little lower. Let's assume 6-8%.
CREDIT RATING AND BALANCE SHEET
Moody's and S&P rate Cummins bonds at A2 and A+, respectively. Their ratings represent "investment grade low credit risk" evaluations.
And the company's debt to equity ratio stands at very conservative .2 times. The balance sheet appears very strong and not overly leveraged.
BUSINESS RISKS
Business risks fall in 3 main areas:
Like other stocks in the industrial sector, Cummins is dependent on the health of the global economy. When fewer goods are moved through the economy, demand for engines decreases.
Cummins customers have begun in-sourcing engine components. This could further harm the engine segment.
Shifting engine technologies toward batteries and automation may negatively impact profits.
CUMMINS STOCK VALUATION
Let's look at Cummins stock value from a couple different angles.
DIVIDEND DISCOUNT MODEL
First, using a single stage dividend discount model to calculate a fair value for Cummins stock price. The model considers several of the factors discussed thus far. Specifically,
• Current dividend payment – $4.56 per share
• My estimated long term dividend growth rate – 7%
• My desired annual return on investment – 10%
Using these assumptions, the model calculates fair value at $163 per share.
MORNINGSTAR FAIR VALUE
The investment research company, Morningstar, estimates the fair value of Cummins stock at $159 per share.
PRICE TO EARNINGS RATIO
Finally, the Cummins stock price to projected 2019 earnings sits at about 10 times. This is a large discount to the overall market. To compare, the S&P 500 forward price to earnings ratio for 2019 is 16 times.
CONCLUSION
Cummins stock looks attractive to me. It represents a nice combination of current dividend yield and potential future dividend growth. The company generously rewards shareholders from cash flow through dividends and share repurchases.
Cummins stock is also good for diversification since many dividend stocks are concentrated in other sectors like consumer goods and utilities. I will look to add to my position below $160 per share.
Related: UPS stock and dividend analysis
Disclosure & Disclaimer
This article, or any of the articles referenced here, is not intended to be investment advice specific to your situation. I am not a licensed investment adviser, and I am not providing you with individual investment advice. The only purpose of this site is information & entertainment. We are not liable for any losses suffered by any party because of information published on this blog. See this site's Disclaimer and Privacy tab for more information.
I own Cummins stock.