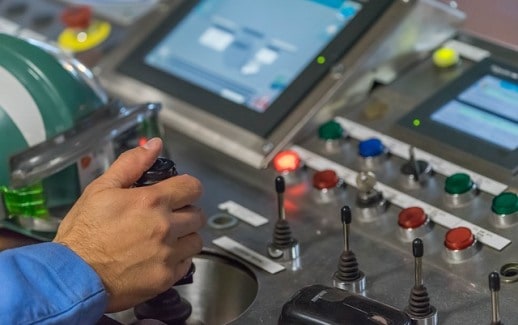 Let's work through an Emerson dividend stock analysis. Why?
Because Emerson's dividend growth has been on the low side lately. So, I would like to understand what is going on. Let's see if the dividend is safe and positioned to grow in the near future.

As with all the stocks I review, Emerson is a member of the Dividends Diversify model stock portfolio. Be sure to check out some of the other dividend-paying companies held in it.
I call it the Dividends Deluxe! Each stock in the portfolio is linked to my most recent review of the company and its dividend prospects.
So, let's get on with our checkup of Emerson and its dividend. We will take a close look at Emerson's dividend safety and dividend growth potential.
Related: 14 measures for picking solid dividend stocks
Emerson – Company Background
Emerson restructured its operations starting in 2015. Since then, the company has focused on 2 core business platforms:
Industrial automation solutions to help businesses and countries operate more efficiently

Products and solutions for the commercial and residential real estate markets
Revenue breaks out between the 2 platforms as shown in the chart below.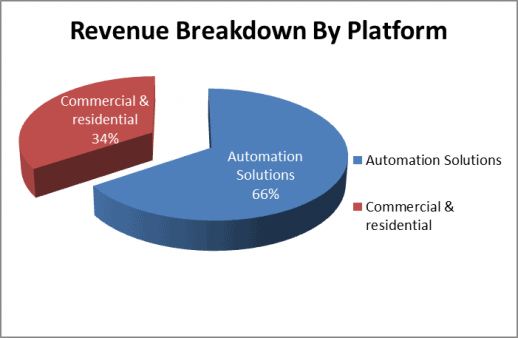 Finally, Emerson stock trades on the New York Stock Exchange under the symbol EMR (NYSE: EMR).
Emerson – Business Strategy
The 2015 business restructuring I just mentioned resulted in Emerson divesting businesses that made up nearly one-third of 2014 revenues. They moved from 5 business platforms down to the 2 they currently operate.
In addition, Emerson's management recently announced that the board of directors will lead a strategic review of the company. The goal of the review is to determine the best plans for the future.
The strategic review will cover these areas:
Cost savings programs

Manufacturing footprint

Optimal capital structure

Return of cash to shareholder

s

Mergers, acquisitions & other possible strategic options
It is possible that the study will result in a recommendation to break the company into 2 or more pieces. This is just speculation on my part.
Whatever the case, I want to keep an eye on their business review process. And see how it will impact me as a shareholder.
Raytheon is another industrial company. And also, a member of the Dividends Deluxe model portfolio.
They are going through a strategic transformation too. You can read more about Raytheon right here.
We can't tell what the future will bring for Emerson. But we can check out the health of their dividend metrics. Let's do that next.
Emerson Dividend Yield
Emerson stock pays an annual forward dividend of $2.00 per share. This is a 2.7% dividend yield at the current Emerson stock price.
Emerson Dividend Growth Rate
| | | | |
| --- | --- | --- | --- |
| 1 Year | 3 Years | 5 Years | 7 Years |
| 2.0% | 1.4% | 1.2% | 2.9% |
The trend in the chart above is clear to me. That being, dividend growth has been low, slow and disappointing in recent years.
Couple the low dividend growth rate with a dividend yield of less than 3% and Emerson is not a very enticing dividend growth stock. At least not in my opinion.
At such a low dividend yield, I would expect to see dividend growth in the 6-8% range each year.
On a more positive note, Emerson's consecutive annual dividend growth streak is outstanding. It stands at 63 years.
This is one of the longest annual dividend increase streaks on record. It qualifies Emerson as a Dividend King. Dividend Kings have increased their dividend payments annually for at least 50 years.
Emerson Dividend Policy Statement
Dividend growth appears to be limited by Emerson's stated dividend policy. Their goal is to keep dividend payments less than or equal to 50% of free cash flow.
Source: Emerson earnings release
I am not pleased with Emerson's recent dividend growth. On the other hand, I appreciate it when a company communicates what its objectives are as it relates to the dividend.
Let's look at the business fundamentals next.
Emerson Revenue Trend
There is a lot going on in the revenue trend. Let's cover a few major points.
First of all, remember that Emerson's 2015 business restructuring divested one-third of the company's 2014 revenue base.
Furthermore, Emerson was negatively impacted by an unprecedentedly long industrial downturn dating back to the great recession. The global industrial economy finally started to recover in 2017.
Finally, Emerson's revenues were also heavily exposed to the oil industry. Their business activity from that sector collapsed in 2014-2015 along with the price of oil.
Revenue has finally stabilized and started to grow again. However, management expects 2020 to present a challenging economic environment. Given this, forecasted revenue growth is virtually nonexistent.
Emerson Dividend, Earnings And Payout Ratio
In the last few fiscal years since restructuring in 2015, Emerson has emerged as a leaner higher-margin business. The dividend payout ratio based on earnings has decreased since then.
It is now just a little over 50% of earnings. Let's cross-check dividend payments against free cash flow. Since dividends are paid from cash, not accounting earnings.
Emerson Free Cash Flow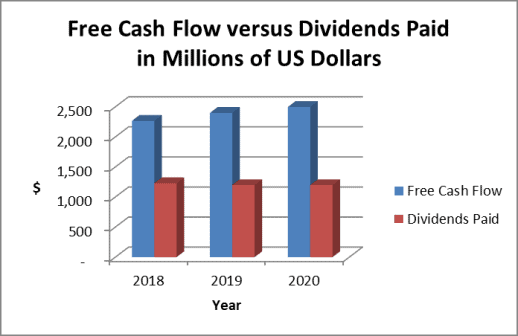 For 2019, the dividend consumed 50% of free cash flow. For 2020, it is expected to decrease to 48-49%. In years prior it consumed more than 50%.
The dividend as a percentage of free cash flow is why dividend growth has been slow. Why? Because management's stated objective is to keep dividend payments less than or equal to 50% of free cash flow. As a result, faster dividend growth would have resulted in a violation of their stated objective.
Emerson Credit Rating
A company's credit rating reflects its ability to meet financial commitments as they come due. It is a reflection of the strength of their balance sheet and financial condition.
Emerson has an A and A2 credit rating from S&P and Moody's respectively. This represents an investment grade, low credit risk evaluation as shown in the chart below.
Emerson's credit ratings are very solid. They are in line with other high-quality dividend-paying companies.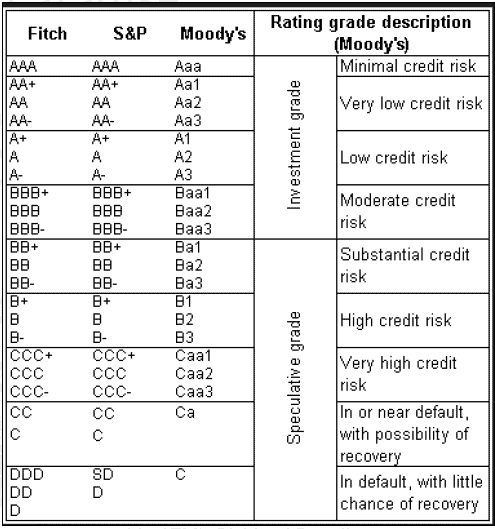 Emerson's Financial Position
Debt to equity checks in at a very modest .7 to 1. This is another positive sign of Emerson's financial strength. And, disciplined financial management.
Emerson Dividend Safety
I like to look at a number of factors to judge the safety of a company's dividend.
Those factors are:
Dividend payout ratios

Historical dividend track record

Free cash flow generation

Financial position & credit ratings

Overall business health
Based on these factors, I judge Emerson's dividend to be very safe. And, safety to me means that a dividend reduction is highly unlikely in the forseeable future.
Emerson Dividend Growth Forecast
I make a projection for future dividend growth for all my dividend stocks. I do this for 2 reasons.
First of all, a dividend growth forecast helps me understand what my dividend income will most likely be in the future. And second, it aids in valuing a stock using a dividend discount model approach.
To make my forecast, I review and evaluate the following:
Historical dividend growth rates

Dividend payout ratios

Management's stated objectives for the dividend (if any)

The company's business and growth strategy
Based on my review, I project Emerson's future dividend growth to be 2-4% annually.
Emerson Stock Valuation
Let's wrap this Emerson dividend stock analysis up with a look at its stock valuation. I will use several methods to get a perspective on the value. Those methods will be:
Dividend discount model

Morningstar fair value estimate

Price to earnings ratio
Dividend Discount Model
The dividend discount model uses the following facts and assumptions we have covered thus far:
Current annual dividend payments – $2.00 per share

Projected dividend growth – 3%

My desired annual return on investment – 9%
Based on these assumptions, the dividend discount model values Emerson stock at $34 per share.
It is not surprising to me that the dividend discount model sees Emerson stock as extremely overvalued. This model will always place a low value on stocks with low dividend yields and slow dividend growth.
Morningstar Fair Value Estimate
The investment analysis firm Morningstar believes Emerson stock is fairly valued at $74 per share.
Source: Morningstar
Emerson Stock Price To Earnings Ratio
Emerson stock trades at about 21 times 2020 forward earnings. This is premium to the S&P 500's 18.5 times forward earnings.
Emerson Stock Valuation Summary
Each valuation measure shows Emerson's stock slightly to significantly overvalued at recent price levels. A year ago when I reviewed Emerson, I thought its stock was reasonably valued. Since then, the stock price has rallied roughly 25%.
Emerson Dividend Stock Analysis – Conclusions
I first established my position in Emerson stock back in 2009 and subsequently added to it in small increments over the years. However, it still remains one of my smaller positions.
I have been disappointed in the lack of dividend growth. And now, the stock appears overvalued given share price increases during the past year.
If I didn't already own Emerson stock, I wouldn't buy it today. But, I'm going to hold my shares for now.
First of all, it is hard to sell out of a Dividend King. Furthermore, I do not want to realize a taxable gain on my shares. Finally, I want to wait for the results of their strategic business review.
Changes from the strategic review may unlock additional shareholder value. Perhaps with a break up of the company or announcement of some other shareholder-friendly strategic alternative.
Further Analysis of Industrial Dividend Stocks
Disclosure & Disclaimer
This article, or any of the articles referenced here, is not intended to be investment advice specific to your situation. I am not a licensed investment adviser, and I am not providing you with individual investment advice. The only purpose of this site is information & entertainment. We are not liable for any losses suffered by any party because of information published on this blog. See this site's Disclaimer and Privacy tab for more information.
I own Emerson stock and collect the Emerson dividend.