KHC stock dividend reduced by 36%!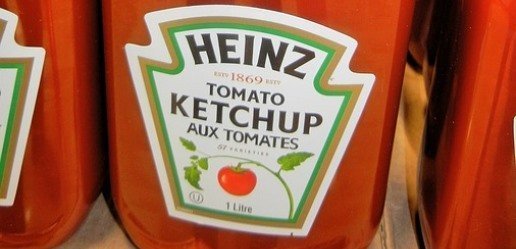 There are a few things in life that truly irritate me. And dividend reductions by a company I own are right at the top of that list.
As the opening line of this article indicates, the Kraft Heinz stock dividend was recently reduced by a large amount. So let's dig into the situation and see what is going on using my dividend deep dive process.
COMPANY BACKGROUND
First of all, the name Kraft Heinz has been a mouthful for me ever since the 2015 merger of these two iconic brand name food companies.
That goes back to my days working in the pizza industry. The company I worked for made frozen pizzas for each of these companies when they were separate entities.
KHC Stock Symbol
So I am going to refer to Kraft Heinz by their stock symbol, KHC. And please note that KHC stock trades on the Nasdaq stock market exchange.
A Few Company Facts
Kraft Heinz was formed in 2015 when the 2 firms merged. The merger created the 3rd largest food and beverage company in North America and the 5th largest food and beverage company in the world.
Here are a few facts regarding KHC to get us started:
$26 billion in annual net sales
Employees in more than 40 countries
8 individual brands with more than $1 billion in annual sales
Well Known KHC Brands
While we are on the topic of brands, you will surely recognize one or more of these brand names:
ABC
Capri Sun
Classico
Jell-O
Kool-Aid
Lunchables
Maxwell House
Ore-Ida
Oscar Mayer
Philadelphia
Planters
Weight Watchers
Smart Ones
Velveeta
I can't say I am a big consumer of KHC products. Maxwell house coffee is the only one on the list I consume. And I'm not brand loyal. If a competitor has lower priced coffee when I'm shopping, I switch.
Perhaps my personal perspective as a consumer is telling. I am a pretty mainstream food consumer, so if I'm not buying KHC products, others must be doing the same as me.
KHC STOCK DIVIDEND YIELD
KHC stock pays an annual forward dividend of $1.60 per share. Based on the recent stock price, that dividend payout puts the KHC stock dividend yield at 4.9%.
That is certainly an attractive dividend yield, but let's looks at KHC dividend growth to round out our perspective.
KHC STOCK DIVIDEND GROWTH
| | | |
| --- | --- | --- |
| 1 Year | 3 Years | 5 Years |
| 2.0% | 3.6% | 4.1% |
Past Perspective on KHC Stock Dividend Growth
I received my KHC shares from the merger transaction in 2015 as a result of being a Kraft shareholder at the time. The merged company maintained the Kraft dividend, so I did a 5 year look back for perspective.
What's not reflected here is that as a Kraft shareholder, I received a special cash dividend of $16.50 per share at closing of the merger. That was big money at the time. It was equivalent to 27% of Kraft's stock price! I was very happy.
Fortunately, I did not reinvest this dividend back into KHC stock. I invested the money from the special dividend elsewhere.
But the positive KHC dividend news quickly faded. Over the 5 years through 2018, KHC stock dividend growth was pretty low. 2-4% as indicated in the chart above.
Recent News on KHC Stock Dividend Growth
And now for 2019, company management has decreased the dividend by 36%. The stock price has followed right along tumbling by a similar amount since the dividend reduction announcement.
The KHC stock dividend was cut on the heels of poor financial performance in 2018. Their CEO stated as part of the KHC earnings press release that
"profitability fell short of our expectations due to a combination of unanticipated cost inflation and lower-than-planned savings".
Future Impact of the KHC Stock Dividend Reduction
The CEO summarized what the KHC dividend reduction means for the future this way…
"We believe this action will help us accelerate our deleveraging plan, provide us strategic advantage through a stronger balance sheet, support commercial investments and set a payout level that can both grow over time and accommodate additional divestitures. By doing this we can improve our growth and returns over time".
KHC BUSINESS PLAN
As I read through KHC's business plans for 2019, I did not note anything extraordinary. They centered on these three areas:
Sustain market momentum to grow sales and improve profit margins
Strategically sell off assets and brands to generate cash
Reduce debt with proceeds from the asset sales
This is a company that is clearly in need of cash. Divesting assets to reduce debt and continue paying their dividend is one way to go about getting cash.
Looking at the business fundamentals will show us their cash needs. Let's do that next.
REVENUE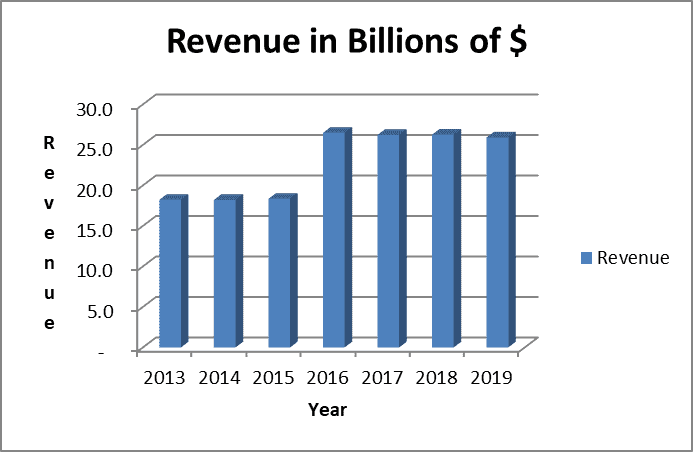 The increase in 2016 revenue was due to the merger. Beyond that, there has been no growth. The brands and categories KHC operates in are under pressure.
Unit volume is under pressure due to changing consumer preferences. Sales prices are under pressure for the same reason. In addition, competition from private label store brands is fierce.
KHC STOCK DIVIDENDS AND EARNINGS PER SHARE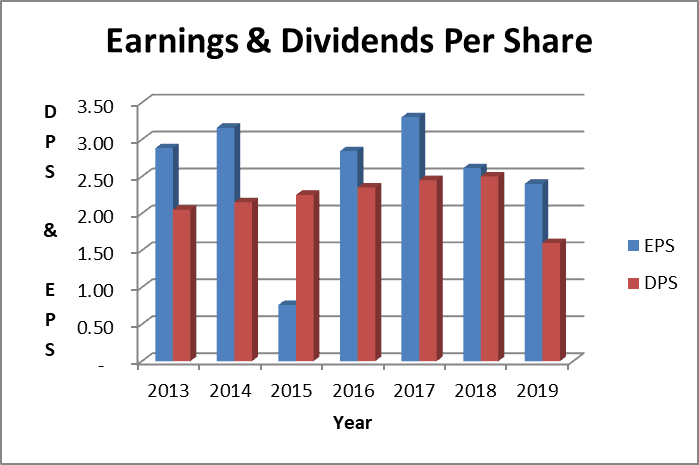 Historical accounting earnings are all over the place. In order to get some understanding of the earnings trend I normalized the data in the chart above. Specifically, I pulled out the impacts of
Pension plan gains and losses
Merger and integration costs
One time impacts from 2017 tax reform
Write offs of intangible assets
Once I strip these unusual items out to get at earnings from the core business, I do not like what I see. Mainly earnings per share that have been range bound for the past 7 years. Dividends per share have usually been less than earnings which is a positive sign. But that doesn't tell the whole story.
Free cash flow shows the real issue when it comes to KHC dividend safety. After all, dividends are paid from cash not accounting earnings.
FREE CASH FLOW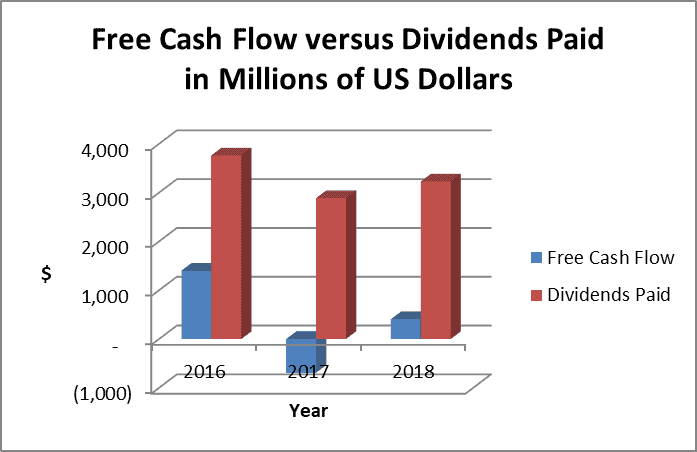 A quick review of the chart shows that free cash flow has not come close to covering the dividend payments. This was not sustainable.
Without a dramatic turnaround in earnings and cash flow by 2020, I question if the new, lower dividend level can be sustained.
Selling off assets to reduce debt and pay the dividends is not a long term strategy. KHC is really in a turnaround situation at this point.
KHC is starting to remind of General Electric. Just like General Electric, business results have to dramatically improve or the dividend will likely be reduced again.
CREDIT RATING AND BALANCE SHEET
KHC has a Baa3 and BBB credit rating from Moody's and S&P, respectively. These ratings represent "investment grade-moderate credit risk" evaluations. They are at the low end of investment grade. Any slippage could result in a downgrade from investment grade to speculative grade.
Solid dividend paying companies usually have strong investment grade credit ratings. This is not a good sign and KHC management knows it. They state in their 2019 business plan,
"priority remains improving investment grade status…"
KHC's debt to equity ratio is not bad checking in at .5 times. However, with the lack of free cash flow and the dividend exceeding that free cash flow, their debt level is troublesome to me.
KHC STOCK VALUATION
With future dividend growth and even sustainability unclear, I won't use a dividend discount model to judge valuation. So let's judge value using:
Price to earnings ratio
Morningstar fair value estimate
My personal assessment
KHC Stock Price to Earnings Ratio
The KHC stock price to projected 2019 earnings sits at about 14 times. To compare, the S&P 500 forward price to earnings ratio for 2019 is 16 times. KHC is trading at a discount to the overall market.
Morningstar Fair Value
The investment analysis firm Morningstar believes KHC stock is fairly valued at $55 per share. They are placing a high degree of value on the company's brands and distribution capabilities.
Morningstar makes valid points, but why hasn't the company been able to leverage these strengths since the 2015 merger? And why will they be able to now?
My Personal Valuation Assessment
From my dividend growth investor perspective, the valuations provided by the price to earnings ratio and Morningstar do not reflect the risk of turning this business around.
KHC faces difficult challenges in the categories they operate. Any value is too high of a value for me right now when the dividend does not appear to be safe.
CONCLUSION
I take dividend reductions really hard and almost always sell after a cut. The sting of this dividend reduction is a little less. Taking into account all of the dividends I have been paid including the special one-time dividend as part of the merger still leaves me with a positive return on investment.
Looking Back
But in hindsight, I should have dug into KHC's financial statements last year when the company did not increase their dividend on their normal schedule. Doing so would have probably resulted in a similar conclusion to sell before the damage to the KHC stock price from the dividend reduction.
But that is "water under the bridge" at this point. All I can do is learn from mistakes and do better the next time.
Looking Forward
KHC and the KHC stock face too many challenges and risks for me right now. I plan on selling my shares and reinvesting the proceeds in another stock with a similar dividend yield and better dividend growth potential.
Candidates I am considering are Dominion Energy and Southern Company.
I may keep my money in the food industry. In that case, I will consider Hormel Foods.
Hormel has a much lower dividend yield but is a Dividend King. You can check out my latest analysis of this high-quality dividend growth stock here: Hormel Foods
Disclosure & Disclaimer
This article, or any of the articles referenced here, is not intended to be investment advice specific to your situation. I am not a licensed investment adviser, and I am not providing you with individual investment advice. The only purpose of this site is information & entertainment. We are not liable for any losses suffered by any party because of information published on this blog. See this site's Disclaimer and Privacy tab for more information.
I recently sold all of my KHC stock. I am no longer an owner and recently collected my last KHC stock dividend.