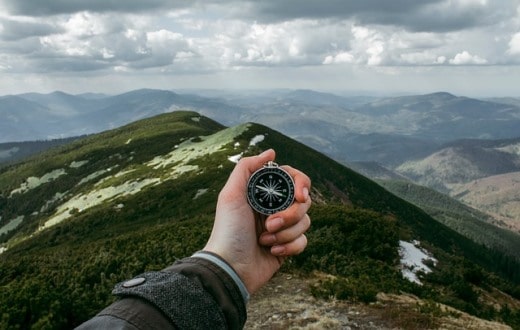 That's right.  I have sold my compass, but I may get it back.  Do I mean I have lost my short or long term direction in life?  Well maybe, but that's a topic for another day.
Joking aside, what I mean is I have sold Compass Minerals (CMP) from my personal taxable account to establish a tax loss.  However, I may buy CMP back in the future.  Let me explain…
MY SITUATION
Several years ago I established and built a position in CMP common stock.  The company produces salt, plant nutrients and magnesium chloride for distribution primarily in North America.  They make most of their money producing and selling road deicing salt for use in cold snowy climates.
I like CMP as an investment because they pay a substantial dividend and have a history of increasing that dividend over time.  Living in the Midwest, I also know how essential their deicing salt is to make the roads safe and keep traffic flowing during the winter.
Little did I know during the time I built my position, we would have two consecutive mild winters with below average precipitation in the regions CMP sells its deicing road salt.  The drop in demand has pressured CMP's revenues and profits during this time period.  Because of the dividends I received, my investment has produced a positive total return.  Unfortunately, the current market value of my holding is now less than my cost.
THE SILVER LINING – TAX LOSS HARVESTING
On the surface this situation is disappointing, but it does have a silver lining.  My situation has created a capital loss that I can realize for tax purposes by selling my CMP shares.  This loss is valuable as it offsets tax liabilities on my current years capital investment gains.  If my capital losses exceed capital gains during the current tax year, up to $3,000 can be used to offset taxes on ordinary income on my tax return.  Beyond that, excess capital losses, can be carried forward for use in future tax years and utilized in the same manner I just described.
Their is a catch.  I have to abide by the IRS wash sale tax rules.  A wash sale typically occurs when an investor sells or trades stock or securities at a loss and buys the same thing, or something "substantially identical," within 30 days before or after the sale.  If that happens, the investor can't deduct the loss.  You can get more details on the rules here:  Wash sale rule.  Outside of the 30 day window, I may repurchase the shares in CMP and hopefully hold for the long run.  The risk is that CMP's stock price increases during the 30 days that I do not hold the shares.  I am willing to take that risk.  I will complete a stock analysis of CMP to help with my repurchase decision.  Look for that analysis here at Dividends Diversify next week on Tuesday: Part 2 of my discussion about CMP.
The process I have described is called tax loss harvesting.  Minimizing taxes is a core investing principle.  This tax minimization strategy normally gains attention of investors around the end of each year.  For me, I go through my portfolio periodically looking for holdings where I can sell and realize a loss for tax purposes.  If I like the company as investment, I will buy it back after 30 days.  If the company is no longer meeting my investment objectives, I move my money elsewhere.
IN CONCLUSION
Tax loss harvesting is one of the many benefits of holding a diversified portfolio of individual stocks.  You, as an investor, have more control to minimize taxes while still complying with the tax laws.  Minimizing taxes and investment costs are two important components of building wealth.
Have you looked for tax loss harvesting opportunities in your portfolio recently?  Do you implement tax loss harvesting in a different manner than what I described?  What do you think of all the tax reform discussions coming out of Washington D.C?  If you are a reader from another country, what are your tax rules regarding tax losses? 
Please leave a comment and let me know.
Disclosure and disclaimer
Always remember that the information on this site is for educational and entertainment purposes only and not to be construed as investment advice specific to your circumstances.  Consult your personal investment and/or tax advisers prior to investing money and realize you are solely responsible for any investment gains or losses as a result of the investments you enter into.  You can find additional information under this site's Disclaimer and Privacy tab.