Medtronic Dividend Growth Stays Strong
Welcome to the Medtronic stock analysis & Medtronic stock dividend review.
First of all, Medtronic stock trades on the New York Stock Exchange. Furthermore, the company uses the stock ticker symbol MDT (NYSE: MDT). Finally, Medtronic operates in the health care sector.
And you likely know that health care and health insurance costs keep increasing. And I know two ways to fight those rising costs.
Make smart dividend stock investments in the health care sector
Lead a safe & healthy lifestyle
Let's focus on the first option. While we take a look at one of several health care stocks held in our model dividend stock portfolio.
Just like when you go to the doctor, we will be sure to see if the Medtronic dividend is healthy and if the MDT dividend is safe.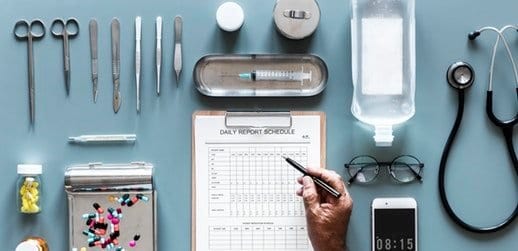 Disclosure: At no cost to you, I may get commissions for purchases made through links in this post.
Medtronic Company Background
Medtronic is a global healthcare solutions company.
They are committed to improving people's lives. And do so through medical technologies, services, and solutions.
What Products Does Medtronic Make?
As a result, the company produces and sells products in these health care areas:
Cardiac and vascular
Minimally invasive therapies
Restorative therapies
Diabetes services and solutions
Related: Abbott Labs Stock Dividend Analysis
Other Company Facts & Statistics
Medtronic operates out of over 350 locations in more than 150 countries. And they execute their mission through 90,000+ employees.
So, we know a little bit about Medtronic, the company. Next, let's discuss all of the facts and figures related to the Medtronic stock for dividends.
Does Medtronic Pay A Dividend?
Yes. Medtronic pays a dividend. And has done so for many years.
Furthermore, the company has a history of increasing dividends regularly. In my opinion, Medtronic qualifies as a high-quality dividend growth stock.
How Much Is The Medtronic Stock Dividend Per Share?
Medtronic pays an annual forward dividend of $2.52 per share.
Medtronic Stock Dividend Yield
The annual dividend per share provides a 2% Medtronic dividend yield at the recent stock price.
Regular readers know I prefer stock with a dividend yield between 3%-5%. Medtronic's dividend yield falls well below this target. And has for most of the time I have followed Medtronic stock.
But I will accept stock with a lower dividend yield in return for higher dividend growth. We will get to Medtronic stock dividend growth in a moment.
But first, a few other facts and figures about Medtronic's dividend. Because we want to understand exactly how dividends are paid on shares of MDT.
How Often Does Medtronic Pay Dividends?
Medtronic pays dividends every 3 months or 4 times per year. Following a typical quarterly dividend frequency like many U.S. based dividend stocks.
In Which Months Does Medtronic Pay Dividends?
The company's dividends are paid in January, April, July, and October. The dividend payment is typically made in the mid to later part of these months.
Medtronic Ex-Dividend Date
As an investor in Medtronic, you must complete your investment before the ex-dividend date. That is if you want to receive the next stock dividend payout.
For MDT, the ex-dividend date falls on or around the 25th day of the month PRIOR to when the quarterly dividend is paid.
These dates are subject to change. And they are partially dictated by the timing of the Board's approval of each dividend payment.
So, if you want the next payment to increase your dividend income. Be sure to check the company's investor relations website for the exact dates.
On the other hand, are you are a long-term buy-and-hold investor like me? Just for curiosity's sake, I had to check when I made my first trade of MDT stock. It dates back to 2010.
My point is, for a buy and hold investment, there is no worry. Once you make your investment, you will be eligible for every dividend payment in the future.
There is nothing more for you to do. Just sit back and collect regular passive income from dividends!
MDT Dividend History
Medtronic started paying a quarterly cash dividend in 1977.
In 1978, the company increased its dividend payment for the first time. This started the company's long trend of annual dividend increases by Medtronic management.
Medtronic Is A Dividend Aristocrat
Every year starting in 1978 the Medtronic dividend has been increased. Yes. Decades of annual dividend growth.
And classifies Medtronic stock as a Dividend Aristocrat. Dividend Aristocrats are those rare and special companies who have increased dividends annually for 25 years in a row or more. And still counting.
This is an excellent track record of dividend growth.  And a nice long history of it.
But what does Medtronic's dividend growth rate look like? Let's check that area next.
Medtronic Stock Dividend Growth Rate
As shown in the table below, the Medtronic dividend growth rate has been quite good.
Table 1: MDT Compound Annual Dividend Growth Rate
| | | | |
| --- | --- | --- | --- |
| 1 Year | 3 Years | 5 Years | 7 Years |
| 7.4% | 8.0% | 8.8% | 11.0% |
At least from my perspective. I can accept Medtronic's lower dividend yield with consistently high dividend growth like this. In addition, Medtronic recently increased its dividend again. Heading into its new fiscal year.
On its investor relations site, Medtronic proudly touts its long term compound annual dividend growth rates. Since 1978, the Medtronic dividend has grown rapidly. And the company is proud to say so.
Medtronic Dividend Policy
I found some good information regarding dividend policy in a recent Medtronic health care conference presentation.
Here is what I uncovered. Medtronic…
Is targeting long-term adjusted earnings growth of 8%
Expects the dividend to grow in line with earnings
These factors will be helpful as we move on with the Medtronic stock dividend analysis. But next, let's look at some of the business fundamentals.
Medtronic Revenue Trend
Medtronic's revenue growth comes from acquisitions of other businesses and the introduction of new products. Most noteworthy, revenue jumped significantly in 2016 due to the acquisition of Covidien.
Chart 1: Medtronic 7 Year Annual Revenue Trend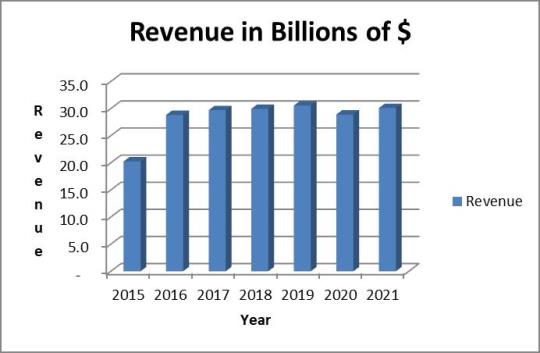 Since the Covidien acquisition, Medtronic's revenue growth has been relatively low. And the fiscal year 2020 closed out with a decline in revenue versus the prior year.
This was primarily due to deferred medical procedures. And a reprioritization of health care resources. Both a result of the global pandemic. While growth resumed in the fiscal year 2021.
Revenue By Product Category
Finally, revenue breaks out across their major product categories as shown in the chart below.
Chart 2: Medtronic Revenue By Business Segment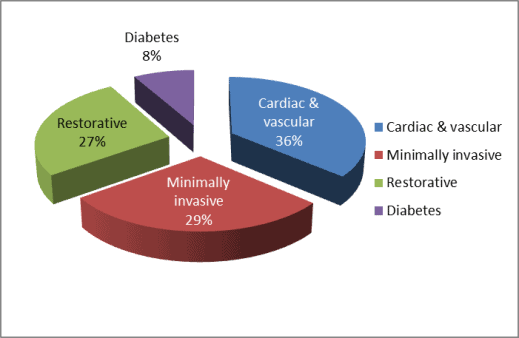 Let's move to Medtronic's earnings, cash flow and dividend payout ratios.
Medtronic Dividend Payout Ratio Based On Earnings
Based on earnings history, the dividend payout ratio runs near 60%. 60% or less is a safe level for most companies that operate in industries with steady demand, like Medtronic. The fiscal year 2021 was an exception to this rule of thumb.
Chart 3: MDT Earnings And Dividends Per Share
Note that the fiscal year 2018 earnings have been normalized for one-time charges related to the 2017 tax cut and jobs act.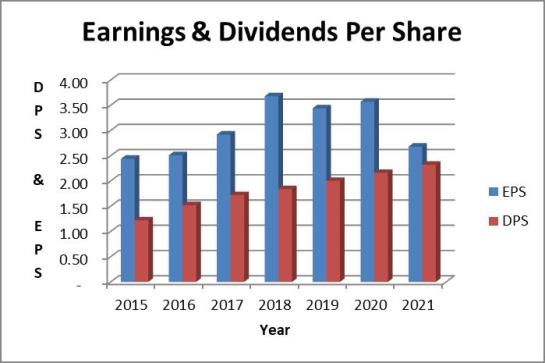 Furthermore, a lower payout ratio is a positive indicator. It shows the company has room to raise the dividend in the coming years. Or, withstand an earnings drop without having to reduce it.
It is important to note that dividend growth has come partly due to a rising Medtronic dividend payout ratio. At least based on reported accounting earnings. But, I'll wait to draw any conclusions about future dividend growth.
First, I want to check Medtronic's dividends against free cash flow. We will do that now.
Related: Becton Dickinson Dividend Stock Analysis
Medtronic Dividend Payout Ratio Based On Cash Flows
Medtronic produces plenty of free cash flow to support current and future regular dividend payments. In recent years, the Medtronic dividend consumed only about 50% of free cash flow on average.
Chart 4: MDT Dividends & Cash Flow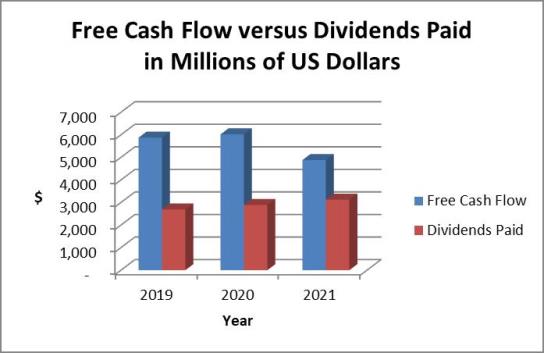 This is a very comfortable ratio. And supports the continuation of quarterly dividend payments.
I really like it when a company used its cash for the dividend. It lets me know they want to pay the dividend to reward shareholders.
Finally, over the last several years, Medtronic has been directing most of its remaining free cash flow to reduce debt.
Debt reduction is a positive sign. Since Medtronic increased its debt load significantly in 2015 to finance the acquisition of Covidien.
Projected Medtronic Dividend Growth
Now, it's fairly easy to develop a forecast for future dividends for Medtronic. I do this for all of my dividend stocks.
It's not a perfect process. But beneficial nevertheless.
First of all, a forecast allows me to plan my future income from dividends. And it gives me a benchmark to compare the company's actual increases against in the future.
I can base my forecast on the following assumptions.
So, for my planning purposes, I'm going to assume a 7%-9% annual Medtronic stock dividend growth rate in future years.
Next, let's move to Medtronic's financial position. That's the last piece of information I need. To draw a conclusion about the safety of the company's regular and recurring dividend payments.
Medtronic Financial Position
To assess a company's financial position, I like to look at credit ratings. And financial leverage according to their balance sheet.
Medtronic Credit Ratings
Moody's rates Medtronic "A3". S&P weighs in with an "A" rating. Source: FINRA Bond Center.
Table 2: Credit Rating Evaluation Grid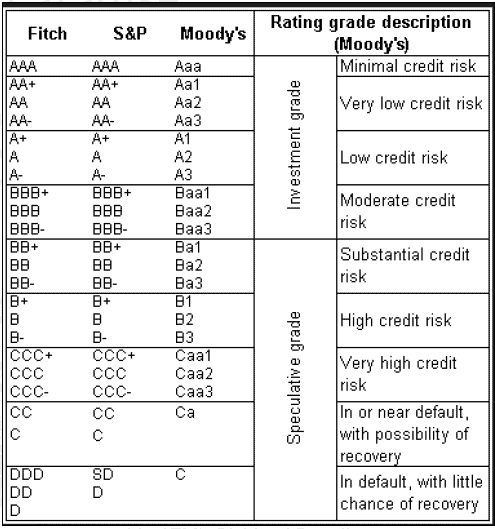 As shown in the table above, both Moody's and S&P rate Medtronic: "Investment Grade – Low Credit Risk". The credit ratings are solid and a good sign of financial health.
Most dependable dividend-paying companies carry investment-grade credit ratings. And Medtronic is no exception.
Medtronic Balance Sheet Leverage
Medtronic's debt to equity ratio checks in at .5. This is a very manageable level. And represents a conservative capital structure. Plus the company holds ample cash and short-term investments for liquidity purposes.
I have no issues with Medtronic's overall financial position. It is very strong.
Medtronic Dividend Safety
Everything we have discussed so far helps me evaluate the overall safety of Medtronic's dividend. Those items addressed and discussed were:
A company that supplies essential products
Business fundamentals
Dividend payout ratios
Financial position
Based on my review, I consider Medtronic's dividend very safe. And when I say safe, I mean it's unlikely the dividend will be reduced anytime in the foreseeable future.
One last item before we conclude. A Medtronic stock analysis would not be complete without an assessment of this dividend stock's valuation.
Medtronic Stock Valuation
We have been discussing so many positive attributes of Medtronic stock and the Medtronic dividend. Here are a few positives that quickly come to mind:
Solid dividend safety
Strong financial position
Consistent record of share price appreciation
So what's the catch? Well, stocks that have these characteristics sometimes trade at a high stock valuation. Let's look at value now to see if this holds true.
Medtronic Dividend Discount Model
The single-stage dividend discount model considers several factors I have discussed thus far.
The current annual dividend payment
Projected annual dividend growth
And 1 item we have not discussed yet. My desired annual return on investment of 10%
Using these assumptions, the dividend discount model calculates the fair value of Medtronic stock at $136 per share.
Related: Abbvie Dividend Stock For High Dividend Yield
Morningstar Fair Value
The investment analysis firm Morningstar is a little less optimistic. They place a fair value on Medtronic stock at $129 per share.
Source: Morningstar
Simply Investing Report
I use the Simply Investing Report as a source for high-quality dividend stock recommendations and analysis.
The SI report likes Medtronic's valuation too. Currently, Simply Investing has Medtronic stock rated as undervalued.
You can read my full review of Simply Investing and what it has to offer here. There it will tell you exactly how Simply Investing judges the valuation of a dividend stock.
Medtronic Stock Valuation Recap
The valuation methods suggest a range of values for Medtronic stock. It appears to be trading near its fair value. Perhaps slightly undervalued at the time of this writing.
A reasonable stock value is a good sign. Because an overpriced valuation makes it tougher to earn good investment returns from dividend stocks.
Medtronic Stock Forecast
Let's put valuation and business fundamentals together now. This will help me establish my path forward with Medtronic stock. Maybe it will help you too? Here goes…
Management's long-term earnings guidance calls for 8% annual growth. And, I believe the stock price will grow at a similar rate.
So, taking those points into account, I have set a 5-year price target on the stock at $180 per share.
Understanding there will be many ups and downs reflected in the stock price over the next 5 years. Thus, I will mainly focus on collecting regular dividends. From this fine company.
Wrap Up On The Medtronic Stock Dividend & Medtronic Stock Analysis
Let's wrap by answering a couple of frequently asked questions about Medtronic stock. After doing all of the stock research, I feel I'm in a good position to answer them now.
Is Medtronic Stock A Good Buy?
Medtronic stock is a better value now than it has been in the past. And, I believe the stock is good to buy on any dips in the share price.
For now, I have a solid hold sign on my current shares. And wouldn't mind picking up some more shares if the stock price weakens from here.
Is Medtronic Stock A Good Investment?
Yes. Medtronic is a good investment.
I have been a shareholder in the company since 2010. And have enjoyed a nice return. In my opinion, the stock is a great investment option to consider. Why?
Because Medtronic offers just about everything I love about high-quality dividend growth stocks:
A historical track record of business success
Long-term steady demand for essential products
Consistent current income from dividend payments
Income growth from dividend increases
Solid long-term share price appreciation
To sum up, I think this is 1 of many high-quality and very good dividend stocks.
Are There Any Drawbacks To Owning Medtronic Stock?
It's hard to come up with many negatives about MDT stock. But to be balanced, I will offer up a few.
First of all, we are dealing with a single stock in a volatile stock market. There are no guarantees. So, do your research and draw your own conclusions. After all, it's your money! Manage it effectively.
Furthermore, Medtronic's dividend yield is fairly low. I prefer dividend yields of at least 3%. But it rarely goes that high.
Finally, it's common for Medtronic stock to run up and be overvalued. It can make it difficult to find a good entry point to purchase. Or, high prices may influence an investor to sell to realize a profit.
But for me, I like to buy and hold. To collect the type of dividends that this stock pays. And Medtronic stock has historically rewarded investors for doing just that.
Further Reading About Dividend Investing and Dividend Stocks
My Favorite Dividend Investing Resources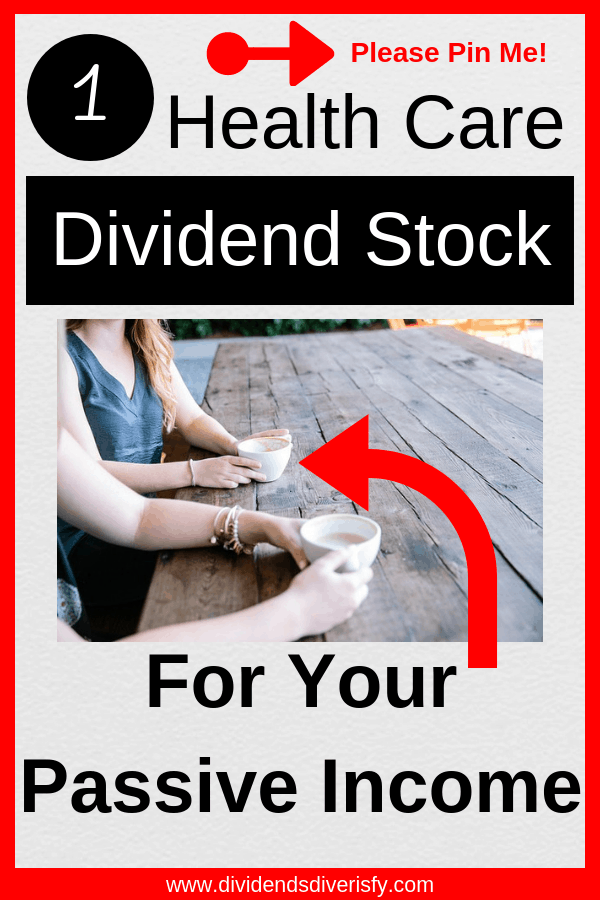 Disclosure & Disclaimer: I am not a licensed investment adviser, financial adviser, or tax professional. And I am not providing you with individual investment advice, financial guidance, or tax counsel. Furthermore, this website's only purpose is information & entertainment. And we are not liable for any losses suffered by any party because of information published on this blog.
I own Medtronic stock and collect the Medtronic dividend.