NEE stock has been on a roll!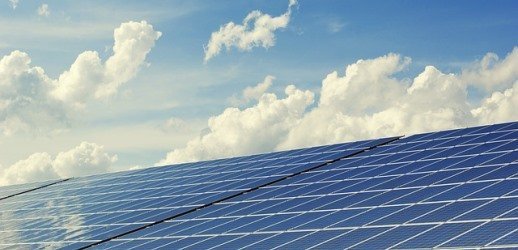 Sometimes my biggest investment mistakes aren't the actions I take.
In contrast, they are the actions I don't take. And NextEra Energy stock falls into that category.
Let me explain. Way back in 2009 I bought 100 shares of Florida Power & Light, also known as FPL Group, for less than $50 a share.
You might remember 2009? Stocks had been crushed by a real estate bust and banking crisis leading to the deepest, darkest recession in most of our lifetimes. It was pretty ugly and at times it seemed the world as we knew it was coming to an end.
Before I move on, just a quick side note. In March 2010, FPL Group changed its name to NextEra Energy, Inc. The company did this to modernize their company image. And NextEra Energy stock is our focus today.
NEE STOCK
Since NextEra Energy stock is a mouthful, I will refer to the company by its New York Stock Exchange symbol, NEE. I will use "NEE stock" for short.
So now let me continue with my financial tale of woe regarding NEE stock.
BUY MORE NEE STOCK?
Normally, I establish a dividend stock position with multiple purchases over a period of weeks or months. Why? I never know where the stock is heading in the short term. So I like to hedge my bets with multiple smaller purchases.
Jim Cramer explains this investing technique on his CNBC TV show Mad Money. But this time around, I did not make any additional purchases.
REINVESTING DIVIDENDS INTO NEE STOCK
However, I did reinvest the NEE dividends for 4 years after my original purchase. Automatic dividend reinvestment added another 15 shares to my holdings. But I even stopped automatic dividend reinvestment in 2013 along with many of my other holdings.
I considered adding to my NEE stock position on a few occasions. But the NEE stock valuation always seemed too high and the NEE stock dividend yield always seemed too low. In hindsight, a short sighted perspective.
OH SO CLOSE TO AN ADD ON BUY OF NEE STOCK
I got very, very close to making additional purchases in late 2016 into early 2017. But we were moving and the Dividends Diversify family had a lot going on.
For a short time, we owned two houses. The old one we were selling and the new one we bought. Because of this, my available funds were in short supply. In addition, the market was unsettled and choppy at the time. Finally, I was feeling a little more risk-averse than usual. So once again I did not purchase more NEE stock.
Related: 5 high growth dividend stocks for increasing passive income
MY BIGGEST MISTAKE WITH NEE STOCK
And today, 10 years later I still have those 115 shares that cost me a little more than $5,000. The good news is the shares have nearly quadrupled in value. And I have collected many quarterly dividend payments in cash.
So what is the bad news? I didn't add on to my position in the early going like I usually do.
And that leads me back to the moral of the story. Sometimes an investor's biggest mistakes are the actions they fail to take rather than the actions they do take.
To explain, all good investors should have 3 tools in their tool kit. I call them timeless investing principles.
3 TIMELESS INVESTING PRINCIPLES
Every investor should have….
Well thought out investment objectives
A strategy to achieve those objectives
Consistent execution of that strategy
I failed on number 3 by not building my position in NEE stock over time.
NEE STOCK PERFORMANCE
Let's see the results of my failure to execute my strategy. Check out the performance of NEE stock versus the S&P 500 over the past 5 years. It has been impressive to say the least. And I missed an opportunity.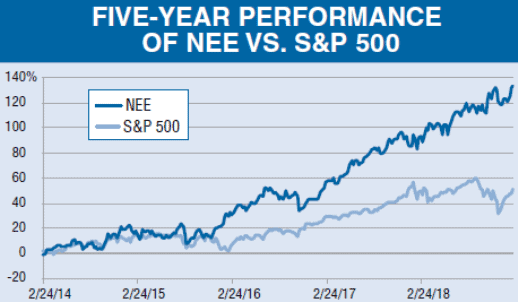 Source: Yahoo Finance
Okay, that's my story. And I am sticking to it. I'm going to stop whining now.
So let's get on with a dividend deep dive of NEE stock and the NEE stock dividend to see if we should buy, sell or hold right now! I can't change the past, but I can impact the future.
COMPANY BACKGROUND
NEE is one of the largest electric power and energy infrastructure companies in North America. The company is also a leader in the renewable energy industry.
NEE has two primary businesses, FPL and NEER.
FPL is the largest electric utility in the state of Florida and one of the largest electric utilities in the U.S. FPL's strategic focus is centered on investing in generation, transmission and distribution facilities.
They strive to deliver on their value proposition of low bills, high reliability, outstanding customer service and clean energy solutions for their more than five million customers.
NEER is the world's largest generator of renewable energy. This energy is sourced from the wind and sun.
NEER's strategic focus is centered on the development, construction and operation of long-term contracted assets throughout the U.S. and Canada. These assets include renewable generation facilities, natural gas pipelines and battery storage projects.
NEE STOCK DIVIDEND YIELD
NEE stock pays an annual forward dividend of $5.00 per share. Based on the recent stock price, the dividend payout puts the NEE stock dividend yield at 2.6%. Certainly, the company is not one of the higher yield plays in the utility sector.
In contrast, dividend growth from NEE stock has been spectacular. So let's check that out.
NEE STOCK DIVIDEND GROWTH
| | | | |
| --- | --- | --- | --- |
| 1 Year | 3 Years | 5 Years | 7 Years |
| 13.0% | 13.0% | 11.0% | 10.6% |
The historical trend of dividend increases has been impressive. And for 2019, NEE announced its dividend would increase another 12.6%.
The 2019 dividend increase marks the 25th consecutive year the NEE stock dividend has been increased by management. This streak makes NEE a newly crowned dividend aristocrat. Dividend aristocrats have increased their dividends annually for at least 25 years.
In the press release announcing this dividend increase, management stated:
"This increase is consistent with the plan announced in 2018 of targeting 12 to 14 percent annual growth in dividends per share through at least 2020, off a 2017 base."
In the future, I am projecting 12% NEE dividend growth in both 2020 and 2021. Then 7% growth annually thereafter. We will use this forecast a little later.
REVENUE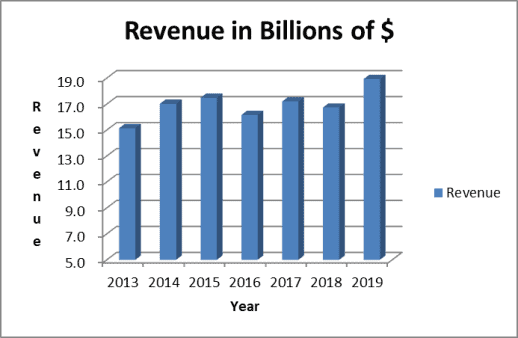 NEE revenue has grown on the strength of:
Florida's economy
Renewable energy projects
Targeted acquisitions
NEE STOCK DIVIDENDS AND EARNINGS PER SHARE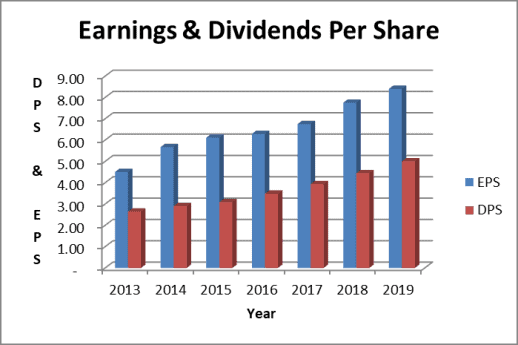 Note that 2017 and 2018 earnings have been normalized and reduced for comparability. They exclude certain one-time gains due to the impact of tax reform, investment gains and disposition of assets.
Earnings per share have grown over the long run as the company invests in capital improvement projects. The cost of these projects plus a profit margin is then passed on to their customers. This is the essence of a regulated utility business model.
About 70% of NextEra Energy's business is regulated. This provides for a great deal of predictability for future revenues, earnings and cash flow.
NEE DIVIDEND PAYOUT RATIO
The dividend payout ratio is a very comfortable 60%. It is actually on the low side for a regulated utility.
A higher payout ratio is typical for a regulated utility. The NEE stock dividend compares well here in terms of safety versus other regulated utilities. For example, Dominion's dividend payout ratio exceeds 90%.
A lower payout ratio is better for the investor. It allows the company to maintain the dividend during difficult times. And in NEE's case, increase it at a faster rate even when earnings growth slows.
FUTURE NEE DIVIDEND GROWTH
This is what I expect for future NEE dividend growth:
12% annually over the next 2 years
7% annually in subsequent years
CREDIT RATING AND BALANCE SHEET
Moody's and S&P rate NEE long term bonds with solid investment grade evaluations. And company management boasts continued improvement in credit quality in their 2018 earnings presentation.
Management states:
"S&P revised assessment of NEE's business risk profile upward from strong to excellent."
"Moody's recognized expected expansion of regulated operations to approximately 70%."
Finally the company's debt to equity ratio stands at a very comfortable 1.1 times.
All in all, NEE's balance sheet looks pretty solid.
NEE STOCK VALUATION
Let's look at NEE stock value from several different angles.
DIVIDEND DISCOUNT MODEL
Because of the variability in my dividend growth forecast, let's use a 2 stage dividend discount model to calculate fair value for the NEE stock price. The model considers several of the factors discussed thus far. Specifically,
Current dividend payment – $5.00 per share
Estimated short term and long term dividend growth rate – 12% and 7%
Desired annual return on investment – 10%
Using these assumptions, the 2 stage dividend discount model calculates fair value at $195 per share.
MORNINGSTAR FAIR VALUE
The investment research firm, Morningstar, estimates the fair value of NEE stock at $175 per share.
UTILITY FORECASTER
The Utility Forecaster investment newsletter that follows dividends in the utility industry very closely has a target buy price at less than $185 per share.
PRICE TO EARNINGS RATIO
Finally, the NEE stock price to projected 2019 earnings sits at about 22 times. This is quite expensive.
But high quality dividend growth stocks like NEE usually trade at a premium. To compare, the S&P 500 forward price to earnings ratio for 2019 stands at about 16 times.
CONCLUSION
NEE stock is one of my smaller holdings. As mentioned earlier, I wish I had bought more over the years. It is truly a high quality dividend growth stock suitable for many investors' portfolios.
As it usually does, the NEE stock price seems a little expensive to me right now. But it is still within a reasonable range for add on purchases.
I would be more interested buying at $180 per share or less. And I'd back up the truck and load up at $170 per share or less.
In any case, I am happy to hold the 115 shares I currently own for the long term.
Related: WEC stock and dividend analysis
Disclosure & Disclaimer
This article, or any of the articles referenced here, is not intended to be investment advice specific to your situation. I am not a licensed investment adviser, and I am not providing you with individual investment advice. The only purpose of this site is information & entertainment. We are not liable for any losses suffered by any party because of information published on this blog. See this site's Disclaimer and Privacy tab for more information.
I own NEE stock.