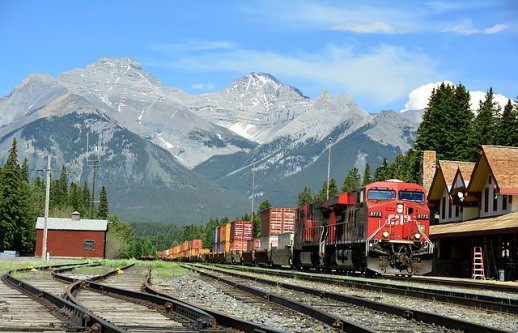 Let's jump right into the industrial sector with a Norfolk Southern dividend stock analysis.
When it comes to investing, diversification is very important.  Even more so for dividend stock investors where many dividend stocks are clustered in just a few sectors.
Industrial companies, exposed to the ups and downs of the economic cycles, are not your typical dividend stock favorites. But Norfolk Southern (NYSE: NSC) is one I like and have owned for many years.
So let's dig into this premier transportation company.  Certainly, I will have some thoughts on the Norfolk Southern dividend, dividend growth, and dividend safety.
Are you interested in investing in transportation companies? Then, be sure to check out: UPS dividend stock analysis.
Company Background
NSC operates approximately 19,500 miles of railroad in 22 states and the District of Columbia.  They serve every major container port in the eastern United States. 
They also have the most extensive intermodal network in this region. And provide efficient connections to other rail carriers.
NSC is a major transporter of industrial products. Some of these products include coal, automotive parts, automobiles, chemicals, metals, and construction materials.
Source: Norfolk Southern Corporate Profile
Strategic Plan
To grow, Norfolk Southern looks to improve shipping volumes in 3 main areas:
Merchandise
Intermodal (train to truck and truck to train)
Coal
The share that each area contributes to total revenues is shown in the pie chart below: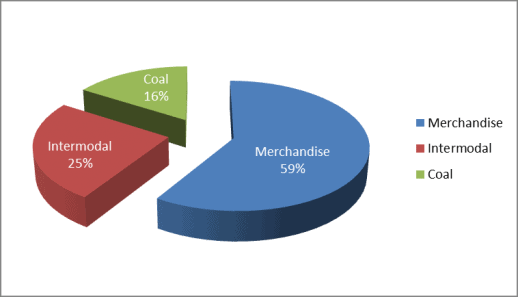 Efforts to grow revenues can be significantly influenced by overall economic activity. And, commodity prices. Shipping demand is therefore subject to many factors that are out of the company's control.
So, Norfolk Southern's growth strategy also focuses on operational performance. They have several major initiatives to improve profit per sales dollar that include:
Improved tons delivered per employee, train and locomotive
Higher utilization of cars in service
Enhanced service & delivery for customers
Efforts in these areas have delivered higher profits in recent years.
Source: Norfolk Southern Investor Day Presentation
Norfolk Southern Dividend Yield
NSC pays an annual forward dividend of $3.76 per share.
The annual dividend represents a 2.0% Norfolk Southern dividend yield at the recent Norfolk Southern stock price.
Norfolk Southern Dividend Growth Rate
| | | | |
| --- | --- | --- | --- |
| 1 Year | 3 Years | 5 Years | 7 Years |
| 18.4% | 15.1% | 10.2% | 9.2% |
As shown in the chart above, dividend growth has been very strong in recent years. This comes mainly on the strength of the 2018 and 2019 dividend increases.
Before 2018, dividend growth was much slower.
Related: Apple Dividend Stock Analysis
Norfolk Southern Consecutive Years of Dividend Growth
Norfolk Southern has increased its annual dividend for only 3 consecutive years.
However, this relatively insignificant dividend increase streak doesn't tell the whole story. As the Norfolk Southern dividend payout ratio rose during 2015, the company paused dividend increases in 2016.
If it were not for that one year pause, the NSC dividend would have been increased for 18 consecutive years.
Related: A Dividend King – Emerson – Dividend Stock Analysis
Norfolk Southern Revenue Trend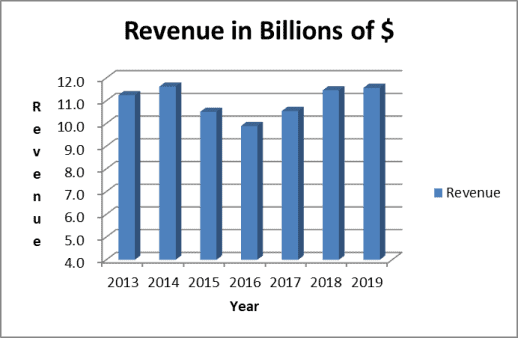 Revenue has held in a fairly tight range over the past several years.
It was negatively affected early in the decade as the economy emerged from the great recession.  Also, lower prices for natural gas in subsequent years reduced the demand for coal shipments.
On the other hand, the company's revenue growth has been positively affected by intermodal transportation.  The strength in intermodal is a result of rising consumer spending, e-commerce growth, and a tight trucking market.
Norfolk Southern Dividend Payout Ratio & Earnings Trend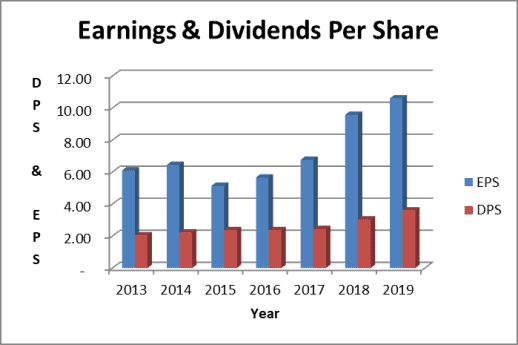 Norfolk Southern has been able to grow profits through price increases.  And cost controls over labor, equipment, and fuel. In addition, the 2017 tax act has lowered taxes and increased income in 2018 and beyond.
Look at the big increases in earnings per share in 2018 and 2019 shown in the chart above. No wonder Norfolk Southern Management has been comfortable with multiple dividend increases in the last couple of years!
I like fast dividend growth. But only if it is supported by earnings and cash flow.
These dynamics have led to a dividend payout ratio of about 34% based on accounting earnings. This is a comfortable payout rate for a company that is subject to the ups and downs of the economic cycles.
A lower dividend payout ratio is generally better.  It shows the company has ample room to raise the dividend in the coming years.  Or, withstand an earnings drop without having to reduce the dividend.
Related: Genuine Parts Stock Analysis And Dividend Review
Norfolk Southern Dividend Policy Statement
I appreciate it when a company states its dividend policy. And Norfolk Southern has done just that. Their goal for their dividend is to payout 33% of accounting earnings.
An economically sensitive company like Norfolk Southern that has large capital investment requirements should typically operate with a lower dividend payout ratio. And 33% looks good to me.
Norfolk Southern Free Cash Flow and Dividend Payments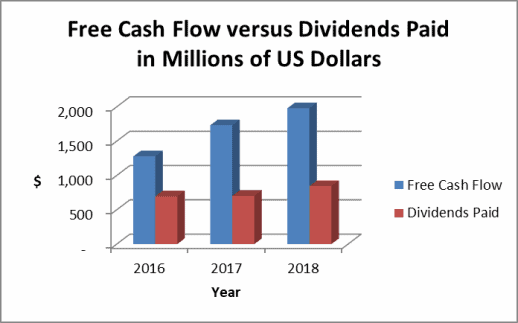 Speaking of large capital investment requirements, the chart above shows the amount of cash leftover from operations after spending on capital investments. That is the definition of free cash flow.
It makes sense that Norfolk Southern has large amounts of capital outlays. Locomotives, rail cars, and railroad tracks cost a lot of money to maintain.
Even so, the dividend payments have been consuming just a little over 40% of free cash flow.
Cash flow is important. Our dividends are paid from cash not accounting earnings. It is a good cross-check for evaluating dividend safety.
Norfolk Southern Dividend Growth Projection
For my planning purposes, I like to make a dividend growth forecast for my holdings. I take into account several factors discussed so far:
The historical dividend growth rate
Number of consecutive annual dividend increases
Company dividend policy
Dividend payout ratio based on earnings and cash flow
Cyclical nature of the business
Company growth strategy
Taking into account what I have learned thus far, I do not believe the NSC dividend will grow as rapidly as it has in recent years. All it would take is a recession to put dividend growth on hold for a year or two.
I'm going to forecast a 7% annual dividend growth rate for future years.
Not entirely by coincidence, 7% annual dividend growth is what Norfolk Southern has been able to deliver over the past 25 years. A long period like this takes into account the ups and downs of multiple economic cycles.
Norfolk Southern Credit Rating
Knowing a company's credit rating is important.  A good credit rating can make a big difference between companies that struggle and those who hold there own during a recession.
A corporation's credit rating is similar to how your own credit score works.  Higher ratings mean lower risk to those who lend the company money.  Furthermore, higher ratings mean lenders will be more likely to get their loans paid back.
We are not lenders here at Dividends Diversify, we are dividend stock investors.  However, it never hurts to check out a company's creditworthiness.
Norfolk Southern has an investment grade, moderate to low credit risk rating.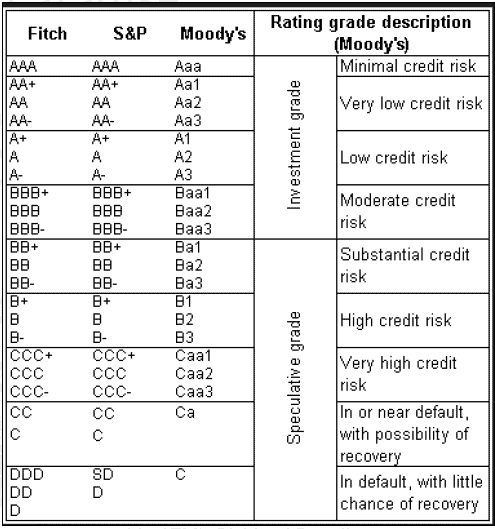 The ratings are provided by two of the big rating agencies. Moody's rates Norfolk Southern credit at Baa1. S&P's rating is BBB+.
These evaluations represent solid investment-grade credit ratings. Investment-grade is what most dependable dividend-paying companies are rated.
Norfolk Southern Debt To Equity Ratio
Norfolk Southern's debt to equity ratio checks in at .75 to 1. This a balanced and fairly conservative capital structure.
I do not like dividend-paying companies that are heavily loaded with debt. And it does not appear that Norfolk Southern has an unmanageable debt load. Modest amounts of debt enhance dividend safety.
Norfolk Southern Dividend Safety Evaluation
I look at some different factors to make a judgment on dividend safety:
Dividend payout ratio based on earnings
Dividend payout ratio based on free cash flow
Credit ratings
Debt to equity
In all cases, it appears the Norfolk Southern dividend is safe from a reduction for the foreseeable future.
Norfolk Southern Stock Valuation
Let's judge value in several ways:
Dividend discount model
Price to earnings ratio
Morningstar fair value estimate
NSC Dividend Discount Model
The single-stage dividend discount model considers several factors I have discussed thus far.
Current annual dividend payment – $3.76
Projected dividend growth – 7%
My desired annual return on investment – 9%
Using these assumptions, the dividend discount model calculates the fair value of NSC stock at $201 per share.
NSC Stock Price To Earnings Ratio
The NSC stock price to projected 2019 earnings sits at 17.5 times. This is slightly undervalued as compared to the S&P 500 forward price to earnings ratio of 18 times.
NSC stock is trading at a slight discount to the stock market as a whole.
Morningstar Fair Value
The investment analysis firm, Morningstar, believes Norfolk Southern stock is fairly valued at $187 per share.
Source: Morningstar
Norfolk Southern Stock Valuation Recap
We have looked at a number of valuation methods that suggest a range of values for NSC stock.
Here is a summary:
Dividend discount model – $201 per share
Price to forward earnings at par with the market – $190 per share
Morningstar Fair Value – $187 per share
The value measures show that NSC stock is slightly undervalued at recent prices.
Norfolk Southern Dividend Stock Analysis – Summary
NSC is a well-run company with a long history.  It has large barriers to entry that protect its long-term viability. However, the company is susceptible to the shorter-term ups and downs of economic cycles.
The Norfolk Southern dividend looks safe and well covered based on earnings and cash flow.
Earnings and Norfolk Southern dividend growth have been very strong in recent years. However, the dividend yield is a bit on the low side for my taste.
NSC represents a relatively smaller size position in my dividend stock portfolio.  I intend to hold for the long term. And I would like to add to my position on any further price weakness.
Related Articles About Dividend Investing and Dividend Stocks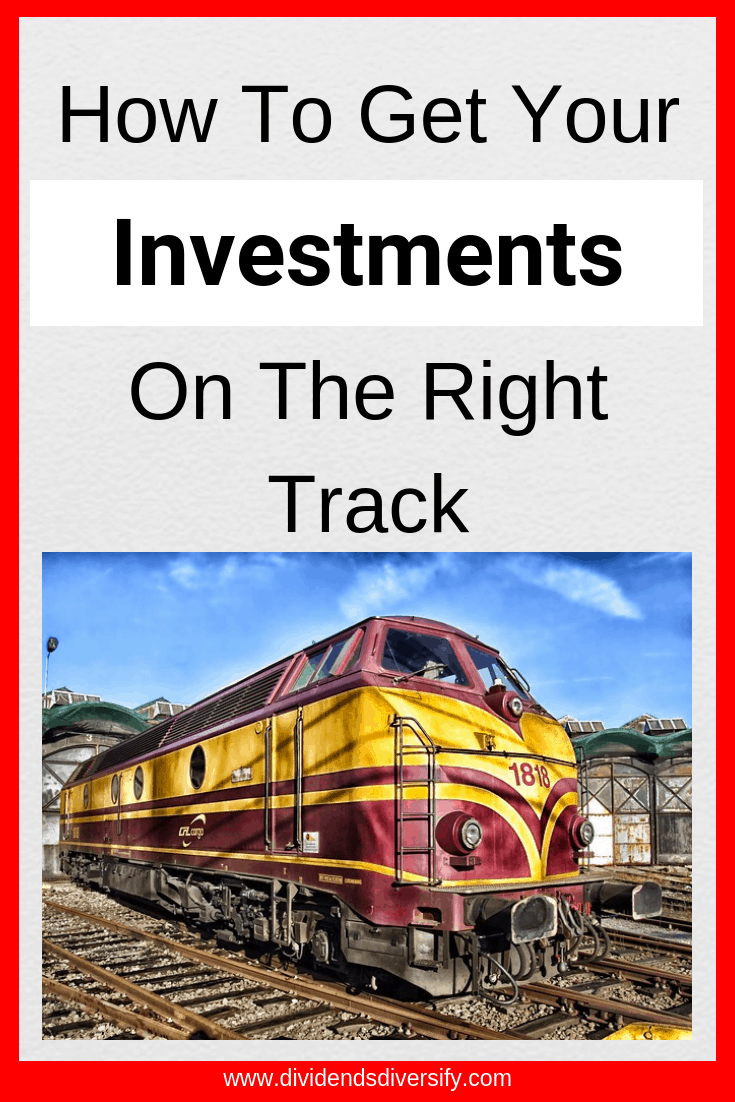 Disclosure & Disclaimer
This article, or any of the articles referenced here, is not intended to be investment advice specific to your situation. I am not a licensed investment adviser, and I am not providing you with individual investment advice. The only purpose of this site is information & entertainment. We are not liable for any losses suffered by any party because of information published on this blog. See this site's Disclaimer and Privacy tab for more information.
I own NSC stock and collect the Norfolk Southern Dividend