Norfolk Southern Dividend Stock Analysis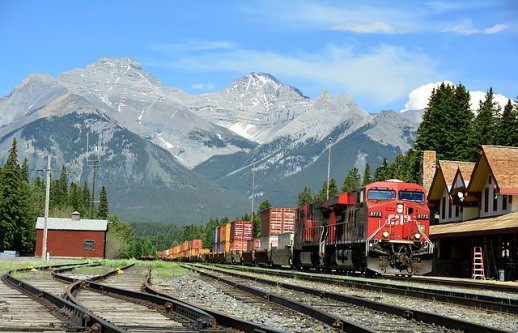 First of all, when it comes to investing, diversification is very important.  Even more so for dividend stock investors.  Since many quality dividend stocks are clustered in the same sectors.
Industrial companies exposed to the ups and downs of the economic cycles are not your typical dividend stock favorites.  But here's one I like and have owned for a number of years.  Specifically, Norfolk Southern (NSC).  So let's take a dividend deep dive of this premier transportation company.  Certainly, I will have some thoughts on the Norfolk Southern dividend.
COMPANY BACKGROUND
NSC operates approximately 19,500 miles of railroad in 22 states and the District of Columbia.  They serve every major container port in the eastern United States.  And provide efficient connections to other rail carriers.  They also have the most extensive intermodal network in this region.  In addition, the company is a major transporter of coal, automotive, and industrial products.     
NORFOLK SOUTHERN DIVIDEND YIELD
NSC pays an annual forward dividend of $3.20 cents per share.  This is a 1.8% Norfolk Southern dividend yield at the recent price of $182 per share.
COMPOUND ANNUAL DIVIDEND GROWTH RATE
| | | | |
| --- | --- | --- | --- |
| 1 Year | 3 Years | 5 Years | 7 Years |
| 3.4% | 3.2% | 4.7% | 8.3% |
As illustrated in the chart, dividend growth had slowed into the mid to low single digits in recent years.
This all changed in 2018 when the Norfolk Southern dividend was increased twice!  18% in January.  And another 11% in July.  That represents some recent and big increases to the Norfolk Southern dividend.
REVENUE

Revenue has held in a fairly tight range over the past several years.  It was negatively affected early in the decade as the economy emerged from the great recession.  In addition, lower prices for natural gas in subsequent years reduced the demand for coal shipments.
The company's revenue growth has been positively affected by intermodal transportation.  This strength is a result of rising consumer spending, e-commerce growth, and a tight trucking market.
NORFOLK SOUTHERN DIVIDEND, EARNINGS AND PAYOUT RATIO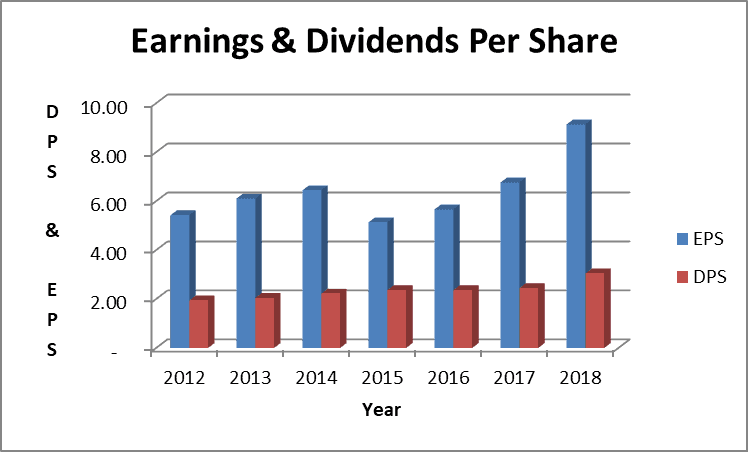 NSC has been able to grow profits through price increases.  And cost controls over labor, equipment, and fuel.  In addition, the 2017 tax act has lowered taxes and increased income in 2018.  These dynamics have led to a dividend payout ratio of about 35% of both earnings and free cash flow.  This is a comfortable payout rate for a company that is subject to the ups and downs of the economic cycles.
A lower dividend payout ratio is generally better.  It shows the company has ample room to raise the dividend in the coming years.  Or, withstand an earnings drop without having to reduce the dividend.  An economically sensitive company like NSC's with large capital investment requirements should typically operating with a lower dividend payout ratio.
CREDIT RATING
Knowing a company's credit rating is important.  Furthermore, it can make a big difference between companies that struggle and those who hold there own during a recession. Finally, a corporation's credit rating is similar to how your personal credit score works.  Most noteworthy, higher ratings mean lower risk to those who lend the company money.  Also, higher ratings mean lenders will likely get their loans paid back.
Certainly, we are not lenders here at Dividends Diversify, we are dividend stock investors.  However, it never hurts to check out a company's creditworthiness.
Above all, Norfolk Southern has an investment grade, moderate to low credit risk rating.  The ratings are provided by two of the big rating agencies: Moody's and S&P.  This is a solid rating.  Most noteworthy, a good sign for Norfolk Southern and its lenders.
VALUATION & CONCLUSION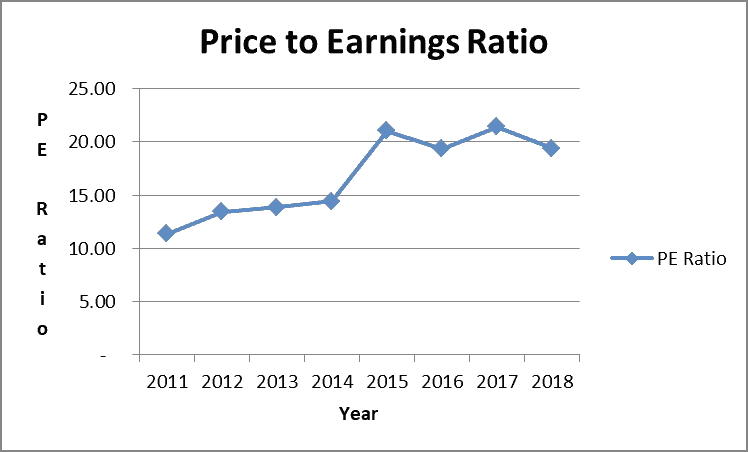 NSC's stock price has been on a pretty good run as of late and is trading near its 52 week high.  The combination of a rising stock price along with rising earnings has left the price to earnings ratio bouncing around 20 times over the past few years.  A lower price to earnings ratio typically represents a better value for the investor.
SUMMARY & WRAP UP
NSC is a well-run company with a long history.  It has large barriers to entry that protect its viability.  Furthermore, the Norfolk Southern dividend looks safe and well covered based on the financial metrics.
NSC represents a relatively smaller size position in my dividend stock portfolio.  I intend to hold for the long term, but at the current price to earnings ratio and relatively low dividend yield, I won't be a buyer at these price levels.
It may take an operating issue, economic recession or general market correction to knock the price down and present a buying opportunity.  Of course, those times are the most difficult to pull the trigger on a purchase.
OTHER RELATED ARTICLES
I hope you enjoyed this article.  If so, here are a couple of others that you may find interesting:
The model portfolio where Norfolk Southern resides:  The Dividend Deluxe
Another industrial transportation company:  UPS stock & dividend analysis
WHAT ARE YOUR COMMENTS?
Do you own Norfolk Southern?  Is there anything else that should be considered in this analysis?  Leave a comment and let us all know!
BE SURE TO SUBSCRIBE
As part of your subscription to Dividends Diversify, you will get 20 wealth building and investment tips free!  In addition, never miss a new post.  I will send a weekly email to all subscribers with a link to the current weeks new content.  Finally, thanks for visiting.
PINTEREST
Are you a Pinterest user?  Then be sure to follow Dividends Diversify on Pinterest by clicking this link:  Pinterest Home Page.  Then click the red follow button.  Thanks for following be sure to save the pin below for later!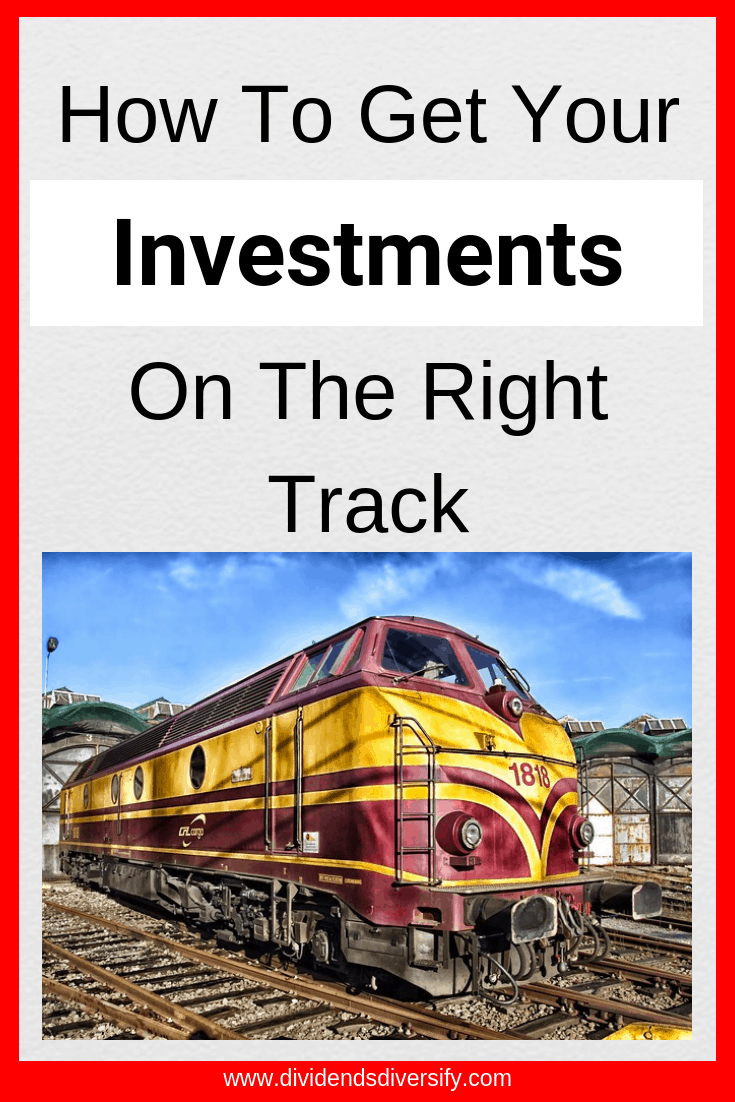 Disclosure & Disclaimer
This article, or any of the articles referenced here, is not intended to be investment advice specific to your personal situation. I am not a licensed investment adviser, and I am not providing you with individual investment advice. The only purpose of this site is information & entertainment. We are not liable for any losses suffered by any party because of information published on this blog. See this site's Disclaimer and Privacy tab for more information.