Is the Philip Morris Dividend Safe & Will It Grow?
It has been a while since I completed a Philip Morris dividend stock analysis. For many years, Philip Morris International (PMI) held the second largest position in my dividend growth stock portfolio.
It was second only to Altria, its US counterpart in the tobacco trade
My Philip Morris Stock Investment – Bad News & Good News
Bad News
Unfortunately, starting in mid-2017, Philip Morris stock went into a steady downtrend losing nearly 50% of its value from top to bottom. Although Philip Morris remains one of my top 10 holdings, the significant loss of value in the last 2 years is the bad news.
Good News
The good news is that I have owned Philip Morris stock since the 2008 spinoff from Altria.
In my early years of ownership, I made additional purchases with both new funds and dividend reinvestment. The stock price ranged from $30-60 per share during that time. So I still sit on a nice capital gain and have collected some big cash from the large Philip Morris dividend payout.
Looking At The Past
Do I wish I would have sold out at the peak in 2017? Sure, but hindsight is twenty, twenty as the saying goes.
In contrast, I'm a long term buy and hold investor. I like to hold my dividend paying stocks forever, if possible. I'm just not good enough to buy at the bottom and sell at the top. That is one reason why I like holding dividend stocks for the long term. Dividend stock investing makes timing the market unnecessary.
Related: Dividends Deluxe Model Portfolio
Looking At The Present
But all that is in the past. So, let's run Philip Morris stock through a dividend deep dive analysis and see what it tells us today. I'm actually thinking about adding to my shares in the near future. This analysis will help me to decide.
A Word On Smoking & Socially Conscious Investing
I don't smoke. And I do not like being around people who do. That's just my personal preference.
On the other hand, smoking is not against the law. So if people want to smoke, that is fine with me as long as I'm not around them when they are doing so.
I also do not let my social convictions dictate my investing decisions. In short, I'm not a socially conscious investor. I follow the cash in the form of dividends regardless of what type of business a company operates.
With that editorial comment out of the way, let's get on with the Philip Morris dividend and stock analysis.
Philip Morris Company Background
Philip Morris International is a leading international tobacco company. They employ a global workforce of around 77,000 people. Source: PMI.com – Who We Are
Philip Morris stock trades on the New York Stock Exchange under the ticker symbol PM (NYSE: PM).
Philip Morris Brands
Philip Morris has a high degree of brand recognition among smokers.
Cigarette brands include:
Marlboro
L&M
Chesterfield
Philip Morris
Bond Street
Smoke Free Brands include:
The company also develops and sells smoke-free alternatives to cigarettes. They call them reduced-risk products or "RRP" for short. These brands include:
Brand information sourced from: PMI.com – Building Leading Brands
Strong international brand recognition is a competitive advantage for Philip Morris. Therefore, discussions by regulators to require plain packaging are troubling. Plain packaging laws could erode the company's brand power. This is a business risk and an area that deserves watching in the future.
Business Strategy
It is well documented that cigarette use is in global decline. Because of this, Philip Morris is attempting to transform itself for the future.
They make a very powerful statement on their website:
"We are dedicated to doing something very dramatic – we want to replace cigarettes with smoke-free products as fast as possible.
That's why we have more than 400 scientists, engineers, and technicians developing less harmful alternatives to cigarettes at our two research facilities in Switzerland and Singapore.
It's the biggest shift in our company history. And it's the right one for our consumers, our company, our shareholders, and society."
With that vision in mind, the company's aspiration is to increase annual revenue from RRPs to 38-42% of total revenues by 2025. For comparison, in 2018, RRPs accounted for only 14% of total revenues.
Source: PMI Investor Information Kit. Note that this was a very informative document and I used it extensively as a reference for this article.
Philip Morris Dividend Yield
Philip Morris pays an annual forward dividend of $4.56 per share. Based on the recent stock price, that dividend payout puts the Philip Morris dividend yield at a very attractive 5.8%.
Philip Morris Dividend Growth
| | | | |
| --- | --- | --- | --- |
| 1 Year | 3 Years | 5 Years | 7 Years |
| 3.8% | 3.8% | 3.7% | 5.5% |
Dividend growth has been on the low side in recent years, but steady.
Risk to Dividend Growth
Because Philip Morris transacts most of its business in foreign currencies, a stronger US dollar puts pressure on profits and cash flow. Since our dividends are paid in US dollars, the stronger dollar in recent years has constrained profits and therefore, dividend growth.
Dividend Growth Facts
Company management states in their investor information kit that "Dividends are the primary use of our operating cash flow after capital expenditures".
I like it when a company outwardly confirms that the dividend is a primary objective for the use of their cash. Here are a few other facts regarding Philip Morris dividend growth:
The dividend was increased in June 2018 by 6.5%
2018 was the 11th consecutive year with a dividend increase
Since 2018, dividend increases amount to about 148%
Future Dividend Growth
Philip Morris normally announces its annual dividend increase in September of each year. 2018 was an exception when they surprised investors by accelerating the annual increase by 1 quarter.
That didn't happen again in 2019. But I anticipate an increase in the 2-4% range in September 2019. For my planning purposes, I'm going to use a 3% long term annual dividend growth rate.
Revenue Trend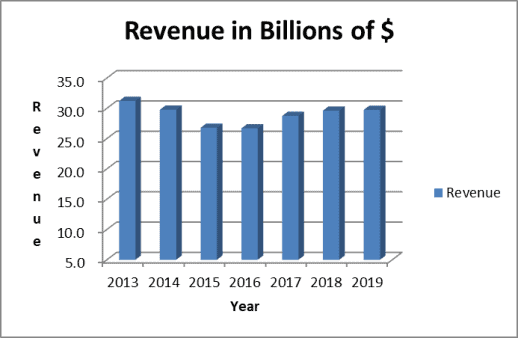 Historical Revenues
As a result of lower cigarette consumption and the negative impact of exchange rates, revenue has been mostly range-bound for the last few years.
On the other hand, price increases enabled by strong brand loyalty have supported revenue growth. Have you seen the cost of a package of cigarettes lately? It's unbelievable to me how much tobacco companies are able to charge.
Projected Revenues
Eliminating the impact of foreign currency conversion, company management expects to grow revenues by at least 5% annually from 2019 through 2021.
The growth is expected to come from these areas:
Higher prices for cigarettes
Higher volumes for reduced-risk products
Product innovation
Philip Morris Dividends & Earnings Per Share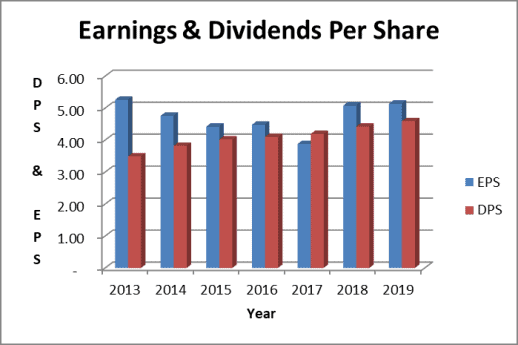 Despite declining volumes in its core business, the company is able to generate substantial and stable earnings. Profit growth comes mainly from product price increases and operating expense reductions.
For 2019, the dividend payout as a percentage of earnings will check in at just below 90%.
The dividend payout ratio is quite high. But because of the predictability of cash flows, I do not find it overly concerning.
On the other hand, a high payout ratio will keep future dividend growth on the low side until we see sustainable earnings growth.
Free Cash Flow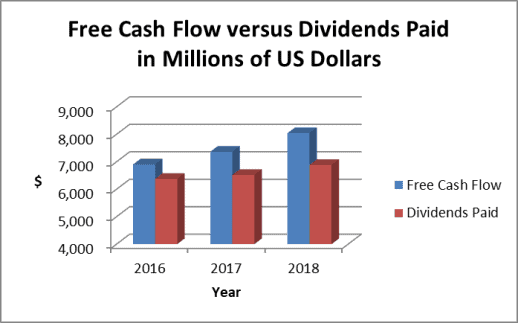 For 2018, the dividend consumed 86% of free cash flow. The company suspended the use of cash for share repurchases in 2015. Since then, any excess cash after paying the dividend is usually allocated to debt reduction.
Credit Ratings
Philip Morris has an A2 and A credit rating from Moody's and S&P, respectively. These ratings represent "investment grade – low credit risk".
Most solid dividend paying companies hold investment grade credit ratings. And I was glad to see in the investor materials that management clearly states they "remain fully committed to maintaining our current credit rating".
Philip Morris Dividend Safety
Although the dividend payout ratios are a little higher than I prefer, The Philip Morris dividend appears safe to me. It is supported by:
Stable and consistent earnings and cash flows
Investment grade credit ratings
Management's past dividend record
Management's stated commitment to the dividend going forward
It is far more likely that future dividend growth is at risk versus a dividend reduction. Any meaningful financial shortfalls will negatively impact dividend growth.
I will become concerned if management ever elects to hold the dividend constant during their normal increase cycle. To me, an initial symptom of an upcoming dividend reduction is a missed dividend increase.
As for now, I am willing to take management at their word on growth projections and the ability to profitably transition the business to reduced-risk products. These assertions also support dividend safety.
Philip Morris Stock Valuation
Let's judge value in several ways:
Dividend Discount Model
Morningstar fair value estimate
Price to earnings ratio
Philip Morris Dividend Discount Model
The single stage dividend discount model considers several factors I have discussed thus far.
Current annual dividend payment – $4.56 per share
Projected dividend growth – 3.0%
My desired annual return on investment – 9%
Using these assumptions, the dividend discount model calculates the fair value of Philip Morris stock at $78 per share.
Philip Morris Price to Earnings Ratio
The Philip Morris stock price to projected 2019 earnings sits at about 15 times. To compare, the S&P 500 forward price to earnings ratio is nearly 18 times.
Philip Morris stock is trading at a discount to the market as a whole. This is not an unusual situation for a stock with uncertain growth prospects.
At whatever point, the collective mind of stock market traders comes to believe in the growth potential of reduced-risk products, the value of the stock should trade at least in line with the overall market valuation.
Valuing Philip Morris stock at the market valuation of nearly 18 times 2019 earnings gives us a price target of $93 per share.
Morningstar Fair Value
Finally, the investment analysis firm Morningstar believes Philip Morris stock is fairly valued at $102 per share.
Philip Morris Stock Valuation Summary
We have looked at a number of valuation methods that suggest a range of values for Philip Morris stock.
Here is a summary:
Dividend Discount Model – $78 per share
Price to Forward Earnings Ratio to par with the market – $ 93 per share
Morningstar Fair Value – $102 per share
The value measure shows that Philip Morris stock appears to be a reasonable value at recent prices.
As I assess this range to make a Philip Morris stock recommendation for my own purposes, I'm going to set a personal buy target of $80 per share or less. And I will seriously consider adding to my shares in the near future.
Related:  Another consumer goods stock analysis:  Hormel Foods
Philip Morris Dividend Stock Analysis Summary
Here are a few points to take away from this Philip Morris Dividend Stock Analysis.
The company is in the midst of a massive and uncertain business transition
Their core cigarette business remains cash rich & supports the current dividend
The stock has a high dividend yield approaching 6%
Future dividend growth depends on successfully transitioning the business to RRPs
The stock appears to be a reasonable value at recent levels
I have set my personal buy target at $80 or less per share
Related: Why I like dividend stocks
Disclosure & Disclaimer
This article, or any of the articles referenced here, is not intended to be investment advice specific to your situation. I am not a licensed investment adviser, and I am not providing you with individual investment advice. The only purpose of this site is information & entertainment. We are not liable for any losses suffered by any party because of information published on this blog. See this site's Disclaimer and Privacy tab for more information.
I currently own Philip Morris stock and collect the Philip Morris dividend.