Is the Philip Morris Dividend Safe & Will It Grow?
It has been a while since I completed a Philip Morris dividend stock analysis.
So today, let's dig into a Philip Morris dividend review to see what it tells us about Philip Morris stock (NYSE: PM) and its prospects.
I'm actually thinking about adding to my Philip Morris shares in the near future. This PM stock analysis will help me make a decision.
Before we get started, a brief editorial discussion. Since you found your way here, it's quite possible you think about the implications of dividend stock investing in "sin stocks" too.
Disclosure: At no cost to you, I may get commissions for purchases made through links in this post.
Socially Conscious Investing & The Philip Morris Stock Dividend
I don't smoke. And I do not like being around people who do. That's just my personal preference.
On the other hand, smoking is not against the law. So if people want to smoke, that is fine with me as long as I'm not around them when they are doing so.
As a result, I won't let my social convictions influence my investing decisions. In short, I'm not a socially conscious investor.
I follow the cash in the form of dividends regardless of what type of business a company operates. And from my perspective, the Philip Morris stock dividend must stand on its own merits.
If you feel differently, that's okay. I respect your opinion.
With that editorial comment out of the way, let's get on with today's Philip Morris dividend stock analysis. Before we conclude, I'll give you a bit of my history with this investment.
But, are you looking for something a little different? Then check out our library of nearly 100 dividend stock articles before you go.
I'm sure you will find something of interest. Maybe a few good dividend stocks or investment ideas to improve your finances.
For those of you here for Philip Morris. Let's first hit some key takeaways from the rest of the article. And a couple of important questions that may be on your mind…
Philip Morris Dividend Stock Analysis Key Takeaways
Here are a few points to take away from this Philip Morris dividend stock assessment.
The company is in the midst of a massive and uncertain business transition
Their core cigarette business remains cash-rich & supports the current dividend
The stock has a high dividend yield
However, meaningful future dividend growth depends on successfully transitioning their customers to reduced-risk products (RRPs)
I may add to my shares at lower prices
Is Philip Morris A Good Stock?
Philip Morris has not been a good stock in recent years.
Starting in mid -2017, Philip Morris shares went into a steady downtrend. The stock lost nearly 50% of its value from top to bottom.
Fortunately, the stock has recovered.
Although Philip Morris remains one of my top 10 holdings. The drop in share price was not pleasant.
And, it was bad news for my dividend growth portfolio as a whole.
Is Philip Morris A Good Investment?
On the other hand, I think Philip Morris is a good investment.
Looking forward, I believe management will successfully execute the transition to reduced-risk products. All the while, traditional tobacco cigarettes will remain a cash cow. And support the substantial dividend payouts for investors.
So, even with the recent years' fall in value, I believe Philip Morris has been and will continue to be a good investment.
Looking back to my early years of ownership, I made additional purchases with both new funds and dividend reinvestment. The stock price ranged from $30-60 per share during that time.
So I still sit on a nice capital gain. Plus, the cash made from dividend payments since I stopped reinvesting my dividends.
Finally, the dividend appears safe. Which is always an important consideration for me. Maybe you too?
Next, some background on the company…
Philip Morris Company Background
We will get started with some company background information.
PM Stock Spin-Off
Philip Morris came into existence in March 2008. The company was formed by a stock spin-off from Altria.
Thus, Philip Morris has a relatively short history as a stand-alone company. However, its operations and brands have a long history. Under its former parent, Altria.
Philip Morris Operations
Philip Morris is a leading international tobacco company. They employ a global workforce made up of tens of thousands of people.
Source: PMI.com – Who We Are
Furthermore, the company has significant brand recognition among smokers.
Cigarette Brands
Some of their well-known cigarette brands include:
Marlboro
L&M
Chesterfield
Philip Morris
Parliament
Bond Street
Smoke Free Alternatives
The company also develops and sells smoke-free alternatives to cigarettes. They call them reduced-risk products or "RRPs" for short. In this segment, they have a popular heated tobacco system called IQOS.
Source: PMI.com – Building Leading Brands
Brand Risk
Effective international investments in marketing have led to brand recognition being a competitive advantage for Philip Morris. Therefore, new laws requiring plain packaging for their packs and cartons of cigarettes are troubling.
Plain packaging laws could erode the company's brand power. This is a business risk and an area that deserves watching in the future.
Philip Moris Stock Symbol
Philip Morris stock trades on the New York Stock Exchange. It operates under the ticker symbol PM (NYSE: PM).
I trade all of my dividend stocks for free using the Webull app. Plus, the app has powerful research capabilities. And stock trading tools.
You can learn more about Webull here.
Philip Morris Business Strategy
It is well documented that cigarette use is in global decline. Because of this, Philip Morris is attempting to transform itself for the future.
They make many statements on their website about the transformation that is underway. I have summarized a few for you.
Dedicated to replacing cigarettes with smoke-free products as fast as possible.
Many scientists, engineers, and technicians are at work in our research facilities developing less harmful alternatives to cigarettes.
It's the biggest shift in company history.
With their vision and transformation in mind, the company's goal is to significantly increase annual revenue from RRPs.
Okay. That's enough about Philip Morris, the company, its history, products, strategy, and powerful brand recognition.
Next, let's dive into all the stock dividend facts and figures about Philip Morris.
Does Philip Morris Stock Pay Dividends?
Yes. Philip Morris stock pays dividends. Management has declared and paid regular dividends since the company's inception in 2008.
PM Dividend Rate Per Share?
The annual forward dividend is the last dividend approved by the company. Multiplied by the number of times dividends are paid each year.
Taking the forward dividend. And dividing it by the stock price give you dividend yield…
Philip Morris Dividend Yield
Based on the recent stock price, the company's dividend payout puts the Philip Morris dividend yield at a very attractive level.
I like stocks with dividend yield between 3 and 5%. And Philip Morris typically runs at the high end of that range.
Sometimes higher. When the stock price is under pressure.
Does Philip Morris Have A Dividend Schedule?
This is what I found on the company's investor relations website:
"Dividends are declared and approved at the discretion of the Board of Directors. The anticipated dividend dates have been adjusted to fit the calendar of Board meetings."
This is a typical practice for companies that pay dividends. Each dividend must be declared and approved by the board of directors before it can be paid.
But, the statement is vague.
So let's look at past dividend payment timing to better understand when and how often Philip Morris stock dividends are paid by the company.
How Often Does Philip Morris Pay Dividends?
PM pays dividends every 3 months or 4 times per year. The regularly scheduled dividend payments are one-fourth of the annual dividend rate per share.
In Which Months Does Philip Morris Pay Dividends?
Philip Morris consistently pays dividends in January, April, July, and October.
The dividend payment is typically made around the 10th day of these months.
Looking to fill out your dividend calendar? Here are several stocks paying dividends in the same months as Philip Morris.
Philip Morris Ex-Dividend Date
As an investor in Philip Morris stock, you must complete your investment before the ex-dividend date. That is if you want to receive the next stock dividend payout.
For Philip Morris, the ex-dividend date falls on or around the 20th day of the month PRIOR to when its quarterly dividend is paid.
Paying Attention To Dividend Dates
Dividend dates are subject to change. And they are partially dictated by the timing of the Board's approval of each quarterly dividend payment.
So, if you want the next payment to increase your dividend income. Be sure to check the company's investor relations website for the exact dates.
On the other hand, if you are a buy-and-hold investor like me, there is no need to worry. Because after you make your investment, you will be eligible for every dividend payment in the future.
There is nothing more for you to do. Just sit back and collect your passive income from dividends!
Philip Morris Dividend History
Philip Morris is starting to build an impressive dividend history. The company immediately started paying dividends after their split from Altria in 2008. And has increased the dividend every year since then.
The number of consecutive years of dividend increases makes Philip Morris a Dividend Achiever. Dividend Achievers are up-and-coming dividend-payers.
Achievers are stocks that have increased dividends for at least 10 years in a row. And dividends are a key part of capital allocation decisions.
So, we know Philip Morris has a history of growing its dividend. But what does the dividend growth rate look like? Let's look at that next to better understand dividends from Philip Morris.
Philip Morris Dividend Growth Rate
To see what's going on with dividend growth, I look at several years of history.
In its early years after the spin-off from Altria, dividend growth was quite high. It was not unusual for the company to increase its dividend by 10% or much more each year.
On the other hand, dividend growth has been much lower recently.
Philip Morris Dividend Policy
I searched around for any clues about PM's dividend policy. Because that information is helpful for determining the potential value of future dividend payments.
This is what I found in a recent investor information kit.
Company management says…
Maintain progressive dividend policy while targeting a long-term payout ratio of around 75% of adjusted diluted EPS.
I like a company that states its dividend is a primary objective for their cash.
But take note. A company is not required to pay dividends. And this dividend policy can be changed at any time.
Next, let's move on to business fundamentals. And the dividend payout ratios.
These elements will help me make a determination of both Philip Morris's dividend safety and projected dividend growth.
Philip Morris Revenue And Its Influence On The Dividend
In reviewing revenues, I disregard the impact of taxes imposed by regulators.
These taxes are just passed through from PM's customer sales to the taxing authorities in each country in which it operates.
Historical Revenues
Lower cigarette consumption and the negative impact of exchange rates have taken on a toll on revenue.
Because Philip Morris transacts much of its business in foreign currencies, a stronger US dollar puts pressure on revenue, profits, and cash flow. Our dividends are paid in US dollars. So, a stronger U.S. dollar constrains profits and therefore, dividend growth.
On the other hand, price increases have supported revenue and profits. The ability to push through price increases is due to the strong loyalty to the company's brands.
Have you seen the cost of a package of cigarettes lately? It's unbelievable to me how much tobacco companies are able to charge. Of course, those prices include the large taxes I just mentioned.
Projected Revenues
Eliminating the impact of foreign currency conversion, company management expects to grow revenues.
The growth is expected to come from these areas:
Higher prices for cigarettes
Higher volumes for reduced-risk products
Product innovation
Next, let's see how revenues translate to earnings. And what the dividend payout ratios look like.
A company with high dividend payout ratios will usually have lower dividend growth. Let's see if that will be the case for PM.
Philip Morris Dividend Payout Ratio Based on Earnings
Despite declining volumes in its core business, the company generates substantial and stable earnings. Profit growth comes mainly from product price increases and operating expense reductions. Plus the volume growth from RRPs.
The company's dividend payout ratio is normally quite high. But because of the predictability of cash flows, I do not find it concerning.
On the other hand, a high payout ratio will keep future dividend growth on the low side. At least until we see sustainable earnings growth that translates into free cash flow.
Speaking of cash. Let's see how the Philip Morris dividend stacks up against cash flow next.
Philip Morris Dividend Payout Ratio Based on Cash Flow
The dividend is adequately covered by free cash flow. And, I expect management to maintain the cash payout ratio at or near the current level in future years.
Historically, the company uses any remaining cash for share repurchases and debt reduction. Suspending buybacks when economic considerations make it wise to do so.
Next, I want to determine how PM's future dividend growth will impact my dividend income.
Philip Morris Projected Dividend Growth
Future dividend growth will be constrained by a number of factors we have discussed thus far. Here is a brief summary of the headwinds to dividend growth:
High dividend payout ratios
Negative impacts from currency translation
Uncertainty about the company's transition to RRPs
With those items in mind, I project PM's dividend growth will be 3-4% on an annual basis. Not until I see a sustainable increase in earnings and cash flow will I consider raising my dividend payments forecast.
Keep this growth forecast in mind. It provides some clues as to what I think about Philip Morris's dividend safety. But before I offer up that opinion, let's look at the company's financial position in the form of its credit rating.
Philip Morris Credit Ratings
Philip Morris typically carries investment-grade ratings from Moody's and S&P, respectively.
Table 2: Credit Rating Evaluation Grid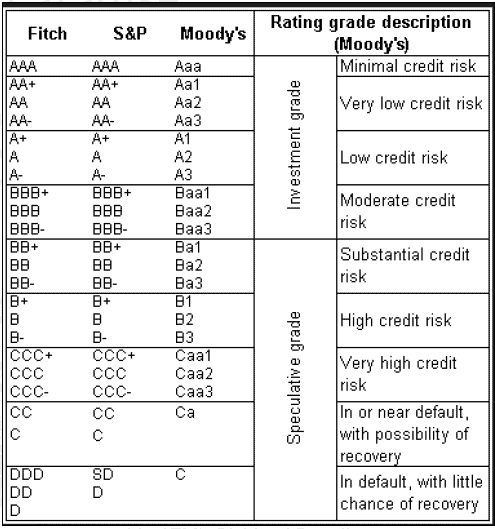 Most solid dividend-paying companies hold investment-grade credit ratings.
And I was glad to see in the company's investor materials that management clearly states they "remain fully committed to maintaining these ratings at a high level.
On a side note, I keep an eye on my personal credit rating for free using Credit Karma.
You can too. Learn more about Credit Karma here.
Philip Morris Dividend Safety
Now, let's talk about dividend safety. When I speak of dividend safety, this is what I mean. Is the Philip Morris dividend safe from a reduction for the foreseeable future?
Dividend Risks
First of all, the company's dividend payout ratios are a little higher than I prefer.
Furthermore, PM is a high-yield dividend stock.
Finally, the company is in the midst of a transformation away from a declining product line. The results of which are uncertain.
These are all early signs for higher-risk dividends.
But Is The Philip Morris Dividend Safe?
On the other hand, I believe the Philip Morris dividend is safe.
It is supported by:
Stable and consistent earnings and cash flows
Investment-grade credit ratings
Management's past dividend record
Management's stated policy to use earnings for the dividend
A business that requires minimal capital investments
It is far more likely that future dividend growth is at risk. Versus a dividend reduction.
Any meaningful financial shortfalls will negatively impact dividend growth. As we have seen in the recent past. As a result, my meager dividend growth forecast of just 3-4% annually still stands.
What I Will Be Watching For…
From a business standpoint, a significant spike in the dividend payout ratios. Or a big change in plain packaging laws. Yes. I will be watching for those things.
But most of all, I will become concerned about dividend safety if and when management elects to hold the dividend constant during their typical annual dividend increase cycle.
To that point, Philip Morris normally announces its yearly dividend increase in September. So, I will be watching at that time every year.
Because for me, an early symptom of an upcoming dividend reduction. Is a missed dividend increase.
Watching and reacting to these things are just good money management.
As for now, I am willing to take Philip Morris management at their word on growth projections. And their ability to profitably transition the business to reduced-risk products. These assertions also support dividend safety.
So, that concludes my review of the Philip Morris dividend. But our stock analysis would not be complete without touching on valuation. So, let's do that next.
Philip Morris Stock Valuation
Let's judge value in several ways using a dividend discount model.
Philip Morris Dividend Discount Model
Some investors argue that dividends have no impact on the stock price. However, I do not agree with that assertion. So, I use a dividend discount model as one way to gauge the intrinsic value of a stock.
A single-stage dividend discount model (also known as the Gordon Growth model) considers several factors I have discussed thus far.
The current annual dividend payment
Projected dividend growth
My desired annual return on investment
Using these assumptions, the Gordon Growth Model example tells me the stock is trading near its fair value.
Valuation measures can change rapidly. So, consider Simply Investing for up-to-date metrics. Presented in their interactive database. Great for building an monitoring a dividend portfolio.
Next, I will wrap up and conclude today's Philip Morris dividend stock review. With a few words on where I stand with this investment past, present, and future.
My Experience: Looking Back & Looking Forward With Philip Morris Stock
For many years, Philip Morris stock held the second-largest position in my dividend growth stock portfolio.
It was second in size only to Altria, its US counterpart in the tobacco trade. I will admit that is a lot of concentration in tobacco companies at the top of my investment portfolio.
Now, I think about the best practices in money management. Perhaps I should have diversified and sold off part of my position in PM stock.
Just like I am considering today with my now largest dividend stock holding. That being Microsoft stock.
Do I wish I would have sold and reduced my share count at the stock price peak in 2017? Sure, but hindsight is twenty, twenty as the saying goes.
In contrast, I'm a long-term buy-and-hold investor. I like to hold my dividend-paying stocks forever and collect my monthly dividends.
I'm just not a good enough investor. That is to consistently buy at the bottom and sell at the top.
That is one reason why I like holding dividend stocks for the long term. Since dividend growth stock investing makes timing the market unnecessary.
Long-term buy and hold helps smooth out what can be a volatile ride. Just as Philip Morris stock has shown.
Okay. That's all I have. Thanks for humoring me with that discussion.
Sometimes it helps me to just step back and reflect on my investments from a big-picture view. Maybe you can learn a little from what I went through.
That's all. Thanks for visiting!
More Reading About Dividend Investing & Dividend Stocks Like PM
My Favorite Dividend Investing & Personal Finance Resources
Author Bio, Disclosure, & Disclaimer: Please join me (Tom) as I try to achieve my goals, find my next place to live, and make the most of my money. But understand, I am not a licensed investment adviser, financial adviser, real estate agent, or tax professional. I'm a 50-something-year-old guy, CPA, retired finance professional, and part-time business school teacher with 40+ years of DIY investing experience. I'm just here because I enjoy sharing my findings and research on important topics. However, nothing published on this site should be considered individual investment advice, financial guidance, or tax counsel. Because this website's only purpose is general information & entertainment. As a result, neither I nor Dividends Diversify can be held liable for any losses suffered by any party because of the information published on this blog. Finally, all written content is the property of Dividends Diversify LLC. Unauthorized publication elsewhere is strictly prohibited.
I currently own Philip Morris stock and collect the Philip Morris dividend.