Vital Things To Know Before Moving To Sedona, Arizona
If you want to know about the pros and cons of living in Sedona, you have arrived in the right place.
Whether you are considering retiring in Sedona or looking for a stunning location to make a fresh start, this little town has much to offer.
Thus, you will find so much to love about living here. But also plenty to see fault with too.
So, let's go through it before you pack up and move it.
Pros And Cons Of Living In Sedona, Arizona
My top 12 living in Sedona pros and cons include the following:
Amazing scenic beauty
Abundant outdoor activities
Year-round events and festivals
Unique shopping and dining
Nice weather
High cost of living
Limited amenities
Droves of tourists
Congested traffic
Quirky people
Limited job opportunities
Plenty of wildlife
Okay. I'm going to cover each of these opinions and facts about Sedona in just a moment. But first, allow me to answer the big question of the day.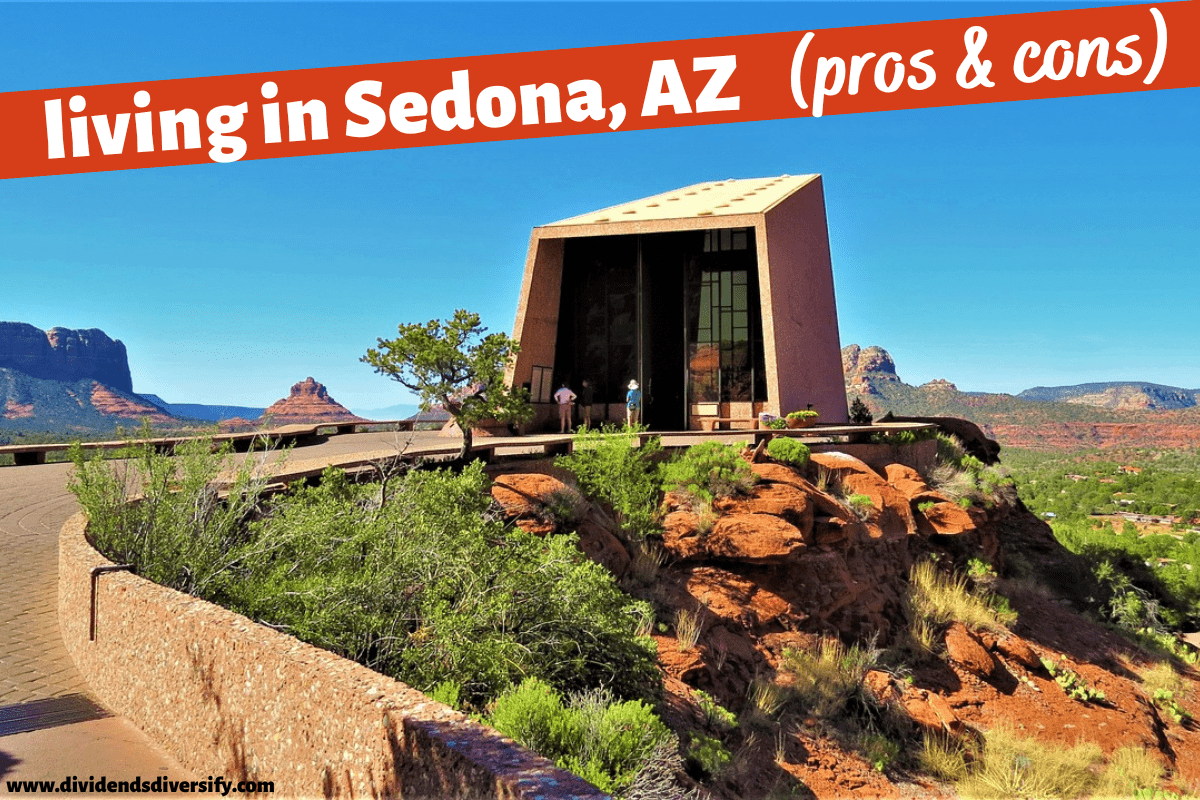 Disclosure: At no cost to you, I may get commissions for purchases made through links in this post.
Is Sedona A Good Place To Live?
Sedona is a great place to live but only for the right person at the right time. Primarily a resort town driven by tourism, residents have unparalleled access to some of nature's greatest wonders. Also, there is a thriving arts community, unique shopping options, abundant dining, and an emphasis on spirituality and wellness.
However, this is a place only perfect for some. So, please allow me to examine all the Sedona pros and cons.
Let's do it.
1. Amazing Scenic Beauty
First, you will find Sedona at the lower end of the spectacular Oak Creek Canyon. Furthermore, the geology of the area is what makes it so beautiful.
For example, red rocks and vivid sandstone monoliths make up the landscape. However, it's not just the shapes, which emerge dramatically from the desert floor, but also their bright red color.
Thus, everywhere you look in Sedona, there are fantastic views.
At dawn and dusk, the rock formations glow with energy. They make everything around them stunning beyond belief.
Furthermore, the area's unique natural beauty leads me to another one of today's benefits of living in Sedona.
2. Abundant Outdoor Activities
Like many places in the western United States, you will have chances to experience the landscape firsthand.
Active Sedona Lifestyle
First, the opportunities for biking and hiking here are excellent. There are trails for every level of fitness.
So, you will likely find a trail close by home that will take you up a winding path to an overlook with an awe-inspiring view. About 400 miles of trails, most in the Coconino National Forest, offer many options off the beaten path.
Guided jeep tours, too, are an excellent option for exploring the area.
Discover The Vortexes After Moving To Sedona
Sedona is known for being a spiritual center point, with several vortexes famous for the energy they emit.
A vortex is an outdoor space with incredible energy for healing, meditation, and self-exploration. After visiting a vortex site, many people feel inspired, uplifted, and recharged.
Slide Rock State Park is located about 7 miles north of Sedona along scenic highway 89A in Oak Creek Canyon. The park is an excellent destination for fishing, short hikes, water recreation, and picnics.
Golfers Love Living In Sedona
You will find some fantastic golf courses in this area. They are great places to enjoy for all of you golf lovers.
For example,
Seven Canyons Golf Club
Oak Creek Country Club
Sedona Golf Resort
Next, let's expand upon the active lifestyle here, leading us to another one of the advantages of living in Sedona.
3. Year-Round Events And Festivals
For fun and entertainment, the perks of living in Sedona include popular year-round events such as the following:
Cinco DeMayo Festival
International Film Festival
Mountain Bike Festival
Piano on the Rocks concert series
Red Rock's Music Festival
St. Patrick's Day Parade
The Festival of Lights
Winefest
The list of events goes on and on. There is something for everyone happening year-round.
Next up, another one of the good reasons to move to Sedona.
4. Unique Shopping And Dining
For anyone who enjoys unique local shopping and dining experiences, Sedona is a great place to live.
For example, many local shops specialize in the following:
Art
Antiques and collectibles
Clothes and fashion
Jewelry, gems, and minerals
Outdoor gear
Sports equipment
The Power Of Crystal Located In Sedona
Most noteworthy, there's a seemingly never-ending supply of crystal stores.
Supposedly, crystal interacts with the body's energy field, creating balance and alignment. And the mineral can be found in Sedona's vortexes. Thus, crystals create an aura for the area, unlike any other place.
Call me crazy, but I have two pieces of crystal on my desk as I write this. What the heck? No matter the source, I can use as much positive energy as possible.
Grabbing A Bite To Eat When Living In Sedona
Finally, there are some fast food and chain restaurants here. But this area is best known for local eateries serving many different types of cuisine.
Thus, you will have various dining-out options after moving to Sedona.
Okay. Last on my list of pros of Sedona living is everyone's favorite topic.
5. Nice Weather
Yes, that favorite topic is of course the weather.
Summer Living In Sedona
It's the desert, so it does get warm in the summer. However, the 4,000-foot elevation makes it much more comfortable than Phoenix, Scottsdale, and other parts of Arizona south of here.
Thus residents experience warm summer days with highs in the 80s and 90s. Evening temperatures cool dramatically, making for perfect patio weather.
Winter Living In Sedona
Winter does get cold, but there aren't many days below freezing. Average high temperatures during the winter months are in the mid-50s, with average lows in the high 20s to low 30s.
Several times a year, a snowstorm rolls in, leaving a dusting of the powdery white stuff. The storm typically leaves the same day, and the snow disappears under the desert sun just as quickly.
Okay. A discussion about moving to Sedona pros and cons would only be complete by addressing some of the not-so-good things about living in Sedona.
Those topics come next.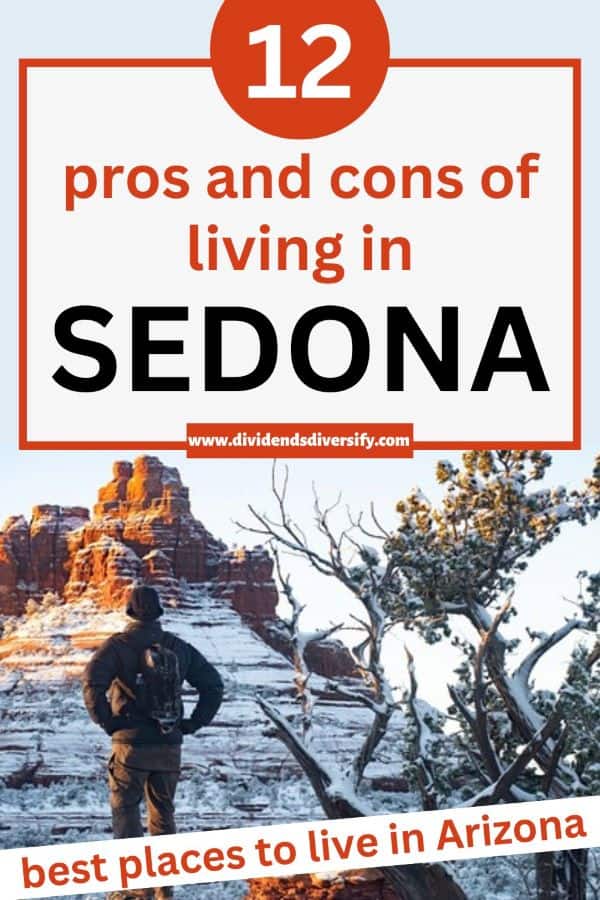 6. High Cost Of Living
The most significant barrier to moving here is the cost of living in Sedona. And within the cost of living, home prices create the most budget problems.
Home Prices When Moving To Sedona
To better understand the situation, I found a local real estate agent who lives and works out of Sedona. What follows are some notes from what she said.
Please note that this information is as of the date of this article. Most importantly, real estate prices can and do change over time. So, use this to get a feel for the market before you start your detailed research.
What A Local Real Estate Living In Sedona Has To Say
First, for comparable homes, prices are 30-35% more than in Phoenix.
You can expect to start looking at $600,000 minimum and go up from there. Homes costing less will have one or more issues. For example,
Very small
Need significant remodeling
Less than desirable location
Yes, you might be able to find a small fixer-upper for $500K. But it will need a lot of work.
As of this writing, home prices are off their peak for now. However, the median home value in Sedona is about $900,000. In case you are wondering, the median value means half the homes in Sedona cost more, and the other half cost less.
Entry-level townhomes start in the $400,000 to $600,000 range and run above $1 million. Long-term rentals have been going for $600 to $3,000 monthly.
Even expensive homes in outstanding locations may be dated and need significant remodeling. Furthermore, some homes do not have air conditioning.
Do these home prices take you out of the market but still have your heart set on Arizona?
Then, check out Prescott living. This north-central Arizona city may represent the perfect compromise.
Now, if the cost of housing has yet to blow your budget, here are a few more reasons not to move to Sedona without having much money.
Other Costs Of Living In Sedona
Groceries are a little higher here.
The area's somewhat isolated nature adds to the transport costs to get them here. As a result, they run 10-20% more than in the Phoenix area. Of course, it depends on where you shop and what you buy.
Tourists (more on them later) increase the demand for and thus run up the cost of restaurant meals, making them reasonably expensive. Plan on $50-100 for two at an average sit-down restaurant.
Home Owners Association (HOA) fees vary greatly, from nothing to extremely high.
So, be sure to inquire about and understand these fees. Then, learn what you must pay and what you are getting for your money.
Property tax rates are decent.
A good rule of thumb is to figure about one-half of a percent of your home's value. But, of course, you will apply that percentage to a high property value. Thus, this expense can also add up quickly.
To sum up, moving to Sedona is a big financial commitment. As a result, get your financial house in order before you move.
To do so, try the free money app from Empower. The tool is excellent for pulling your spending, budget, and investments together in one place online.
With all those high living costs in Sedona, I would like to confidently say, "you get a lot of value for what you pay." But, unfortunately, you don't.
This thought leads me to another one of the reasons not to live in Sedona.
7. Limited Amenities
Suppose you are moving from a large metropolitan area. In that case, you will only find some of the services you may have become accustomed to having.
Please allow me to provide a few examples.
Health Care When Living In Sedona
First, there are only a few doctors in Sedona for anyone with chronic medical conditions. The same goes for when health emergencies come up.
The nearest hospital with an emergency room is Verde Vally Medical Center in Cottonwood, about 30 minutes away.
There is also an excellent hospital in the Arizona city of Flagstaff, roughly an hour away.
Public Transportation After Moving To Sedona
You need a car unless you plan to live, work, and play in a confined area. Unfortunately, Uber or Lyft drivers are rare to find.
However, there are shuttle buses. One, The Sedona Shuttle, services some of the most popular trails.
Another, The Verde Shuttle, is a service of Cottonwood Area Transit, connecting central Cottonwood with West Sedona, Uptown Sedona, and northern portions of state route 179.
This next point is another one of the bad things about living in Sedona.
High-Speed Internet To Manage Your Sedona Lifestyle
The region needs more reliable, fast, high-speed internet service. Fortunately, better solutions are proposed and may be available in the future.
When many tourists are on the network, service slows significantly. Also, occasional stormy weather creates service issues.
Kids, School, And Life In Sedona
For a family with children, the Sedona-Oak Creek Unified School District runs the K-12 programs out of three schools:
West Sedona School
Red Rock Jr. Sr. High School
Red Rock Academy
The district is small and rural, with about 700 total students.
So sure, your kids can get a decent education. But outside of school and the great outdoors, there is little for kids to do here.
Nightlife In Sedona
Next, there is minimal nightlife. And for singles, the dating scene could be better.
The shops and grocery stores close by 9 or 10. So, there are no 24/7 stores and services.
Next, I have another one of the downsides of Sedona living.
8. Droves Of Tourists
You must know up front that you are moving to a popular place with tourists.
According to Aol., about 3 million tourists visit Sedona each year. For perspective, that's an average of 8,219 visitors daily in a town with a permanent population of less than 10,000.
During the peak season from March through May and again in October, there are far more visitors than residents. So be careful where you settle down. Otherwise, you may end up in a neighborhood with short-term rental units and visitors constantly coming and going.
Other issues caused by tourism here to be aware of include the following:
Long waits at restaurants
Lack of parking
Crowded trails
Disrespectful out of towners
Think of it this way. Anything popular gets overrun with people. And this point brings me to another one of the worst things about living in Sedona.
9. Congested Traffic
The roadways can't handle the influx of tourists here. So, they get very congested, much to the ire of locals trying to do their daily business in and around town.
First, you should know there are two main roads to traverse the town, State Routes 89A and 179.
State Route 179 is the only major road bringing autos from Interstate 17 to Sedona. Highway 179 travels north to south through the Village of Oak Creek, arriving at a Y intersection.
At the Y split, 179 becomes 89A heading to either the area known as Uptown or West Sedona. On this road, you can count on slow one-lane traffic.
Drivers need highway 89A to go north to Slide Rock State Park, beautiful Oak Creek Canyon, and Flagstaff. 89A is a narrow 2-lane curvy mountain highway with steep drops.
Aside from the heavy tourist traffic on 89A, the road can become icy and dangerous in the winter.
Next, if the tourists and the traffic congestion they create aren't bad enough, I've got another one of the many negatives about the Sedona lifestyle.
10. Quirky People
Because of its very nature, the town has many unique characters coming and going. Let's take them one by one.
Residents. Most residents are welcoming. But some newcomers say it is difficult meeting people and making friends here.
Long-time residents have established relationships. However, they also hesitate to invest in new friendships because of the transient nature of people coming and going.
Stick around long enough to forge a unique camaraderie with the other permanent locals.
Unconventionals. Because of the Vortexes, Sedona attracts spiritualists. Many have unconventional ideas and ways of thinking about life, things, and people.
Scammers. This environment is ripe for scammers and supposed gurus presenting themselves with special powers to help those in need. But, of course, those powers are only available for a price.
The situation makes a perfect environment for scammers and supposed gurus presenting themselves with special powers. But, of course, those powers are only available for a price!
Homeless. Finally, in select areas, especially during the summer, you will see homeless panhandling for money. Homelessness is certainly not unique to Sedona, but they add to the diverse mix of people in the town.
Here's another one of the cons of living in Sedona.
11. Limited Job Opportunities
Don't plan on moving to Sedona and landing a high-paying professional job.
Yes, there are plenty of jobs in the hospitality and tourism industry. However, those jobs need to pay more income to support a Sedona lifestyle.
Art, music, real estate, and wellness also play significant roles in Sedona's economic engine.
Most people who move here now have plenty of money in the bank, can work a high-paying job remotely, or know how to exist on a low budget.
On a different note, finding reliable electricians, repair people, landscapers, and other skilled or semi-skilled workers is challenging.
Thus, I could see someone coming in and setting up a business in one of these areas and doing quite well.
Finally, I will wind down with my last living in Sedona pros and cons and then wrap up.
12. Plenty Of Wildlife
Human visitors aren't the only ones that enjoy the Sedona lifestyle. So do predatory animals such as coyotes and bobcats.
Also, there are desert pig-like creatures called Javelinas. And, of course, a variety of snakes and spiders to keep you on your toes.
However, you won't be bothered if you stay aware of your surroundings and avoid sneaking up on anyone or anything.
But you need to be watchful if you have small house pets. Some local inhabitants can make them a tasty meal. Thus, keep an eye on your small pets when outside.
Okay. That's it for today.
So, please allow me to wrap up with some final thoughts.
Pros And Cons Of Living In Sedona, Arizona
Sedona is one of the most unique and beautiful locations to live. However, its characteristics are only for some and not for all.
Thus, after determining if you can afford to move to Sedona, I recommend you carefully consider all of the pros and cons before you do.
Finally, if Sedona or the nearby communities, including the Village of Oak Creek, Cottonwood, Rim Rock, and Cornville, don't fit your lifestyle preferences, check out our other:
Guides for Finding Your Perfect Place To Move and Live
Best of luck, no matter what you decide.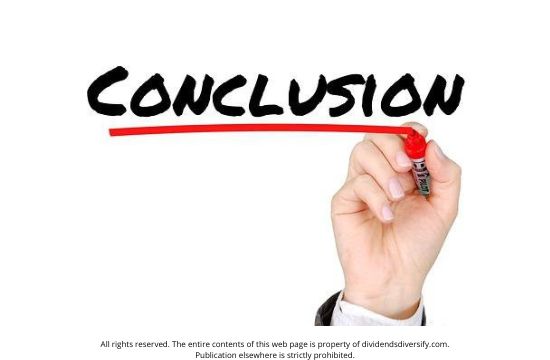 Author Bio, Disclosure, & Disclaimer: Please join me (Tom) as I try to achieve my goals, find my next place to live, and make the most of my money. However, I am not a licensed investment adviser, financial counselor, real estate agent, or tax professional. Instead, I'm a 50-something-year-old, early retired CPA, finance professional, and business school teacher with 40+ years of DIY dividend investing experience. I'm here only to share my thoughts about essential topics for success. As a result, nothing published on this site should be considered individual investment, financial, tax, or real estate advice. This site's only purpose is general information & entertainment. Thus, neither I nor Dividends Diversify can be held liable for losses suffered by any party because of the information published on this website. Finally, all written content is the property of Dividends Diversify LLC. Unauthorized publication elsewhere is strictly prohibited.
The Living In Sedona Pros And Cons Fully Explained