For Anyone Thinking About Moving To Flagstaff, Arizona
Today, I am reviewing the pros and cons of living in Flagstaff, Arizona.
When done, you might conclude this is one of the best places to move, out in one of the best western states for living the good life.
I can't say for sure. That's for you to decide.
So, no delays. Let's get going.
17 Pros And Cons Of Living In Flagstaff, Arizona
If you are wondering about moving to Flagstaff pros and cons, then here they are:
A scenic year-round active lifestyle
Four-season weather patterns
Access to good schools
Everything a college town offers
Plenty of fun things to see and do
Excellent local amenities
Friendly residents
Proximity to so much more
Reasonable income taxes
Sky-high home prices
Expensive cost of living
Remote living
Limited job opportunities
Potential for extreme weather
Issues with diversity
Dangerous critters
Popularity has a price
I will go through each of these opinions and facts about Flagstaff shortly. But first, allow me to address the big question on your mind.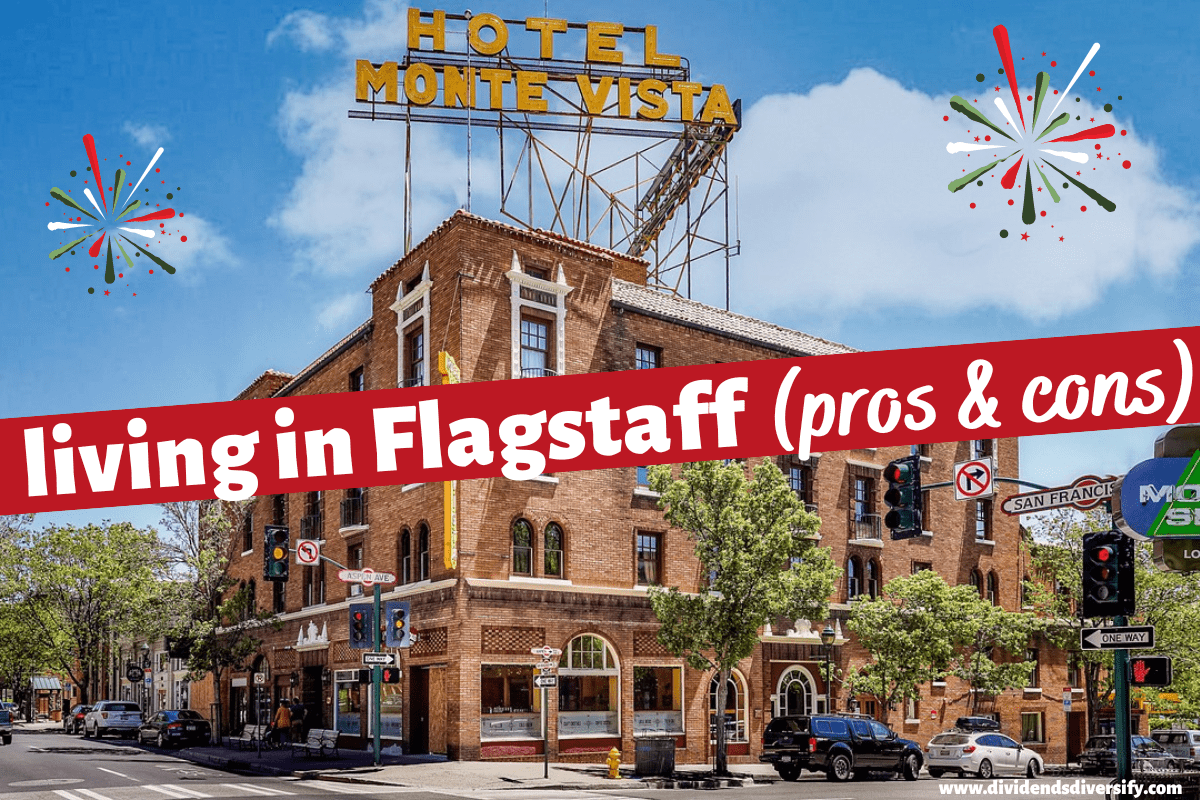 Disclosure: At no cost to you, I may get commissions for purchases made through links in this post.
Is Flagstaff A Good Place To Live?
Flagstaff is an excellent place to live for anyone looking for the charm of a mid-sized mountain town surrounded by Ponderosa Pine forests. Abundant outdoor activities, moderate summer temperatures, good schools, friendly residents, and many local amenities make life here full of simple pleasures. Thus, it's no wonder the city is often ranked as one of the best places to live in America.
However, moving here may only be for some. So, let's carefully examine each of the 17 living in Flagstaff pros and cons right now.
1. Scenic Year-Round Active Lifestyle
For all of you outdoorsy types like me, moving to Flagstaff is a great choice.
Forests And Mountain Living In Flagstaff
First, the city sits at about 7,000 feet above sea level. It is just south of the San Francisco Peaks, the highest mountain range in Arizona.
Humphreys Peak, the highest point in the state at more than 12,000 feet, is about 10 miles north of Flagstaff. The Kachina Peaks Wilderness area is this majestic mountain's home.
As a result, you are choosing to live in a scenic mountain city.
Second, Flagstaff nestles within a giant Ponderosa Pine Forest, the largest in the world. These trees have beautiful reddish-brown bark and give off a lovely vanilla scent.
Thus, the mountains, forests, and scenic terrain provide an immense outdoor playground adding to the many good reasons to move to Flagstaff.
Great Places To Explore The Outdoors After Moving To Flagstaff
You can explore lava river caves in the region. Or fish, boat on, and picnic at nearby Lake Mary.
Arizona Nordic Village is a special place to cross-country ski or snowshoe. While downhill skiers love the Arizona Snowbowl Ski Resort.
Finally, the Flagstaff Urban Trails System (FUTS), pronounced "foots" by the locals, provides quick and convenient outdoor access.
The FUTS is a city-wide network of more than 50 miles of non-motorized pathways. Bicyclists, walkers, hikers, and joggers use the system for their favorite outdoor pursuits.
So, what makes all of this year-round fun possible? Glad you asked.
Allow me to share another one of the benefits of living in Flagstaff.
2. Four-Season Weather Patterns
The weather patterns offer a lot for those who look forward to the changing seasons.
First, the sun shines 250 to 300 days during the year. However, because of the elevation, the area does not experience intense summer heat more typical of the southern parts of the state.
Thus, high summer temperatures reach the mid-80s with little to no humidity. Evenings cool down, making for perfect patio weather.
Next, the onset of fall brings cooler temperatures. And Flagstaff is one of the best places in Arizona to experience brilliant fall leaf colors.
As a result, residents experience crisp mountain air, sunny skies, forested meadows, and aspen groves. These things make the changing leaves a favorite seasonal discovery for visitors and locals alike.
Finally, winter brings cold temperatures and plenty of snow. It is perfect for a white Christmas or for breaking out your skis.
Better yet, sunny winter skies will often melt the snow quickly and, before you know it, usher in the spring season.
3. Access To Good Schools
Next, let's get down to business and discuss educational opportunities for you and your family. Here we find another one of the advantages of living in Flagstaff.
Flagstaff Public School System
Flagstaff Unified School District (FUSD) serves most of the student-age population. The district has more than 9,000 students across 15 comprehensive school sites, including:
Three elementary magnet schools
Four middle school academies
Four high school academies
Also, Northern Arizona Distance Learning is an online program sponsored by FUSD. The core program includes grades 9-12, with remote courses taught by certified instructors.
The city also has several options for families seeking elite educational opportunities, two of which I would like to highlight. They add to the pros of Flagstaff living.
First is BASIS Flagstaff, a tuition-free, public charter school serving students in grades K–12.
BASIS programs are STEM-infused, with a liberal arts concentration. Maximizing each student's potential is at the heart of the curriculum.
Second is Northland Preparatory Academy serving grades 6-12.
The academy is a tuition-free, nationally-ranked public charter school. Most importantly, Northland Prep has established an excellent track record of preparing students for college success.
Continuing Education Opportunities When Living In Flagstaff
After moving to Flagstaff, you will find Coconino Community College (CCC). Thus, local students do not have to go far to continue their education.
The school offers affordable, quality programs for students seeking job skills or beginning a path to a four-year degree. CCC is also ideal for adults seeking to enrich their lives with continuing education.
However, when it comes to higher education, I have another one of the many reasons to live in Flagstaff.
4. Everything A College Town Offers
Don't be surprised after moving to Flagstaff that you will be living in a college town.
Yes, as just discussed, there is CCC. However, I'm now talking about Northern Arizona University (NAU).
NAU is a research university with a large operating budget, nearly 5,000 faculty and staff, and roughly 30,000 students. More than 20,000 of those students attend classes right here in Flagstaff.
Thus, with a permanent population of 80,000 residents, students make up one out of every five for a total of 100,000 people in town during the school year.
Both students and residents benefit from the academics, arts, and collegiate sports that come together at the NAU Flagstaff campus.
Next, beyond the university's activities, here's another of the perks of living in Flagstaff.
5. Plenty Of Fun Things To See And Do
There's never a dull moment after moving to Flagstaff because of all the family-friendly fun things to do.
So, please allow me to offer up several examples.
Bookmans Entertainment Exchange is the largest used book retailer based in Arizona.
Besides books, the store sells magazines, CDs, DVDs, electronics, video games, and musical instruments. It's a fun place to browse and pick up a few items for yourself or gifts for family and friends.
The Flagstaff Aquaplex is a multi-generational recreation center.
The facility offers affordable community fitness and fun for everyone! There are swimming lessons, an indoor climbing wall, open gym time, recreational swimming, and more.
Lowell Observatory is an astronomical observatory established in 1894. The facility is among the oldest observatories in the United States and was designated a National Historic Landmark.
Flagstaff is also an International Dark Skies Community. So, you can star gaze almost every night without needing a telescope.
Other points of interest and places to explore include:
Downtown Flagstaff and visitors center
Wheeler Park
Heritage Square
Museum of Northern Arizona
The Arboretum
Route 66 attractions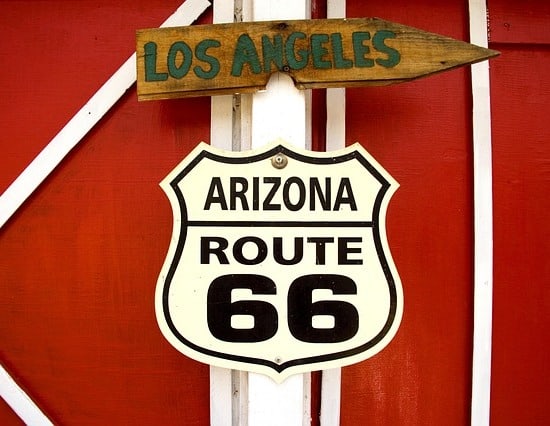 6. Excellent Local Amenities
Are you getting excited about making your move? Well, hold on, partner.
I'm getting on a roll and will highlight more reasons to move to Flagstaff.
Easy Access To The Country Club
Many residents enjoy the Continental Country Club.
The club offers an 18-hole championship golf course, racquet sports, fitness center, swimming pool, and the Bear Paw Recreation Center. Plus, there is the Oakmont Restaurant to fill up after a fun-filled day at your club.
Good Restaurants For Everyone Living In Flagstaff
I don't know about you, but outdoor fun and action can make for a hungry family. Fortunately, Flagstaff living will not disappoint.
There is a nice assortment of restaurants to choose from, offering plenty of variety.
Thus, visitors and residents enjoy a refreshing drink and a good meal. Here are some of the local favorites for dining out or ordering in:
La Fonda for Mexican
NiMarco's Pizza
Fratelli Pizza
Pato Thai
Satchmo's for barbecue
And in case the unthinkable happens, I must throw in another one of the good things about living in Flagstaff.
Access To An Excellent Local Hospital
I hope you never need it; however, it's good to know that the Flagstaff Medical Center is a high-quality regional hospital.
The facility is known for excellent care and specialty services, including:
A noted spine surgery program
Comprehensive behavioral health services
The regions only Level 1 trauma center
Specialized care for cardiac patients
Considering the enjoyable Flagstaff lifestyle, this next point should be no surprise.
7. Friendly Residents
The people in this city are warm, community-minded, and welcoming.
Let me sum it up with a quote from a long-time local:
"I have never seen a city like Flagstaff where everyone is happy and friendly. I have found a place where the most polite and considerate people live together peacefully. Including both young and old alike."
I think that sums up the vibe in this community nicely!
However, I have some additional points to share about the best of life in Flagstaff.
8. Proximity To So Much More
After moving to Flagstaff, you may not want to leave.
But, on the other hand, most people like to get away from time to time, no matter where they live. Fortunately, by choosing to move here, you have options.
First, you will be close to the touristy and artsy town of Sedona.
Enjoy the drive down the switchbacks into Oak Creek Canyon, just 24 miles south. This scenic canyon is considered a smaller version of the Grand Canyon because of its inspiring natural beauty.
Speaking of the Grand Canyon, this national treasure is just one and a half hours away.
For extensive city amenities and professional sports, it's a 2 to 3-hour drive to Phoenix. But, of course, the exact time depends on what part of the city you are traveling to and when.
Lake Powell is about 3 hours due north, just before crossing the border into "The Beehive State" of Utah. The lake region has boating, water sports, beaches, and camping opportunities.
For gambling and exotic entertainment of all sorts, Las Vegas is less than 4 hours away. Or, for a closer and more relaxed experience, try Laughlin.
These entertainment meccas are across the border into the western state of Nevada.
Finally, there is Flagstaff Pulliam Airport.
Currently, American Airlines provides service here. Thus, you can get almost anywhere and back by connecting through American's Dallas-Fort Worth hub in "The Lone Star State" of Texas.
Okay. Yes, it's time for the last of many positives about Flagstaff living.
9. Reasonable Income Taxes
I won't bore you with a long discussion about income taxes. However, it would be best to understand the state tax benefits of moving to Flagstaff or living anywhere in Arizona.
The state's income tax rates historically have been quite reasonable.
However, lawmakers recently changed the tax rules. First, they set up one low flat rate and reduced four tax brackets to one.
As a result, residents pay the government 2.5% of their earnings in income taxes.
Most importantly, everyone's tax situation is unique. So check with your tax advisor when comparing Arizona living with other places.
For example, Arizona's taxes are much lower than the high taxes residents pay in nearby California.
Furthermore, are you planning on moving to Flagstaff for retirement living? If yes, it's essential to know that the state does not tax social security benefits.
Neither does the state levy death taxes. Thus, no estate taxes, inheritance taxes, or gift taxes.
Finally, property tax rates are reasonable too.
Okay. That is enough about taxes. However, your wallet remains squarely in my sites.
So next, let's switch gears to cover the cons of living in Flagstaff.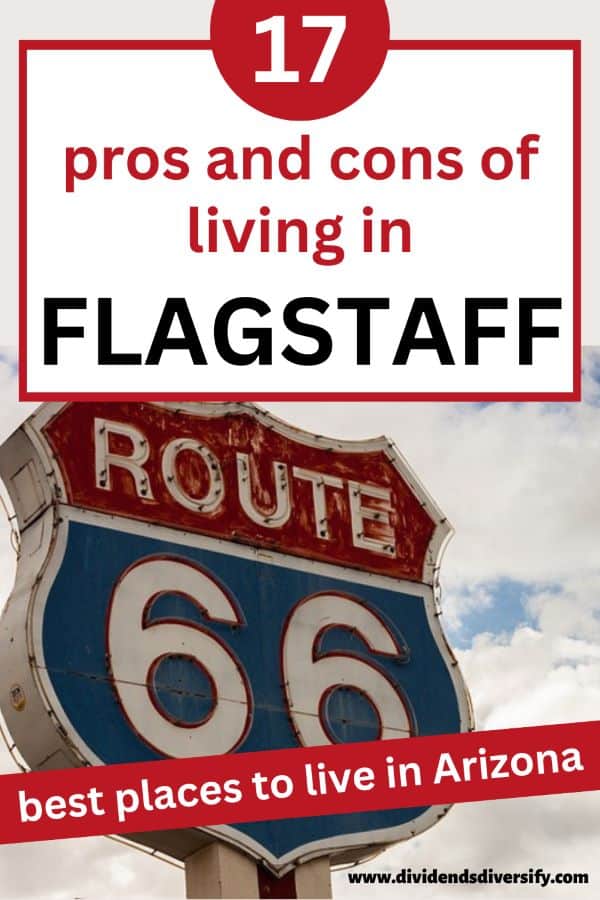 10. Sky High Home Prices
Sit down. Hold onto your hat, or brace yourself.
Unfortunately, my next point about Flagstaff living bursts a lot of people's dreams about moving here.
I'm talking about how expensive homes are in this Arizona city.
As of this article's publishing, average home prices in Flagstaff were more than $600,000. A price much higher than the United States national average.
I spoke with one of my friends to make sense of it, a local real estate agent.
Here is what she said:
First, she said that the demand for housing is high because Flagstaff is a desirable place to live.
During the pandemic, many people residing in California sought to leave their state to escape the high cost of living and high taxes. Thus, they see this city as an excellent place to relocate.
Second, she said the housing supply is constrained because Flagstaff is on a mountain. Thus, there is a limited amount of space for development and building.
As a result, basic economics tells me high demand coupled with limited supply means high prices.
Finally, she said people call looking for houses in the $300,000 range. And yes, homes in that price range become available occasionally.
However, they need a lot of work and remodeling. Yet, buyers still snap them up quickly.
By now, you can see that moving here is a big financial commitment. So, I suggest using the Personal Capital app to pull all your finances together in one place online.
Best of all, Personal Capital is free to sign up for and use. You can learn more about Personal Capital here.
Next, here is another one of the disadvantages of living in Flagstaff.
11. Expensive Cost Of Living
Some other expenses to support your potential Flagstaff lifestyle are high too.
For example, do you want to rent while saving for a house? Then know that the demand from college students pushes rents up to higher-than-normal levels.
Furthermore, groceries, gasoline, and health care costs tend to run high.
Thus, I encourage you to save whenever you can. We use Rakuten's money-back app for all our online purchases. And for a limited time, Rakuten is offering $10 for new members.
You can learn more about Rakuten here.
This next point might be one of the reasons not to move to Flagstaff. It also partly explains some of the high prices I just discussed.
12. Remote Living
First, the city is situated on a mountain in the vast western part of our country. Furthermore, Flagstaff is the first substantial city for miles in any direction.
Thus, the distance to ship goods means prices for items like groceries and gas get inflated.
Yes, Flagstaff has everything you need to support a comfortable lifestyle. But, on the other hand, life can feel a bit isolated outside the city limits.
Finally, for all the reasons we have covered thus far, Flagstaff is considered a destination town. However, there is little going on in northern Arizona compared to more urban areas.
And the same can be said for this next negative about living in Flagstaff.
13. Limited Job Opportunities
There are fewer jobs, career choices, or workplaces to select from here versus other areas of the state and country.
So, suppose you are a banker, consultant, finance professional, or senior business manager. In that case, your job options are limited in this area of Arizona compared to larger metropolitan areas.
Many jobs exist, especially in hospitality, government, health care, and education. However, those types of jobs might be different from what you want.
For reference and perspective, here are some of the major employers located in the area:
City of Flagstaff
Coconino County
Flagstaff Medical Center
Nestle Purina
Northern Arizona Healthcare
Northern Arizona University
W.L. Gore manufacturing
Next, here is another one of the possible reasons not to move to Flagstaff.
14. Potential For Extreme Weather
Residents experience a range of extreme weather and natural disasters.
First, dry conditions and high winds increase the chances of wildfires.
In recent years, some residents have evacuated their homes. Typically, the city's north and far east sides are at the most significant risk.
Then, the monsoon season brings plenty of rain. As a result, rapid runoff and flooding occur, especially in areas where forest fires have taken out vegetation.
Next, on average, the city gets more than 100 inches of snow yearly. Furthermore, extreme winter temperatures frequently fall below zero degrees.
Finally, the air is thin and dry here. And not everyone acclimates well to the high altitude.
Next, I have one of the worst things about living in Flagstaff.
15. Issues With Diversity
In some respects, there is more racial diversity here than in other mid-size U.S cities. Because according to World Population Review, "only" 77% of the population is white.
This may seem like a high percentage. However, white residents in many areas of our country exceed 90%
The remaining Flagstaff residents are mainly native Americans or multiracial. Most noteworthy, you will find very few African Americans and people of Asian descent living here.
Unfortunately, there is a lot of diversity regarding money.
The divide between the wealthy and poor is increasing. As a result, homelessness is a growing problem, as it is in many places in our country.
Thus, it's common to see people panhandling for money on the streets. Especially during the summer because some portion of the homeless population migrates here to avoid the summer heat in southern Arizona.
Next, the beautiful but rugged western landscape we discussed brings me to another one of the bad things about Flagstaff living.
16. Dangerous Critters
If you watch what you are doing and are aware of your surroundings, wildlife presents few problems to residents.
However, snakes, skunks, black bears, and other assorted creatures enjoy living in Flagstaff too.
In particular, rattlesnakes are prevalent in the area. Of course, their bite is deadly. However, they won't bother you unless threatened.
Okay. Last but not least, one more con of your possible Flagstaff lifestyle.
17. Popularity Has A Price
The city is growing and changing with the times. And not everyone that lives here is happy about it.
Some of the complaints from locals include the following:
The high-density upward building includes the construction of University apartments for NAU students. Furthermore, only some residents enjoy the influx of college students each year.
The road infrastructure has yet to grow with the town's increasing traffic congestion. As a result, backups between the traffic lights on main roads such as Milton Road are more common.
Furthermore, visitors coming for ski season add to the traffic problems. And only people appreciate the growing number of year-round tourists and visitors contributing to the economy here.
Okay. That's all I have for you today.
So, please allow me to wrap up with a few final thoughts.
Wrap-Up: Pros And Cons Of Living In Flagstaff, AZ
Hopefully, I have shed light on what it is like to live in Flagstaff. And you are now better armed to answer some essential questions. Such as:
Is Flagstaff a nice place to live?
Should I move to Flagstaff?
Is Flagstaff a good place to retire?
Why live in Flagstaff for college?
Most importantly, good luck. No matter what you decide.
Finally, if this city isn't your perfect place. Then check out my archives of
State and City Life and Living Guides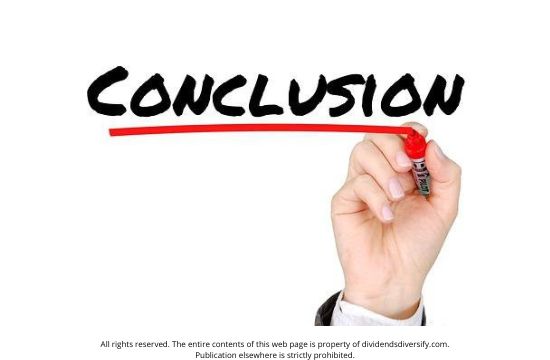 Author Bio: Tom Scott founded the consulting and coaching firm Dividends Diversify, LLC. He leverages his expertise and decades of experience in goal setting, relocation assistance, and investing for long-term wealth to help clients reach their full potential.
Living In Flagstaff Pros And Cons Fully Explained