Vital Things To Know Before Moving To Scottsdale
Are you wondering about the pros and cons of living in Scottsdale, Arizona? If yes, you have come to the right place.
Whether you want to call this city "The West's Most Western Town." Or simply the "Beverly Hills of the Desert." I've covered all the details about living here.
So, let's get to it before you pack up and move it.
Pros And Cons Of Living In Scottsdale, Arizona
My top moving to Scottsdale pros and cons include the following:
A variety of great neighborhoods
Vibrant job market
Good schools
Access to high-quality healthcare
Reasonable state taxes
Plenty of fun things to do
Luxury living
Great winter weather
Oppressive summer heat
Negative impacts from drought
Risk of dust storms
Sky high cost of living
Limited diversity
Lacking public transportation
Snowbirds, tourists, and residents
Critters and bugs
Rapid growth
Okay. Before we go through the Scottsdale pros and cons, please allow me to address the burning question on your mind.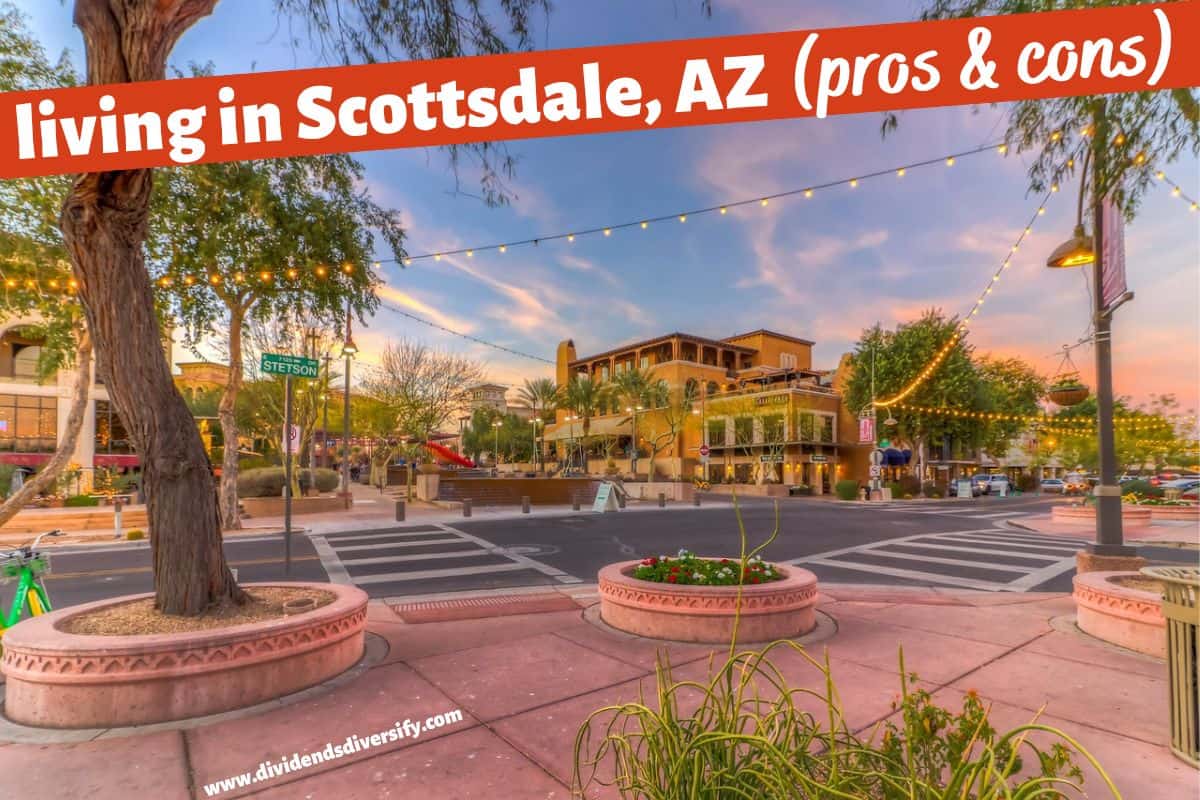 Disclosure: At no cost to you, I may get commissions for purchases made through links in this post.
Is Scottsdale A Good Place To Live?
Scottsdale is an excellent place to live. The city has everything people look for: jobs, schools, access to healthcare, shopping, dining, and scenic views. In addition, residents benefit from a luxury lifestyle second to none after "arriving" in Scottsdale.
However, Scottsdale is one of those cities where people either love it or don't. They feel comfortable and fit in, or they don't.
So, it's more important than ever to carefully examine all the pros and cons of moving to Scottsdale before committing to this city.
Let's get after it.
1. A Variety Of Great Neighborhoods
First, you will be moving to a prominent Phoenix suburb.
From north to south, the city is roughly 45 miles long. And less than 25 miles across in its widest spot. The population is approximately 250,000.
Explore, and you will find various neighborhoods. Each area has a specific style, feel, and vibe. Furthermore, homes get more expensive as you head north within the city limits.
South Scottsdale is more built out and busier. Here you will find Old Town, known for its walkable streets, shopping, clubs, and vibrant nightlife.
While at the other extreme, North Scottsdale has large estates tucked in the mountains and desert landscape. As a result, it's less congested, and some of the roads are long and winding.
Between the two extremes, there are various other neighborhood options. So, the many choices available are part of the benefits of living in Scottsdale.
Select Neighborhoods For Scottsdale Living
So next, let's touch on several communities from south to north. For example,
Arcadia. Near the Phoenix border for easy access to the big city next door.
Shea Corridor. Nestled up against the McDowell Mountains range. Popular with families.
McCormick Ranch. Premium prices because of its location. However, many of the older homes here need updating.
Gainey Ranch. Residential and recreational on the Gainey Ranch Golf Club, offering views of the McDowell Mountains.
Grayhawk comprises two distinct neighborhoods, The Park and The Retreat. There are nearly 3,800 housing units featuring a diverse mix of sizes and styles.
DC Ranch. Popular with singles and middle age professionals. Located northeast of the highway 101 curve.
North Scottsdale. Tucked away, pretty, peaceful, and very expensive.
However, keep this short list of options as a starting point for your search. There are many other neighborhoods and enclaves to explore.
After finding the right neighborhood, the following economic advantages of living in Scottsdale are essential to consider.
2. Vibrant Job Market
Many well-off snowbirds and seniors are enjoying retirement living here in Scottsdale. However, the city has become more than a destination for older residents.
Thus, after moving to Scottsdale, you may be surprised to learn the area attracts young professionals seeking to grow their careers. As a result, there are plenty of options for those of us who need to work for a living.
Most noteworthy, WalletHub compared more than 180 cities in the United States using 32 key indicators of job-market strength.
The result? They concluded the city is one of the best places in the country to find a job.
Several of the more significant employers in and around the area include:
Axon manufacturing
General Dynamics Mission Systems
GoDaddy online services
HonorHealth
Mayo Clinic
Nationwide Insurance
Vanguard financial services
So, you may now have a neighborhood to call home. And a job to support your desired lifestyle.
How about the kids for all of the growing family units out there?
Well, this next point adds to the family-friendly pros of Scottsdale living.
3. Good Schools
Compared to other school districts in Arizona, Scottsdale is highly ranked.
According to Public School Review, the schools here have an average ranking of ten out of ten. The rankings put the community in the top 5% of the state's public schools.
Scottsdale Unified School District (SUSD) runs the K-12 programs.
While the district serves parts of Phoenix, Paradise Valley, Fountain Hills, and Tempe, most schools, numbering nearly 25, are in Scottsdale.
Points of pride include almost 2,000 graduating seniors with a high school graduation rate of over 90%.
Several of the schools receive high rankings from U.S. News and World Report, including the following:
Elementary Schools:
Middle Schools:
Cocopah
Desert Canyon
Mountain Side
High Schools:
Chaparral
Desert Mountain
Saguaro
Okay, that's it for education. However, I have another of the best things about living in Scottsdale.
4. Access To High-Quality Healthcare
First, I hope neither you nor a family member ever needs significant healthcare services. However, if and when you do, know there are some convenient and outstanding options after moving to Scottsdale.
The city has an array of leading healthcare institutions, including the following:
Banner Behavioral Health Hospital
Mayo Clinic
HonorHealth Hospital
Ironwood Cancer and Research Center
Virginia G. Piper Cancer Center
Most noteworthy, the Mayo Clinic is the top-rated Arizona hospital. And its patient care is highly regarded nationwide.
Next, I have another of the many good reasons to move to Scottsdale.
5. Reasonable State Taxes
Fortunately, the income tax burden placed on residents is reasonable. But, of course, the same applies no matter where you decide to live in Arizona.
First, the government recently moved to a flat tax system. The income tax is now one low rate of 2.5%.
Furthermore, the state does not tax earnings from social security. Nor is there an estate tax.
Thus, the tax environment may not be as favorable as living in a no-tax state like nearby Nevada.
However, the income taxes are much lower than in other parts of the west. The Pacific coastal states like Oregon and California come immediately to my mind because of the much higher tax burden placed on residents.
Everyone's tax situation is unique. So, consult a tax expert to understand better your specific tax benefits of moving to Scottsdale.
Okay. We discussed neighborhoods, jobs, schools, healthcare, and taxes. They are essential things to know before packing up and moving to Scottdale.
But there is so much more.
6. Plenty Of Fun Things To Do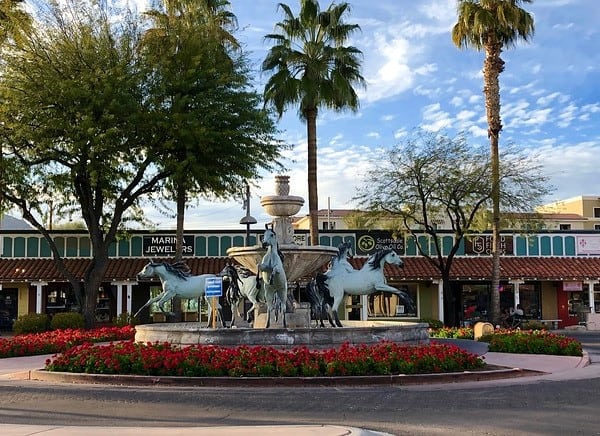 Life is not all about work and school. You and your family deserve to have some fun.
So let's see how this city in the valley of the sun can deliver on those needs.
Outdoor Activities When Living In Scottsdale
Lifestyle, health, and wellness are a big focus here. Thus, residents enjoy getting out and being outdoors.
First, if you love golf, there's no place like Scottsdale.
There are more than 200 golf courses in and around the area. Some are top-notch and world-renowned. However, you can find a place to golf for every skill level.
Other popular pursuits include:
Hiking
Biking
Dog parks
Outdoor dining
However, you won't find any winter sports here. But understand the Arizona mountain town of Flagstaff is just three hours away.
Flagstaff, located at 7,000 feet, gets plenty of snow, providing great options for skiing and enjoying a taste of winter.
Then, at the end of your outdoor day, know more good things about Scottsdale living are available to enjoy.
The Scottsdale Lifestyle Means Nightlife And Entertainment Options
First, for nightlife, Old Town has become a destination for partygoers. People come here to drink, eat, and enjoy the bars and clubs.
Old Town is a great spot, especially for the late-night younger crowd.
Speaking of eating, you will love the options here.
There is excellent food available from award-winning chefs and restaurants. However, there are economical places, too, to fit every budget.
Some other notable annual and ongoing entertainment options include the following:
Arabian horse show
Barrett-Jackson car show
Philharmonic Orchestra
Professional sports in Phoenix
Scottsdale Center for Performing Arts
Spring training baseball
Waste Management golf tournament
Okay. As we continue to examine the positives of living in Scottsdale, no one should argue this next point.
7. Luxury Living
Scottsdale is considered the Beverly Hills of Arizona. It is known for its high-end luxury lifestyle and beauty regardless of whether you live in south, central, or north Scottsdale.
After moving, you will be residing in a location with status.
The city is clean, well-maintained, and simply gorgeous. The homes, neighborhoods, shopping malls, parks, and trails are all pristine.
Thus, the image, reputation, and quality of life in Scottsdale are all very high.
From luxury shopping, upscale dining, wellness spas, gyms, salons, and private gated neighborhoods, moving to Scottsdale means you have arrived!
And for my last of many good reasons to live in Scottdale, I've finally made it to the weather.
8. Great Winter Weather
This city is ideal for anyone looking to escape the harsh winters of northern climates.
Early spring, late fall, and winter boast daily high temperatures ranging from the 60s to 80s degrees. Furthermore, sunshine is abundant, with about 300 days of clear skies each year.
Okay. It's time to switch gears.
An article about the pros AND cons of living in Scottsdale would only be complete by addressing some disadvantages of moving here.
These essential topics are next. And the first few also revolve around the environment, climate, and weather.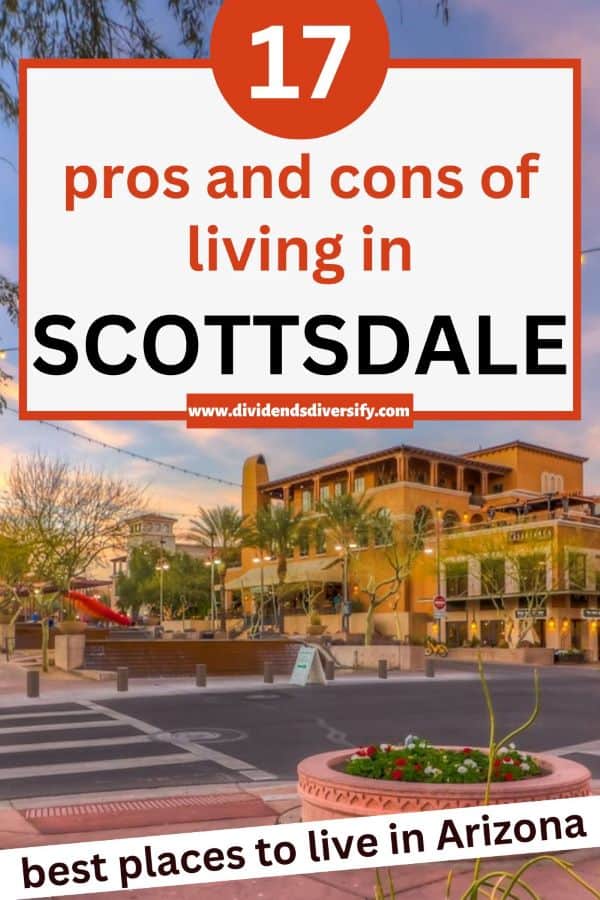 9. Oppressive Summer Heat
First, the summers are brutally hot here. There are days when you step outside and feel like you are walking into an oven.
June through September are the most intense months. During this time, you can expect temperatures as high as 115 degrees on any mid-summer day.
Planning your activities early in the day to get out during this time of year before ten in the morning is ideal.
Next, another point may be one of the worst things about living in Scottsdale.
10. Negative Impacts From Drought
A UCLA-led study found that the past 22 years have been the driest in at least 1,200 years for the southwest. The study termed it a megadrought.
Scottsdale, city officials recently announced they would stop selling water to Maricopa County residents in the Rio Verde Foothills.
No one can predict the weather; however, no rainfall in the coming months or years can rapidly reverse this long-term trend. Thus, mandated conservation policies are likely coming soon.
For some people, this next point is another one of the many reasons not to move to Scottsdale.
11. Risk Of Dust Storms
Dust and sand particulates are in the air because of the desert landscape and dry conditions. Complicated by the thin air, and lack of humidity, breathing can be challenging for anyone with a respiratory illness.
Making matters worse, one to three major dust storms will move into the area during an average year. They come with little warning and can significantly reduce visibility and air quality.
And if the hot, dry weather and drought aren't enough to stop you from moving to Scottsdale, this next point may do the trick.
12. Sky High Cost Of Living
Housing prices have come down off generation highs but are still very costly.
For example, the median home price here is nearly 1 million dollars as of publication. Yes, you read that right, $1,000,000.
The median home value means roughly half the homes have a higher price, and the other half are lower.
So, yes, you can find entry-level homes in the city for $400,000 to $500,000. However, they will be in less than ideal condition and not in the best location. In other words, what you pay is what you get.
Overall, you must know that living in Scottsdale pros and cons means a high price tag for the privilege of moving here. As a result, people get sticker shock for clothing, shopping, activities, and anything they buy or want to do.
These same folks have an idea of what they want before moving. And after digging into the details, they find it costs more than they can afford. So, they walk away disappointed.
You can see that moving here is a big commitment. So, make sure you have your financial house in order. To do so, try the free all-in-one money app from Personal Capital.
Personal Capital, now called Empower, is perfect for pulling your spending, budget, and investments together in one place online.
Next, the high cost of living in Scottsdale leads me to another point on my list of cons.
13. Limited Diversity
Because of the costly nature of living here, many people of lesser economic means get priced out of the market.
Thus, nearly 80% of the population is white, well-educated working professionals and retired seniors. Hispanics and people of Asian descent make up another 15%.
So, suppose you are most comfortable in an environment with extensive racial and ethnic diversity. In that case, the demographics of Scottsdale may not suit you.
Next, you must live, work, and recreate in a confined location to avoid the following downside of Scottsdale living.
14. Lacking Public Transportation
Public transportation is limited. So, you need to own a car, which leads to traffic congestion.
There is heavy commuter traffic on highway 101 because many people work in Scottsdale to support the economy. However, only a minority of these workers can afford to live here.
Valley Metro Rail is close, running from northwest Phoenix through Tempe to east Mesa. However, city administrators are hesitant to allow the expansion of the system here.
As a result, traffic gets heavy during peak times from the locals, commuters, and visitors.
And mentioning visitors brings me to another one of the negatives about the Scottsdale lifestyle.
15. Snowbirds, Tourists, And Residents Too
First, the area attracts snowbirds escaping their winter climates to the north.
Second, the city has become one of the top destinations in the west for tourists.
Even in the dead of summer, Old Town Scottsdale bustles with energy, visitors, and tourists. It's a destination for bachelor and bachelorette parties, girls-only weekends, "bro" parties, and family vacation getaways.
You might be amazed upon learning that nearly 7,000 short-term rentals are available here on top of all the hotels and resorts. So, be careful where you settle down because this Arizona town has a constant influx of tourists and visitors.
Next, I'm not here to judge anyone, but a word about Scottsdale residents is required. Specifically, it takes a specific type of person to fit in and feel comfortable here.
Some outsiders say many people in Scottsdale are rude and full of themselves. Thus, the environment has more sense of self than a sense of community. As a result, the city and its residents have developed an image-conscious reputation.
Thus, earning the nickname "Snobsdale."
After moving, some folks feel uncomfortable, don't fit in, and are happy to leave. Others come and love it.
So, you have to decide for yourself. It reminds me of an exclusive suburb of Indianapolis I've come to know.
As a result, it's a good idea to come and spend some time here before you pack up and move.
Okay. A couple more things to watch out for before here. Then, I will wrap up. I promise!
16. Critters And Bugs
Especially if you move to the less densely populated areas of north Scottsdale, remember you are in a desert environment.
Thus, it's typical to see desert wildlife like snakes and scorpions. Of course, chances are that you won't be bothered, but you never know.
17. Rapid Growth
I always say popularity has a price which makes for the last of my disadvantages of living in Scottsdale.
But unfortunately, even though living in Scottsdale is only for some, it has suffered from rapid growth during the past few years.
Thus, most of the city has been built out. As a result, vacant land is at a premium, and the housing stock is nearly at capacity.
Home prices have skyrocketed, the cost of living in Scottsdale has increased, and traffic congestion has worsened.
Scottsdale's history began as partly a resort area and somewhat a middle-class community. However, much of that has changed with its increasing popularity and growth.
Are the changes for the better or worse? I don't know. That's a question for you to answer.
Specifically, is Scottsdale a good place to live? You can decide.
Okay. That's all I have.
So, please allow me to wrap up with a few parting thoughts.
Pros And Cons Of Living In Scottsdale: Wrap Up
Unlike many places, living in Scottsdale is only for some of us.
First, you have to be able to afford it. Second, you must determine if the community fits your style.
After all, even people with enough money to live in Scottsdale may not care to live in such an image-conscious city.
Don't take this the wrong way because Scottsdale is a beautiful place to settle down. Just remember that living here will only be suitable for some, not all.
And if Scottsdale doesn't suit your tastes, check out all of our:
Guides About Where to Move and Why
Finally, good luck no matter what you decide!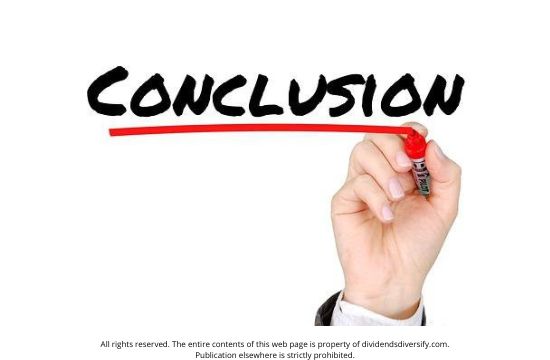 Author Bio: Tom Scott founded the consulting and coaching firm Dividends Diversify, LLC. He leverages his expertise and decades of experience in goal setting, relocation assistance, and investing for long-term wealth to help clients reach their full potential.
The Living In Scottsdale Pros And Cons Fully Explained