Southern Company dividend stock analysis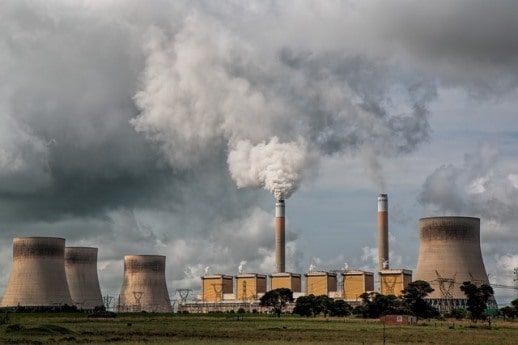 Southern Company is one of the first stocks I bought in 2003 when I started building my dividend stock portfolio.  In addition, it was also one of my recent add on buys during the market correction.  Let's check Southern out with a dividend deep dive.
SOUTHERN COMPANY BACKGROUND
Southern provides energy through:
electric operating companies

natural gas distribution companies

a generation company serving wholesale customers
Furthermore, Southern is recognized as a leading provider of energy solutions with service territories focused in the Southeastern and Mid South United States.  Based on customer count, the company is the second largest utility in America's utility sector.
SOUTHERN COMPANY DIVIDEND YIELD
The Southern Company dividend is currently $2.32 per share.  This represents a 5.3% yield at the recent price of $43.50 per share.
COMPOUND ANNUAL DIVIDEND GROWTH RATE
| | | | |
| --- | --- | --- | --- |
| 1 Year | 3 Years | 5 Years | 7 Years |
|  3.37% |  3.37% |  3.44% |  3.54% |
Dividend growth has been on the low side.   However, it has been very consistent over the last several years.  Also, management usually announces their annual dividend increase during the 2nd quarter of each year.  Look for another 3-4% increase coming our way soon.
BUSINESS RISK
Southern has struggled over the past few years with cost over runs from the construction of two new nuclear power plants (Vogle and Kemper).  Because of the risk related to bringing these plants to completion, the stock market has penalized the company.  As a result, Southern has one of the lower valuations in the regulated utilities sector.
EARNINGS, DIVIDENDS AND PAYOUT RATIO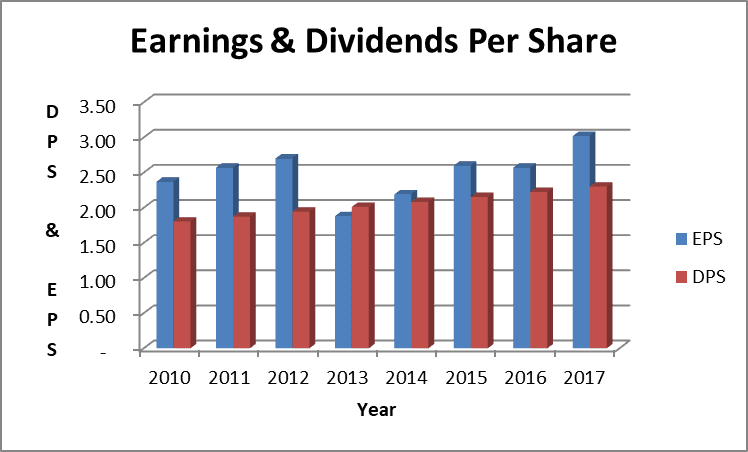 Most noteworthy, the 2017 earnings have been adjusted to exclude the impact of certain legal expenses associated with the Kemper plant construction project.  Hence, the dividend payout ratio has been in the 80% range over the past few years.  This is high, but a higher payout ratio is fairly common for a regulated utility.
And, management's stated objectives on an annual basis are:
Grow earnings 4-6%

Increase the dividend 3-4%
Achieving these two objectives will bring the dividend payout ratio down in coming years.
VALUATION & CONCLUSION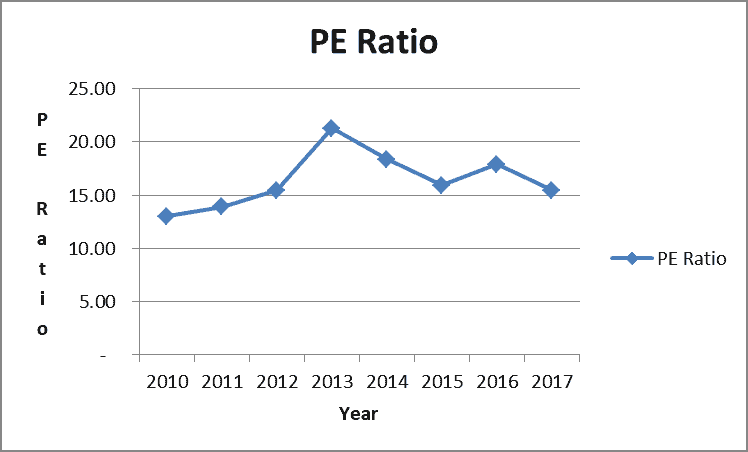 The recent price to earnings ratio is about 15 times making the stock attractively valued compared to other regulated utilities.  While several other stocks in this sector trade closer to 20 times earnings.
Assuming Southern successfully completes the two nuclear plant construction projects, the stock price will likely rise.  This increase will be supported by lower risk which should lead to an increase in the PE ratio.  Investors willing to take on this risk now may be rewarded with a nice combination of current income, income growth and capital appreciation.
I believe the stock represents a reasonable value below $45 per share.  With my recent addition at $43.74 coupled with my existing position built over the past 15 years, I do not intend to buy more shares in the near future.  However, I plan to hold the stock for the long term.
WRAPPING IT UP
Southern is a member of the Dividends Deluxe model portfolio.  If you liked this dividend deep dive be sure to check out some others in the utility sector:
Disclosure & Disclaimer
I am long SO.  Always remember that the information on this site is for educational and entertainment purposes only.  In addition, please do not use this information as investment advice specific to your circumstances.  Consult your personal investment and/or tax advisers prior to investing money.  Do your own research and due diligence.  Please realize you are solely responsible for any investment gains or losses as a result of the investments you enter into.  You can find additional information under this site's disclaimer tab:  Disclaimer & Privacy Policy.