Verizon Dividend Stock Analysis
Verizon is a long time staple of many investors dividend stock portfolios.  Furthermore, the Verizon dividend yield is substantial.  And the stock price has also performed well during recent years.
So join me for a dividend deep dive of this telecommunications giant.  Certainly I will have some thoughts on the Verizon dividend from this valued holding in the Dividends Deluxe model portfolio.
But before we get started, please note that this post includes an affiliate link.
If you sign up with one of my preferred financial resources, I may receive a small sales commission.  These commissions help offset the time and cost of running Dividends Diversify.
COMPANY BACKGROUND
Verizon Communications Inc. (NYSE: VZ) is a holding company that is one of the world's leading providers of communications, information and entertainment products.  They have two segments: Wireless and Wireline.
The Wireless segment provides wireless voice and data services and equipment sales.  They have developed one of the most extensive and reliable wireless networks in the US.
The Wireline segment provides voice, data and video communications products and services.  This includes the following offerings:
Broadband video and data

Corporate networking

Security and managed network

Local and long distance voice    
VERIZON DIVIDEND YIELD
Verizon pays an annual forward dividend of $2.41 cents per share.  As a result, this is a 4% Verizon dividend yield at the recent price of $59 per share.
VERIZON DIVIDEND GROWTH RATE
| | | | |
| --- | --- | --- | --- |
| 1 Year | 3 Years | 5 Years | 7 Years |
| 2.14% | 2.65% | 2.68% | 2.73% |
As illustrated in the chart, dividend growth is slow, but consistent.  Also, the company has increased its dividend for 13 consecutive years.
REVENUE

Although a bit choppy, revenue has grown slowly over the past several years.  Growth in wireless revenue is partially offset by declines in their legacy wireline business.
VERIZON DIVIDEND, EARNINGS AND PAYOUT RATIO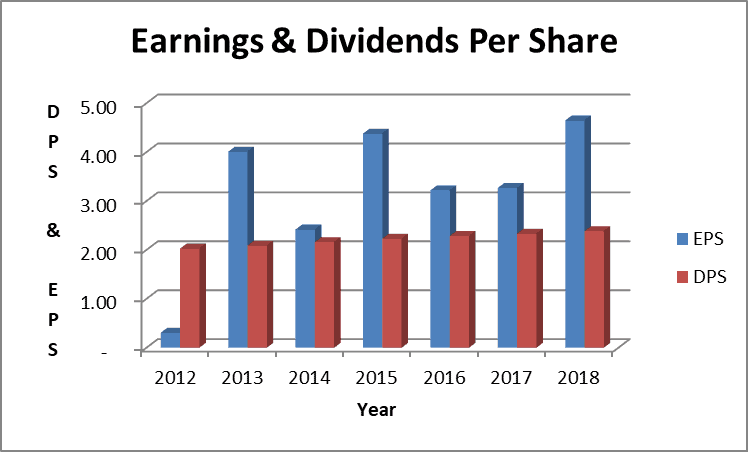 Similar to AT&T, accounting earnings are complex and challenging to interpret.  This is due to significant annual charges for pension related and merger and acquisition costs.  In addition, for comparability purposes, 2017 earnings have been adjusted for the one time impact related to the newly enacted corporate tax law.
The current divided payment is well covered by earnings.  However, Verizon has large ongoing cash outlays to maintain and upgrade its network.  After taking into account these network investments, the dividend has exceeded the company's free cash flow in recent years.  This is not the best of situations as it causes Verizon to take on more debt to fund both capital investments and dividend payments.
A lower dividend payout ratio is generally better.  It shows the company has ample room to raise the dividend in the coming years.  Or, withstand an earnings drop with out having to reduce the dividend.
CREDIT RATING
Knowing a company's credit rating is important.  Furthermore, it is critical when a company needs to borrow money to fund its operations. Finally, a corporation's credit rating is similar to how your personal credit score works.  Most noteworthy, higher ratings mean lower risk to those who lend the company money.  Also, higher ratings mean lenders will likely get their loans paid back.
Certainly, we are not lenders here at Dividends Diversify, we are dividend stock investors.  However, it never hurts to check out a company's credit worthiness.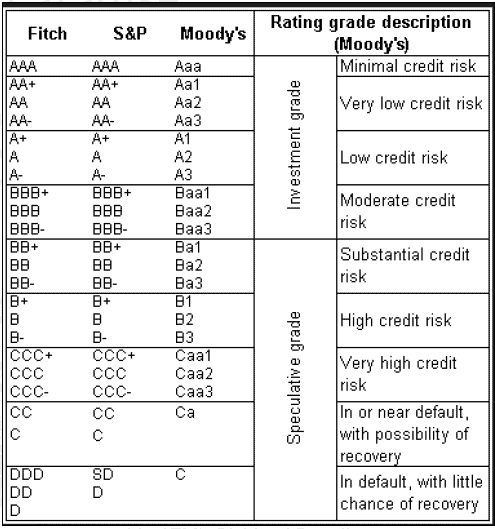 Above all, Verizon has an investment grade, moderate credit risk rating.  The ratings are provided by two of the big rating agencies: Moody's (Baa1) and S&P (BBB+) as indicated in the chart above.
VERIZON STOCK VALUATION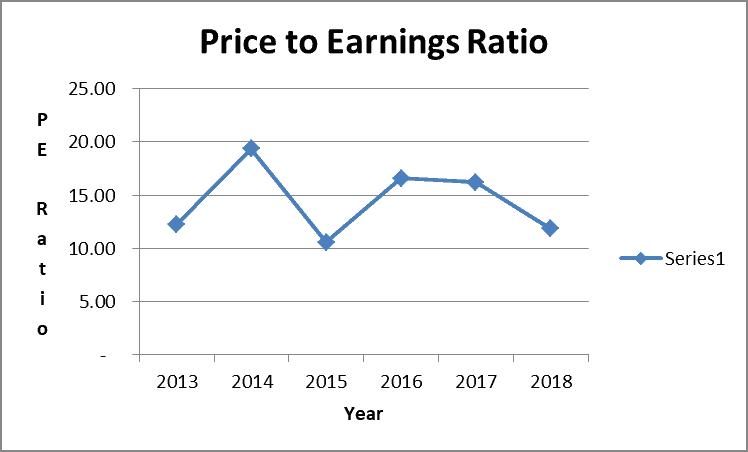 The Verizon stock price has marched steadily higher over the past 18 months.  And it is currently trading near its 52 week high.  However, earnings growth has left the price to earnings ratio at a relatively low 13 times 2018 projected earnings.  A lower price to earnings ratio typically represents a better value for the investor.
VERIZON DIVIDEND ANALYSIS WRAP UP
Verizon stock is not an exciting get rich opportunity.  It offers a substantial dividend yield, slow but steady dividend growth at a reasonable valuation.  I do not believe the Verizon dividend is at risk, but I do not like that the company has been paying out all of its free cash flow in the form of dividends.  It doesn't leave much of a margin of safety or room for future dividend growth.
Verizon is one of my long term holdings dating back to 2003.  It has provided nice income and grown to one of my larger positions.  Given it's size in my portfolio, I will hold for the long term, but do not plan on investing more at this time.  It would take a 5% dividend yield or higher to get me interested in buying again.  That would require a significant drop in the stock price down to $48 per share.
I will repeat what I said at the start.  Verizon is a long time, high income producing staple of many investors dividend stock portfolios.  And I expect it to continue to be just that.
Related:  Cisco stock and dividend analysis
DIVIDEND STOCK INVESTING THROUGH EMPEROR INVESTMENTS
Finally, I know that selecting individual dividend stocks is not for everyone.  That's where Emperor Investments comes in.  Emperor Investments is a robo-advisor that builds dividend stock portfolios for you.
Learn more about Emperor and their outstanding service offering in this Dividends Diversify article:  Emperor Investments: A Robo-Advisor that Builds Dividend Portfolios!
And for a limited time, Emperor is offering your first 6 months free of charge?  You can sign up right here: Sign Up!
WHAT ARE YOUR COMMENTS ON VERIZON STOCK AND THE VERIZON DIVIDEND?
Do you own Verizon stock?  Do you use Verizon services?  I use AT&T for wireless and Comcast for home broadband video and data.  Leave a comment and let us all know!
BE SURE TO SUBSCRIBE
As part of your subscription to Dividends Diversify, you will get 20 wealth building and investment tips free!  In addition, never miss a new post.  I will send a weekly email to all subscribers with a link to the current weeks new content.  Finally, thanks for visiting.
PINTEREST
Are you a Pinterest user?  Then be sure to follow Dividends Diversify on Pinterest by clicking this link:  Pinterest Home Page.  Then click the red follow button.  Thanks for following and be sure to save the pin below for later!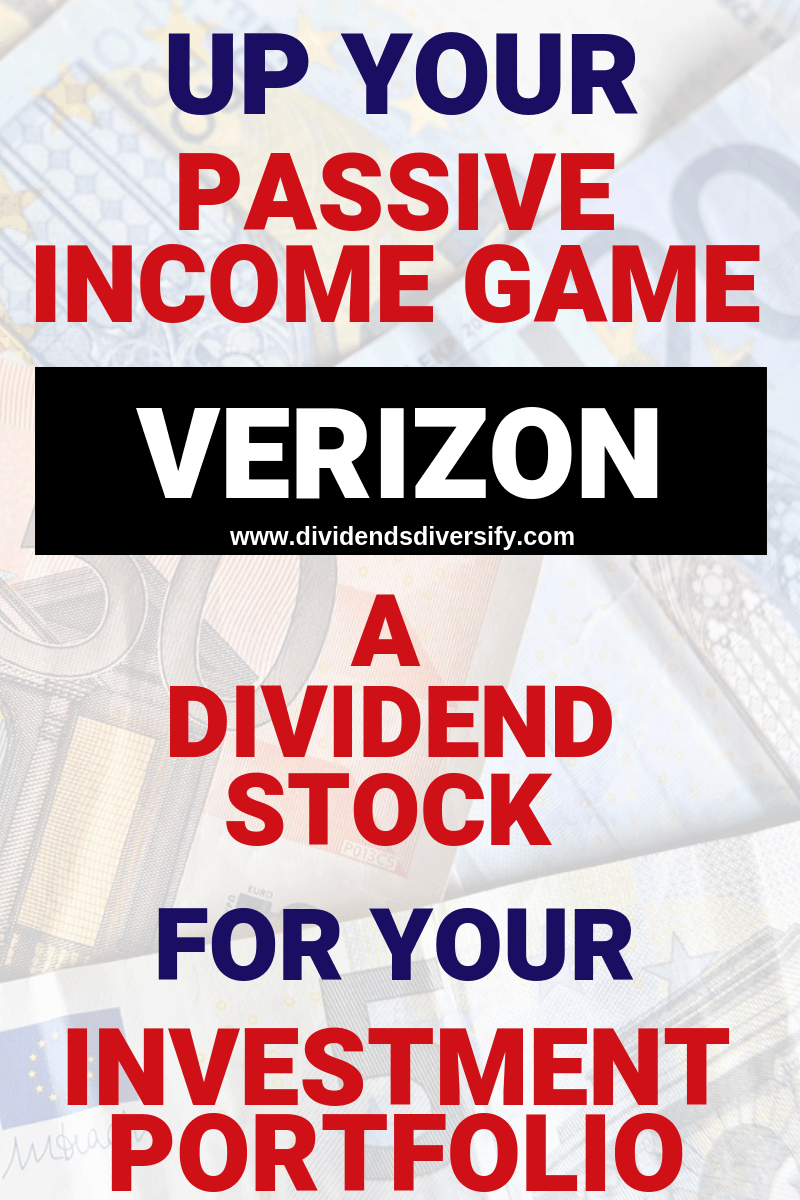 Disclosure & Disclaimer
This article, or any of the articles referenced here, is not intended to be investment advice specific to your personal situation. I am not a licensed investment adviser, and I am not providing you with individual investment advice. The only purpose of this site is information & entertainment. We are not liable for any losses suffered by any party because of information published on this blog. See this site's Disclaimer and Privacy tab for more information.