Verizon Dividends For Generous & Consistent Passive Income
Let's dive into a Verizon stock analysis and Verizon dividend review.
As a long-term shareholder dating back to 2003, I would like to share my thoughts. On Verizon stock, the Verizon dividend yield, dividend growth, dividend safety, and much more. Because Verizon stock is a favorite holding among many dividend stock investors.
I will start with several key takeaways from the Verizon stock dividend analysis. Then work through the details. To support my conclusions.
Let's get started…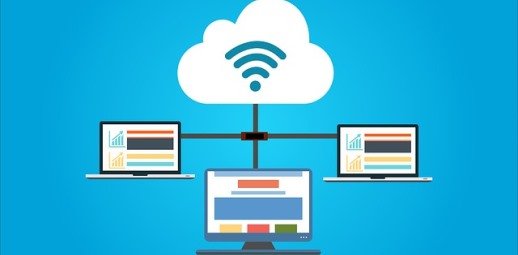 Disclosure: At no cost to you, I may get commissions for purchases made through links in this post.
Verizon Stock Dividend Review: Key Takeaways
1. Verizon is a long-time staple in many dividend stock portfolios since its formation in 2000.
2. It traditionally offers a high dividend yield. Often more than 5%. Although, it has not recently been that high.
3. I expect dividend growth to remain low, but consistent at 2% annually. Most importantly, the dividend appears to have a high degree of safety from a possible reduction.
4. Verizon stock appears to be fully valued at recent prices. Perhaps slightly undervalued. And the stock appears suitable for initial or add-on buys on price pull-backs. For a long-term buy and hold dividend stock investor.
More Dividend Stock Reviews
Before you go, don't forget to check out the Dividends Deluxe model dividend stock portfolio. It is full of 40 dividend growth stocks including Verizon.
Each stock is linked to its most recent dividend stock analysis. Where I get to the facts, risks, and opportunities for each company's stock and dividend.
So, if Verizon stock is not for you, I'm sure you can find another dividend stock that meets your interests. After all, it's important to invest and manage your money wisely.
But now, let's get on with our review of Verizon, Verizon stock, and the Verizon dividend.
Verizon Company Background
Verizon Communications Inc. (NYSE: VZ) is a holding company. Their portfolio of investments assets and services makes them one of the world's leading providers of communications, information, and entertainment products.
They have two primary business services:
First of all, the company provides these services to both businesses and consumers. Furthermore, they have reorganized operations and financial reporting around the business and consumer segments. Finally, the consumer segment makes up most of Verizon's revenues.
Verizon Wireless
The wireless business includes voice, data, and equipment services.  Furthermore, the company has developed one of the most extensive and reliable wireless networks in the US. Finally, wireless has the greatest profit as compared to Verizon wireline.
Verizon Wireline
Wireline provides voice, data, and video communications products and services. These offerings include:
Broadband video and data
Corporate networking
Security and managed network
Local and long-distance voice
Verizon Business Strategy

Verizon invests heavily in its traditional telecommunications businesses. In contrast, its major competitor AT&T has focused on growing into other areas. AT&T has done this through acquisitions of DirecTV and Time Warner.
Verizon Telecom Investments
On the other hand, Verizon's portfolio of investments has allowed it to build and own the largest wireless network in the U.S. In addition, Verizon is pushing forward with the following initiatives:
Improving its telecom business
Expanding its fiber optics network
Implementing 5G technology
AT&T and Verizon are in a race to roll out 5G. However, each company has a different strategy for its rollouts.
It appears that Verizon is taking the lead in 5G. Making their technology available to customers in their consumer segment. This may open up new growth possibilities.
Verizon Media Investments
Finally, like AT&T, Verizon has also invested in the media business. They acquired AOL for $3.8 billion in 2015 and spent $4.5 billion to buy Yahoo in 2017.
These two businesses have been merged to form Verizon Media Group. It is an online content and advertising technology firm.
The media group is the smallest of the 3 segments at Verizon after the consumer and business groups. And makes up just a fraction of total revenues.
Verizon Stock Symbol: VZ
Last, but not least, to complete the Verizon business overview. Verizon stock trades on the New York Stock Exchange.
It operates using the stock symbol VZ (NYSE: VZ).
Be sure to buy and sell all of your dividend stocks for free. I do so using the Webull app. It's fast and easy to use. And has great research capabilities. You can learn more about Webull here.
Next, I will kick off the Verizon dividend review portion of the stock analysis with the answer to an obvious question…
Does Verizon Stock Pay Dividends?
Yes. Of course Verizon stock pays dividends. I only own and review stocks that do so. Here at Dividends Diversify.
So, next, let's move onto the important stuff for dividend growth stock investors. That being all of the facts and figures about the VZ dividend and its prospects for the future.
Verizon Dividend Payout
How much is the Verizon dividend? The company pays an annual forward dividend of $2.56 per share.
The forward dividend per share is the most recent dividend approved. Multiplied by the number of times the company pays dividends each year.
Verizon Dividend Yield
This payout results in a 4.6% Verizon dividend yield at the recent Verizon stock price.
In early 2018, Verizon's dividend yield was more than 5%. But a dividend investor knows that dividend yields have an inverse relationship to a company's stock price.
The stock made a move up. And took the dividend yield down as the stock price went higher.
Verizon's dividend yield falls right in my preferred range. Between 3-5%. With a yield in that range, I also want to count on the stock for annual dividend growth too.
We will get to Verizon's dividend growth rate in a moment. But first, a few more facts about the dividend.
How Often Does Verizon Pay Dividends?
Verizon rewards shareholders with dividends every 3 months or 4 times per year. Each quarterly dividend payment is one-fourth of the annual rate.
Verizon is one of many quarterly dividend stocks. And follows a dividend payment pattern similar to a lot of U.S.-based dividend-paying companies.
When Does Verizon Pay Dividends?
Verizon pays dividends in these months: February, May, August, and November. During these months, the Verizon dividend is paid on the first business day.
So, as a shareholder, you can start those months out on a positive note. And receive regular cash dividends from Verizon.
Verizon Ex-Dividend Date
As a potential new shareholder, or one looking to make an add-on buy, you may want to receive the next Verizon dividend payout. To do so, you must complete your investment before the ex-dividend date.
Verizon's ex-dividend date falls in the month PRIOR to when it pays dividends. Ex-dividend typically falls on or around the 9th day of the month.
Be sure to check Verizon's regular schedule of dividend payments on its website. To get the exact date each quarter if it is important to you.
Otherwise, just buy and hold your stock. And you will receive your share of the Verizon dividends each time the company pays them.
Verizon Dividend History
Verizon was created on June 30, 2000, as a result of the merger between Bell Atlantic Corp. and GTE Corp.
As we know, the company pays a quarterly cash dividend. And has done so ever since it was formed. Furthermore, Verizon has increased its dividend once each year starting in 2007.
Verizon Stock Is A Dividend Achiever
What does this number of consecutive annual dividend increases mean? It means Verizon is a dividend achiever.
A Dividend Achiever is a company on record for increasing dividends every year. For at least 10 years in a row.
These dividend stocks are so popular, that there is a stock market index that follows Dividend Achievers. And exchange-traded funds that seek to mimic the results of that index.
Now, as promised, let's discuss Verizon's dividend growth.
Verizon Dividend Growth Rate
It's clear the company has established a nice history of increasing dividends.
On the other hand, dividend growth has been relatively modest. Lower than I like for a good dividend stock with just a 4+% dividend yield. You can see this in the table below.
Table 1: VZ Compound Annual Dividend Growth Rate
| | | | |
| --- | --- | --- | --- |
| 1 Year | 3 Years | 5 Years | 7 Years |
| 2.1% | 2.1% | 2.2% | 2.5% |
Next VZ Dividend Increase
I do not expect the next dividend increase to be much different. Management will likely increase the dividend by another 2.0%.
Verizon Dividend Policy
Verizon's dividends are part of capital allocation decisions according to the company. This was presented as part of a recent investor meeting.
According to management, the priorities for cash are:
Invest in the business
Commitment to the dividend
Support a strong balance sheet
Share repurchases
Specific to the dividend, the company stated it is "positioned to support further consistent dividend increases".
Based on Verizon's strong dividend history and its capital allocation policy I can interpret their dividend policy. Even though it is not explicitly stated. These are my words. Not Verizon's…
Pay regular quarterly cash dividends. And increase those dividends annually by a consistent amount while maintaining a strong balance sheet.
So, I think we can count on the dividend payments. As part of Verizon's investment returns.
Next, let's look at some of the business fundamentals. They should support this capital allocation and dividend policy.
Verizon Revenue Trend
Verizon's revenue has run in a stable range over the past several years. As shown in Chart 1.
Chart 1: Verizon 7-Year Revenue Trend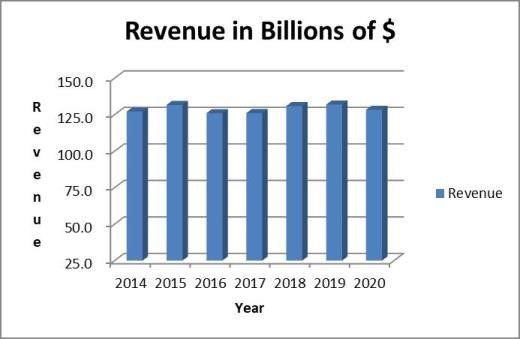 Growth in wireless revenue is mostly offset by declines in the legacy wireline business.
Verizon Dividend Payout Ratio Based On Earnings
Note that for comparability purposes, 2017 earnings in the chart below have been normalized for the one-time impact related to the tax cut and jobs act.
Chart 2: Verizon Dividends And Earnings Per Share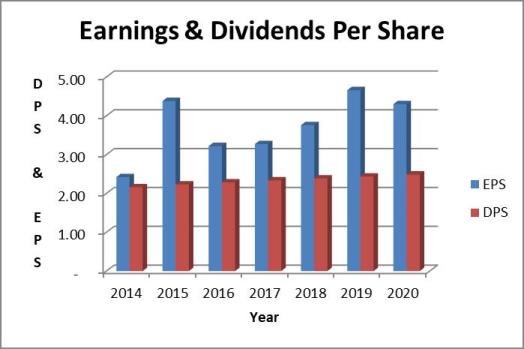 Verizon Earnings Per Share
Verizon's accounting earnings can be volatile. This is due to significant annual charges for pension-related expenses and merger and acquisition costs.
Also, it is important to note that the wireless segment accounts for virtually all of Verizon's profits. Fortunately, Verizon has divested much of the wireline business over the past decade.
Verizon Dividend Payout Ratio
The current Verizon dividend stock payments are well covered by earnings. They have averaged less than 63% over the past 2 years.
A lower dividend payout ratio is generally better. It shows the company has ample room to raise its dividend in the coming years. Or, withstand an earnings drop without having to reduce its dividend.
However, Verizon has large ongoing cash outlays to maintain and upgrade its network. So, I like to check the dividend payments against free cash flow. Since dividends are paid from the cash left over after a company pays for its capital expenditures.
Verizon Free Cash Flow
By reviewing the chart below, it's clear that Verizon generates ample free cash flow to cover its dividend payments.
This is very important. For those of us desiring to profit from dividends long term.
Table 3: Verizon Dividends And Cash Flows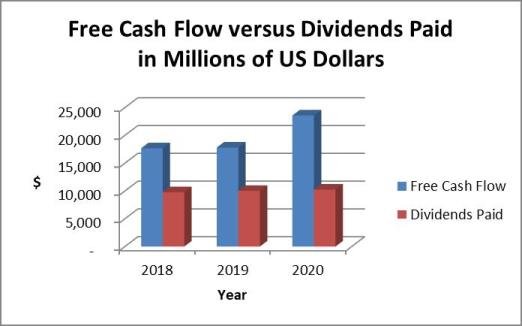 The Verizon dividend has consumed about 50% of free cash flow over the past 3 years. Verizon usually allocates its remaining cash to debt reduction.
Except for 2020 where additional debt was used to increase the company's cash position. In advance of the 2021 5G spectrum auction. Where Verizon was a big purchaser.
So, the company is operating within its capital allocation policy. And making heavy investments into infrastructure and the future of 5G networking.
Verizon Projected Dividend Growth Rate
For income planning purposes, I make a dividend growth forecast for each of my dividend stocks.
I use a number of the metrics and the dividend investing information discussed in this article. Specifically, historical dividend growth rates, dividend payout ratios, dividend policy, and business fundamentals.
In the case of Verizon's projected dividend growth, I believe the future will be much like the past. I am forecasting a 2% annual Verizon dividend growth rate.
Let's look at the company's financial position next. Then we can make an assessment of Verizon's dividend safety.
Since picking dividend stocks with strong financial positions and safe dividends is critical.
Verizon Credit Rating
Knowing a company's credit rating is important. A solid credit rating is a must if a company needs to borrow money to fund its operations at a reasonable interest rate.
A corporation's credit rating is similar to how your personal credit score works. On a side note, it's important to keep an eye on your personal credit score.
I check mine for free using Credit Karma. You can learn more about Credit Karma here.
But back to corporate credit. Higher ratings mean lower risk to those who lend the company money.
Verizon has an investment grade, moderate credit risk rating. The ratings are provided by two of the big rating agencies: Moody's (Baa1) and S&P (BBB+) as indicated in the table below.
Table 2: Credit Rating Evaluation Grid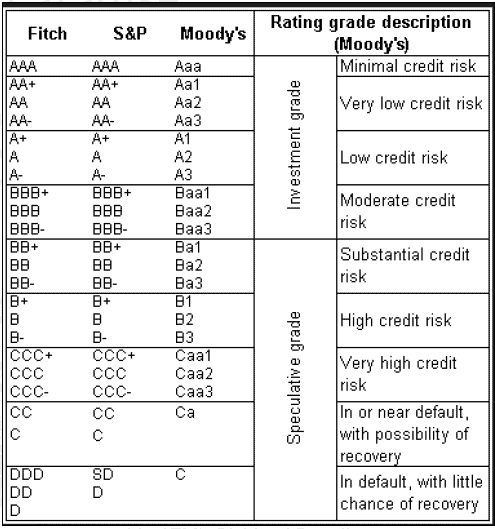 A solid dividend-paying company usually has investment-grade ratings. And, Verizon is no exception.
However, Verizon's ratings are at the lower end of the investment-grade scale.
Verizon Debt To Equity Ratio
The moderate risk credit rating most likely reflects Verizon's high debt load. Debt to equity is running at 2.2 to 1. This is significantly higher than Verizon's competitor AT&T.
Verizon's debt level bears watching as we move forward. However, Verizon's business model is very stable.
Business stability and consistent cash flow generation mitigate my concerns about higher debt. As it specifically relates to dividend payments.
Verizon Dividend Safety
Let's answer an all-important question for a dividend stock investor. Is the Verizon dividend safe?
I look at a number of factors to form an opinion on Verizon's dividend safety. Those factors include:
Dividend payout ratios
Historical dividend track record
Free cash flow generation
Financial position & credit ratings
Business strategy & overall business health
When available, I also review the dividend safety score from Utility Forecaster. It is an investment newsletter primarily focused on dividends from the utility, energy, and telecommunications sectors.
According to Utility Forecast, Verizon scores a dividend safety score of 6 out of a possible 8. This is a very high score. Few stocks that Utility Forecaster covers receive a dividend safety score greater than 7.
Based on my review, I judge Verizon's dividend to be very safe from a reduction for the foreseeable future.
Verizon Stock Valuation
As a dividend stock investor, stock valuation is an important consideration. On the other hand, you can't always wait for a stock to go on sale when building out a dividend stock portfolio.
Also, a highly attractive valuation may not be as important if you dollar cost average into your dividend stock positions. And have a goal to buy and hold for the long term.
Regardless, our Verizon stock analysis would not be complete without addressing the stock's valuation. So, let's judge the value of Verizon stock in several different ways to draw a conclusion.
To do so, I will use the following methods and sources:
Dividend discount model
Morningstar fair value estimate
Personal Finance investment newsletter buy target
Utility Forecaster investment newsletter buy target
Price to earnings ratio
Verizon Dividend Discount Model
The single-stage dividend discount model considers several factors we have covered thus far:
The current annual dividend payment
Projected dividend growth
Also, my desired annual return on investment. It is 9%.
Using these assumptions, the dividend discount indicates the stock is overvalued.
Morningstar Fair Value Estimate
The investment analysis firm, Morningstar, believes Verizon stock to be fairly valued at $57 per share.
Source: Morningstar
Personal Finance Investment Newsletter
The long-time investment newsletter, Personal Finance, places a buy target of $60 per share or less.
Utility Forecaster Investment Newsletter
Utility Forecaster places a buy target on Verizon stock at $60 per share or less.
Verizon Stock Price To Earnings Ratio
The Verizon stock price marched steadily higher during late 2018 and into 2019. But stalled out more recently.
Earnings growth has left the price-to-earnings ratio at a relatively modest 13 times 2020 earnings.
It is not uncommon for a steady but slower growth company like Verizon to trade at a low PE ratio. A lower price-to-earnings ratio typically represents a better value for the investor.
Let's summarize. What do all of these valuation measures tell us about the price of Verizon stock?
Is Verizon Stock A Good Buy Now?
All of the external valuation sources I have referenced rate Verizon stock slightly below its fair value or target buy price.
On the other hand, the dividend discount model sees Verizon stock as significantly overvalued.
The dividend discount model places more emphasis on dividend payout and dividend growth. And, Verizon's dividend growth forecast is nothing to get excited about from my perspective. Especially considering the stock has a moderate dividend yield of just 4+%.
To me, Verizon stock does not look overly attractive. At recent prices. Neither significantly overvalued. Nor a screaming stock to buy.
Let's wrap up this Verizon stock analysis. We will do so with the answer to another important question.
Is Verizon A Good Dividend Stock?
Since so many dividend stock investors hold Verizon. Is it one of the best stocks for dividends? Here are my thoughts…
Verizon stock is not an exciting get-rich opportunity. However, Verizon does offer a decent dividend yield. And, slow but steady dividend growth at a reasonable valuation.
Furthermore, the Verizon dividend appears safe from a potential reduction. It is well covered by earnings and cash flow.
Finally, an investment opportunity in Verizon is one way to have a stake in the growth possibilities of 5G networking.
My Path Forward With Verizon Stock
Verizon is one of my long-term holdings dating back to the initial purchase in 2003. It has provided a nice passive dividend income stream.
Furthermore, this dividend stock investment has slowly grown into one of my larger positions. Through a combination of price appreciation, add-on purchases, and dividend reinvestment.
Given its larger size in my portfolio, I do not plan on investing more in Verizon stock at this time. It would take a 5% dividend yield or higher to get me interested in making a purchase.
A 5% dividend yield would require a modest drop in the stock price. So, I would look to add to my Verizon stock holdings at $51 per share or less.
For an investor looking to initiate a position or add to a small position, price dips into the low $50s per share look like a reasonable entry point. For a long-term buy and hold dividend stock investment.
To close, I will repeat what I said at the beginning of this article.  Verizon is a long-time, high-income producing core holding of many investor's dividend stock portfolios.
And I expect Verizon stock to continue to be just that. Even as we weighed the pros and cons of company dividends.
Further Reading About Dividend Stocks Like Verizon and AT&T
My Favorite Dividend Investing And Finance Resources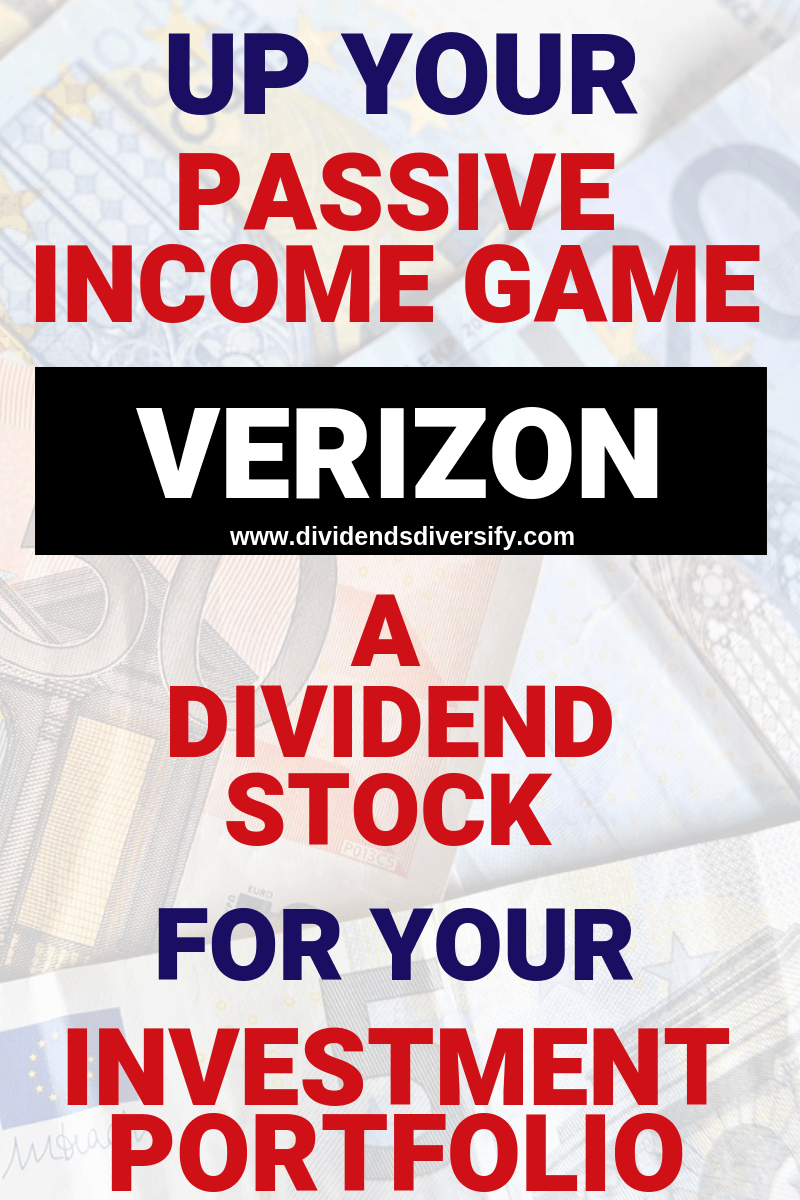 Disclosure & Disclaimer: I am not a licensed investment adviser, financial adviser, or tax professional. And I am not providing you with individual investment advice, financial guidance, or tax counsel. Furthermore, this website's only purpose is information & entertainment. And we are not liable for any losses suffered by any party because of information published on this blog.
I own Verizon stock and collect the Verizon dividend.