Let's check in on the WBA dividend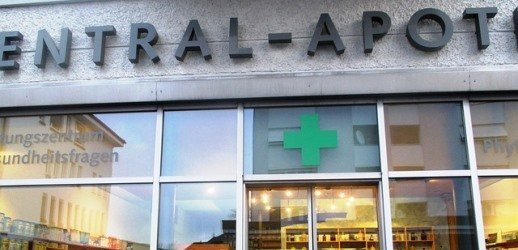 And work through a WBA dividend stock analysis today.
I want to see what has been going on with the dividend of this well known retail pharmacy chain.
Walgreens is also known by its New York Stock Exchange symbol "WBA".
That stands for the company's full name, Walgreens Boots Alliance. Furthermore, Walgreens is one of my long-time dividend stock holdings.
Related: All dividend stocks covered by Dividends Diversify
Walgreens – Company Background
WBA is the first global pharmacy-led, health and well-being enterprise. Their purpose is to help people across the world lead healthier and happier lives.
First of all, in the United States, they operate under the name brands Walgreens and Duane Reade. This combination represents the largest US-based retail pharmacy business.
Furthermore, its international retail pharmacy division operates mainly in Europe and Asia. They are a market leader in Europe operating under the Boots and Alliance Healthcare brand.
Finally, WBA's Pharmaceutical Wholesale Division supplies medicines and other health care products and services. They sell to pharmacies, doctors, health centers and hospitals.
Source: About Walgreens Boots Alliance
Revenue by these major business segments is broken down in the chart below. It is easy to see that the US Retail Pharmacy business is by far the largest component of Walgreen's business.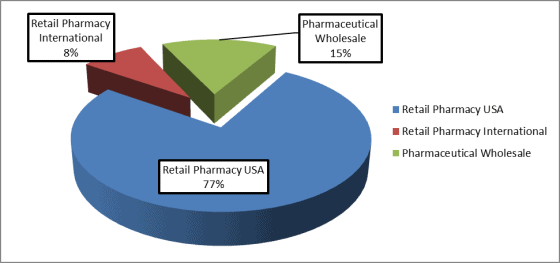 Walgreens – Growth Strategy
Walgreens is pursuing 4 main strategic priorities to grow its businesses:
Accelerating digitalization
Transforming & restructuring retail offerings
Creating neighborhood health destinations
Reducing expenses through a cost management program
Resource: WBA heavy focus on digitalization to save $600 million
Walgreens – Business Risks
However, WBA is operating in a challenging environment.
Major pharmacy customers include drug benefit plan payers, pharmacy benefits managers, and governmental entities. These customers have a great scale. They demand pricing concessions in exchange for buying large quantities of WBA's products and services.
Also, competition in the front section of stores for non-pharmaceutical products, consumer goods, and the sale of food and beverage items is fierce.
This competition comes from the likes of Walmart and other mass grocery stores.
Related: Walmart stock and dividend analysis
Finally, we have the Amazon effect. Aren't they taking over the entire world as we know it? And taking market share from the likes of Walgreens.
WBA is trying to offset these headwinds with consolidation and cost savings efforts of its own. And gaining scale through the acquisitions we have discussed.
WBA Dividend Yield
The WBA forward dividend payout is $1.83 per share. At the recent WBA stock price, investors are rewarded with a 3.4% WBA dividend yield.
WBA Dividend Growth
| | | | |
| --- | --- | --- | --- |
| 1 Year | 3 Years | 5 Years | 7 Years |
| 9.0% | 6.8% | 6.8% | 9.4% |
As noted in the table above, past dividend growth has been substantial.
However, WBA disappointed investors with just a 4% dividend increase to close out 2019 and heading into 2020.
Consecutive Years Of Dividend Increases
On a more positive note, WBA has a nice long streak of annual dividend increases.
The most recent dividend increase marked its 44th consecutive. This streak takes into account dividend increases by its predecessor, Walgreens.
6 more years and Walgreens will be a Dividend King like Coca Cola and others.
Walgreens Revenue Trend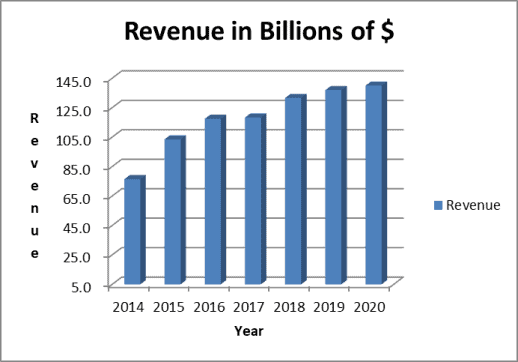 Revenue growth has been strong over the past 7 years. Sales have roughly doubled during this time.
Growth has primarily come through acquisitions. The purchase of the UK and Switzerland based Boots Alliance was completed in the fiscal year 2015. Walgreens then added half of the Rite Aid store fleet through acquisition in 2018.
These big acquisitions are now in the past. And, coupled with a difficult competitive environment, revenue growth has started to taper off in 2019 and 2020.
WBA Dividend & Earnings Per Share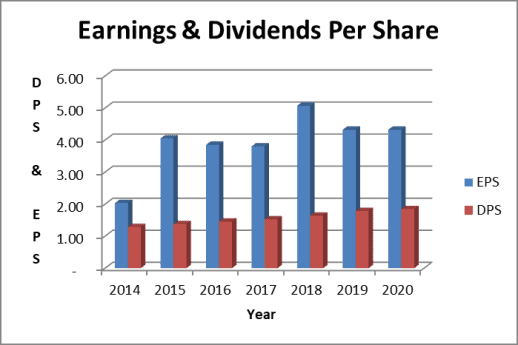 Since the integrations and overhead reductions from the Boots Alliance and Rite Aid acquisitions, earnings growth has been stagnant since 2015.
However, the dividend payout ratio still checks in at a very comfortable 40% of earnings.
Walgreens Free Cash Flow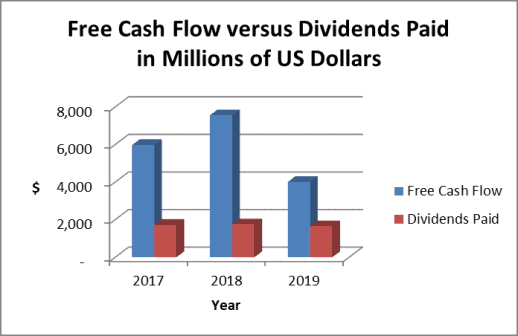 The cash flow coverage of the dividend is similar. The dividend consumed only 40% of the company's available cash during the prior fiscal year.
Walgreens has been allocating its remaining free cash flow to aggressively buying back its shares in the stock market.
Walgreens Credit Rating
To finance the Boots and Rite Aid acquisitions, WBA took on more debt. The major credit rating agencies all rate WBA as "Investment Grade – Moderate Credit risk" with a stable outlook.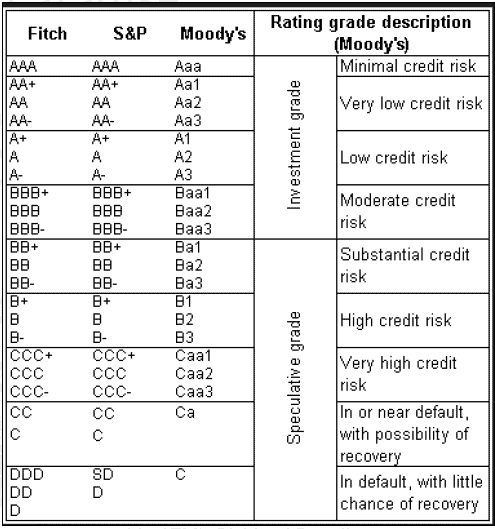 This rating is acceptable to me. Most solid dividend-paying companies are rated investment grade. However, WBA is rated at the lower end of this classification with Baa2 and BBB ratings.
Walgreens Financial Position
I judge a company's financial position based on how they finance their assets. The 2 primary sources are debt or equity.
I do not like my dividend stocks loaded up with a lot of debt. Excessive debt can negatively impact dividend safety. That is if the company encounters difficult economic times.
On the surface, debt to equity looks pretty good. It checks in at .7 to 1 which is less than the average S&P 500 company.
New accounting rules now require companies to report amounts due on lease or rental obligations. It's not debt in the purest sense. But it is an obligation that must be paid in the future.
Walgreens has another $22 billion in lease obligations primarily from its US retail pharmacy locations. It is interesting to note that they are a large customer and revenue source for Realty Income.
Realty Income is a real estate investment trust (REIT). It is another stock I own and follow here at Dividends Diversify.
Related: Realty Income dividend stock analysis
WBA Dividend Safety
I base my judgment on dividend safety using the information discussed thus far.
Business fundamentals
Dividend payout ratios
Historical dividend track record
Credit ratings
Financial position
In my opinion, WBA's dividend is safe from a reduction in the foreseeable future.
WBA Dividend Growth Projection
I do my best to make a dividend growth forecast for all my dividend stocks. It helps me plan for my future income.
Also, the projection gives me a baseline to compare management's future dividend increase announcements.
I base my projection on:
Historical dividend growth
Dividend payout ratios
Management's dividend policy when provided
Business fundamentals
Company growth strategy
While WBA's dividend safety is pretty easy to see, projecting dividend growth feels a little more difficult for me.
The company has a strong long-term track record of 8-10% dividend growth. But the last dividend increase was only 4%. And, earnings growth has been limited in recent years.
So, I'm going to play it down the middle and forecast a 6% annual dividend growth rate for Walgreens.
WBA Stock Valuation
Let's look at the valuation of WBA stock now. We will check it from several different perspectives.
Based on the methods used below, it appears WBA stock is undervalued and trading at an attractive price.
WBA Stock Price To Earnings Ratio
After many years of growth, the WBA stock price peaked in 2015 at nearly $100 per share. The stock price is down about 45% from that peak.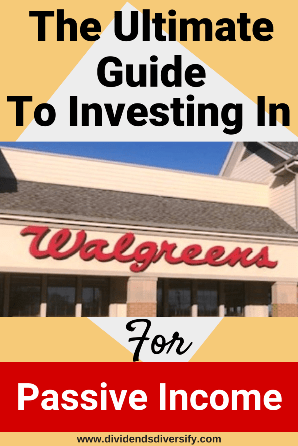 I have owned the stock for many years. So, I have endured these losses in market value.
The stock's decline has reduced the price to earnings ratio. It stands at just 12 times projected 2020 earnings. So, it looks clear to me that the market has priced in the many challenges the company faces.
As a comparison, the S&P 500 trades at about 18 times 2020 earnings. So, on a price to earnings basis, Walgreens is trading at a steep discount to the overall market.
Morningstar Fair Value Estimate
The investment analysis firm Morningstar judges the fair value of WBA stock to be $65 per share.
Source: Morningstar
WBA Dividend Discount Model
The single-stage dividend discount model uses several metrics we have discussed thus far.
Current annual dividend payment – $1.83 per share
Projected dividend growth – 6%
My desired annual rate of return – 9%
Using these assumptions the dividend discount model gives us the same estimated value as Morningstar, $65 per share.
WBA Stock & Dividend Analysis Conclusions
WBA holds a small position in my dividend stock portfolio. And I can draw a few conclusions from this dividend stock analysis.
#1 – The dividend is safe and has grown nicely in recent years. But future dividend growth may not be as robust.
#2 – Future dividend growth depends on management effectively acting on their strategic priorities. And those actions creating earnings growth once again.
#3 – The stock valuation is attractive. However, it is a reflection of the uncertainty of future earnings.
With such strong brand recognition and scale, I believe WBA will successfully manage through the difficult business environment and issues it faces.
As a result, I will consider adding to my holding at the current stock price level.
Related Dividend Stock Articles
Disclosure & Disclaimer
This article, or any of the articles referenced here, is not intended to be investment advice specific to your situation. I am not a licensed investment adviser, and I am not providing you with individual investment advice. The only purpose of this site is information & entertainment. We are not liable for any losses suffered by any party because of information published on this blog. See this site's Disclaimer and Privacy tab for more information.
I currently own WBA and collect the WBA dividend quarterly.