Slow & Steady WEC Energy Group Stock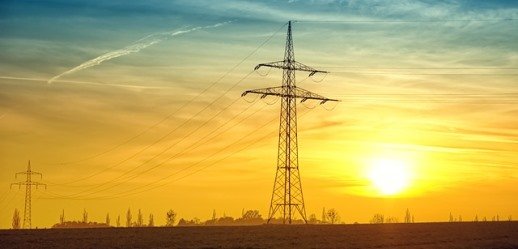 WEC stock plus the WEC stock dividend is one of the most stable stocks and dividend combinations you can find.
Let's work through a WEC dividend stock analysis. WEC is a member of my dividend stock model portfolio. So, I want to check-in on WEC dividend history, dividend growth rate and much more.
Disclosure:  This post contains referral links.
The Simply Investing Report Evaluation Of WEC Stock
Also, I will share with you insights from my subscription to the Simply Investing Report. It is a great resource to make do-it-yourself dividend investing easy.
Read here my full review of the Simply Investing Report.
Or click the image below to learn more direct from Simply Investing.
Now, on with our WEC stock analysis and WEC dividend assessment.
WEC Company Background
As noted above, Wisconsin Energy Group stock trades on the New York Stock exchange using the ticker symbol WEC. For ease, I will refer to the company as WEC and to its stock as WEC stock.
WEC, a Fortune 500 company, is one of the largest electric generation, distribution and natural gas delivery holding companies in the United States. They provide energy services to more than 4.5 million customers in Wisconsin, Illinois, Michigan, and Minnesota.
WEC operates:
70,100 miles of electric distribution lines
50,000 miles of natural gas transmission lines
7,300 megawatts of power plant capacity
WEC Operating Units
WEC does business through a number of energy companies and subsidiaries that include:
We Energies – Delivers electricity and natural gas to more than 2.2 million customers in Wisconsin
Wisconsin Public Service – Delivers electricity and natural gas to more than 776,000 customers in Wisconsin
Peoples Gas – Delivers natural gas to more than 869,000 customers in the city of Chicago
North Shore Gas – Delivers natural gas to more than 162,000 customers in Chicago's northern suburbs
Minnesota Energy Resources – Delivers natural gas to more than 238,000 customers in Minnesota
Michigan Gas Utilities – Delivers natural gas to more than 178,000 customers in Michigan
Upper Michigan Energy Resources – Delivers electricity and natural gas to more than 42,000 customers in Michigan's Upper Peninsula
Bluewater Gas Storage – Provides natural gas storage and hub services to 1.4 million natural gas customers of We Energies and Wisconsin Public Service
W.E. Power, LLC – Designs, builds and owns modern, efficient power plants that are leased to We Energies
WEC Infrastructure LLC – Holds ownership interests in wind generating facilities that have long-term offtake agreements for the energy they produce
Source: Wisconsin Energy Group – About Us
Having lived in the Midwest my entire life, I have been a customer of several of WEC's energy companies. And I have been an owner of WEC stock since 2017.
Related: Duke Energy dividend stock analysis
WEC Is A Regulated Utility
More than 80% of earnings come from Wisconsin and Federal Energy Regulatory Commission regulation. I cover regulated utilities frequently on Dividends Diversify, so what exactly does it mean?
Well, I was recently reading one of my longtime favorite investment newsletters called Utility Forecaster edited by Robert Rapier. He explained what a regulated utility is. And he did it in pretty simple terms.
A Regulated Utility Is…
Here is Mr. Rapier's explanation…
Most of the U.S. gas and electric utility industries are regulated to some degree. In regulated markets, these utilities have a monopoly. The rates they can charge are approved and regulated by state regulatory authorities.
In a regulated market, a regulated utility can own and operate the entire value chain, from generation through the transmission to customers. Regulated utilities have less exposure to market volatility because they can request a rate increase if market conditions dictate the need.
On the other hand, during times of high power demand, regulated businesses will be at a competitive disadvantage to deregulated businesses that can charge market prices.
For investors, a major appeal of regulated utilities is higher predictability and lower investment risk.
If a regulated utility needs to raise rates to earn an acceptable return, it will make that case to the regulatory authorities for approval. This is known as a rate case, and regulated utilities go before state regulators to make these cases all the time.
Being a regulated utility helps WEC to be one of the most stable stocks and most consistent stocks to own.
Here you can read my full review of the Utility Forecaster investment newsletter. I will use some of its insights later in the article.
WEC Regulated Business Details
Finally, WEC's regulated business breaks down in several pieces as indicated in the charts below. Most of their business is regulated by the states of Wisconsin and Illinois. Another share is regulated at the national level by the Federal Energy Regulatory Commission known as FERC.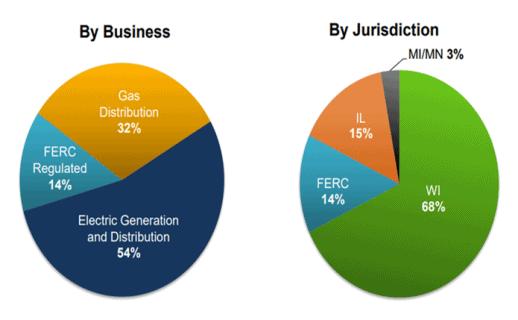 Source: WEC Investor Book
Now that we know a little bit more about WEC and regulated utilities, let's look at the WEC stock dividend.
WEC Stock Dividend Yield
WEC stock pays an annual forward dividend of $2.71 per share. Based on the recent stock price, the dividend payout puts the WEC stock dividend yield at 3.0%.
The yield is a little low for a regulated utility. But it is near my desired target range between 3-5%.
WEC Dividend Growth Rate
| | | | |
| --- | --- | --- | --- |
| 1 Year | 3 Years | 5 Years | 7 Years |
| 6.8% | 6.0% | 8.6% | 10.1% |
1, 3, 5 and 7 year WEC compound annual dividend growth rate
Based on the chart you can see the WEC dividend growth rate is quite attractive.
For 2021, management delivered another 7%+ dividend increase for investors in WEC stock.
WEC Dividend History
This latest WEC dividend increase ran the company's consecutive annual dividend increase streak to 17 years.
Now that we know about the WEC dividend history, let's look forward.
WEC Dividend Policy & Growth Forecast
WEC management provides the following dividend growth guidance.
Continuing to target dividend payout of 65-70 percent of earnings
Projecting dividend growth in line with earnings growth
And management expects earnings to grow 5-7% annually for the foreseeable future. So now our WEC dividend picture becomes clear. Specifically,
Approximately 3% current WEC dividend yield
6% projected WEC dividend growth
I really like it when company management provides clear guidance about earnings and dividend growth. As we know, predictability is one of the advantages of investing in regulated utilities that pay regular dividends.
WEC Revenue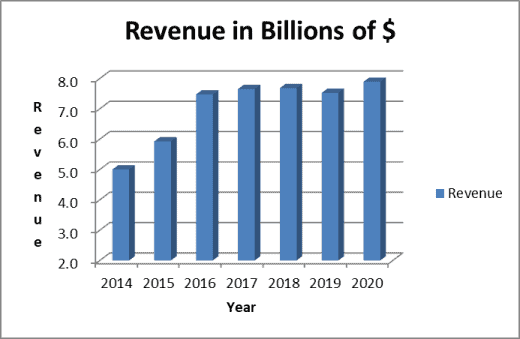 Revenue grew rapidly in 2015 and 2016. This was primarily due to the acquisition of Integrys Energy that closed in June 2015.
Otherwise, revenue growth is constrained by the growth of the economies in which the company operates. This will keep organic revenue growth in the 1-3% range during most years.
WEC Stock Dividend And Earnings Per Share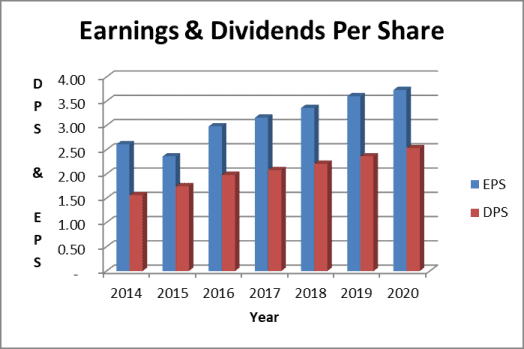 Note that 2017 earnings were normalized to take out the one-time accounting benefit from the new corporate tax law.
With that adjustment accounted for, you can see WEC's earnings trend is exactly what you want from the most consistent and stable stocks. And, as management targets, the WEC dividend payout ratio is running at about 67%.
WEC Stock Dividend & Cash Flow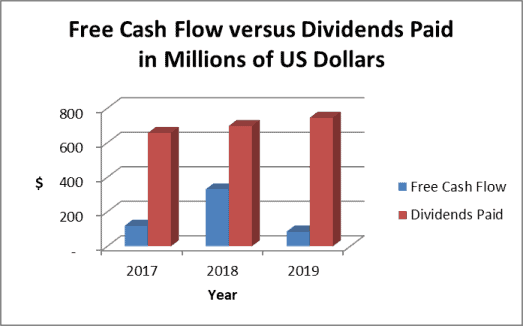 WEC energy group does not generate a significant amount of free cash flow. This is typical for utilities because of their high levels of capital expenditures.
However, the capital expenditures are financed by debt. And the debt is serviced by the predictability of ongoing business operations and the cash that generates. This leaves plenty of money to pay dividends to investors.
Since WEC uses debt financing, lets take a look at the financial postion of the company now.
WEC Credit Rating & Balance Sheet
The company holds public debt across a number of its operating units. And S&P Global grades WEC credit as A or A-. These evaluations represent investment grade – low credit risk ratings.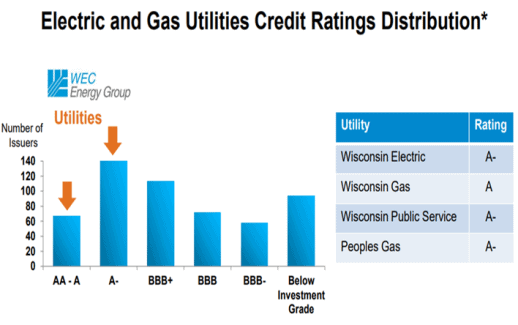 Source: WEC Investor Book
WEC's debt to equity profile is modest for a regulated utility running at 1.2 to 1. So, it appears that the company's credit rating and balance sheet are very strong as compared to the utility sector as a whole.
WEC Dividend Safety
I make a judgment about dividend safety for all of my stocks.
Reviewing the business model and dividend metrics we have discussed so far, I judge the WEC dividend to be very safe. I define "safe" as a dividend reduction is unlikely in the foreseeable future.
The investment newsletter Utility Forecaster gives the WEC dividend a safety score of 7 out of a possible 8. This is a very high dividend safety score for WEC.
WEC Stock Valuation
Let's judge value in several ways:
Dividend Discount Model
Price to earnings ratio
Utility Forecaster buy target
Morningstar fair value estimate
Simply Investing Report
Dividend Discount Model Value for WEC Stock
The single-stage dividend discount model considers several factors I have discussed thus far.
Current dividend payment – $2.71 per share
Projected dividend growth – 6%
My desired annual return on investment – 9%
Using these assumptions, the dividend discount model puts the value of WEC stock at $96 per share.
WEC Stock Price to Earnings Ratio
The WEC stock price to earnings ratio is running in the mid-20s.
Many of the other regulated utilities that I analyze currently have a lower price to earnings ratios than WEC stock.
So, WEC stock looks overvalued on a price to earnings basis. But a stock with predictable earnings and dividends usually comes at a premium price. Especially during the uncertain times, we have been experiencing.
Morningstar WEC Stock Fair Value
The investment analysis firm Morningstar believes WEC stock is fairly valued at $91 per share.
Utility Forecaster WEC Stock Buy Target
The Utility Forecaster dividend stock newsletter has a buy target on WEC stock of $98 per share.
Simply Investing Report
The Simply Investing report considers WEC stock to be overvalued.
Learn more about Simply Investing by clicking this image…
WEC Stock Valuation Conclusions
We have a range of valuation opinions from these different sources. There is not a clear consensus.
I'm going to put my personal buy limit at $90 per share. This price equates to a 3% dividend stock yield.
Then, combine that dividend yield with a 6% projected dividend growth rate. And, the fact WEC has one of the most stable and consistent stocks around.
Then $90 per share WEC stock price target limit makes a good value proposition for me.
WEC Stock & Dividend Analysis Conclusions
WEC has a small position in my dividend growth stock portfolio. I only wish I owned more. Since I think it is one of the best dividend stocks in the utility sector. But I'm willing to add more shares at $85 per share or less.
WEC can be a very steady stock to add to an investment portfolio. It has a nice combination of current dividend and moderate but predictable dividend growth.
Further Reading About Slow & Steady Stocks In the Utility Sector
Other Articles About Stable Stocks and Consistent Stocks For Dividend Investing
More Dividend Investing Resources
Investing made easy by Simply Investing
Disclosure & Disclaimer
This article, or any of the articles referenced here, is not intended to be investment advice specific to your situation. I am not a licensed investment adviser, and I am not providing you with individual investment advice. The only purpose of this site is information & entertainment. We are not liable for any losses suffered by any party because of information published on this blog. See this site's Disclaimer and Privacy tab for more information.
I currently own WEC stock and intend to hold on to collect my WEC stock dividends!