AbbVie Dividend For High Yield And Strong Growth
I would like to present an AbbVie dividend stock analysis today.
The company is known for its successful drug Humira. Also for being a pharmaceutical dividend stock. And one that pays investors a rising stream of high dividends.
So, let's not delay this stock analysis. Since I want to share my thoughts on the AbbVie stock dividend, its growth, and safety. Also, whether Abbvie is a good investment.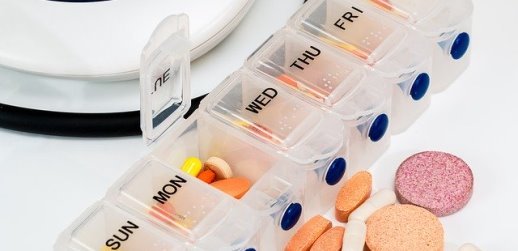 Disclosure: At no cost to you, I may get commissions for purchases made through links in this post.
And, before you go…
Check out some of our other stock reviews and dividend articles. You are certain to find something that meets your investment needs.
But now, onto the AbbVie dividend review and stock analysis. I will start by highlighting the key takeaways from the article. Then move through the details.
Is AbbVie A Good Investment?
Yes. I believe AbbVie is a good investment. AbbVie stock offers an attractive combination of dividend yield and annual dividend increases.
Here are some of the pros and cons to consider if you want to invest in AbbVie. A pharmaceutical stock that pays dividends.
Points I Like About AbbVie Stock
High dividend yield
Strong track record of dividend growth
Sufficient dividend payout coverage from earnings and cash flow
A good investment at reduced prices
Points That Concern Me About AbbVie Stock
High revenue concentration in one product: Humira
Dependence on their new product pipeline for future growth
The cost of the Allergan acquisition and related integration challenges
Significant use of debt financing and financial leverage
With those dividend stock advantages and disadvantages in mind. Let's dig deeper into this popular pharmaceutical company.
AbbVie Stock Analysis: Company Background
Some thoughts on AbbVie's past, present, and future…
History
AbbVie was founded in 2013. The company was formed through a spin-off by Abbott Labs, a diversified health care company.
As a result, AbbVie has in excess of 100 years of operating history. In the pharmaceutical sector, as part of Abbott. And more recently, as a stand-alone company.
AbbVie Today
In pharmaceuticals, AbbVie targets specific and difficult to cure diseases. They also leverage their core research & development expertise to advance science.
Furthermore, AbbVie seeks better solutions for treating challenging diseases. Specifically, they focus on developing drugs in the following therapeutic areas
Immune system
Cancer
Nervous system & brain
Viruses
General medicine
Source: AbbVie Therapeutic Focus Areas
AbbVie Stock Analysis: Business Strategy
AbbVie's business strategy is pretty simple. At least on the surface.
First of all, they strive to develop a consistent stream of innovative new medicines.
Furthermore, they work to increase patient access to their products currently on the market.
Finally, they seek to expand the clinical applications of these same existing products.
Source: AbbVie strategy
Now, let's move on with our AbbVie stock analysis. And, dig into the AbbVie stock and dividend review.
AbbVie Stock Symbol
First of all, AbbVie stock trades on the New York Stock Exchange. It trades under the symbol ABBV (NYSE: ABBV).
Furthermore, I trade all of my dividend stocks for free using the Webull app. It's fast, easy to use, and has excellent research capabilities.
And you can learn more about the Webull app here.
Next up, dividends…
Does AbbVie Stock Pay A Dividend?
Yes. Abbvie stock pays dividends. And has done so every year since its inception in 2013.
We will cover all of the facts and figures about AbbVie's dividend payments now.
How Much Is The AbbVie Annual Dividend?
AbbVie pays an annual forward dividend of $5.64 cents per share.
What does the annual forward dividend mean? When analyzing a dividend stock.
Simply put, it is the last dividend payment approved by the company. Multiplied by the number of times dividends are paid each year.
AbbVie Dividend Yield
AbbVie's annual dividend payout provides for a 4.9% dividend yield as of the time of this article update.
First of all, I prefer to buy dividend stocks with yields between 3% and 5%.
Furthermore, with stock prices near all-time highs. It's nice to see a dividend yield at the high end of my range.
Finally, dividend yields have an inverse relationship with the price of a dividend-paying stock. In other words, as the stock price rises, the dividend yield falls. And, vice versa.
How Often Does AbbVie Pay Dividends?
Some companies pay dividends monthly. But not AbbVie.
AbbVie pays dividends every 3 months or 4 times per year. Each quarterly dividend payment is one-fourth of the company's annual dividend rate.
In Which Months Does AbbVie Pay Dividends?
Are you looking to have a steady stream of income from consistent dividend-paying stocks? Then, it's important to know the months during which a company pays its dividend.
With that in mind, AbbVie pays dividends during February, May, August, and November.
The company targets the 15th day of these months to pay its shareholders. When the 15th falls on a weekend or holiday, AbbVie's dividends are paid on the closest business day to the 15th.
AbbVie's Ex-Dividend Date
As an investor, you must complete your purchase before a stock's ex-dividend date. In order to receive the next stock dividend payout.
AbbVie's ex-dividend date falls about 1 month prior to when its quarterly dividend is paid.
AbbVie's ex-dividend date is slightly different each quarter. It depends on how the calendar falls.
So, it's best to do your stock research about AbbVie's ex-dividend date and payment information. That is if receiving the next dividend payment on an upcoming investment in AbbVie is important to you.
On the other hand, are you are a buy and hold investor like me? Then there is no need to worry about it.
Just invest in Abbvie. Hold your ABBV stock as part of a diversified investment portfolio.
Then you will be a shareholder. And qualify for every future dividend payment.
AbbVie Dividend History
AbbVie declared and paid its initial dividend during the first quarter of 2013. Since then, the company has paid a cash dividend in every calendar quarter.
During subsequent years, the company's dividend increase announcements have been numerous. They average out to more than one AbbVie dividend increase per year.
To make an income from stocks. I prefer to invest in companies that have increased their dividends annually for at least 10 years. These companies are known as dividend achievers.
But, I made an exception with AbbVie. Why?
Mainly because of their history as part of Abbott. And so far, I have not been disappointed with their track record of dividend raises.
Does this imply that AbbVie has had a high dividend growth rate? Maybe, but let's find out for sure as we continue our AbbVie stock analysis.
AbbVie Dividend Growth Rate
As table 1 shows, AbbVie stock has provided excellent dividend growth. Ever since the company was formed in 2013.
Table 1: AbbVie Compound Annual Dividend Growth Rate
| | | | |
| --- | --- | --- | --- |
| 1 Year | 3 Years | 5 Years | 7 Years |
| 10.0% | 22.6% | 18.5% | 16.7% |
In 2018, AbbVie increased its dividend twice!  Certainly, this is some big-time dividend growth. And has attracted the attention of many dividend stock investors.
On the other hand, the last dividend increase showed signs of a slow down from this rapid pace. The dividend hike came in at 8.5%.
This break from trend makes sense to me. Because it is very difficult for any company to generate 15-20% annual dividend growth over the long term.
Not even some of the best dividend stocks can do that.
AbbVie Dividend Policy
I know AbbVie has a dividend policy. The company's announcements and actions around their dividend indicate as much.
On the other hand, I'm not aware of any formal communications to investors on the topic of dividend policy.
This is not a red flag for me. Many companies do not communicate a dividend policy.
But, I like it when they do. It helps me set expectations for dividend growth. And make a plan for my future dividend income.
Okay, that concludes our dividend review for this fine company. Let's turn attention to some of the company's business fundamentals. In the next part of the AbbVie stock review.
They will help me assess future AbbVie dividend growth. And the company's current dividend safety.
AbbVie Revenue Trend
AbbVie revenues have grown rapidly. Chart 1 indicates the success of the blockbuster drug Humira. And more recently, the additional revenues contributed by the Allergan acquisition.
Chart 1: AbbVie 7-Year Revenue Trend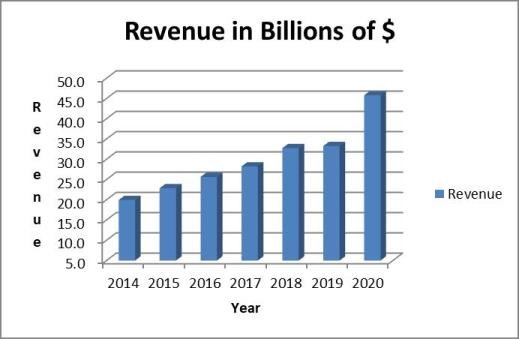 Due to the success of Humira, its revenues have grown steadily.  And account for a large percentage of total sales revenue.
Revenue concentration in a single product represents a business risk.  Humira sales could drop in the future due to:
Loss of patent protection
Competition from new drugs called biosimilars
Most noteworthy, lower Humira sales could have an adverse impact on future profits. Also on AbbVie dividend safety. And, it is probable that Humira sales will decline in future years.
Stock market investors have taken note. Specifically, there has been uncertainty about future revenue growth. This has left AbbVie stock trading at low valuations in the recent past.
And is why AbbVie's new product pipeline is critical for future revenue, earnings, and steady dividend growth. In addition to contributions from the acquisition of Allergan.
Allergan Acquisition
Abbvie announced the acquisition of Allergan in June 2019. Allergan is well known as the maker of Botox. The transaction was completed and closed in May 2020.
On a positive note, Allergan will reduce AbbVie's dependence on Humira and new products in its development pipeline.
However, AbbVie paid a high price for Allergan. Plus integration issues usually come with such deals. This will need continuing review as we move forward.
Acquisitions cost money and so do our dividends. They compete for valuable resources, mainly cash.
So, let's continue with the AbbVie stock assessment. And look at earnings, cash flow, and the dividend payout ratios for each measure.
AbbVie Dividend Payout Ratio Based On Earnings
Because of the accounting impacts from past acquisitions, AbbVie's accounting-based earnings are difficult to interpret. Chart 2 shows just how "choppy" they are.
Chart 2: AbbVie Dividends And Earnings Per Share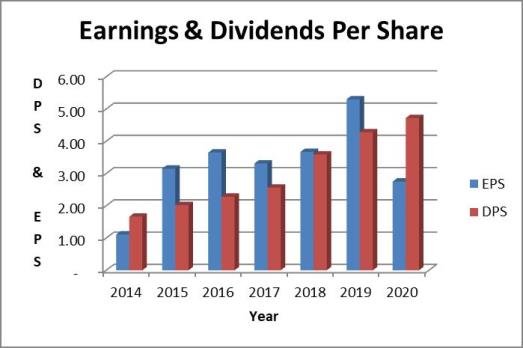 Here are a few reasons accounting earnings are volatile…
2017 earnings were depressed due to one-time impacts from the 2017 tax cuts and jobs act. In addition, 2018 earnings were negatively affected by the write-down of intangible assets. These assets were from the 2016 acquisition of Stemcentrx.
The Stemcentrx acquisition didn't work out so well. Another reason to keep a close eye on the progress with Allergan.
These one-time non-cash charges are out of the way. So, AbbVie's 2019 results started to show the true earnings power of the company.
But now, we have the accounting impacts of the Allergan acquisition hitting in 2020 and beyond. Honestly, I can't get a feel for AbbVie's dividend payout ratio based on accounting earnings.
I know that a lower dividend payout ratio is a positive indicator. It shows a company has ample room to raise the dividend in the coming years. Or, withstand an earnings drop. Without having to reduce the dividend.
But for AbbVie, cash flow is a better indicator of dividend payment capacity. So, let's check out cash flow next. And see how it stacks up against the company's dividends.
AbbVie Dividends And Free Cash Flow
Looking at free cash flow in Chart 3 tells me a lot about the company's potential for future recurring dividend payments. It shows cash earned from the last several years. And supports my belief that AbbVie has strong earnings power.
Chart 3: AbbVie 3-Year Cash Generation Versus Dividend Payments
Most importantly, AbbVie's cash dividend payments are consuming less than 50% of free cash flow.
This leaves plenty of cash leftover. To fund the new product research and development pipeline.
And return more capital. By rewarding shareholders with more money from dividends. Also, share buybacks in the stock market.
AbbVie Dividend Growth Forecast
I've completed my review of AbbVie's dividend metrics. And business fundamentals. So, I can now make a dividend growth forecast.
A dividend growth forecast for my dividend stocks helps me in a couple of different ways. First of all, it sets an expectation to which I can compare future dividend increases. Furthermore, it helps me plan for my income from dividend payments.
Since its inception in 2013, AbbVie's dividend growth has been outstanding. It's hard to argue that point. However, it is unlikely that the company can keep up this pace.
For my financial planning purposes, I'm going to assume a 7-9% dividend growth rate in future years. This rate seems more sustainable to me.
Next, let's move on to the company's financial position. It's an important part of the AbbVie stock analysis. Also, the last piece of the puzzle I need to assess AbbVie's dividend safety.
AbbVie Credit Ratings
AbbVie has a Baa2 and BBB+ credit rating from Moody's and S&P, respectively. These ratings are "investment grade – moderate credit risk" evaluations.
Source: FINRA bond center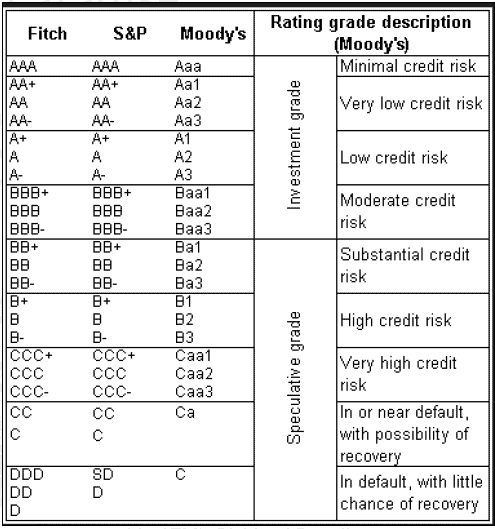 Most solid dividend-paying companies hold investment-grade credit ratings. And, AbbVie is no different.
However, AbbVie's credit ratings are at the low end of the investment-grade range. I also noted that the agencies downgraded AbbVie's rating by one classification. Since I began reviewing the company in mid-2019.
Lower ratings are likely a result of AbbVie's high financial leverage. Due to debt financing.
The debt is a result of large amounts of equity returned to shareholders in the last several years. This has been in the form of both regular cash dividends and share repurchases. And now more debt has been added to finance the Allergan acquisition.
Because of AbbVie's large amounts of free cash flow, the financial leverage does not concern me at this time. However, it is worth watching as we go forward.
On a side note, you can check your own credit score for free. And it is a good practice to do so. I use Credit Karma and you can too.
AbbVie Balance Sheet
Looking at a companies balance sheet is important for understanding a company's dividend safety. I choose to do so by reviewing the debt to equity ratio.
AbbVie carries a very high debt to equity ratio.
This bears watching as we move forward. I'd like to see AbbVie use some of its free cash flow, after paying dividends, to reduce debt in future quarters.
If you prefer safer dividend stocks. With low debt levels, consider the Simply Investing report for dividend stock ideas.
I like its insightful analysis. And recommendations each month on the best dividend stocks to buy.
AbbVie Dividend Safety
Is the AbbVie dividend safe? When you rely on your dividends for monthly expenses, this is a very important question.
Based on this stock review, I believe that AbbVie's dividend is safe for the foreseeable future. Safe meaning it is unlikely that the dividend will be reduced.
There are some pros and cons related to dividend safety. Let's consider those now.
On the positive side, AbbVie's dividends are well covered by cash flow.
On the negative side, the company employs heavy financial leverage. This is in the form of long-term debt.
First of all, most good dividend stocks to invest in have manageable amounts of debt. Furthermore, the company's credit ratings bear watching. In case of additional downgrades by the rating agencies.
Finally, the impact and integration of the Allergan acquisition are still in the early stages. I want to see positive results from Allergan.
So I can put that in the plus column for dividend safety in the months ahead. But, I'm not ready to do that just yet.
Next, today's comprehensive dividend stock review would not be complete without looking at AbbVie's stock valuation. So, let's get on with it.
AbbVie Stock Valuation
Stock research should include a valuation review. And I like to look at several different methods to judge a stock's value.
My research suggests AbbVie's stock is fully valued. And, it always pays to look for good value when managing your money.
Let's review the valuation in the following ways:
AbbVie dividend discount model
Morningstar fair value estimate
Personal Finance investment newsletter buy target
AbbVie Dividend Discount Model
The single-stage dividend discount model considers some of the factors we have discussed so far.
The current annual dividend payment
Projected dividend growth
My desired annual return on investment
Using these assumptions, the general dividend valuation model suggests AbbVie stock is undervalued.
Even more, the current stock price is well below the model's fair value price. Thus, it is clear the market does not place as high of a value on AbbVie's high current dividend and potential for solid long-term dividend growth as I do.
By reverse-engineering the dividends using the discount model. The stock market suggests AbbVie's dividend growth will be much lower.
Morningstar Fair Value Estimate Of AbbVie Stock
The investment analysis firm Morningstar believes AbbVie stock is fairly valued at $108 per share.
Source: Morningstar
Personal Finance Investment Newsletter
Finally, Personal Finance is a long-time investment newsletter. I like using its model portfolios to find potential dividend stocks for my portfolio.
The publication places a buy target on AbbVie stock at $115 per share or less.
AbbVie Stock Valuation Summary
We have looked at a number of valuation methods that suggest a range of values for AbbVie stock.
Very few investments that I make have such a wide discrepancy. From the highest to lowest valuations.
The large valuation range indicates a fair amount of uncertainty about this stock's prospects. And about Abbvie's future growth. 
From my perspective, the value measures show AbbVie stock to be fully valued at recent levels.
AbbVie Stock Analysis & Dividend Review Wrap Up
AbbVie is a strong company with a long operating history. First as part of Abbott Laboratories. And now as a stand-alone publicly-traded company.
AbbVie represents a mid-size holding in my investment portfolio. I would like to add to my position. And, will consider doing so on any price weakness.
Further Reading About Dividends And Dividend Stocks Like AbbVie
My Favorite Finance And Dividend Investing Resources
I mentioned several of my favorite investing and personal finance tools throughout the article. They are summarized here for your convenience.
Disclosure & Disclaimer: I am not a licensed investment adviser, financial adviser, or tax professional. And I am not providing you with individual investment advice, financial guidance, or tax counsel. Furthermore, this website's only purpose is information & entertainment. And we are not liable for any losses suffered by any party because of information published on this blog.
I own AbbVie stock and collect the AbbVie stock dividend.