AbbVie Dividend Stock Analysis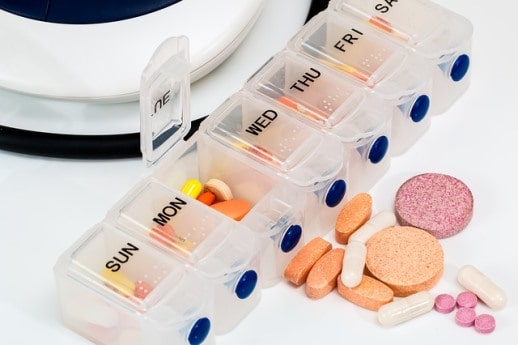 Let's jump into the health care sector. In the past, pharmaceutical companies have been good options for dividend investors. And today is no different.
So please join me for a dividend deep dive of AbbVie. And some thoughts on the AbbVie dividend.
Related: How To Pick Dividend Stocks
Most noteworthy, the company is best known for its successful drug Humira.
Company Background
AbbVie History
AbbVie was founded in 2013. The company was formed through a spin-off by Abbott Labs.
Related: Abbott Labs Dividend Stock Analysis
As a result, the company has in excess of 100 years of history in the pharmaceutical sector as part of Abbott. In addition to its more recent years as a stand-alone company.
AbbVie Today
AbbVie stock trades on the New York Stock Exchange under the symbol ABBV – (NYSE: ABBV).
In the pharmaceutical market, AbbVie targets specific and difficult to cure diseases. They also leverage their core research & development expertise to advance science.
In addition, AbbVie seeks better solutions for treating challenging diseases. Specifically, they focus on developing drugs in the following therapeutic areas
Immune system

Cancer

Nervous system & brain

Viruses

General medicine
Source: AbbVie Therapeutic Focus Areas
Business Strategy
AbbVie's business strategy is pretty simple on the surface.
First of all, they strive to develop a consistent stream of innovative new medicines.
Secondly, they work to expand patient access to their products currently on the market.
And finally, they seek to expand the clinical applications of these same existing products.
Source: AbbVie strategy
AbbVie Dividend Yield
AbbVie pays an annual forward dividend of $4.28 cents per share. This is a 6% Abbvie dividend yield at the recent share price.
AbbVie Dividend Growth Rate
| | | | |
| --- | --- | --- | --- |
| 1 Year | 2 Years | 4 Years | 6 Years |
| 19.2% | 29.3% | 20.7% | 17.8% |
As shown in the chart above, AbbVie stock has provided excellent dividend growth since the company was formed in 2013. And, their consecutive annual dividend increase streak now stands at 7 years.
In 2018, AbbVie increased its dividend twice! Certainly, this is some big-time dividend growth and has attracted the attention of dividend stock investors.
However, it is highly unlikely that AbbVie can keep up this pace of dividend growth. So for my planning purposes, I'm going to assume a more sustainable 8% growth rate in future years.
Related: Dividends Still Don't Lie – Book Review
Revenue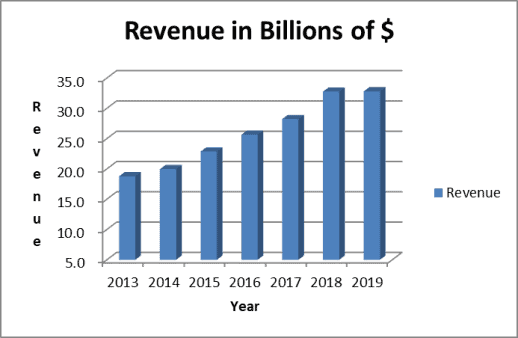 Due to the success of Humira, AbbVie's revenues have grown steadily over the past several years. As a result, Humira represents more than 60% of total revenues.
Revenue concentration in a single product represents a business risk. Humira sales could drop in the future due to:
Loss of patent protection

Competition from new drugs called biosimilars
Most noteworthy, lower Humira sales could have an adverse impact on future profits and AbbVie dividend safety. And it is probable that Humira sales will decline in future years.
Stock market investors have taken note. Specifically, the uncertainty around future revenue growth has left AbbVie stock trading at a relatively low valuation.
This is why AbbVie's new product pipeline is critical for future revenue, earnings and dividend growth. In addition to the recently announced acquisition of Allergan.
Allergan Acquisition
Abbvie announced the acquisition of Allergan, the maker of Botox, in June 2019.
On a positive note, the Allergan acquisition will reduce Abbvie's dependence on Humira and it's new product development pipeline.
However, Abbvie is paying a high price for Allergan and all the integration issues that come with it. This will need a close review as we move forward.
Acquisitions cost money and so does our dividend. Another reason for a much more modest dividend growth forecast of 8% versus the past.
AbbVie Dividend, Earnings, and Payout Ratio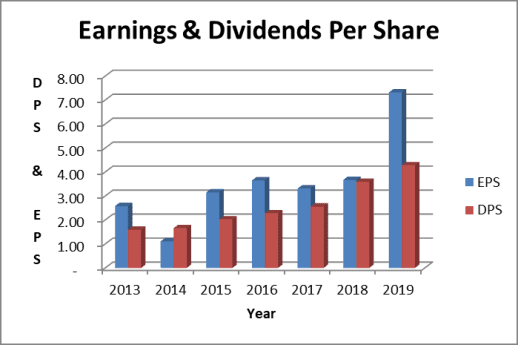 Let's look ahead for the year ending 2019. I believe the dividend is well covered.
In fact, 2019 dividend payments represent less than 60% of earnings.
A lower dividend payout ratio is a positive indicator. It shows the company has ample room to raise the dividend in the coming years. Or, withstand an earnings drop without having to reduce the dividend.
It is important to note that 2017 earnings were abnormally depressed due to the one-time impacts from the 2017 tax cuts and jobs act. In addition, 2018 earnings were negatively affected by the write-down of intangible assets from the 2016 acquisition of Stemcentrx.
The Stemcentrx acquisition didn't work out so well. Another reason to keep a close eye on the progress with Allergan.
With these one-time non-cash charges out of the way, however, AbbVie's 2019 outlook starts to show the true earnings power of the company. And speaking of cash, let's check that out next.
AbbVie Free Cash Flow
Looking at free cash flow from the last several years supports my thoughts about AbbVie's strong earnings power. Most importantly, the 2018 dividend payments consumed only 44% of free cash.
This leaves plenty of cash left over to fund the new product research and development pipeline. And return more capital to shareholders through future dividend increases and share buybacks in the stock market.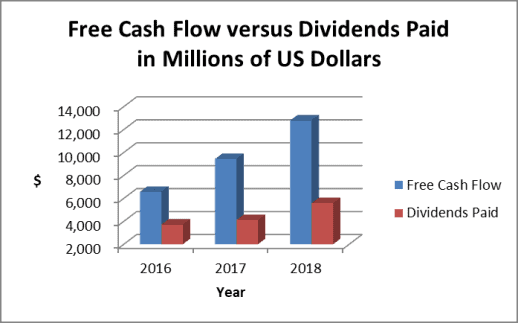 AbbVie Dividend Safety
The ample free cash flow leaves me feeling that AbbVie's dividend is safe for the foreseeable future.
Credit Ratings & Balance Sheet
AbbVie has a Baa1 and A- credit rating from Moody's and S&P, respectively. These ratings represent "investment grade – low to moderate credit risk".
Most solid dividend-paying companies hold investment-grade credit ratings. And, AbbVie is no different. However, AbbVie's credit ratings are at the low end of the investment-grade range.
Lower ratings are likely a result of AbbVie being highly leveraged with debt financing. The debt is due to the large amounts of equity returned to shareholders in the form of dividends and share repurchases during the last several years.
Because of AbbVie's large amounts of free cash flow, the financial leverage does not concern me at this time. However, it is worth watching as we go forward.
Source: FINRA bond center
AbbVie Dividend Stock Valuation
AbbVie's stock price is down nearly 40% from its all-time high in 2018. The combination of a lower stock price and higher projected earnings for 2019 are favorable for new investors.
As a result, the AbbVie stock valuation looks pretty reasonable to me. Let's take a look at the valuation in the following different ways:
Dividend Discount Model
Morningstar fair value estimate
Price to earnings ratio
Personal Finance investment newsletter buy target
Dividend Discount Model
The single-stage dividend discount model considers several factors I have discussed thus far.
Current annual dividend payment – $4.28 per share
Projected dividend growth – 8%
My desired annual return on investment – 10%
Using these assumptions, the dividend discount model calculates the fair value of AbbVie stock at a whopping $231 per share.
With the current stock price well below this level, it is clear the market does not place a high value on the future sustainability of the AbbVie dividend and AbbVie dividend growth.
AbbVie Stock Price to Earnings Ratio
The AbbVie stock price to projected 2019 earnings sits at under 10 times. To compare, the S&P 500 forward price to earnings ratio is 18 times.
AbbVie stock is trading at a large discount to the market as a whole. This is not an unusual situation for a stock with uncertain growth prospects.
Here is the big question…
When will the collective mind of stock market traders come to believe in the growth potential of AbbVie's new product pipeline? If and when they do, the stock's value should trade at least in line with the overall market valuation.
Valuing AbbVie stock at the market valuation of 18 times 2019 earnings gives us a price target of $132 per share.
Morningstar Fair Value
The investment analysis firm Morningstar believes AbbVie stock is fairly valued at $102 per share.
Source: Morningstar
Personal Finance Investment Newsletter
Finally, the longtime investment newsletter Personal Finance places a buy target on AbbVie stock at $80 per share.
Source: Personal Finance newsletter
AbbVie Stock Valuation Summary
We have looked at a number of valuation methods that suggest a range of values for AbbVie stock.
Very few stocks that I analyze have such a wide discrepancy from the highest to lowest valuation. The large valuation range indicates a fair amount of uncertainty about Abbvie's future prospects by the stock market.
Here is a summary:
Dividend Discount Model – $231 per share
Price to Forward Earnings Ratio to par with the market – $132 per share
Morningstar Fair Value – $102 per share
Personal Finance Newsletter buy target – $80
All value measure shows that AbbVie stock appears to be extremely undervalued at recent prices.
AbbVie Dividend Stock Analysis Wrap Up
AbbVie is a solid company with a long operating history.
Points I Like About AbbVie Stock
Strong track record of dividend growth
Sufficient dividend coverage from earnings and cash flow
Reasonably valued at recent price levels
Points That Concern Me About AbbVie Stock
High revenue concentration in one product-Humira
Dependence on new product pipeline for future growth
The cost and integration of Allergan starting in 2020
Significant use of debt financing and financial leverage
My Path Forward With AbbVie Stock
AbbVie represents a mid-size investment in my portfolio. And I will consider adding to my position at or below $80 per share.
Related: Dividends Deluxe – Model Dividend Stock Portfolio
Related: Medtronic Dividend Stock Analysis
Subscribe!
As part of your subscription to Dividends Diversify, you will get 20 wealth building and investment tips free! In addition, never miss a new post. I will send a weekly email to all subscribers with a link to the current week's new content. Finally, thanks for visiting.
Disclosure & Disclaimer
This article, or any of the articles referenced here, is not intended to be investment advice specific to your situation. I am not a licensed investment adviser, and I am not providing you with individual investment advice. The only purpose of this site is information & entertainment. We are not liable for any losses suffered by any party because of information published on this blog. See this site's Disclaimer and Privacy tab for more information.
I own AbbVie stock and collect the AbbVie dividend.