Slowing Growth for the Becton Dickinson Dividend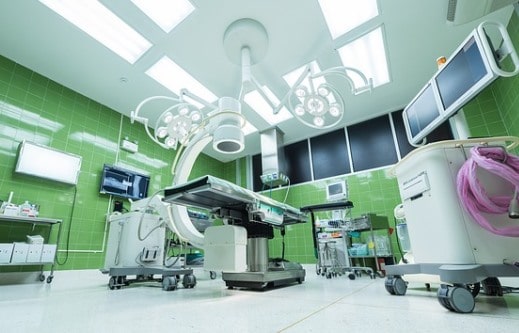 Becton Dickinson (also known as "BD") has a long history as a dividend growth stock. With an emphasis on dividend growth. Rather than the current dividend yield.
But the last two dividend increases have been noticeably small. As a result, let's investigate what is going on.
So join me for a dividend deep dive of this high-quality health care company. Certainly, I will have some thoughts on the recent Becton Dickinson dividend growth. BD is also a holding in the Dividends Deluxe model portfolio.
But before we get started, please note that this post includes an affiliate link.
As a result, by signing up with one of my preferred financial resources, I may receive a small sales commission. These commissions help offset the time and cost of running Dividends Diversify.
COMPANY BACKGROUND
BD is a global medical technology company. They are engaged in the development, manufacture and sale of a broad range of medical supplies, devices, laboratory equipment and diagnostic products.
Their many products are used by healthcare institutions, life science researchers, clinical laboratories, the pharmaceutical industry and the general public. BD's operations consist of two worldwide business segments: BD Medical and BD Life Sciences.
Becton Dickinson stock trades on the NYSE under the stock symbol BDX.
BECTON DICKINSON DIVIDEND YIELD
BDX stock pays an annual forward dividend of $3.08 cents per share. This gives us a 1.4% Becton Dickinson dividend yield at the recent price of $222 per share.
COMPOUND ANNUAL DIVIDEND GROWTH RATE
| | | | |
| --- | --- | --- | --- |
| 1 Year | 3 Years | 5 Years | 7 Years |
| 2.7% | 7.7% | 8.7% | 9.0% |
As illustrated in the chart, dividend growth has slowed. Furthermore, the company recently increased their dividend for 2019 by 2.7%. This increase is virtually identical to last year. Most noteworthy, the company has increased its dividend for 46 consecutive years even though the last 2 increases have been very small.
REVENUE

Revenue growth has accelerated rapidly in recent years. This is mainly due to acquisitions. In 2015 BD acquired CareFusion for $12 billion. And then in 2018, they acquired C.R. Bard for $24 billion.
BECTON DICKINSON DIVIDEND, EARNINGS AND PAYOUT RATIO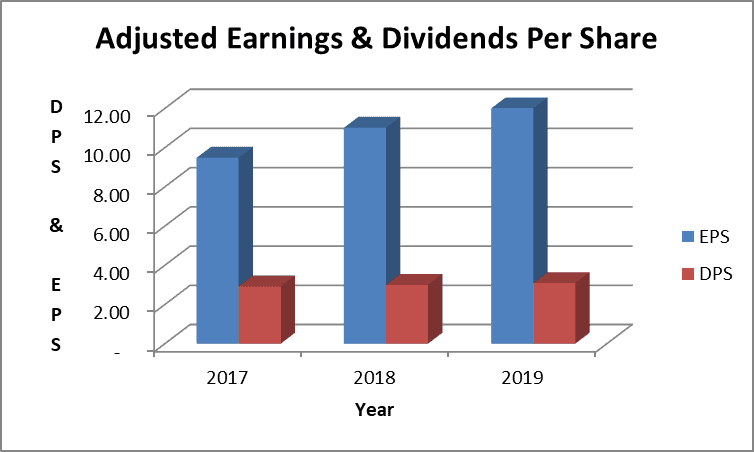 Due to the aforementioned acquisitions, BD's accounting earnings are complex and challenging to interpret. They include many non-cash charges related to the acquisitions. Those charges cloud the underlying business fundamentals. As a result, the company chooses to report an adjusted earnings number, shown in the chart above, outside of its financial statements. Certainly the dividend is well covered at about 25% of adjusted earnings per share.
I'm always a little skeptical when a company reports large adjustments to their accounting earnings. So let's double check the dividend coverage against free cash flow. Cash is cash. After all, our dividends are paid from cash, not accounting earnings. And there are no confusing accounting adjustments to interpret.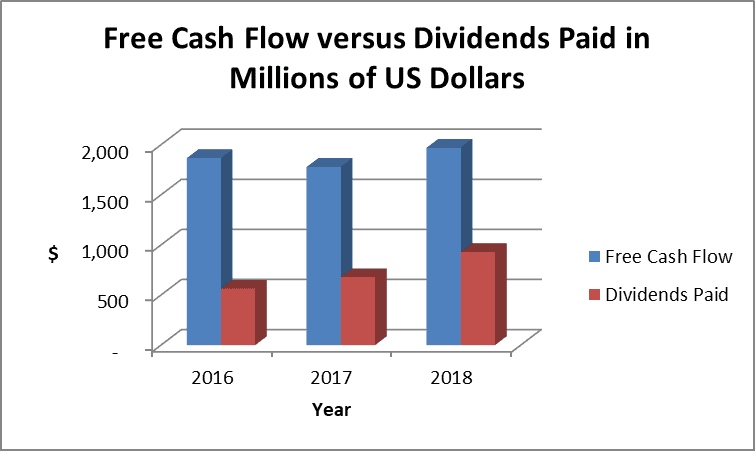 Once again, the dividend payout ratio checks out fine at less that 50% of free cash flow. The dividend appears safe in my estimation.
A lower dividend payout ratio is generally better. It shows the company has ample room to raise the dividend in coming years. Or, withstand an earnings drop with out having to reduce the dividend.
CREDIT RATING
Knowing a company's credit rating is important. Furthermore, it is critical when a company needs to borrow money to fund its operations. Finally, a corporation's credit rating is similar to how your personal credit score works. Most noteworthy, higher ratings mean lower risk to those who lend the company money. Also higher ratings mean lenders will likely get their loans paid back.
Above all, we are not lenders here at Dividends Diversify, we are Becton Dickinson stock investors. However, it never hurts to check out a company's credit worthiness.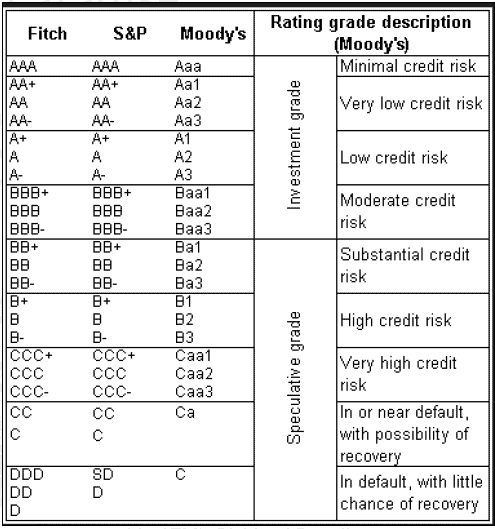 Most noteworthy, BD has a credit rating that indicates moderate to substantial credit risk. The ratings are provided by two of the big rating agencies: Moody's (Ba1) and S&P (BBB) as indicated in the chart above.
BD took on a substantial amount of long term debt to finance the C.R. Bard acquisition. Also, they issued more shares of stock in exchange for cash from the public.
The additional debt has lowered the companies credit rating. The additional shares outstanding have required the company to pay more in dividends to the new shareholders. In my opinion, these factors caused the company to reduce it's recent dividend increases to conserve cash.
And that is the issue from a dividend growth investors perspective. Dividend increases have taken a back seat to acquisitions and the need to finance those acquisitions. Hopefully that will be temporary and dividend increases will return to past levels as the company integrates, grows and benefits financially.
Unfortunately, hope is not always a good basis for investment decisions. In contrast however, I will give this company and its management the benefit of the doubt for the time being.
BECTON DICKINSON STOCK VALUATION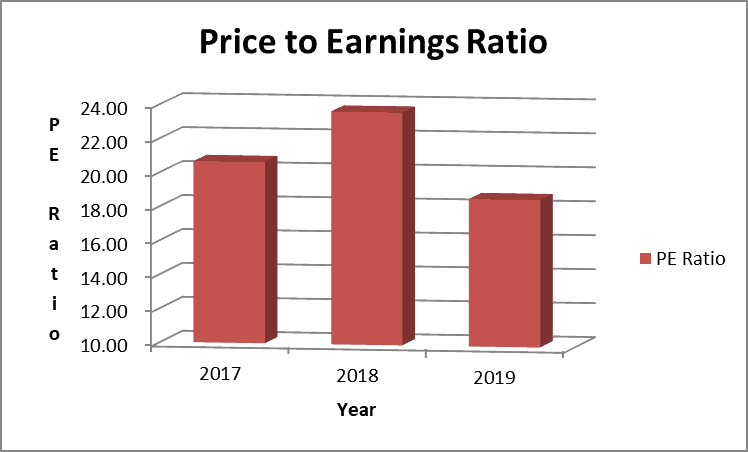 Becton Dickinson's stock price has increased rapidly over the past 6 years. Even so, the 2019 forward price to earnings ratio stands only in the high teens and is in line with BD's history of a PE ratio in the high teens to low 20's. Not cheap, but not wildly over valued for a high quality company in the health care sector. A lower price to earnings ratio typically represents a better value for the investor.
BECTON DICKINSON DIVIDEND-WRAP UP
With the acquisitions in recent years, BD has turned into more of a growth story. Its low dividend yield and slowing dividend growth is not particularly appealing to me as a dividend stock investor.
Right now, I look at BD as a growth company. And BDX stock happens to pay a dividend. Not your typical dividend stock, but I am okay with that for now.
BD holds a smaller size position in my dividend stock portfolio. I will hold on but do not intend to add to the position at this time. I want to see how the company performs over the next couple of years. If they integrate the C.R. Bard acquisition efficiently, I believe dividend growth will return to the 7-9% range and bring a rising stock price along with it for an attractive total return.
Related: Medtronic stock and dividend analysis
WHAT ARE YOUR COMMENTS ON BECTON DICKINSON DIVIDEND STOCK?
Do you own BD?  Does anyone in the dividend community think the Becton Dickinson dividend is an attractive investment?  Or should we leave it for growth stock investors?  Leave a comment and let us all know!
BE SURE TO SUBSCRIBE
As part of your subscription to Dividends Diversify, you will get 20 wealth building and investment tips free! In addition, never miss a new post. I will send a weekly email to all subscribers with a link to the current weeks new content. Finally, thanks for visiting.
Disclosure & Disclaimer
This article, or any of the articles referenced here, is not intended to be investment advice specific to your situation. I am not a licensed investment adviser, and I am not providing you with individual investment advice. The only purpose of this site is information & entertainment. We are not liable for any losses suffered by any party because of information published on this blog. See this site's Disclaimer and Privacy tab for more information.
I own Becton Dickinson stock and collect the Becton Dickinson dividend.