How Long Will Lower Becton Dickinson Dividend Growth Last?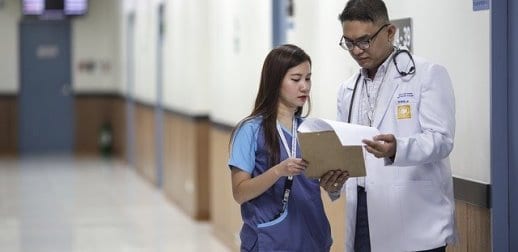 I'd like to work through a Becton Dickinson stock analysis and dividend review today. So, let's dive in.
Becton Dickinson is also known as "BD". And the company has a long history as a dividend growth stock.
With an emphasis on dividend growth. Rather than the current dividend yield.
But recently, dividend increases have been noticeably small. As a result, let's see what is going on. Certainly, I will have some thoughts on the recent Becton Dickinson dividend growth, safety, and more.
Furthermore, BD is a holding in the Dividends Deluxe model portfolio. Be sure to check out some of the other dividend stocks held there. Each one is linked to its most recent dividend stock analysis.
Disclosure: At no cost to you, I may get commissions for purchases made through links in this post.
Becton Dickinson Stock Analysis & Dividend Review: Key Takeaways
1. Becton Dickinson stock has a low dividend yield. But is a Dividend Aristocrat with a long history of increasing dividends every year.
2. Financial resources for acquisitions have taken priority over rapid dividend growth in more recent years.
3. But, a return to higher dividend increases looks probable starting in 2021.
4. The stock has traded in a fairly tight range the past 2-years. But still appears to fully valued. Not a screaming buy. Or, significantly overvalued either.
With those key points taken care. Let's dig into all of the research findings.
Because doing your investment research is a critical part of good money management. And I manage my total financial picture for free. Using Personal Capital.
Becton Dickinson Company Background
BD is a global medical technology company.
They are engaged in the development, manufacture, and sale of a broad range of health care products. These products include medical supplies, devices, laboratory equipment, and diagnostic products.
Their products are used throughout the healthcare industry. Customers include hospitals, doctors, life science researchers, clinical laboratories, the pharmaceutical industry, and the general public.
Source: Becton Dickinson – About The Company
Becton Dickinson Business Segments
BD operates 3 worldwide business segments:
Medical – Devices & related technologies
Life Sciences – Diagnostic testing & the study of diseases
Interventional – One-time use surgical & specialty devices
Revenue breaks down by segment as shown in the chart below.
Chart 1: BD Revenue By Segment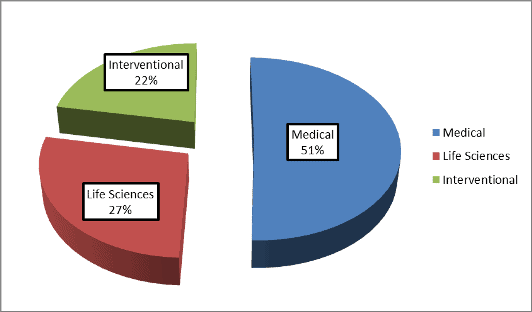 Growth Strategy
In recent years, BD has made 2 large acquisitions: Care Fusion and C.R. Bard. The company continues the process of integrating and realizing the synergies from these mergers.
The C.R. Bard acquisition brought with it the move into the interventional business segment. This segment has a higher growth potential than the more mature medical and life sciences segments. But also requires higher spending on research and development to fuel that growth.
Becton Dickinson Stock Symbol
Finally, Becton Dickinson stock trades on the New York Stock Exchange. It uses the stock ticker symbol BDX (NYSE: BDX).
Next up, let's move into the Becton Dickinson dividend review portion of the stock analysis.
Does BDX Pay Dividends?
Yes. Becton Dickinson stock pays dividends.
The company has a long, rich history. As a high-quality dividend growth stock.
So, let's review everything we need to know about BD's stock dividend.
Becton Dickinson Dividend Rate Per Share
BDX stock pays an annual forward dividend of $3.32 per share.
What does "annual forward dividend" mean?
It is the most recently approved quarterly dividend rate per share. Multiplied by the number of times the company pays dividends each year.
Becton Dickinson Dividend Yield
The annual dividend rate gives us a 1.4% Becton Dickinson dividend yield. at the recent BDX stock price.
This is a stock with a pretty low dividend yield for my liking. When I own a stock with a dividend yield of less than 2%, I like to see rapid dividend growth.
We will get to dividend growth in a moment. But first, more facts and figures regarding Becton Dickinson's dividend.
How Often Does Becton Dickinson Pay Dividends?
Becton Dickinson pays dividends every 3 months or 4 times per year. These regular dividend payments are 83 cents per share.
When Are Becton Dickinson's Dividends Paid?
First of all, BD makes regular and routine dividend payments in March, June, September, and December. Furthermore, the dividend is paid on the last business day of these months.
Becton Dickinson's Ex-Dividend Date
As a potential new shareholder or one looking to make an add-on buy, you may want to receive the next BDX stock dividend payment. To do so, you must complete your investment by the ex-dividend date.
Becton Dickinson's ex-dividend date typically falls at the end of the first week during the month in which its dividends are paid. Said another way, the ex-dividend date is about 3 weeks prior to the dividend payable date.
These are the general ex-dividend calendar dates to remember. But since the dates can vary by a day or two each quarter. It's a good idea to check the exact dates on the company's investor relations website if they are important to you.
Otherwise, buy and hold long-term. Then, sit back and get paid quarterly dividends each time the company declares them.
Becton Dickinson Dividend History
Becton Dickinson has increased its dividend every year since 1972.
An accomplishment that makes this company a Dividend Aristocrat. Dividend Aristocrats are those companies that have increased their dividends for at least 25 years in a row.
In the future, I expect to be telling you that BD is a newly crowned Dividend King. A Dividend King has increased its dividends annually for at least 50 consecutive years.
But how does the dividend growth rate stack up? As promised let's look at dividend growth next.
Becton Dickinson Dividend Growth Rate
As shown in table1, dividend growth has slowed to a crawl.
Table 1: BD Compound Annual Dividend Growth Rate
| | | | |
| --- | --- | --- | --- |
| 1 Year | 3 Years | 5 Years | 7 Years |
| 2.6% | 2.7% | 5.7% | 6.9% |
Becton Dickinson Dividend Increase
But there is a glimmer of hope for faster dividend growth. Since the company recently increased its dividend for 2021 by 5.1%.
The 2021 dividend increase broke a trend. Because BD's prior 3 annual dividend increases had been the same.
Specifically, 2 cents per share added to the quarterly payout. This time, we got a 5 cent increase to the quarterly dividend.
An increasing growth trend is a positive sign. But I still want faster dividend growth from a low dividend yield stock like BDX.
Becton Dickinson Dividend Policy
It doesn't appear that BD publicly communicates its dividend policy. But with 49 consecutive years of dividend increases, it's clear that they have one.
But without a dividend policy statement, I will have to make some judgments. In order to make a dividend growth forecast.
More on that topic in a bit. Next, I want to look at some of the business fundamentals. That will help in forecasting dividend growth.
Becton Dickinson Revenue Trend
Revenue growth has accelerated rapidly in recent years. As shown in the chart below. The growth is mainly due to acquisitions.
Chart 2: Becton Dickinson Revenue Trend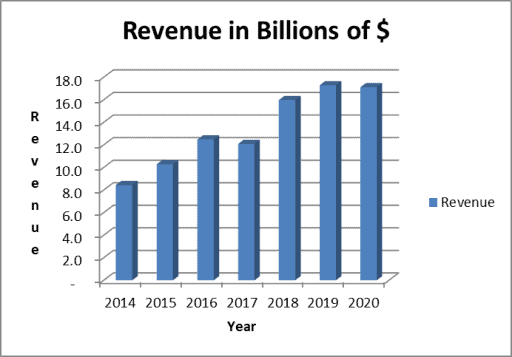 In 2015 BD acquired CareFusion for $12 billion. And then in 2018, they acquired C.R. Bard for $24 billion.
But growth stalled in 2020. Why? Postponed medical procedures. As a result of the global health crisis. And an unfortunate product recall was also an issue.
Looking forward. The company's long-term growth forecast calls for 5-6% annual gains.
Becton Dickinson Dividend Payout Ratio Based On Earnings
Due to the aforementioned acquisitions, BD's accounting earnings are complex and challenging to interpret. They include many non-cash charges related to the acquisitions.
Those charges cloud the underlying business fundamentals. As a result, the company chooses to report an "adjusted" earnings number.
Chart 3: BDX Dividends Per Share & Adjusted Earnings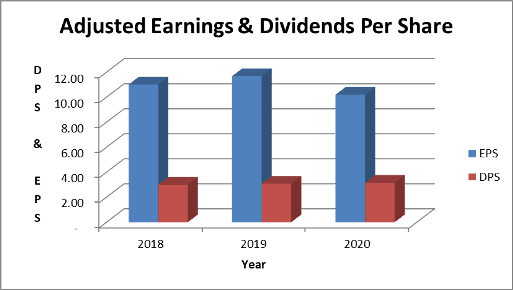 Adjusted earnings are shown in the chart above. These numbers are reported outside of the company's financial statements.
Certainly, the company's dividend is well covered. It consumes only 30% of adjusted earnings per share.
However, I'm always a little skeptical when a company reports large adjustments to their accounting earnings. So let's double-check the dividend coverage against free cash flow.
Cash is cash. It can not be adjusted.
And after all, our dividends are paid from cash. And there are no complex accounting adjustments to interpret.
Becton Dickinson Dividends & Cash Flow
Once again, Chart 4 below shows us the dividend payout ratio checks out fine at less than 40% of cash flow. So, the dividend appears well covered.
And cash flows have been rising nicely. This is a good sign the company has a healthy and safe dividend.
Chart 4: BD 3-Year Trend Of Dividends Vs. Cash Flow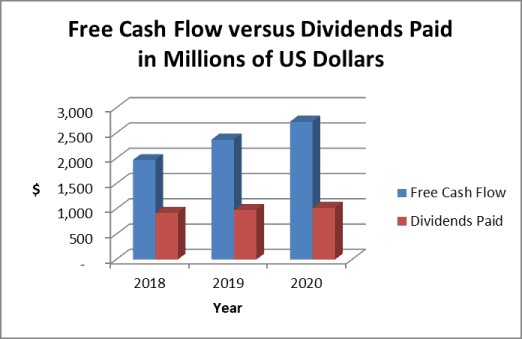 A lower dividend payout ratio is generally better. It shows the company has ample room to raise the dividend in the coming years. Or, is able to handle an earnings drop and not need to reduce the dividend.
Finally, the company uses its remaining cash to reduce debt. And more recently build its cash postion for liquidity purposes.
Speaking of debt, let's look to see how secure BD's financial position is.
Becton Dickinson Financial Position
I judge a company's financial position by looking at its capital structure. And credit ratings.
A company's capital structure is the combination of debt and equity used to purchase the assets required to run the business. Do they finance their business with large amounts of debt? That can be a bad sign if the company runs into financial difficulties.
BD Debt To Equity
However, debt to equity checks in at a very reasonable level. It is .75 to 1.
And it has decreased since the last time I reviewed BDX stock. Another sign of a productive company and a healthy dividend.
Becton Dickinson Credit Rating
Knowing a company's credit rating is important. Furthermore, it is critical when a company needs to borrow money to fund its operations.
A corporation's credit rating is similar to how your personal credit score works. Higher ratings mean lower risk to those who lend the company money. Put another way, higher ratings mean lenders will be more likely to get their loans paid back.
You can check your credit score for free. With Credit Karma.
While you do that, I will check Becton Dickinson's creditworthiness as measured by its credit ratings.
The ratings are provided by two of the big rating agencies: Moody's (Ba1) and S&P (BBB) as indicated in the table.
Table 2: Credit Rating Evaluation Grid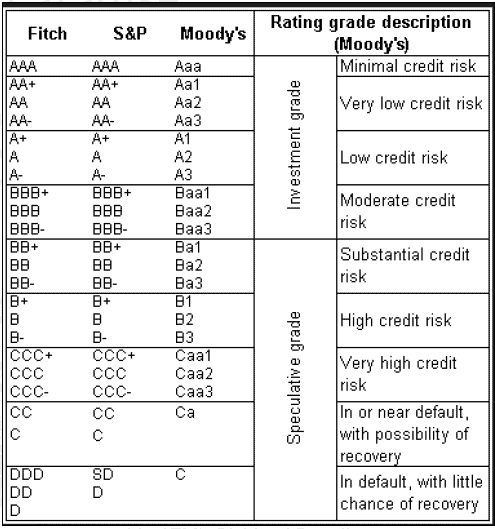 BD has a credit rating that is investment grade. But moderate credit risk. Furthermore, the ratings are lower than ratings of other high-quality dividend-paying companies.
Why? Because BD took on more long term debt to finance the C.R. Bard acquisition. Also, they issued shares of stock in exchange for cash from the public.
The additional debt has pressured the companies credit rating. The additional shares outstanding have required the company to pay more in dividends to the new shareholders.
In my opinion, these factors caused the company to reduce its recent dividend increases to conserve cash. And protect its credit rating from decreasing any further.
Dividend Increases & Acquisitions Do Not Always Mix Well Together
Here is my issue from a dividend growth investor's perspective…
Dividend growth has taken a back seat to acquisitions and the need to finance those acquisitions. Hopefully, this will be temporary and dividend increases will return to past levels. As the company integrates, grows, and benefits financially from the mergers.
So I will be patient and give this company and its management the benefit of the doubt for the time being. The business fundamentals and dividend metrics still look strong to me.
That said. Let's talk about BD's dividend safety next.
Becton Dickinson Dividend Safety
I base my evaluation of dividend safety on a number of factors discussed so far. They include:
Business fundamentals
Dividend payout ratios
Dividend yield
Cash flow generation
Credit ratings
Financial position
The low-ish credit ratings give me a reason to pause. However, I believe the Becton Dickinson dividend is very safe from a potential reduction for the foreseeable future.
Why? Cash flows are strong. Dividends as a percentage of cash flow are reasonable. And the company operates in sectors with steady demand.
So the dividend looks safe. What about the potential for better dividend growth?
Becton Dickinson Dividend Growth Projection
In order to plan for the income from my consistent-paying dividend stocks, I make a dividend growth forecast for each one of my holdings. My dividend forecast also helps in valuing the stock.
The forecast is based on:
Historical dividend growth
Dividend payout ratios
Business fundamentals
Business growth strategy
Usually, it is easy to come up with a reasonable dividend growth projection. But, Becton Dickinson is a more difficult situation.
Why? Because until the last 3+ years, BD has increased its dividend much more rapidly.
I have to ask myself if the company will return to higher dividend growth. Or, remain with 2-3% annual increases.
My conclusion? Well, it may take another year, but I believe dividend growth will return to a higher level. 8-9% annually, in my opinion.
First of all, my dividend forecast method corresponds with management's long-term expectations for profit growth. Being 10%+.
Furthermore, increases in health care spending and higher profits from acquisition savings.
Finally, the company's expectation to have more free cash at its disposal starting in the fiscal year 2021. As shown in the graphic below.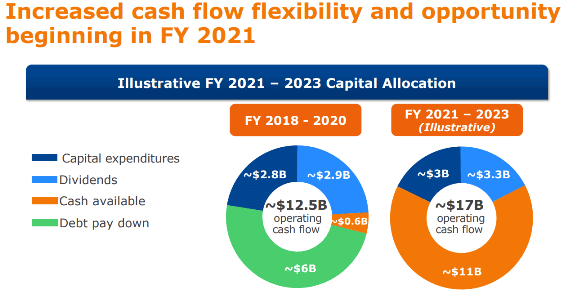 Source: J.P. Morgan Health Care Conference
This Becton Dickinson stock analysis would not be complete without assessing the stock valuation. Let's do that before we wrap up.
Becton Dickinson Stock Valuation
Becton Dickinson's stock price has been in a fairly tight trading range for the last 2 years. So let's check valuation using a couple of different methods.
To see if the stock represents good value. Or, not.
Becton Dickinson Dividend Discount Model
The single-stage dividend discount model (also called The Gordon Growth model) takes into account several factors we have discussed so far.
The current annual dividend payment
Projected annual dividend growth
Plus my desired annual rate of return on investment, 10%.
Using these assumptions, the dividend discount model calculates the fair value of Becton Dickinson's stock at $240 per share.
Morningstar Fair Value Estimate
The investment analysis firm Morningstar believes the fair value of BDX stock to be $282 per share.
Simply Investing Report Valuation Judgment
I subscribe to the Simply Investing Report. It provides a selection of recommendations on quality dividend stocks each month. And coverage of many more.
Using some pretty strict valuation measures. Simply Investing currently believes Becton Dickinson stock to be overvalued.
Becton Dickinson Stock Price To Earnings Ratio
The Becton Dickinson stock price to 2020 earnings stands in the low 20's. It is high. But not unusual for a quality dividend growth stock.
A lower price to earnings ratio typically represents a better value for the investor.
Is BDX Stock A Buy?
Taking into account all of the valuation measures, Becton Dickinson's stock looks to be trading at about fair value. According to the price to earnings ratio and dividend discount model valuations. On the other hand, BDX stock has been trading below Morningstar's fair value estimate.
The stock is certainly not a screaming buy. But may not be a bad investment to pick up on any weakness from current levels. Especially if one believes (like me) that annual dividend growth will resume at 8%+ in coming years.
If you do make a purchase. Make sure to trade your stocks fast and free. I use the Webull app to do so.
Becton Dickinson Dividend Stock Analysis Wrap Up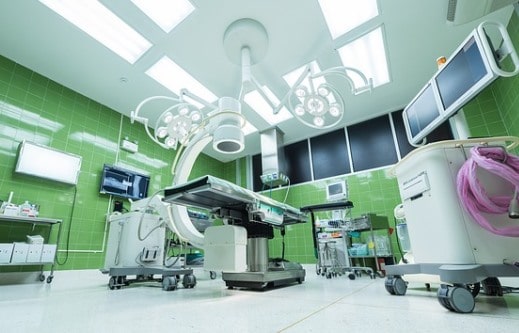 With its aggressive acquisition strategy in recent years, BD is not your typical dividend stock. Its low dividend yield and slowing dividend growth are not particularly appealing to me as a dividend stock investor.
Right now, I look at BD as a growth company. And BDX stock happens to pay a dividend.
Not a typical dividend stock, but I am okay with that for now. The dividend appears safe and I believe it will grow more rapidly in the future.
BD holds a smaller size position in my dividend stock portfolio. I will hold. But do not intend to add to the position at this time.
Other Health Care Sector Dividend Stock Reviews
My Favorite Dividend Investing And Finance Resources
Disclosure & Disclaimer: I am not a licensed investment adviser, financial adviser, or tax professional. And I am not providing you with individual investment advice, financial guidance, or tax counsel. Furthermore, this website's only purpose is information & entertainment. And we are not liable for any losses suffered by any party because of information published on this blog.
I own Becton Dickinson stock and collect the Becton Dickinson dividend.