Clorox Stock & Dividend Analysis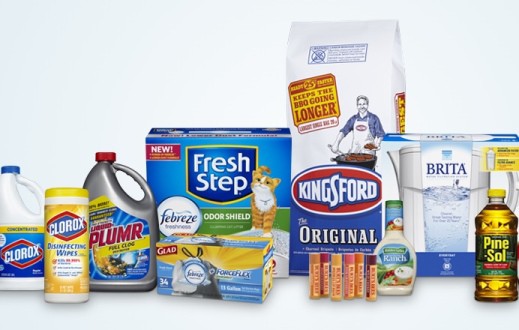 Load up the grill with Kingsford charcoal. Grill that burger and put some Hidden Valley Ranch on your side salad.
Then clean up with some Clorox disinfecting wipes. And as long as we are cleaning up, let's scrub down one of my favorite investments by focusing on Clorox stock and the Clorox stock dividend.
CLOROX STOCK ANALYSIS
So let's jump right into a Clorox stock analysis and Clorox dividend review that I call a dividend deep dive.
CLOROX COMPANY BACKGROUND
The Clorox Company is a leading manufacturer and marketer of consumer products. Clorox markets some very trusted and recognized brands that include.
Clorox Consumer Brands
Clorox bleach and cleaning products
Pine-Sol cleaners
Liquid Plumber clog removers
Kingsford Charcoal
Hidden Valley dressings and sauces
Glad bags, wraps, and containers
Burt's Bees personal care products
Brita water filters
Poett home care products
Fresh Step cat litter
RenewLife digestive health products
Rainbow Light, Natural Vitality, and Neocell dietary supplements
Clorox Professional Services Brands
The company also markets brands for professional services, including
Clorox Healthcare
Clorox Commercial Solutions
Overall Brand Strength
More than 80 percent of the company's sales are generated from brands that hold the number 1 or 2 market share positions in their categories.
Source: The Clorox Company – Who We Are
CLOROX BUSINESS STRATEGY
Clorox management presented at the Consumer Analysts Group of New York (CAGNY) Conference. They provided insight into their business and strategy.
I have summarized some of the key points for you here. Source: CAGNY Conference
Clorox Company Objectives
Maximize economic profit
Hold large market share in mid-sized categories & countries
Clorox Company Strategy
Drive superior consumer value
Accelerate portfolio momentum in and around the core
Fund growth by reducing waste in work, products and supply chain
Engage associates as business owners
Clorox Company Annual Financial Targets
3-5% sales growth
25-50 basis points operating margin improvement
11-13% free cash flow as a percentage of sales
Clorox Priorities for Free Cash Flow
Invest in the business
Support the dividend
Manage debt
Repurchase Clorox stock
Clorox management did not give specific guidance on future dividend growth. However, I do like that they mention the dividend as the number 2 priority for using cash flow.
As long as we are talking about the dividend, let's move on to the Clorox dividend metrics next.
CLOROX STOCK DIVIDEND YIELD
Clorox pays an annual forward dividend of $4.24 per share. Based on the recent stock price, that dividend payout puts the Clorox dividend yield at 2.7%.
Let's see what Clorox dividend growth looks like.
CLOROX STOCK DIVIDEND GROWTH HISTORY
| | | | |
| --- | --- | --- | --- |
| 1 Year | 3 Years | 5 Years | 7 Years |
| 10.3% | 7.6% | 6.2% | 6.9% |
Short Term Clorox Dividend Growth
Clorox dividend growth has been very healthy for the last several years. And Clorox management recently announced the Clorox dividend increase for 2019. It came in at a super strong 10.4%!
Long Term Clorox Dividend Growth
Now let's take a long term historical view of Clorox dividend growth. Most noteworthy, the company has increased its dividend for 42 consecutive years.
Clorox – A Dividend Aristocrat
This accomplishment makes Clorox a dividend aristocrat. Dividend Aristocrats are comprised of those companies that have increased their dividend payout at least 25 years in a row.
We can't crown Clorox a Dividend King just yet. Dividend Kings have increased their dividend for at least 50 years in a row.
Clorox certainly has an impressive dividend history. Let's see if the business fundamentals are providing solid support for the dividend today and into the future.
CLOROX REVENUE TREND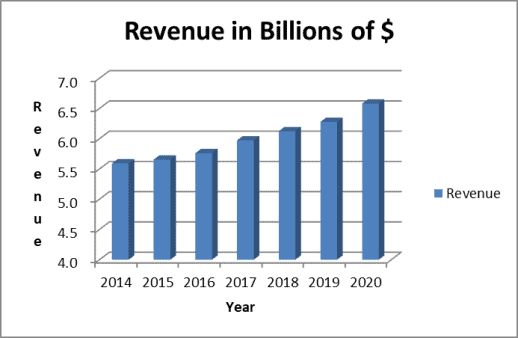 Clorox Sales Growth Goals
The company's goal is to increase annual net sales by 3-5%. Over the past several years they have performed slightly below this range.
It has been a difficult competitive environment for branded consumer product companies. Competition is intense from private label store brands and entrenched local brands in foreign countries.
The geographic reach and growth rate of Clorox sales is depicted in the following table:
| | | |
| --- | --- | --- |
| Region | % to Total | Growth Rate |
| US-Domestic | 80% | 2-4% |
| International | 20% | 5-7% |
| Total Company | 100% | 3-5% |
The Foundation For Clorox Sales Growth
Clorox management believes that sales growth will come as a result of delivering superior consumer value. In turn, they believe superior value is an outcome of:
The right product price
Differentiated products
Great brand recognition
Source: CAGNY Conference
CLOROX STOCK DIVIDENDS AND EARNINGS PER SHARE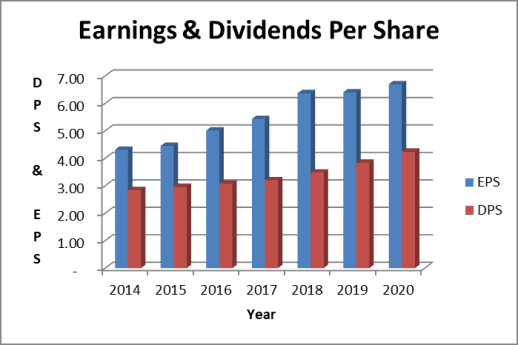 Consistent earnings growth has been a result of
Revenue growth
Margin expansion from price increases and cost savings
Operating expense management
And, the dividend has grown along with earnings. Looking at the Clorox dividend payout ratio, the dividend appears safe at roughly 60% of both earnings and free cash flow.
FREE CASH FLOW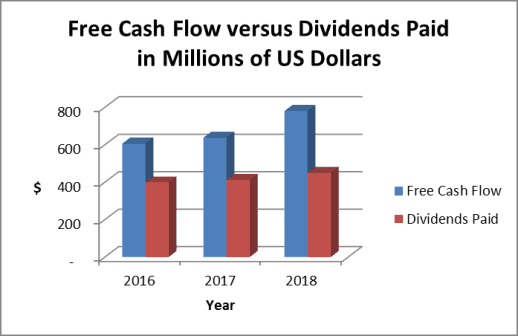 Free cash flow also shows a nice growth trend. The dividend payments are running just less than 60%. After paying dividends, the remaining free cash flow goes primarily to the repurchase of Clorox stock.
Overall, Clorox management does an excellent and well-balanced job of returning cash to its shareholders through dividends and share repurchases.
CLOROX BALANCE SHEET
Clorox carries a relatively high amount of debt. Their debt to equity ratio checks in at a lofty 3.3 to 1. As a comparison, the overall debt to equity ratio of companies in the S&P 500 is only .9 to 1.
Clorox uses debt primarily to pay for acquisitions. In contrast, equity rarely grows because Clorox management is returning most equity coming from earnings back to shareholders. This comes in the form of share repurchases and dividends. And leads to a higher debt to equity ratio over time.
Due to the consistency of the Clorox business and the strength of free cash flow generation, the debt to equity ratio is not a huge concern to me. However, it does bear watching. And I'm glad the company has identified debt management as the #3 priority for using cash flow.
CLOROX CREDIT RATINGS
Clorox has a Baa1 and A- credit rating from Moody's and S&P, respectively. These ratings represent "investment grade – low to moderate credit risk".
Most solid dividend paying companies hold investment-grade credit rating. The Clorox ratings are at the lower end of investment grade. Their relatively high debt levels likely play a role in the credit ratings being a little lower.
CLOROX STOCK DIVIDEND SAFETY
The Clorox dividend appears very safe to me. It is supported by:
A stable and consistent business model
Dividend payout ratios at approximately 60%
Investment grade credit ratings
CLOROX STOCK DIVIDEND GROWTH PROJECTION
Clorox management doesn't give specific guidance on future dividend growth. However, their short and long term dividend payment record suggests growth will most definitely continue into the future.
For my planning purposes, I am going to assume a 6% annual dividend growth in the coming years. I am basing my projection on the following:
Revenue growth at 4%
Earnings growing faster than revenue adding another 2%
Dividend payout ratio remaining steady at 60%
In other words, earnings will grow at 6% and management will increase the dividend at the same rate. This will leave the dividend payout ratio near the 60% level.
CLOROX STOCK VALUATION
Let's judge value in several ways:
Dividend Discount Model
Morningstar fair value estimate
Price to earnings ratio
Dividend Yield
Dividend Discount Model
The single stage dividend discount model considers several factors I have discussed thus far.
Current annual dividend payment – $4.24 per share
Projected dividend growth – 6.0%
My desired annual return on investment – 9%
Using these assumptions, the dividend discount model calculates the fair value of Clorox stock at $150 per share.
Clorox Stock Price to Earnings Ratio
The Clorox stock price to the projected fiscal year 2020 earnings sits at about 23 times. To compare, the S&P 500 forward price to earnings ratio is 17 times.
Clorox stock is trading at a solid premium to the market as a whole. This is not an unusual situation for a high-quality dividend growth stock.
A Clorox stock price of $134 per share would leave it trading at a forward price to earnings ratio of 20 times. This is a little more reasonable price level for me.
Morningstar Fair Value
The investment analysis firm Morningstar believes Clorox stock is fairly valued at $138 per share.
Clorox Stock Dividend Yield
I like dividend yields in the 3-5% range. I personally would prefer to buy more Clorox stock at a dividend yield of at least 3%. A 3% dividend yield would give us a Clorox stock price of $141 per share.
CLOROX STOCK VALUATION SUMMARY
We have looked at a number of valuation methods that suggest a range of values for Clorox stock.
Valuation Summary:
Dividend Discount Model – $150 per share
Price to Forward Earnings Ratio to 20 times – $ 134 per share
Morningstar Fair Value – $138 per share
3% Dividend Yield – $141 per share
The value measurements suggest Clorox stock is overvalued at recent prices.
MY PATH FORWARD
As I assess this range to make a Clorox stock recommendation for my own purposes, I'm going to set a personal buy target of $140 per share or less. I would love to buy more Clorox stock at that level or lower.
CLOROX STOCK ANALYSIS SUMMARY
Let's conclude on what we have learned from this Clorox stock review.
The Clorox Business
I believe the Clorox Company represents a nice combination of:
Good products
Competent management
Solid financial performance
Clorox Stock Dividend Metrics
In addition, the company's dividend metrics are very solid. Specifically,
A high degree of dividend safety
An excellent historical dividend track record
Dividend yield at just less than 3%
Projected dividend growth of 5-7% annually
Clorox Stock Valuation
Finally, Clorox stock is overvalued based on most measures. So I will look to add to my holding at $140 per share or less.
Related: Dividends Deluxe Model Portfolio
Disclosure & Disclaimer
This article, or any of the articles referenced here, is not intended to be investment advice specific to your situation. I am not a licensed investment adviser, and I am not providing you with individual investment advice. The only purpose of this site is information & entertainment. We are not liable for any losses suffered by any party because of information published on this blog. See this site's Disclaimer and Privacy tab for more information.
I currently own Clorox stock and collect the Clorox stock dividend.