A Recent Dividend Reduction From Dominion Was Disappointing
Dominion stock once was my favorite dividend stock holdings. Because for many years it provided a great combination.
A combination of current dividend income and dividend growth. I used the cash to partially fund my living expenses.
But with the announcement of a dividend reduction. Dominion stock fell from my list of favorites.
So let's put the Dominion Energy stock dividend under the microscope. And work through a Dominion stock analysis.
Is Dominion Energy stock a good investment? We will answer this important question. And many more about its dividend.
For this model dividend stock portfolio holding here at Dividends Diversify. Let's start with key takeaways…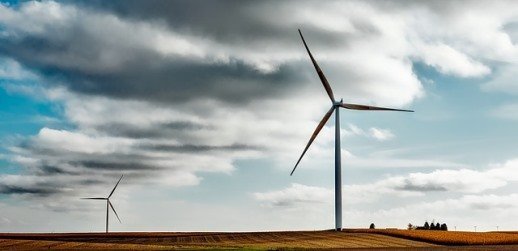 Disclosure: At no cost to you, I may get commissions for purchases made through links in this post.
Dominion Stock & Dividend Review: Key Takeaways
Here are a few takeaway points from this analysis of Dominion stock and the Dominion dividend:
A very disappointing dividend reduction in 2021
New dividend yield of more than 3%
6% projected longer-term dividend growth off of the new base
Targeting a 65% dividend payout ratio going forward
Not the powerful combination of high dividend yield and high dividend growth it used to be
Potential for 8-10% long term total returns
As of the time of publication, Dominion stock looks undervalued. But, for my personal account, I have a hold call on the shares. More on my reasons for that in the wrap-up section.
This puts me on the hunt for new dividend stocks to invest in. And I have a couple of "go to" sources.
First, there is the Simply Investing report. It focuses on both U.S.-based and Candian-based companies that pay regular dividends.
I also like the Motley Fool Stock Advisor. For its insightful stock reviews and recommendations.
With those highlights and thoughts taken care of. Let's get into the details. Starting with some background on the company.
Dominion Energy: Company Background
Dominion Energy is one of the largest producers of energy in the United States utility sector. Headquartered in Richmond, Virginia, they have nearly 7.5 million customers in 16 states. There operating assets are focused on:
Electric generation, transmission, and distribution
Natural gas transportation and delivery
Renewable energy generation
Dominion's operations are centered around the following areas…
A Power Delivery Group. That distributes electricity to North Carolina and Virginia.
The Gas Infrastructure Group. Distributing natural gas to both residential and industrial customers. Service territories include Ohio, the Southeastern United States, and the Rocky Mountain region.
Finally, the Power Generation unit. It manages the company's fleet of power generating stations.
Power sources include renewables such as water, wind, and solar. Also, more traditional power sources like nuclear, gas, coal, and oil.
Business Risks That Could Have An Impact On The Dominion Dividend
First of all, regulatory relations have traditionally been positive for Dominion. But the political winds can always shift and limit pass-through of costs plus a fair profit on growth projects.
Furthermore, Dominion periodically makes acquisitions of other companies. Their ability to successfully integrate. And realize merger savings. Is also a business risk.
Dominion Stock Symbol
Dominion Energy stock trades on the New York Stock Exchange (NYSE). It trades under the ticker symbol D (NYSE: D).
When I buy (and hopefully never sell) my dividend stocks. I use the Webull app. It's fast and powerful. And has great research tools.
And best of all trades are commission-free. You can learn more about Webull here.
But, moving right along with our feature company. That completes the business overview portion of today's Dominion stock analysis. Next up, dividends…
Facts & Figures Regarding the Dominion Stock Dividend
First of all, let's talk about how to make money with dividends from a stock like Dominion. And understand everything we need to know about the Dominion dividend…
What Is Dominion's Dividend Rate Per Share?
Dominion stock pays an annual forward dividend of $2.52 per share.
The annual forward dividend is the last cash dividend payment approved by the company. Multiplied by the number of times when a company pays dividends each year.
What Is The Dominion Stock Dividend Yield?
Based on the recent stock price. The current dividend rate per share puts the Dominion stock dividend yield at 3.3%.
This is a fairly low yield for a regulated utility stock.
There are other dividend stocks with higher combined yields. And dividend growth prospects.
How Often Does Dominion Energy Pay Dividends?
Dominion pays its dividend every 3 months or 4 times per year. Each quarterly dividend payment is one-fourth of the annual rate.
When Does Dominion Pay Dividends?
What is the timing of the dividend payments from Dominion? Well, they are paid on or around the 20th day in the following months: March, June, September, and December.
When Is The Ex-Dividend Date For Dominion Stock?
For an investor to receive Dominion's next dividend payment. One must complete their purchase of Dominion stock before the ex-dividend date.
Dominion Energy's ex-dividend date is approximately 2-3 weeks before each quarterly dividend payment. You can see Dominion's dividend payment history and timing of payments on its investor relations website.
Dominion Stock Dividend Growth
At the beginning of the article, I mentioned that Dominion's past dividend growth was impressive. So let's put some numbers behind that next.
Table 1: Compound Annual Dividend Growth Rate (through 2020)
| | | | |
| --- | --- | --- | --- |
| 1 Year | 3 Years | 5 Years | 7 Years |
| 2.5% | 7.4% | 7.7% | 7.6% |
A good trend of dividend increases, in my opinion. With the exception of 2020, when Dominion announced its dividend would increase by only 2.5%.
Not long after, management announced the dividend would be reduced in 2021.
Dominion Dividend History
I was disappointed with the last dividend increase. Even more so, the dividend reduction.
But prior to the decrease, management had a nice streak going. They had increased the Dominion dividend for 17 consecutive years.
This leads me to why I liked Dominion stock so much in the decade of the 2010s.
Related: Duke Energy dividend review
Dominion Stock: A Great Investment In The 2010 Decade
Hopefully, you are starting to see why Dominion Energy WAS one of my favorite dividend stocks. Specifically,
Dividend yield in the 5% range
8-9% annual dividend growth
17 consecutive years of dividend increases
A double in value of the Dominion share price
Dominion was a dividend stock investors dream!
Let's move on to some of the business fundamentals next.
Dominion Energy Historical Revenue Trend
Prior to 2019, revenue held in a pretty tight range. This is typical for a regulated utility stock.
Chart 1: Dominion 3-Year Revenue Trend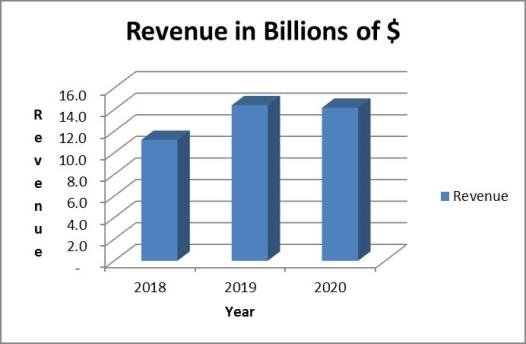 In contrast, 2019 revenues increased by a sizeable amount. This is mostly due to the acquisition of SCANA that closed early in 2019.
What do earnings look like? Let's see…
Dominion Stock Dividend Payout Ratio & Earnings Per Share
Earnings per share have grown over the long run as the company invests in capital improvement projects. The cost of these projects plus a profit margin is then passed on to their customers. This is the essence of a regulated utility business model.
Chart 2: Dominion 3-Year Trend of Per Share Earnings & Dividends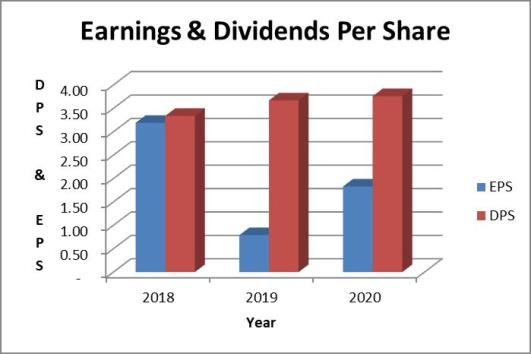 But, the dividend payout ratio became very high. And the company would end up paying more in dividends than it earned prior to the dividend reduction.
A lower dividend payout ratio is usually better for the investor. It allows the company to maintain the dividend during difficult times. Or increase it even when earnings are not growing.
Regulated utilities typically have higher dividend payout ratios. But Dominion's was clearly getting too high for management to handle. Leading to a reduction.
The potential for dividend reductions. Is one of the negatives of dividend-paying stocks.
Here's what the company expects in the future for dividend growth and the dividend payout ratio…
Dominion Dividend Policy, Dividend Growth Forecast & Payout Ratio
In recent press releases and investor materials, Dominion management states:
The company now expects to target an approximately 65 percent payout ratio…
This new payout ratio implies a 2021 dividend payment of around $2.50 per share. The … annual dividend reflects the absence of income from the divested natural gas assets and a revision to the company's target payout ratio to align with best-in-class utility industry peers.
Beginning in 2022, the company expects annual dividend-per-share increases of approximately 6 percent per year. This represents a significant increase from the previous long-term dividend per-share growth guidance of 2.5 percent.
Wrapped up in that comment is a clear-cut dividend growth policy statement.
The statements indicate a long-term Dominion stock dividend growth forecast of 6.0%. And a 65% target dividend payout ratio.
This is all very good information. When it comes to understanding the future issuance of dividend payments from Dominion.
Let's see what the company's financial position looks like next…
Dominion Energy Credit Rating & Balance Sheet
Moody's and S&P rate Dominion long-term bonds Baa2 and BBB, respectively. Their ratings represent "investment grade moderate credit risk" evaluations. As shown in the table below.
Table 2: Credit Rating Evaluation Grid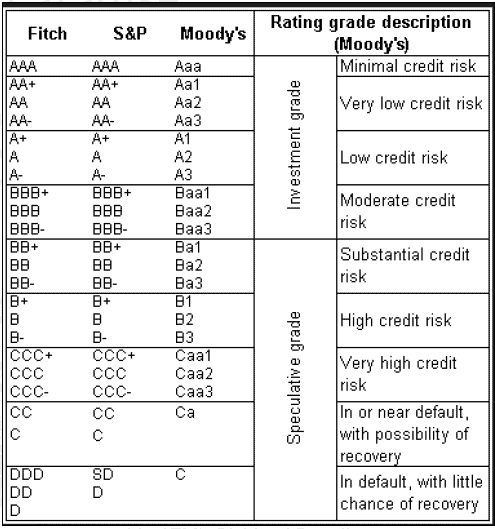 Also, Dominion's debt to equity ratio stands at 1.3 times. Comparing favorably to other utility stocks.
Dominion is like other utility companies. They are very capital intensive and need both debt and equity financing to support their businesses and grow.
Dominion's balance sheet, financial position, and credit ratings are acceptable to me. They are in line with other regulated utilities.
On a side note, be sure to keep an eye on your personal credit score. I check mine for free using Credit Karma. You can learn more about Credit Karma here.
Furthermore, investing in dividend stocks is just one aspect of solid money management. It's also a good idea to treat your entire financial picture as a business.
To do so, I manage all of my investments and spending in one place. By using web-based Personal Capital. You can learn more about Personal Capital here. It's easy to sign up. And free to use.
Dominion Dividend Safety
Taking into account Dominion's dividend metrics, business fundamentals, and financial position, I judge Dominion's new 2021 dividend rate to be safe.
When I say safe, I mean it is unlikely to be reduced in the foreseeable future. I doubt they will need to reduce it again anytime soon.
I will assume they achieve their 65% dividend payout ratio goal. Because that is a very comfortable level for a regulated utility.
Next, a check on the stock's valuation. Then I will wrap this up.
Dominion Stock Valuation
Let's look at Dominion stock value from several different angles.
Dominion Dividend Discount Model
First, let's use a single-stage dividend discount model to calculate a fair value for the Dominion stock price. The model considers several points discussed thus far. Specifically,
The current dividend rate per share
And one additional fact. My desired annual return on investment of 9%.
Using these assumptions, the Dominion dividend discount model calculates the fair value at $89 per share.
Morningstar Fair Value Estimate of Dominion Stock
The investment research company, Morningstar, estimates the fair value of Dominion stock at $86 per share.
Utility Forecaster Investment Newsletter
The Utility Forecaster newsletter recently had a buy limit price on Dominion stock at $82 per share.
Dominion Energy Stock Forecast
I've used several different valuation methods for Dominion stock. They indicate to me that this dividend stock is undervalued right now.
With 6% projected earnings growth, I could see Dominion stock trading in the low 100's in the next 5 years. Couple that share price appreciation with a 3%+ dividend yield and an investor has potential for an 8-10% total return.
Of course, nothing is guaranteed. Do your research and invest at your own risk.
Dominion Stock & Dividend Analysis Wrap Up
Dominion stock is one of the largest stock holdings I own. Because it was one of the first purchases when I established my stock portfolio for recurring dividends more than 15 years ago.
It has been a rewarding dividend growth stock investment. But the recent dividend reduction announcement is very disappointing. And the last several years, the stock price has remained in a trading range.
Because of its size in my portfolio, I won't be adding to my shares at this time. And because of the unrealized capital gains, I'm sitting on. I will not be selling either.
So, for my personal account. I have a hold call on Dominion stock.
Further Reading About Dividend Stocks Like Dominion
My Favorite Dividend Investing Resources
The dividend investing and personal finance resources I mentioned in this article are summarized here for your convenience.
I use all of them. To make the most of my money and investments.
Disclosure & Disclaimer: I am not a licensed investment adviser, financial adviser, or tax professional. And I am not providing you with individual investment advice, financial guidance, or tax counsel. Furthermore, this website's only purpose is information & entertainment. And we are not liable for any losses suffered by any party because of information published on this blog.
I own Dominion stock and collect the Dominion dividend.