International Business Machines – IBM Stock Dividend Analysis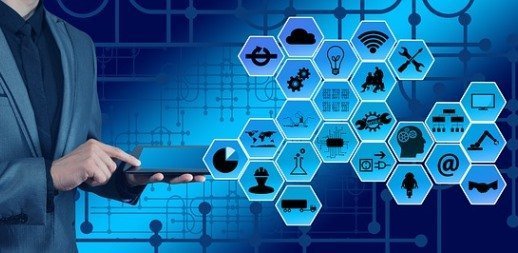 The IBM stock dividend is substantial. However, IBM stock on an overall basis has been a poor performer in my investment portfolio.
Fortunately, IBM is one of my smaller holdings. One reason it is small, unfortunately, is that the stock price hasn't been going up during this bull market.
In fact, I have an unrealized loss on my shares. And I have considered selling on a number of occasions to realize the loss for tax purposes.
IBM STOCK DIVIDEND ANALYSIS
So I think it's time to give IBM stock and the IBM stock dividend a fresh look. Maybe I should finally sell out? So let's check in on IBM with a dividend deep dive analysis.
To this point, I have continued to hold on to collect that hefty IBM stock dividend. High dividend yields with sufficient dividend safety, like IBM's, are hard to replace in a dividend growth stock portfolio.
IBM COMPANY BACKGROUND
IBM is a global leader in the technology sector. They operate across a broad area of the technology product and service spectrum.
Their products and services include:
Hardware
Software
Infrastructure and technical support
Consulting
Cloud computing
Artificial intelligence
Blockchain
IBM's products and services are very broad and deep. In fact, they have been criticized for being too complicated with a lack of integration across product strategies. Clients can easily be overwhelmed by choice and complexity.
IBM BUSINESS STRATEGY
IBM's legacy hardware and software operations are stagnant. The company is continuing to focus on higher-growth areas to counteract the shortfall.
They call their growth opportunities strategic imperatives. These areas include newer technologies like artificial intelligence, cloud computing and the internet based ledger technology called blockchain.
RED HAT ACQUISITION
To accelerate the growth of its strategic imperatives, IBM announced the currently pending acquisition of Red Hat.
Red Hat is a provider of open source software solutions. They may be able to provide the innovative capabilities that IBM must develop to stay competitive and grow.
IBM plans to fund the Red Hat acquisition with a mix of cash and debt. They also plan to suspend share buybacks in 2020 and 2021 to protect the dividend and reduce its debt-to-equity levels.
Red Hat Announcement
Here is an excerpt from IBM's press release announcing the acquisition with some of the important financial details:
The acquisition of Red Hat reinforces IBM's high-value model. It will accelerate IBM's revenue growth, gross margin and free cash flow within 12 months of closing. It also will support a solid and growing dividend.
The company will continue with a disciplined financial policy and is committed to maintaining strong investment grade credit ratings. We will target a leverage profile consistent with a mid to high single-A credit rating. The company intends to suspend its share repurchase program in 2020 and 2021.
Dividends Diversify Perspective
Paying large sums of money for acquisitions can put a company's dividend payment at risk. I like that IBM is suspending share repurchases rather than freezing or reducing the dividend. I also like the statement supporting a solid and growing dividend.
But these expectations and forward-looking statements will require close attention after the acquisition closes. I do not want to get caught in a situation where the IBM stock dividend is at risk of being reduced.
So let's take a look at some of IBM's dividend metrics next. And see where the company stands in advance of the Red Hat deal.
IBM STOCK DIVIDEND YIELD
IBM pays an annual forward dividend of $6.48 per share.  Based on the recent stock price, that dividend payout puts the IBM dividend yield at 5.7%.
IBM's dividend yield is pretty high. Let's see what IBM stock dividend growth looks like.
IBM STOCK DIVIDEND GROWTH
| | | | |
| --- | --- | --- | --- |
| 1 Year | 3 Years | 5 Years | 7 Years |
| 5.3% | 7.5% | 10.9% | 11.5% |
Dividend growth has clearly slowed in recent years. In addition, IBM increased its dividend by an even smaller amount in 2019. The announcement indicated that only a 3.2% increase would be offered up.
The small increase didn't surprise me. IBM is telling us they need to conserve cash by temporarily suspending their share buybacks to support the Red Hat acquisition. That message makes me assume larger dividend increases in the next few years are unlikely.
For my dividend growth planning purposes, I'm going to use a 4% annual dividend growth rate.
IBM STOCK DIVIDEND HISTORY
The 2019 dividend increase announcement marked the 24th consecutive year of IBM dividend increases. This put the company just 1 year short of the Dividend Aristocrat mark.
The Dividend Aristocrats are comprised of those companies that have increased their dividends at least 25 years in a row.
Let's see if the business fundamentals tell us anything about slowing dividend growth.
IBM REVENUE TREND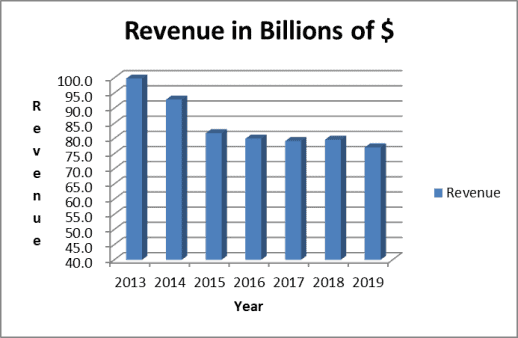 A discussion about IBM would not be complete without a look at revenues.
It has been well documented that IBM has struggled to transition its business from older declining technologies to newer growth technologies. These struggles are seen in their declining revenue trend over the past several years.
2017
During the 4th quarter of 2017, IBM reported higher revenue for the first time in 23 quarters. At the time, they signaled continuing growth in 2018.
2018
And it appeared that the forecast was correct. They reported successive quarters of revenue growth. In contrast, that situation changed in the middle of 2018 as growth faltered.
2019
And the start of 2019 has shown a continuation of the decline. It is clear that sustainable revenue growth is still a work in progress for IBM.
IBM STOCK DIVIDENDS AND EARNINGS PER SHARE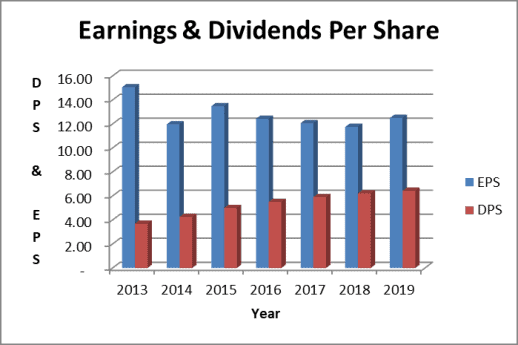 Normalized Earnings
Note that 2017 and 2018 earnings per share have been normalized in the above chart for the one-time impacts of the 2017 tax reform act.
Earnings Support
Even with the significant revenue declines, IBM has been able to maintain earnings around the $12 per share mark.
To a large extent, this has been due to the use of cash for aggressive share buybacks. Fewer shares outstanding in the stock market serve to prop up earnings on a per share basis.
In addition, the company has reduced operating expenses to offset the impact of declining profits generated from falling revenues.
IBM Stock Dividend Payout Ratio
Finally, as the chart indicates, it is a positive sign that the dividend payout ratio has been hovering around 50% of earnings per share the last several years. This indicates a fair amount of dividend safety in the near term.
IBM FREE CASH FLOW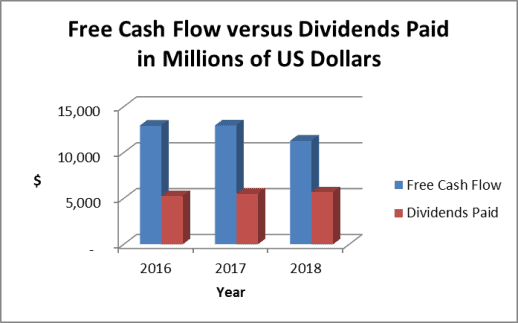 Growth issues aside, IBM remains a high margin cash-rich business. Free cash flow covers the dividend with plenty of room to spare. And management is forecasting $12 billion in free cash flow for 2019.
That will leave the 2019 dividend payments at less than 50% of free cash flow. Again, for the near future, the dividend appears to be well covered by cash flow and very safe.
And that's important. Our dividends are paid in cash. They are not paid from reported accounting earnings!
IBM BALANCE SHEET
IBM carries a large amount of debt. Their debt to equity ratio checks in at a relatively high 2.7.
As a comparison, the overall debt to equity ratio of companies in the S&P 500 is only .9. And another technology company, Microsoft, has a debt to equity ratio of just .77.
From a debt perspective, IBM is significantly more leveraged than the average blue-chip company. This metric bears watching after the close of the Red Hat acquisition.
IBM CREDIT RATING
IBM has an A1 AND A credit rating from Moody's and S&P, respectively. These ratings represent "investment grade – low credit risk".
This is a very attractive credit rating. Once again, financing the Red Hat acquisition may cause a downward evaluation by the rating agencies. This is another metric I will want to keep an eye on going forward.
IBM STOCK VALUATION
Let's judge value in several ways:
Dividend Discount Model
Morningstar fair value estimate
Personal Finance investment newsletter buy target
Price to earnings ratio
Dogs of the Dow Theory
IBM Stock Dividend Discount Model Value
The single stage dividend discount model considers several factors I have discussed thus far.
Current dividend payment – $6.48 per share
Projected dividend growth – 4%
My desired annual return on investment – 9%
Using these assumptions, the dividend discount model calculates the fair value of IBM stock at $135 per share.
Morningstar Fair Value
The investment analysis firm Morningstar believes IBM is fairly valued at $158 per share.
Personal Finance Investment Newsletter
The longtime investment newsletter Personal Finance places a buy target on IBM stock at $140 per share.
IBM Stock Price to Earnings Ratio
The IBM stock price to projected 2019 earnings sits at about 10 times. To compare, the S&P 500 forward price to earnings ratio for 2019 is 16 times.
IBM is clearly trading at a discount to the market as a whole. This tells me that the investors making up the market do not believe in IBM's growth potential. Otherwise, the collective minds of the market would be placing a higher value on the stock.
IBM Stock Dividend & Dogs of the Dow
I won't get into all of the specifics of the Dogs of the Dow stock picking strategy. Suffice it to say that under this method, the Dow stocks with the highest dividend yields are deemed to be undervalued and ready for a rally.
And IBM has routinely been one of the highest dividend yielding stocks in the Dow Jones Industrial Average during recent months.
IBM STOCK VALUATION SUMMARY
We have looked at a number of valuation methodologies that suggest a range of values for IBM stock.
Here is a summary:
Dividend Discount Model – $135 per share
Morningstar Fair Value – $158 per share
Personal Finance Newsletter buy target – $140
Price to Forward Earnings Ratio – 37% discount to the S&P 500
Dogs of the Dow – Indicates IBM stock is undervalued
Even though the IBM stock price rose rapidly during the early stages of 2019, it still appears to be undervalued based on these methods.
IBM STOCK DIVIDEND ANALYSIS WRAP UP
Let's wrap up with a few things we have learned.
IBM Stock Dividend
The IBM stock dividend has a high and currently well-supported dividend yield. However, IBM dividend growth has slowed and will likely remain low over the next several years.
IBM Revenue Trend
IBM's multi-year struggle to return to consistent revenue growth has not yet ended. Their expensive bet that acquiring Red Hat will help them solve this problem adds financial risk to the situation.
IBM Stock Value
If IBM can return to growth, the stock appears to be an excellent value. In contrast, if growth continues to falter in combination with the costs of financing the Red Hat acquisition, the current dividend payment could be in jeopardy in future years.
Unlike many of the other dividend stocks I own, IBM has a much greater risk versus reward proposition.
My Path Forward with IBM stock
I plan to hold my shares. I may consider adding to my shares below $140. And I will monitor the company's results closely after the Red Hat acquisition closes.
If I ever feel future dividend payments are in jeopardy of being reduced, I hope to be the first running for the exits before too much damage is done.
Related: Apple Dividend & Stock Analysis
Disclosure
This article is not intended to be investment advice specific to your personal situation. Invest at your own risk. You are responsible for any investment gains or losses. See this site's Disclaimer and Privacy tab.
I currently own IBM stock and collect the IBM stock dividend!