It's time to take a close look at Kimberly Clark stock and the Kimberly Clark stock dividend.
Because Kimberly Clark operates in a competitive business climate. And they face stiff competition in the retail consumer goods segment.
Is the dividend safe? Is Kimberly Clark a good stock to buy?
Are Kimberly Clark's shares reasonably priced? What do the business prospects look like?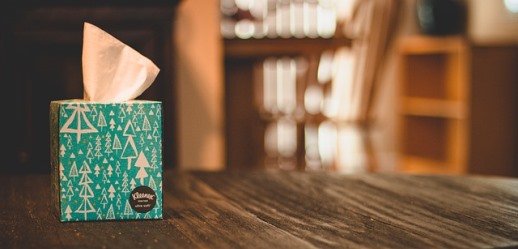 Disclosure: At no cost to you, I may get commissions for purchases made through links in this post.
Kimberly Clark Stock Dividend Analysis
To answer these questions, let's run Kimberly Clark through a dividend stock review. I want to check out what is going on with the Kimberly Clark stock dividend. And answer all of the questions I just asked.
And before you go, be sure to check out all of the stocks in our model portfolio. It's a great group of stocks for dividend income.
Kimberly Clark Company Background
Kimberly Clark is organized into three operating segments. The segments are based on product groupings.
It's hard to get through the day without touching one of their products or a similar product marketed by a competitor.
So let's first review what Kimberly Clark develops, manufactures, and sells to us as a consumer.

Personal Care Brands
Included in this segment are solutions and products such as disposable diapers, training, and youth pants, swim pants, baby wipes, feminine and incontinence care items.
These products are sold under many brand names some of which include:
Huggies
Pull-Ups
Little Swimmers
GoodNites
DryNites
Kotex
Depend
Poise
Consumer Tissue
Products in the consumer tissue segment mainly include facial and bathroom tissue, paper towels, and napkins.
Let's call this what it really is: kleenex, toilet paper, and napkins. Nothing fancy here, but the type of stuff we all use every day. And as you might know, there has been an increased demand for toilet paper used in homes.
Kimberly Clark brands in this area include:
Kleenex
Scott
Cottonelle
Viva
Andrex
Scottex
Neve
K-C Professional
The K-C Professional segment partners with businesses and institutions. They put Kimberly Clark products into the workplace.
Products like wipers, tissue, towels, apparel, soaps, and sanitizers. You may have seen Kimberly Clark towel and soap dispensers in your workplace bathrooms.
These brands include:
Kleenex
Scott
WypAll
Kimtech
Jackson Safety
Revenue Share By Business Segment
Personal Care is currently the largest segment based on revenues. Followed by Consumer Tissue. With K-C Professional a distant third.
Kimberly Clark Stock Symbol
Finally, for the interested investor. The Kimberly Clark stock symbol is "KMB". And KMB stock trades on the New York Stock Exchange.
Kimberly Clark Business Strategy
Kimberly Clark has been in business since the late 1800s.
But there current strategy assumes that category growth will remain modest. Similar to conditions in recent years.
Their plans are to:
Grow the brand portfolio
Leverage cost and financial discipline
Allocate capital to create value
From their strategy, Kimberly Clark's mid-term financial objectives are as follows:
Sales growth – 1 to 3 percent annually
Earnings per share growth – mid-single digits annually
Return On Invested Capital – maintain at the current level
Dividend growth – in line with earnings per share growth
Source: Kimberly Clark events and presentations
This is not a spectacular growth story. No one is likely to get filthy rich investing in this company.
However, it is nice to see the dividend growth objectives mentioned in the strategic plan. So let's talk more about the dividend next.
Since I love digging into the dividend details for a company.
Kimberly Clark Dividend Rate Per Share
Kimberly Clark's annual dividend is simply the last approved dividend rate per share. Multiplied by the number of times a company pays dividends each year.
By taking the annual dividend rate divided by the stock price you get the dividend yield.
Kimberly Clark Dividend Yield
KMB is not a high dividend yield stock. But the yield does hover in and around my preferred sweet spot.
That being 3-5%. I use that range to screen for potential purchases.
Let's continue with the dividend metrics. Because making money from company paid dividends is what it's all about!
How Often Does Kimberly Clark Pay Dividends?
KMB dividends are paid 4 times per year. It is a quarterly dividend stock. And follows a typical dividend payment pattern that many U.S. based stocks use.
When Are Kimberly Clark's Dividends Paid?
Kimberly Clark pays dividends in January, April, July, and October. The dividend is paid during the first week of these months.
And be sure to check out this article. If you are looking for quarterly dividend payments starting in March of each year.
When Is KMB's Ex-Dividend Date?
Are you a potential new shareholder? Or someone looking to make an add on investment to your current KMB shares?
If that is the case, you may want to receive the next dividend payout. To increase your dividend income right away. If so, complete your investment BEFORE the ex-dividend date.
Kimberly Clark's ex-dividend date falls in the month PRIOR to when it pays dividends. Furthermore, it comes at the beginning of those months.
Know Your Dividend Dates
Depending on how the calendar falls. The dividend dates are always a little different.
So, refer to Kimberly Clark's website for the precise dates. Or its most recent quarterly press release announcing the company's next dividend payment.
Because it is important to pay attention to dividend dates. For making regular income from dividends.
On the other hand, for the long-term, buy and hold investors reading this now. Just hang on to your stock and collect every dividend that is paid. Thus, there is no need to worry about dividend dates.
Kimberly Clark Dividend History
The company has been increasing its stock dividend every year since 1973. That's a nice long streak of annual dividend increases.
A Dividend Aristocrat
This streak makes Kimberly Clark a Dividend Aristocrat. An Aristocrat has increased dividends for at least 25 years in a row. Furthermore, I do not expect the string of annual dividend increases to be broken any time soon. Which means…
We Have A Soon To Be Dividend King
In fact, KMB is a Dividend King in the making. Since Dividend Kings have increased their dividends each year for 50 straight years!
Companies that have achieved Dividend King status are great additions to any dividend income portfolio. For the reliable dividend income, they provide.
Kimberly Clark Dividend Growth
Dividend growth rates have slowed across the consumer goods sector. With Kimberly Clark being no exception.
Thus low to mid-single-digit percent annual increases have been the norm. As I watched for management's annual announcements.
While better dividend growth would be a sign of positive business fundamentals. And vice versa.
One last word about the dividend…
Kimberly Clark Dividend Policy
I like it when a company has clearly stated plans for future dividend payments. Not all companies do this. But, Kimberly Clark does not disappoint me here.
In the past, they communicated an intent to "generally increase the dividend in line with earnings per share growth".
Of course, it is important to note. That dividends are discretionary.
Thus, management can change their dividend policy at any time.
Next, let's look at the financial metrics to see what they tell us…
Kimberly Clark Revenue
Branded consumer products businesses have faced major headwinds. Organic growth rates have been weak as consumers shift to lower-cost private label products.
Thus, revenue growth has been tough to come by.
Furthermore, about 50% of revenue is generated outside the US. There is stiff competition from local brands in these foreign markets. And foreign currency translation is a headwind at times.
Fortunately, the trend is to spend more time at home. At that trend has increased demand for the company's products.
Translating to higher revenues. At least for the time being.
Kimberly Clark Dividend Payout Ratio & Earnings
The company targets cost reduction programs to improve earnings.
It is good to see the company trying operate more efficiently. Thus, taking costs out of their system.
This approach aligns well with the realities of the global marketplace. And serves to offset negative impacts from commodity price inflation.
So, with a stable revenue line and cost savings ongoing. Earnings look more than sufficient to cover the dividend.
With that said, Kimberly Clark's dividend consumes a reasonable share of earnings. This is more commonly known as the dividend payout ratio.
Kimberly Clark Free Cash Flow
I also like to check a company's dividends against free cash flow.
And it appears they have plenty of cash flow to cover their dividends. With excess cash beyond the dividend going to share repurchases.
Kimberly Clark Credit Rating
Kimberly Clark typically carries investment-grade credit ratings from Moody's and S&P.
Table 2: Credit Rating Evaluation Grid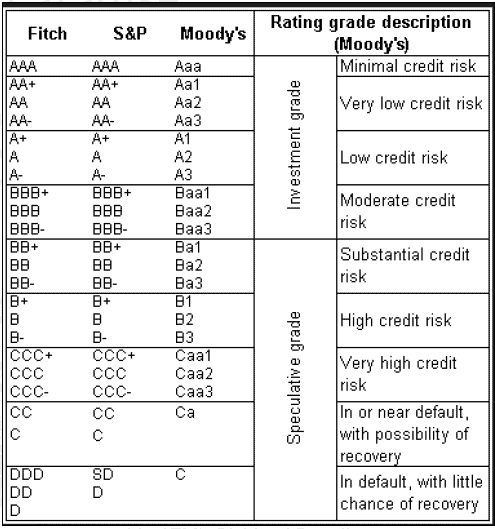 This is a solid sign of financial stability and the company's ability to pay its obligations as they come due.
Furthermore, be sure to keep an eye on your own credit score. You can do so for free using Credit Karma.
Kimberly Clark Financial Position
The company employs large amounts of financial leverage.
Contributing to the financial leverage is the company's use of cash to retire outstanding stock from the market each year. This is also known as share buybacks.
Share buybacks are great to see. But I actually would prefer if some of this cash was allocated to dividend growth.
However, I do not see any change in capital allocation practices based on Kimberly Clark's strategic plan.
Finally, the use of financial leverage is not a big concern for me as it relates to Kimberly Clark's stock. Mainly because they have a stable demand for their products. And a long history of consistent earnings and cash flow generation.
Apparently Moody's and S&P see it similarly. Since they assign investment-grade credit ratings to the company.
Kimberly Clark Dividend Safety
I base my judgment on dividend safety using the information discussed so far.
Business fundamentals
Dividend yield
Dividend payout ratios
Historical dividend track record
Credit ratings
Financial position
Whether you look at the company's growing dividend payout against accounting earnings or free cash flow, it looks well covered. No issues here.
Other than the use of financial leverage, all areas point to adequate dividend safety. So, I consider Kimberly Clark's dividend safe from a reduction for the foreseeable future.
But, will the dividend continue to grow?
Kimberly Clark Dividend Growth Forecast
I make a dividend growth projection for every dividend growth stock that I own.
The projection helps me judge if Kimberly Clark's shares are reasonably priced. Furthermore, it sets an expectation from which I can compare future dividend increases. Finally, it helps me plan for my future dividends to fund living expenses.
To make my forecast, I look at:
Historical dividend growth
Dividend payout ratios
Management's dividend policy when provided
Business fundamentals
Company growth strategy
Kimberly Clark allows for making a dividend income growth forecast simple. According to their strategic plan, they expect to grow earnings in the mid-single-digit percentages each year. And their desire is to grow the dividend at the same rate as earnings.
Putting these pieces together, I expect a 4-6% future annual dividend growth rate from Kimberly Clark stock.
Kimberly Clark Stock Valuation
Next up, Kimberly Clark stock valuation.
Are Kimberly Clark's Shares Reasonably Priced?
Investors are usually willing to pay a high price for the current dividend, dividend safety, and steady dividend growth Kimberly Clark stock offers. Oftentimes, slow and steady stocks come at a premium price.
2 good rules to follow in investing are 1) never significantly overpay for a stock. And 2) keep your investment costs low.
I follow rule #2 by trading stocks for free. To so, I use the Webull app. It's free, fast, and easy to use.
As for the stock valuation, the methods I discuss below should give us a good idea.
Let's dive deeper by looking at stock value…
Kimberly Clark Dividend Discount Model
The single-stage dividend discount model considers several factors I have discussed thus far.
The current annual dividend payment
Projected dividend growth
My desired annual return on investment
Using these assumptions, the dividend discount model calculates the stock's fair value. And it suggest the shares are slightly overvalued at this time.
Valuation From Simply Investing
Let's check in with Simply Investing to see what they think. Since I subscribe to the Simply Investing report.
Simply Investing provides a great analysis of company prospects for dividend investors. And, it is an excellent resource for quality dividend stock investment ideas and recommendations.
The Simply Investing Report has strict rules to judge a stock's value. Those rules are:
Stock price to earnings ratio must be 25 or below
The current dividend yield must be higher than the average dividend yield over the past 20 years
Stock price to book ratio should be 3 or less
If a stock meets these 3 rules, it is considered a good value. Otherwise, it is considered overvalued.
At the time of this update, Kimberly Clark stock is considered undervalued by the Simply Investing.
By subscribing to Simply Investing. You can have access to their latest dividend metrics. And valuation measures for hundreds of stocks.
It crunches all the numbers for you. And recommends what dividend stocks are the best buys whenever you are ready to invest. I use the report to augment my research.
Kimberly Clark Dividend Stock Analysis Wrap Up
Kimberly Clark stock holds a small position in my dividend stock portfolio. It is also a holding in this popular dividend stock exchange-traded fund that I own.
Is Kimberly Clark A Good Stock To Buy?
Kimberly Clark is one of the most stable stocks you can invest in.
And unless it ever trades at an extremely overvalued price. It is great for making smaller incremental purchases to build a position.
As for stocks in the consumer goods sector, I also like Clorox. Clorox has better-differentiated products, in my opinion. And they dominate the categories in which they compete.
In contrast, Kimberly Clark's products tend to be more commoditized. And subject to greater pricing pressures.
Other Articles & Resources Related To Kimberly Clark Stock & Dividend Investing
My Favorite Dividend Investing & Finance Resources
Author Bio: Tom Scott founded the consulting and coaching firm Dividends Diversify, LLC. He leverages his expertise and decades of experience in goal setting, relocation assistance, and investing for long-term wealth to help clients reach their full potential.
I currently own Kimberly Clark stock and collect the Kimberly Clark Dividend.