For Anyone Thinking About Moving To Maryville, Tennessee
Eastern Tennessee has become a popular destination. So, let's take a close look at the pros and cons of living in Maryville TN.
Since Maryville comes off as a good place to live. And a good place to retire.
On the other hand, no place is perfect. So, Maryville living won't be for everyone.
Let's understand why. By reviewing the living in Maryville TN pros and cons…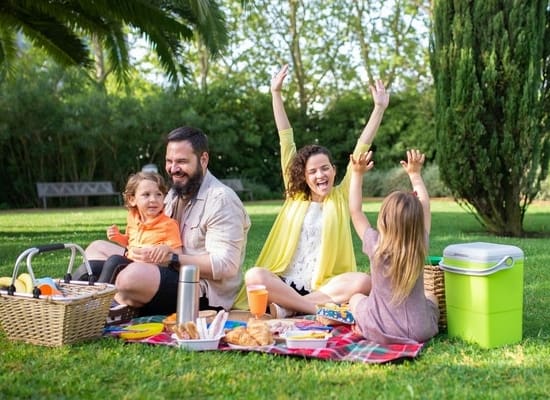 Disclosure: At no cost to you, I may get commissions for purchases made through links in this post.
Pros And Cons Of Living In Maryville TN
Here's our top 10 list of Maryville pros and cons:
Small town living
Beautiful outdoor setting
Low costs and taxes
Good public schools
Low crime rate
Can get small-town stale
Conservative viewpoints
Limited diversity
Heavy traffic congestion
Summer heat and humidity
We will cover each of these pros and cons about moving to Maryville in a moment.
And before you go. Be sure to see these best small towns in eastern Tennessee. For the best out of life.
But now, allow me to offer an answer to the most important question of the day…
Is Maryville TN A Good Place to Live?
Located in what is known as "The Volunteer State", Maryville is a family-friendly small town. With a moderate cost of living, minimal crime, and good schools.
Its proximity to the Smoky Mountains makes it an outdoor lover's paradise. While allowing for easy access to the larger nearby city of Knoxville when needed.
These traits make this town a great place to raise a family. And an excellent place to retire.
On the other hand, we are talking about a small town. And may not offer enough nightlife. Especially for young adults who have not yet started a family.
Furthermore, throw in the lack of diversity and conservative viewpoints. And those with alternative opinions may not feel comfortable here.
Finally, the summers bring tourists, traffic congestion, heat, and humidity, plus seasonal allergies. So, all is not perfect here.
Okay. With those highlights taken care of. Let's explore the pros and cons of living in Maryville a little more closely…
Small Town Living
Maryville is a quiet and peaceful small town in east Tennessee. With a population of about 30,000 residents. It is located 17 miles south of Knoxville.
There is a quaint downtown area. With several local restaurants, bars, and shops. As well as a few venues to enjoy some country music.
The Blount County Library is relatively new. And a popular place to visit and explore.
Maryville College adds a unique element of higher education and culture to the community. With its large chapel and performing arts center.
Okay. We are just getting warmed up. So, let's get onto another one of the benefits of living in Maryville.
Beautiful Outdoor Setting
The area is an outdoor lover's dream. Mainly due to its location in the foothills of the Appalachian Mountains.
Including the town's proximity to Great Smoky Mountains National Park. Just 20 miles to the southeast. Near the border with North Carolina.
Outdoor recreational activities are virtually endless. From hiking, camping, fishing, bicycling, and motorbike riding.
So, if you like to get out and explore nature. Maryville provides an excellent home base to work from.
Low Costs And Taxes
Many people are moving to Tennessee. Including Maryville. Because of the low cost of living.
According to BestPlaces.net, the cost-of-living index is about 12% less than the average across the United States.
With real estate and housing costs providing big savings. Since the median home value is approximately 20% less than the U.S. median house price.
If you are looking for more space. Rather than living in town. There is plenty of it in and around the area. So, be sure to check out some of the farmland options outside of Maryville.
Furthermore, in Tennessee, there is no individual income tax on residents. And overall, eastern Tennessee is also known for its modest property taxes.
Thus, for making ends meet and balancing your budget. Maryville and other small towns in Tennessee offer inexpensive living. As compared to other places in the country.
And just a suggestion. Get your finances in order before you move.
I use and recommend the free online tool from Empower. It makes managing your money much less of chore.
Good Public Schools
First of all, the town is consistently ranked as having some of the best schools in Tennessee. According to Maryville-schools.org, the school district was recently graded as "exemplary".
Representing the highest designation awarded. And one of only seven districts recognized out of 147 districts across the state.
Furthermore, six of the seven schools here earned the designation of a "reward school".
Finally, during a recent school year, Sam Houston Elementary received national recognition. As one of only 325 Blue Ribbon Schools in the nation.
Low Crime Rate
The town enjoys a low crime rate. Coming in at roughly half the national average.
Violent crime is very low. While property crime can be only slightly troublesome.
Safewise.com annually ranks Maryville as one of the safest cities in the entire state of Tennessee. Based on crime per 1,000 residents.
As a result of what we have covered thus far. It looks like Maryville is a good place to live.
In some ways, it reminds me of Cookeville. Another small college town in Eastern Tennessee.
But as I said at the beginning, no place is perfect. So, let's continue with the pros and cons of living in Maryville.
And do so by looking at some of the reasons not to move to Maryville in the first place…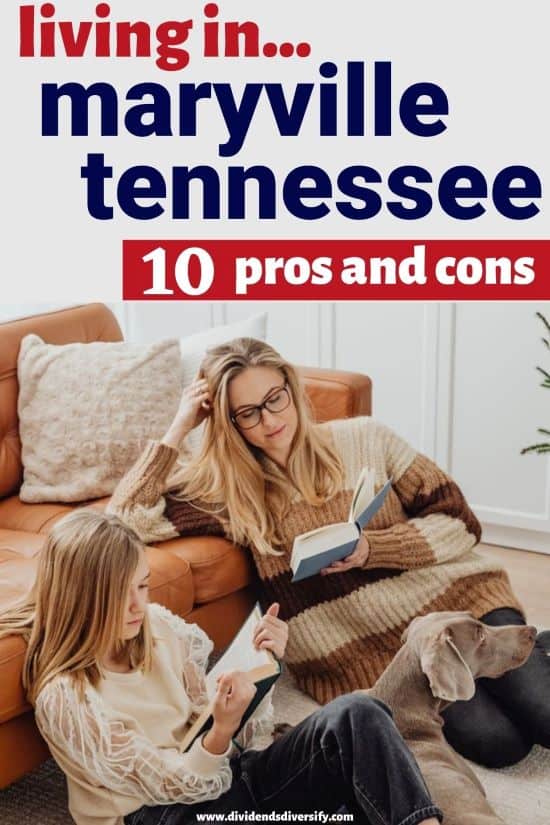 Can Get Small-Town Stale
If you have ever lived in a small town. You know that you can run out of different things to do. And new people to meet.
Especially if you are looking for the robust nightlife. Like what Nashville offers. And an active social scene among singles.
The town doesn't offer much of those things.
So, for younger people looking for an active social life. This may not be the best place to live. Especially, if you are not that interested in outdoor activities.
Fortunately, Knoxville is nearby. Home to the University of Tennessee.
There you will find popular neighborhoods. With dozens of bars, clubs, live music venues, restaurants, and breweries. Plus, a pretty diverse food scene too.
Furthermore, exploring Chattanooga living may be another good option to consider. That is if you have your heart set on east Tennessee. But, Maryville doesn't seem like a good fit.
Conservative Viewpoints
Most of the population in and around these parts is conservative.
That means residents, lean republican. And are decidedly Christian.
So, if you are on the liberal side of the spectrum. And are not particularly religious. You may have a harder time feeling at home here.
Limited Diversity
The town offers very little in the way of racial or ethnic diversity. Demographically speaking, the population is nearly 90% white.
So, once again. Fitting in might be a little more difficult. If you do not fit the majority demographic.
Heavy Traffic Congestion
Heavy traffic can be a problem in and around Maryville. Especially considering it is one of the smaller towns in the state.
The morning and evening rush hour commutes are typically the worst. And the drive to and from Knoxville can get clogged up with traffic too.
The summer season brings tourists. That come to enjoy the mountains. And they contribute to the traffic congestion. Including drivers that don't know where they are going.
But, keep the traffic situation in perspective. This isn't New York City or Los Angeles we are talking about.
Summer Heat And Humidity
Finally, summers in Maryville are hot and humid.
July is the warmest month. With temperatures routinely heading in the 90s. And accompanied by high humidity levels.
Of course, you can always head to the upper elevations in the mountains to beat the heat. An option not available in a Tennessee city like Memphis. In the far west part of the state.
Furthermore, the spring and summer seasons are notorious for high pollen counts. For anyone who suffers from seasonal allergies.
So, if summer heat and seasonal allergies are going to be a problem. Then you may want to reconsider the pros and cons of moving to Maryville.
Pros And Cons Of Living In Maryville TN
To wrap up, here are the Maryville living pros and cons that we discussed:
Small town living
Beautiful outdoor setting
Low costs and taxes
Good public schools
Low crime rate
Can get small-town stale
Conservative viewpoints
Limited diversity
Heavy traffic congestion
Summer heat and humidity
I hope this discussion has helped you with some important questions. Namely…
1) What is it like living in Maryville?
and
2) Should I move to Maryville Tennessee?
Best of luck with your decision. Wherever you choose to settle down.
More Reading About Living In Maryville And Beyond
Before you go, check out some of our other articles about the best places to live.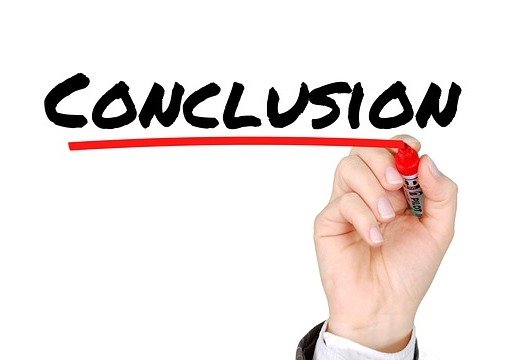 Author Bio, Disclosure, & Disclaimer: Please join me (Tom) as I try to achieve my goals, find my next place to live, and make the most of my money. However, I am not a licensed investment adviser, financial counselor, real estate agent, or tax professional. Instead, I'm a 50-something-year-old, early retired CPA, finance professional, and business school teacher with 40+ years of DIY dividend investing experience. I'm here only to share my thoughts about essential topics for success. As a result, nothing published on this site should be considered individual investment, financial, tax, or real estate advice. This site's only purpose is general information & entertainment. Thus, neither I nor Dividends Diversify can be held liable for losses suffered by any party because of the information published on this website. Finally, all written content is the property of Dividends Diversify LLC. Unauthorized publication elsewhere is strictly prohibited.
The Pros And Cons Of Living In Maryville TN Explained