In Case You Are Thinking Of Moving To Knoxville
Today, let's cover the pros and cons of living in Knoxville TN.
Whatever your reasons for thinking about moving to Knoxville Tennessee are. We will review the critical topics that you will want to consider.
Including the answer to the most important question…
Is Knoxville a good place to live?
So, I see no reason for delay.
Since it's time to deep dive into 10 living in Knoxville TN pros and cons…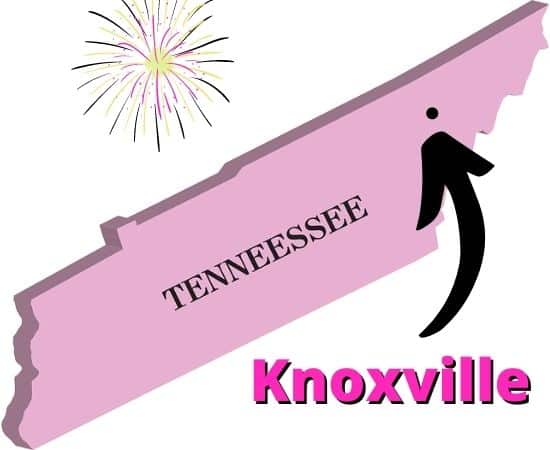 Disclosure: At no cost to you, I may get commissions for purchases made through links in this post.
Pros And Cons Of Living In Knoxville TN
First up, our top 10 pros and cons of Knoxville TN include:
Moderate cost of living
Access to beautiful outdoor settings
Lots of fun things to do
Good for education, business, and jobs
Minimal traffic congestion
Limited public transportation
Crazy for college football
High crime rates
Conservative viewpoints
Hot summers and seasonal allergies
We will detail each of these moving to Knoxville TN pros and cons in a moment.
And just in case Knoxville doesn't do it for you. Check out the other best cities to live in eastern Tennessee.
But for now, allow me to address the big question for today…
Is Knoxville A Good Place To Live?
Like anywhere you choose to live. Knoxville has some great things going for it.
Plus some reasons not to move here in the first place. For example…
Reasons To Live In Knoxville
First, you can stretch your budget a little farther here. As living expenses and median home values are well below national averages.
Next, whether you are a fan of the indoors or outdoors. You can find a ton of fun things to do in and around the area.
Most noteworthy, residents are on the doorstep of the Great Smoky Mountain National Park. While the arts, festivals, and food scenes are pretty good in Knoxville too.
Then for work and education. Quality schools are easy to find in this area.
And the business climate is healthy. Fostering record numbers of business start-ups. And very low unemployment.
Finally, commuting around the area is stress-free. Since you won't find a lot of traffic congestion. That you would in a major U.S. metropolitan area.
On the other hand, an article about living in Knoxville Tennessee pros and cons would not be complete.
Without examining the other side of the argument about residing here…
Reasons Not To Live In Knoxville
First, you need a car. Unless you plan to live and work in a very confined area.
Since the region has been subject to urban sprawl in recent years. And outside of a limited bus system. Public transportation options are not so great.
Next, crime rates are higher here. Versus the national averages. So, you will need to research and pick your exact location carefully.
Then, when it comes to fitting in. With new neighbors and friends.
Realize you will be dealing with a conservative population. Both politically and religiously.
And residents that love their University of Tennessee football team. Almost to a point where it can become annoying.
And finally, you won't get to enjoy the change of seasons. Plus, be ready to figure out how to beat the heat. Because summers in Knoxville are very hot and humid.
Okay. With those highlights about Knoxville living taken care of.
Let's work through each of the 10 living in Knoxville Tennessee pros and cons…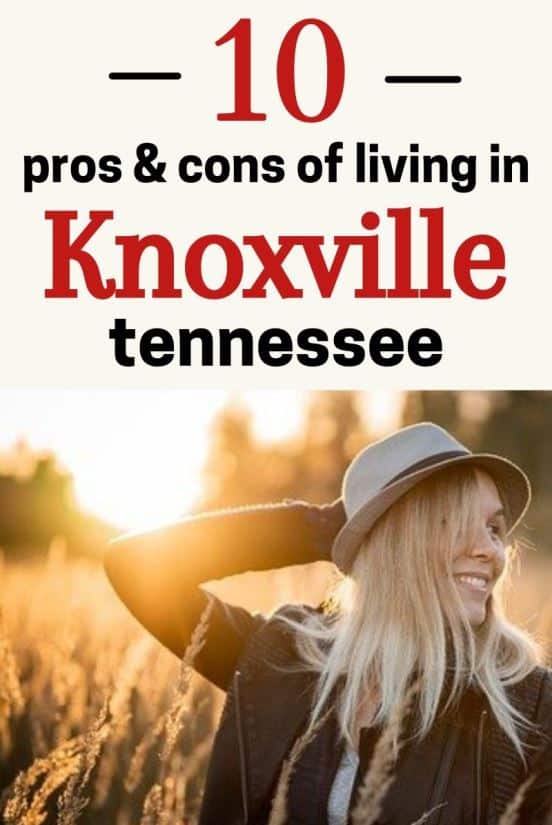 Moderate Cost Of Living
Knoxville isn't one of the least expensive places to live in Tennessee. On the other hand, it compares favorably against the national averages. For its low cost of living.
Cost Of Living In Knoxville
According to BestPlaces.net, the average cost of living in Knoxville is about 15% less than the United States as a whole. And about 2% less than the average across the state of Tennessee.
You will find groceries, health care, utilities, and transportation run cheaper. Anywhere between 3-19% lower than the national average.
Knoxville Home Prices
While the median home value in Knoxville is about 12% less. Versus the median home value in the United States.
This means you can afford a higher-quality home. Or, a larger home for your family.
To enhance your overall quality of life in Knoxville. Versus another southern city, you may be considering.
Another positive about Knoxville. And your money relates to taxes…
Living in Knoxville And Your Taxes
Because when thinking about moving. Many people forget about taxes.
And by making a move to the state of Tennessee. Including the city of Knoxville means this…
You will enjoy very favorable tax rates.
Since there are no state income taxes levied on residents. And property taxes are some of the lowest you will find in the country.
Ways To Save Money Living In Knoxville (or anywhere you live)
If you want to save a little more money. You can balance your budget with a few tips that we use.
First, if you are moving to Knoxville. And looking for an apartment or home.
Make sure your credit score is in good shape. You can check it for free using Credit Karma.
Second, save on the stuff you buy every day.
For online purchases, the cashback app from Rakuten can't be beaten.
And Rakuten gives you $10 cash. Just for making your first purchase. Plus cash rebates even on everyday things bought. Even purchases on Amazon.
At the grocery store. The Ibotta app is excellent for cashback rewards too. For the things you just do not want to buy online.
Finally, Personal Capital offers a completely free online tool. To manage your money, budget, and investments all in one place.
Okay. Enough about the cost of living. And some good ways to save and manage money.
Because I want to continue with some of the other benefits of living in Knoxville, Tennessee.
Access To Beautiful Outdoor Settings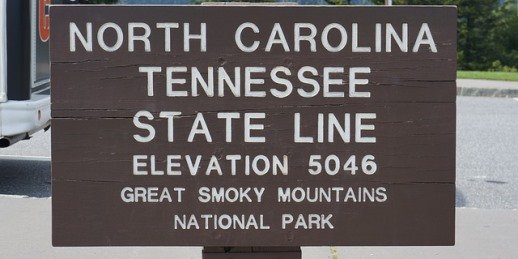 There is no shortage of scenic beauty. In and around Knoxville.
National, State, And Local Parks
First of all, Knoxville is a short drive from the Great Smoky Mountains National Park. One of the most frequently visited parks in the National Park System.
Looking for something a little more laid back? Then you can choose from dozens of state and local parks. In and around the Knoxville area.
Furthermore, this city sits near the banks of the French Broad River where it joins the Holston River.
Then flow into the Tennessee River. Thus, the area has several dams, reservoirs, and many lakes nearby.
Specific Points Of Interest
Here are some outdoor points of interest. That you may want to explore…
Big Ridge State Park
Cherokee Lake
Cumberland Gap National Historic Park
Douglas Lake
Fort Loudoun State Historic Park
Knoxville Zoo
Norris Dam State Park
Seven Islands State Birding Park
Outdoor Activities
Between the convenient access to the mountains. And the proximity to rivers and lakes.
It makes Knoxville one of the great places to live in the south for anyone that wants to enjoy these activities…
Camping
Hiking
Boating
Water skiing
Fishing
…and other outdoor adventures.
And for all of you who like to spend your outdoor time golfing. Knoxville won't disappoint you.
Since there are nearly 25 golf courses in and around the area. Offering a nice mix between public and private. In addition to providing a range for any skill level and budget.
Yes. You get the idea. Access to the outdoors is wonderful here.
But, there are other fun things to do. Another one of the advantages of living in Knoxville…
Lots Of Fun Things To Do
First of all, Knoxville is the largest city in East Tennessee. And has the third-highest population of all cities in the state, with about 200,000 residents.
Knoxville Means Living In A College Town
But it has the vibe of a large college town. Being home to the University of Tennessee. And the roughly 30,000 students that attend school here.
Most noteworthy, a Tennessee college town like this one. Tend to attract more places to gather.
Thus, the most popular neighborhoods have dozens of bars, clubs, live music venues, restaurants, and breweries with a diverse food scene.
Furthermore, residents are obsessed with the University of Tennessee sports programs. Especially football.
Where the team competes in the highly competitive Southeastern Conference (SEC).
So, if living in a Tennessee city with a major state university is your goal, maybe this is your spot to settle! I don't know. You have to decide.
Living In Knoxville Means Access To The Arts And Culture
And for those of you seeking a bit more culture. Consider that Knoxville offers…
Symphony Orchestra
Opera
Museum of Art
Historic Tennessee Theatre
Life In Knoxville Means Festivals Galore
And for you festival-goers. There are plenty to choose from.
Such as…
Dogwood Arts Festival
Greek Fest
HoLa Festival
KARM Dragon Boat Festival
Knox Asian Festival
Knoxville Film Festival
Knoxville Brewer's Jam
Kuumba Festival
International Biscuit Festival
Rossini Festival
Finally, if all of those options are not enough. And you just want to get out of town.
Places like the Dollywood Theme Park. As well as the offerings in Pigeon Forge and Gatlinburg are just a short driving distance away.
Or, for you ocean lovers…
Just hop in the car. And you can find yourself at a beach on the Atlantic Ocean in a matter of hours.
Since historic southeastern cities like…
Savannah located in Georgia
…are accessible in less than a day's drive.
Or, even Jacksonville in Florida. For a more urban experience in the state's largest city.
Next up, the living in Knoxville TN pros and cons continue…
Good For Education, Business, And Jobs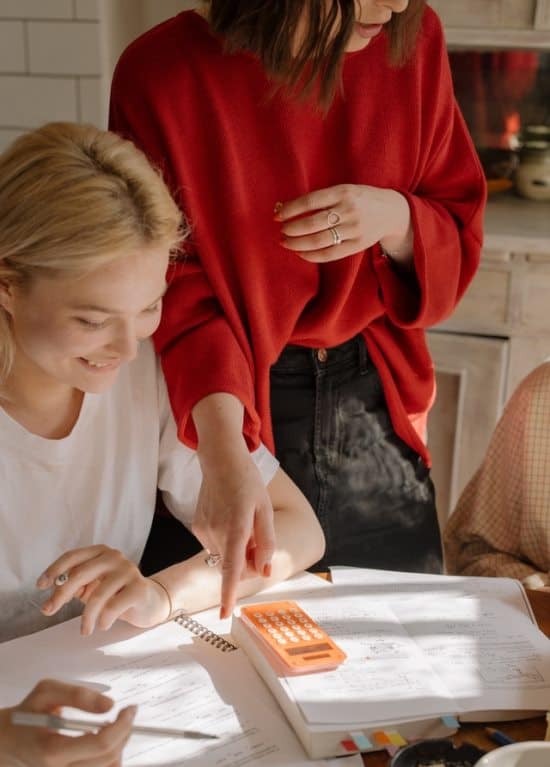 The state is growing economically. It is one of the reasons people are migrating to Tennessee. And Knoxville is a big part of it.
It's a great place for anyone focused on personal and professional development. For yourself and your family.
Educational Opportunities In Knoxville
Knoxville has many well-regarded schools As compared to other cities in Tennessee.
But you won't find the best schools in the heart of the city. They are mainly located to the north and west of Knoxville proper.
For example, GreatSchools.org ranks the Farragut School system highly. For grades K-12.
Hardin Valley Middle School, West Valley Middle School, and L N Stem Academy are highly ranked too.
In addition to the quality K-12 public schools. Knoxville has some excellent higher education options.
Including…
The University of Tennessee
South College
Johnson University
Knoxville College
The Business Climate When Living In Knoxville
Then, you can put that education to work.
Because business development is alive and well. Plus the job growth that comes with it.
First, new business filings have recently reached record highs in Knox County. And growth in business filings usually leads to more jobs.
Second, the Knox County unemployment rate is below 3%. Leading us to conclude that job opportunities are plentiful in and around the region.
But even with this attractive business growth and development. You can find another one of the advantages of living in Knoxville…
Minimal Traffic Congestion
Since, unlike the Tennessee city of Nashville, you will have little trouble. Commuting to school and work here in Knoxville.
As residents spend minimal amounts of time in their cars. Well below the national average.
You can drive across Knox County. Where Knoxville sits right in the heart of it all. And do so in as little as 30 minutes.
Okay. That completes our review of the best things about living in Knoxville.
On the other hand, an article about the pros and cons of living in Knoxville would not be complete. Without addressing some worst things about Knoxville living.
Let's do that now. As the living in Knoxville TN pros and cons continue…
Limited Public Transportation
Even though driving around Knoxville is fairly stress-free. This city doesn't have great public transit options. So typical of many cities in the southeast U.S.
So, unless you plan on living and working in a confined area. Most residents find that a car is a necessity.
There is a bus system. But it caters mostly to the corridor connecting the downtown area and the university.
It doesn't run that frequently. And stops are too few and far between. Meaning the public transit system is inconvenient for getting around for everyday use.
Coupled with the fact that Knoxville is a city that has grown more widespread. As a result of urban sprawl.
Next, is another disadvantage of living in Knoxville.
Crazy For College Football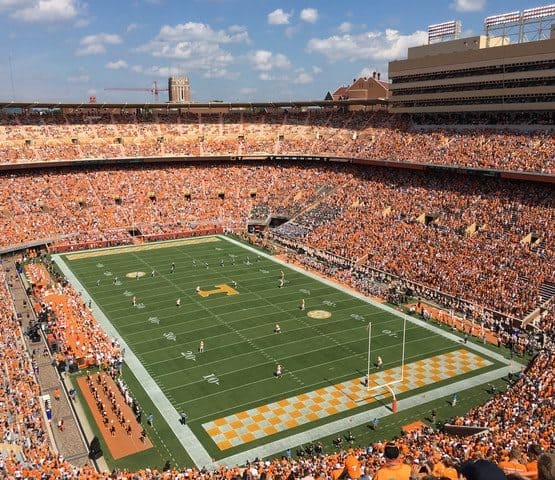 Yes. They love their college football here!
Locals are obsessed with The University of Tennessee's college football team. The Volunteers. Or "The Vols" for short.
It's no wonder. With NFL Hall of Fame Caliber players like Peyton Manning and Reggie White hailing from the program.
Plus 6 national championship titles to brag about.
So, if you aren't into college football. Your friends and neighbors may annoy you with their passion for it.
Then on game days. 80,000 to 100,000 fans descend on the area. And Neyland Stadium in particular.
Traffic is bad. Bars and restaurants are packed.
So, if this isn't your thing. But you still have your heart set on moving to Knoxville.
Then, on game days, plan to hunker down at home. Or, get out of town.
There are only 7-8 home games per year. So, it should be manageable.
Next, I have yet another one of the negatives about the Knoxville lifestyle…
High Crime Rates
There are parts of Tennessee that have very high crime rates. In this regard, I think about the pros and cons of living in Memphis immediately.
So, Knoxville's crime rates look okay when compared to other parts of Tennessee.
On the other hand, when compared to average crime rates across the entire United States. Both violent crime and property crime are much higher.
Best Areas For Low Crime In Knoxville
But, there are plenty of family-friendly safe places to live. This is why choosing your exact location in Knoxville is important.
UpNest.com considers the following neighborhoods as some of the best in the region:
Farragut
Oak Ridge
Alcoa
Seymour
Norris
Then, depending on your perspective. We have another one of the worst things about living in Knoxville…
Conservative Viewpoints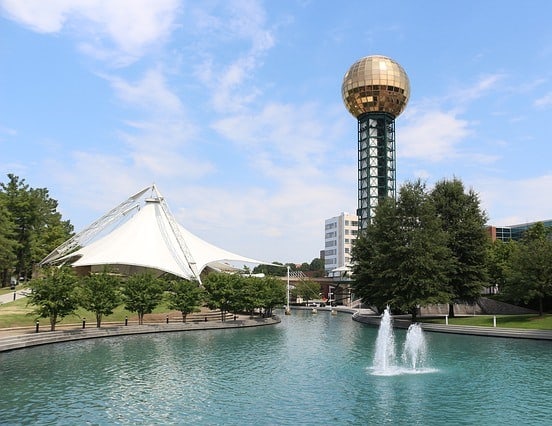 The facts about Knoxville include that residents are quite conservative. This surfaces in a couple of different ways.
Religious Views Of Knoxville Residents
First, Knoxville is located in the heart of the bible belt. Surrounded by Alabama, Georgia, North Carolina, and Kentucky in the region.
An area of the United States where Christianity plays an especially strong role. Both in society and politics.
So, residents tend to be socially conservative. And go to church more than people in other parts of the country.
Living In Knoxville Means Conservative Politics
Second, when it comes to politics. You will find some liberal-leaning pockets in the city center.
But overall, the area is dominated by Republican voters. And politically conservative viewpoints.
Thus, keep these prevailing attitudes in mind. While you are considering relocating to Knoxville.
Okay. One more of the bad things about moving to Knoxville. Then, I will wrap up.
Hot Summers And Seasonal Allergies
To most people, weather patterns are important. When considering where to live and why.
Hot Summers In Knoxville Tennessee
First, the summers are very hot and humid here. If you don't like the heat you will find yourself indoors a lot during the summer. Soaking up your air conditioning.
Of course, you can beat the heat in other ways.
For example, by getting away to parts of northeastern Tennessee. Where the elevations are higher.
Or, by going for a swim. And cooling off in one of the nearby lakes.
You Won't Find Four Season Living In Knoxville
Then, for those of you who insist on witnessing the change of seasons. You won't find that here.
Since the weather is mild. Almost year-round.
On the other hand, for anyone questioning this point. Is Knoxville TN a good place to retire?
Perhaps this type of temperate weather is a benefit. By reducing exposure to the snow and cold of northern climates. That many retirees try to avoid.
Life In Knoxville Is Heck On Seasonal Allergy Sufferers
Finally, for you outdoor lovers. And we know there is plenty to love about the outdoors in and around Knoxville.
It is one of the worst cities in the whole country. For seasonal allergies.
So, be sure to keep that in mind. Before moving to Knoxville.
Okay. That's all for today.
Allow me to wrap up with a summary.
Pros and Cons Of Living In Knoxville TN
Here is our top 10 list of living in Knoxville TN pros and cons…
Moderate cost of living
Access to beautiful outdoor settings
Lots of fun things to do
Good for education, business, and jobs
Minimal traffic congestion
Limited public transportation
Crazy for college football
High crime rates
Conservative viewpoints
Hot summers and seasonal allergies
I hope this discussion has helped you get to the bottom of some of your questions. Specifically…
1) What is Knoxville TN like?
and
2) Why move to Knoxville?
More Reading About Living In Knoxville TN And Beyond
Best Financial Resources No Matter Where You Live
I mentioned several of my favorite financial resources. To make the most of your money no matter where you live.
They are summarized here for your convenience…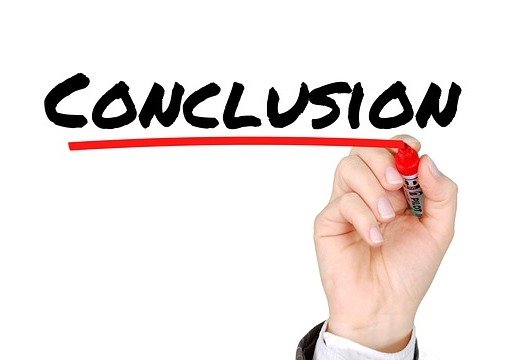 Author Bio, Disclosure, & Disclaimer: Please join me (Tom) as I try to achieve my goals, find my next place to live, and make the most of my money. However, I am not a licensed investment adviser, financial counselor, real estate agent, or tax professional. Instead, I'm a 50-something-year-old, early retired CPA, finance professional, and business school teacher with 40+ years of DIY dividend investing experience. I'm here only to share my thoughts about essential topics for success. As a result, nothing published on this site should be considered individual investment, financial, tax, or real estate advice. This site's only purpose is general information & entertainment. Thus, neither I nor Dividends Diversify can be held liable for losses suffered by any party because of the information published on this website. Finally, all written content is the property of Dividends Diversify LLC. Unauthorized publication elsewhere is strictly prohibited.
The Pros and Cons of Living in Knoxville TN Explained