Should You Move To Johnson City?
The pros and cons of living in Johnson City TN are on the agenda for today.
It is located in the heart of Eastern Tennessee. And part of the tri-cities region that also includes Kingsport, Bristol, and other smaller communities.
The region has become a popular destination for people on the move. On the other hand, the area may not be for everyone.
So, let's dig into the living in Johnson City TN pros and cons. To see what all the fuss is about.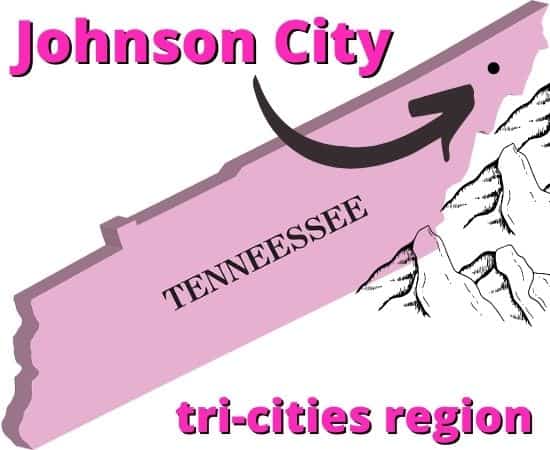 Disclosure: At no cost to you, I may get commissions for purchases made through links in this post.
Pros And Cons Of Living In Johnson City Tennessee
Our top 10 moving to Johnson City pros and cons include:
Friendly folks in a small town setting
Lots of scenic beauty
Low cost of living
No state income taxes
Modest property taxes
High sales taxes
Limited professional jobs
Extreme weather conditions
Tough on seasonal allergy sufferers
Fewer big city amenities
We will go through each of these advantages and disadvantages of living in Johnson City in a moment.
Before you go, check out eastern Tennessee's best spots to live.
Or stay here. And allow me to answer what I think is a very important question.
Is Johnson City TN A Good Place To Live?
Yes. Johnson City is a great place to live in Tennessee.
But, like anywhere you choose to move. Accepting the good. Along with the bad. Is required.
And the tri-cities region of Tennessee is no different. Here's why…
Johnson City Is A Good Place To Live If…
You are looking for a safe, family-friendly smaller town located in a rural area. With a bit of a college vibe about it.
Since East Tennessee State University is located here. The school is part of the State University and Community College System.
Johnson City is known for nice people and good public schools. Plus, you will find an abundance of scenic beauty.
Because of the town's location close to the Smoky Mountains. And the Blue Ridge Mountains too.
So, if you like outdoor activities. And a smaller community feel. You will likely feel right at home.
Finally, all of these great things about Johnson City can be had at a reasonable price.
Since the area has a lower average cost of living, modest property taxes, and absolutely no state income taxes to deal with.
On the other hand, life in Johnson City is not perfect. So…
Don't Move To Johnson City If…
You have a problem paying excessive sales taxes. Since they are some of the highest in the country.
Or, require access to high-salaried professional job opportunities. And the related amenities that are more often found in big city living environments.
Finally, think about the weather. Because the area experiences some extreme seasonal patterns. In other words, it won't be warm and sunny year-round.
Okay. With those highlights taken care of.
Let's dig into each of the 10 pros and cons of living in Johnson City Tennessee…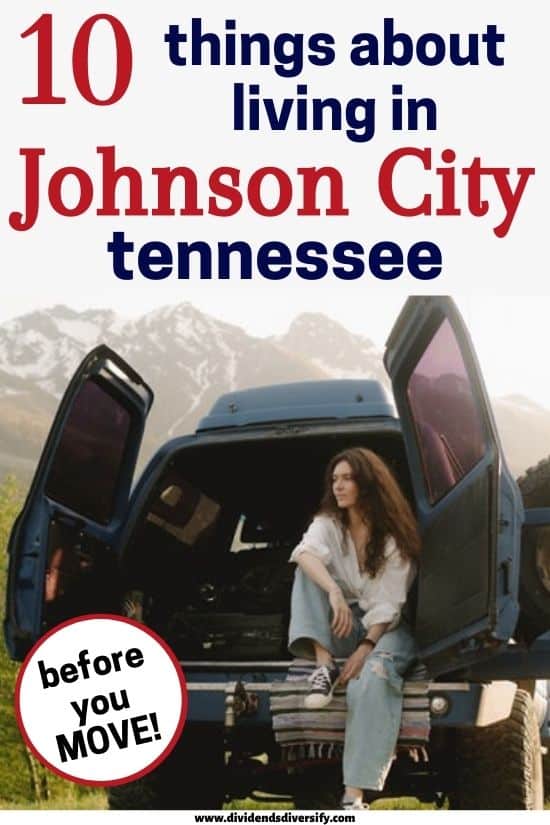 Friendly Folks In A Small Town Setting
Unlike Tennessee's largest cities. For example, living in Memphis or Nashville.
Johnson City has more of a small-town atmosphere.
It is located just far enough away from larger cities. To avoid major influence by the population centers. And some of the drawbacks that come with them.
But, it is still close enough for accessibility. When you need or want to get away and find a city environment to your liking.
For example, Charlotte North Carolina is about 3 hours of driving time. And you can drive to the vibrant city of Nashville Tennessee in about 4 hours.
Closer yet, is Knoxville. The third-largest city in the state. And less than 2 hours away.
As for the people that live here. I think you will find them friendly and hospitable.
Strangers will say hello. And people will wave. When you drive through surrounding neighborhoods.
But, the residents generally won't butt into your business. In an unwelcome way.
So, if you are coming from an area where people aren't so friendly. You may find the hospitality takes a little getting used to.
Okay. We are just getting warmed up. Thus, we have one of the major perks of living in Johnson City…
Lots Of Scenic Beauty
One of the big advantages of living in eastern Tennessee. And specifically, Johnson City is its proximity to the mountains.
Since the Smoky Mountains and the Blue Ridge Mountains are located nearby. Both are part of the Appalachian Mountain Range.
So, it's a great place to get out and see the terrain. Because it is full of streams, creeks, and waterfalls.
In addition, there are rolling hills. And the fields of wildflowers that are so beautiful.
You may find outdoor settings like this are great for your mental health. And for keeping the small things in life in a better perspective.
Thus, for all of you outdoorsy types. Johnson City is a great place to live.
Since you will have plenty of opportunities for outdoor activities including:
Camping
Hiking
Boating
Fishing
Hunting
Swimming
Bird watching
Or, just take in all of the beauty of the natural surrounding. As you go about your daily routine.
Next, let's talk about the cost of living in Johnson City TN.
Low Cost Of Living
Johnson City remains one of the inexpensive spots to live in Tennessee.
Even though the city's popularity is rising. And the population is growing. Putting upward pressure on living expenses.
Let's look at a few numbers. According to BestPlaces.net.
First, the median home value in Johnson City is about 30% less than the national average. You will find that prices are higher in the city. Versus the outlying rural areas.
In addition, you will generally pay more than the average price for a house. If you are not willing to compromise on condition, size, and location.
Since demand for homes has outstripped supply. At least in recent years.
So, many people are opting to buy open land. Which there is plenty of. And build a new home on it.
If this is how you would like to approach it. Be sure to check out the land for sale at AcreTrader.
Then, for other costs. Such as groceries, health care, and utilities.
They range anywhere from 3-7% less. Versus averages across the United States.
Other Ways To Save Money Living In Johnson City (or anywhere)
If you want to save a little more money. Try these tips…
First, if you are moving to Johnson City. And looking for an apartment or home. Make sure your credit score is in good shape.
You can check yours for free using Credit Karma.
Second, save on your everyday purchases.
For online purchases, the cashback app from Rakuten is a great tool.
And you get $10 cash. Just for making your first purchase. Plus cash rebates. Even on purchases through Amazon.
At the grocery store. Where Publix and Walmart are a couple of popular choices after moving to Johnson City.
You can use the Ibotta app. It is excellent for cashback rewards too. For things like food that you may not want to buy online.
Finally, Personal Capital offers a completely free online tool. To manage your money, budget, and investments all in one place.
Okay. We are going to stick with the financial theme. As the living in Johnson City TN pros and cons continue …
No State Income Taxes
No matter where you choose to live in Tennessee. Including the tri-cities region.
You won't have to pay state income taxes. Not on earnings from your job, social security, other retirement income, or investment income.
Not having to pay state income tax is a great way to save money. It is truly one of the great benefits of moving to The Volunteer State.
And so is this next point…
Modest Property Taxes
Because real estate taxes are low here. Compared to other parts of the country.
Another one of the benefits of living in Johnson City.
As a result, most homeowners will pay less than three-quarters of 1 percent. Applied against the assessed value of their home.
Okay. That completes our discussion of 5 good things about living in Johnson City.
But an article about the pros and cons of living in Johnson City TN would not be complete. Without looking at some of the drawbacks to living here.
Let's do that next…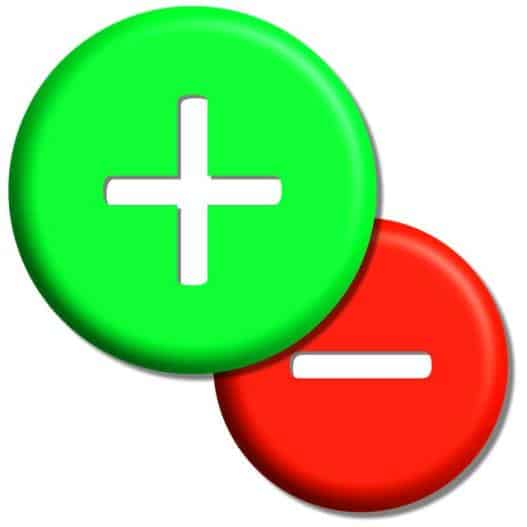 High Sales Taxes
If you are a big consumer. You won't like the sales taxes in Johnson City.
First, the state of Tennessee levies a sales tax. And Washington County. Where Johnson City is located adds more on top of it.
Thus, you will pay nearly 10% on your purchases. One of the highest sales tax rates in the country.
Think of it this way. If you buy a $25,000 car. You will pay almost another $2,500 in sales tax.
It adds up fast. Even on your everyday purchases.
Next, I have another one of the negatives of life in Johnson City…
Limited Professional Jobs
And we are talking about employment.
First, there is a positive note. It is that the unemployment rate is low here.
At the time of this writing, it is below the national average. And less than the average across the state of Tennessee.
On the other hand, you are not going to find many high-paying professional positions in this job market.
So, for you professional types looking for jobs in banking, finance, marketing, and management consulting.
You won't find them in and around Johnson City. Although professionals in the health care field do see higher demand for their services. Since there is a limited supply of quality doctors and nurses.
What you will find is this. Plenty of important, but lower-paid work. In construction, hospitality, and retail for example.
So, if you are professionally driven. And looking to make good money in the corporate world.
This place in Tennessee probably won't be the best choice. Unless you can pull off working remotely.
Here is another bad thing about Johnson City living to consider. Of course, it depends on your perspective…
Extreme Weather Conditions
Because the area experiences a wide variety of weather. It may be perfect for some. But not for others.
First, it rains a lot in this area. Creating times when flash flooding is an issue.
And if you have a lawn to take care of. You may find it needs mowing every 3-5 days. During the spring and summer seasons.
Furthermore, speaking of summer. High temperatures go well into the mid to high 80s.
Plus, you will experience extreme amounts of humidity. That makes the summer feel uncomfortable. And the air sticky.
Finally, moving to the winter season. You will have to deal with snow. And temperatures that fall into the 20s regularly.
This is not exactly the type of weather most people look for. When trying to determine if Johnson City is a good place to retire.
On the other hand, there is a flip side to this argument.
Especially for anyone who enjoys the changing seasons. Plus, the annual fall color display. That is put on by the turning leaves of autumn.
Next, I have another difficulty of Johnson City living for some…
Tough On Seasonal Allergy Sufferers
Lots of rain. Combined with plenty of beautiful trees, shrubs, and flowers amidst the scenic landscape has a drawback.
Specifically, this place is tough on people with seasonal allergies. Stemming from the high amounts of pollen that gets released into the air.
Throw in the humidity. And it can unpleasant for anyone vulnerable to such conditions.
Okay. One more negative about Johnson City. Then I will wrap up. I promise!
Fewer Big City Amenities
If you are looking for big-city living. And the amenities that come with it.
Then east Tennessee is probably not the right place for you.
While Knoxville is the largest city in the area. And it has a lot to offer.
Knoxville is known as a college town. Not a big city. Being home to the University of Tennessee.
And Johnson City is no different. It is a small town in a rural setting. With a college located within its boundaries.
Like I said at the beginning, it is a family-friendly environment. And there's plenty to do if you are a parent. And relocating with your partner and kids.
But it's not quite the same for a single person. That is looking for an active nightlife. Or, the types of high-end cultural events big cities offer.
In addition, close access to an international airport is lacking. For anyone who travels regularly for business or pleasure.
These are just a few of the issues with small-town living. That you want to be aware of before you move.
Okay. That's all I have.
Allow me to wrap up with a summary. And some final thoughts to end our journey…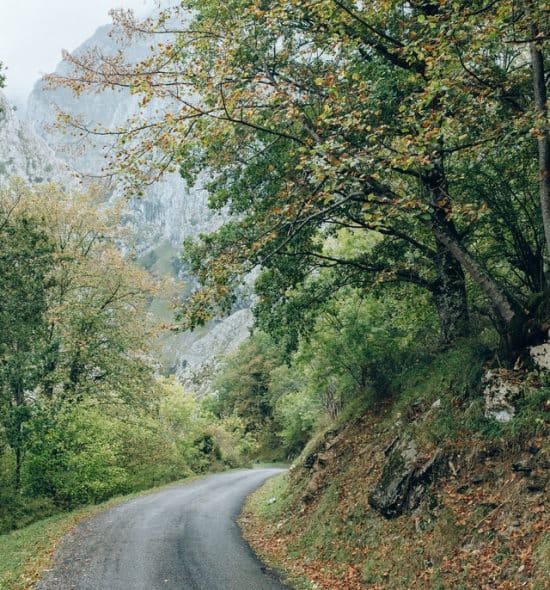 Pros And Cons Of Living In Johnson City TN
Is Johnson City TN a good place to live? Hopefully, you can now decide for yourself.
By using our top 10 list of living in Johnson City TN pros and cons…
Friendly folks in a small town setting
Lots of scenic beauty
Low cost of living
No state income taxes
Modest property taxes
High sales taxes
Limited professional jobs
Extreme weather conditions
Tough on seasonal allergy sufferers
Fewer big city amenities
Lastly, a few parting thoughts…
Final Conclusions About Johnson City Life
Because of the low cost of living, tax benefits, and scenic beauty, Johnson City is a great place to retire. And a good place to live for anyone looking for a laid-back small-town lifestyle.
Unless of course, the seasonal weather patterns aren't to your liking.
On the other hand, it's not a location for a young professional. Looking to climb the corporate ladder. And enjoy close access to urban amenities.
Whatever your situation, I hope this discussion has helped address some important questions. Such as…
1) What is living in Johnson City like?
And
2) Should I move to Johnson City?
Best of luck. No matter where you decide to live.
More Reading About Living In Johnson City And Beyond
Best Financial Resources For Living In Johnson City (or anywhere)
In the article, I mentioned several of my favorite financial resources. For saving and better managing your money.
They are summarized here for your convenience…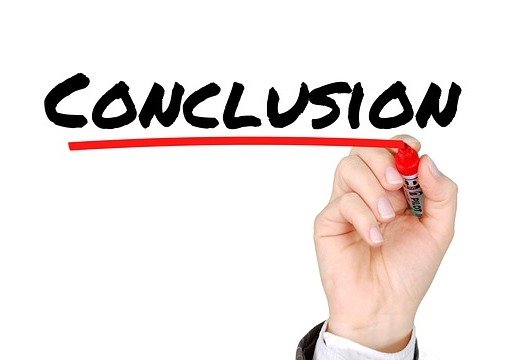 Author Bio, Disclosure, & Disclaimer: Please join me (Tom) as I try to achieve my goals, find my next place to live, and make the most of my money. But understand, I am not a licensed investment adviser, financial adviser, real estate agent, or tax professional. I'm a 50-something-year-old guy, CPA, retired finance professional, and part-time business school teacher with 40+ years of DIY investing experience. I'm just here because I enjoy sharing my findings and research on important topics. However, nothing published on this site should be considered individual investment advice, financial guidance, or tax counsel. Because this website's only purpose is general information & entertainment. As a result, neither I nor Dividends Diversify can be held liable for any losses suffered by any party because of the information published on this blog. Finally, all written content is the property of Dividends Diversify LLC. Unauthorized publication elsewhere is strictly prohibited.
The Pros And Cons Of Living In Johnson City TN Explained