Things To Know Before Moving To Nashville
Let's talk about the pros and cons of living in Nashville Tennessee today.
Since this town has been rising in popularity lately.
Why is that?
Simply because Nashville is a good place to live. On the other hand, popularity often comes at a price.
Leading us to the top living in Nashville pros and cons.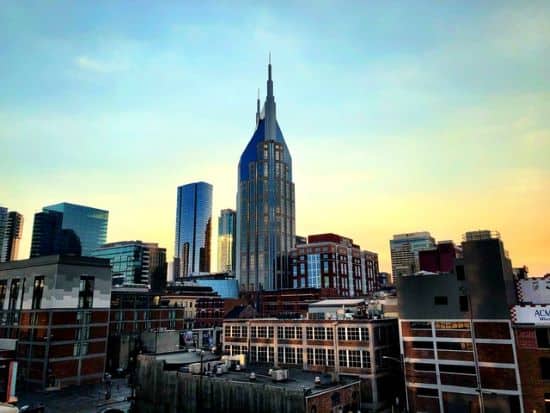 Disclosure: At no cost to you, I may get commissions for purchases made through links in this post.
Pros And Cons Of Living In Nashville
Our list of Nashville pros and cons include the following items:
Good job market and school system
Epic music scene
Plenty of fun things to do
Great food and drinks
Access to quality health care
Intense summer heat, humidity, and allergies
Tough to get around
The rising cost of living
Religious views
Lots of tourists
Next, let's go through each one of these moving to Nashville pros and cons in a little more detail…
Pro: Good Job Market And School System
Whether you need a job. Or, need to improve your skills to have access to better opportunities. Nashville is a good place to live.
Here's why…
Economic Growth And Jobs
From an economic standpoint, Nashville is one of the fastest-growing metropolitan areas in the United States. Booming industries include health care, technology, music, and tourism.
As a result, the city has an unemployment rate that is lower than the state of Tennessee. While the state's rate is also less than the country as a whole.
Thus, Nashville is an economic engine of growth. Located in Tennessee. A state with a healthy business climate.
Even Amazon has jumped in to get a piece of the action. Choosing to locate its "Operations Center of Excellence" here. Creating thousands of new jobs for the area.
On the other hand, many highly qualified individuals have been moving to Nashville. Making competition for the best jobs and highest-paying jobs pretty stiff.
But there is something you can do about it. Bringing us to another one of the benefits of living in Nashville…
Quality School System
Education is one of the best ways to improve one's ability to compete for top jobs. And the Nashville school system can raise you and your family's abilities to the next level.
First, the Nashville public school system gets good marks. Specifically for its high school graduation rate. And setting up kids for success in higher education.
Then, there are more than 20 colleges and universities in the area to choose from. Some of the larger schools based on enrollment include:
Belmont University
Lipscomb University
Nashville State Community College
Tennessee State University
Vanderbilt University
Any one of these and other schools in the area. Can help you or your family take the next step forward in your personal and professional development.
On the other hand, life is not just about work and school. And this next item on today's list may be the best thing about living in Nashville…
Pro: Epic Music Scene
They don't call Nashville "The Music City" for nothing.
First, there are the big-name music houses. Such as the Grand Ole Opry and Ryman Auditorium.
Second, you will find intimate spots too. Such as cafés, restaurants, and bars where live music is regularly offered.
Finally, the Country Music Hall of Fame, Music Row, and the vibrant neighborhood called The District. All of which offer a different perspective on the true depth of this city's musical heritage.
Bringing us to the next advantage of living in Nashville…
Pro: Plenty Of Fun Things To Do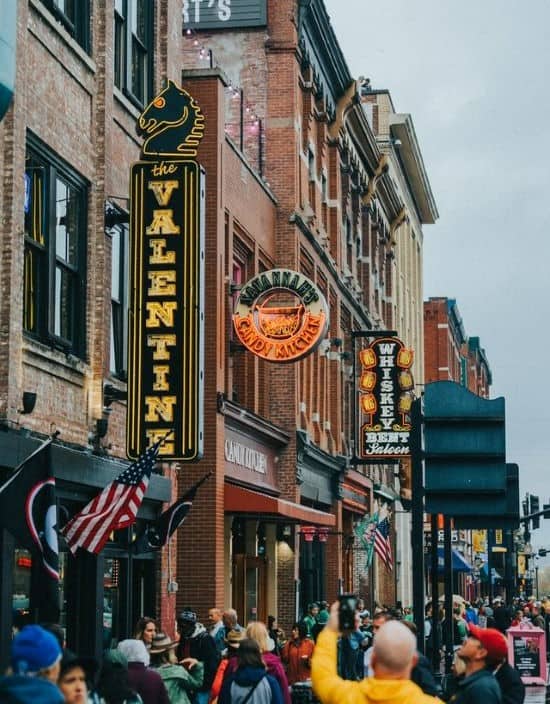 Since music isn't the only form of entertainment to enjoy here…
Outdoor Activities
For those of you who like to get outside. You will find that the area is quite scenic. With tree-lined streets, natural water features, and green spaces. All contributing to the beauty.
There is the Cumberland River that winds its way through Nashville. Where you will find an inviting river walk for stretching your legs on foot or bike.
And Centennial Park. A large urban green space is located in Nashville's West End neighborhood. Home to a replica of the Greek Parthenon.
The park also has walking paths and a lake. Also, it hosts a variety of cultural festivals throughout the year.
Then, if you don't mind taking a road trip. Nashville is close to the Appalachian Mountains.
Or, maybe you want to get out of town to enjoy some outdoor scenery. But stay a little closer to home.
In that case, you can head less than an hour to the east. Not far from the charming Tennessee town of Cookeville.
And you will find some of the nicest state parks the area has to offer. Such as Edgar Evins State Park or Burgess Falls State Park.
Sports
For the sports enthusiast, Nashville has it covered.
First of all, for a smaller city, pro sports are well represented.
There are the Tennessee Titans of the National Football League. The Nashville Predators of the National Hockey League. Also, the Nashville Soccer Club of Major League Soccer.
College football is big in these parts too. With the Vanderbilt University Commodores being a local favorite. Along with the Tennessee State University Tigers.
Night Life
Finally, there is a robust and rowdy nightlife scene in Nashville. Since there is no shortage of places to go to eat, drink, party, listen to live music, and socialize.
Take your pick from sports bars, speakeasy-style bars, clubs, pubs, microbreweries, taverns, and rooftop lounges.
They are located throughout downtown Nashville. And other neighborhoods such as the Gulch, SoBro, or Midtown.
Then, sooner or later, your appetite will kick in. Leading us to another one of the pros of living in Nashville…
Pro: Great Food And Drinks
Of course, when it comes to eating here. You have access to traditional mid-south favorites.
Such as fried chicken, barbeque, macaroni and cheese, biscuits and gravy, and savory cooked greens.
In addition, there is a favorite local dish called hot chicken. It is a type of fried chicken covered in a special hot sauce.
The region has also attracted many professional chefs. They have taken the culinary scene well beyond the typical dishes.
So ethnic fare and fusion cuisine are good options too.
Then, for all of you coffee lovers. The local coffee shop scene is alive and well.
Since there are many locally-owned cafes and coffee houses to explore. For finding and enjoying your favorite cup.
Finally, this next point should come as no surprise…
If it is a specialty cocktail you desire. Or the freshest craft beer on tap. You will have no trouble finding either one in Nashville.
Of course, working hard and playing hard can take a toll. So just in case. This next point is one of the good reasons to move to Nashville…
Pro: Access To Quality Health Care
The city provides easy access to health care services.
First, Nashville is home to the Vanderbilt University Medical Center. A highly rated hospital.
Furthermore, the metropolitan area hosts an amazing number of other hospitals. More than 20.
Finally, this has led to growth in companies supporting the health care industry too.
So, you should be able to find the care you and your family need.
And if you work in the health care field. It's a bonus. To have so many potential employers for your skills
Okay. That completes our top 5 great things about Nashville living.
But an article covering the pros and cons of living in Nashville. Would not be complete without addressing the worst things about living in Nashville too.
Just remember what I said at the beginning. Popularity usually comes with tradeoffs.
So, let's keep moving…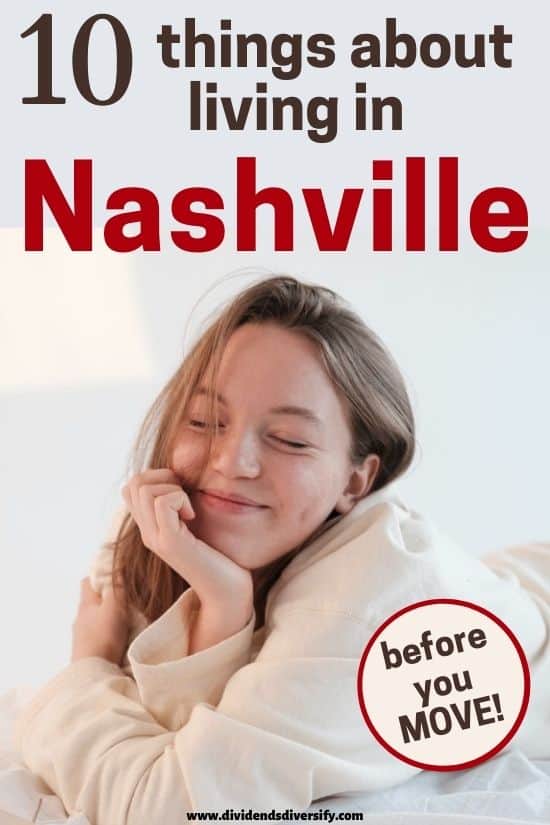 Con: Intense Summer Heat, Humidity, And Allergies
Unless you want to hold up in an air-conditioned home. You will have to accept that summer can be uncomfortable in Nashville.
First, July is the warmest month. When the average high temperatures during the days climb well into the 80s. While temperatures in the 90s are not uncommon.
Then, you can count on extreme humidity too. Making the air feel sticky. And the temperatures feel warmer than they are.
Finally, the area get's quite a bit of rain. Bringing the trees and shrubs to life in the spring.
With it comes a ton of pollen in the air. That lasts through the summer season.
Making matters worse. There are times and places where pollen leaves a sticky residue on everything.
So, make sure to account for seasonal allergies. When thinking about moving to Nashville.
Next up, another one of the bad things about living in Nashville…
Con: Tough To Get Around Town
The city has become a sprawling metropolitan area. Overtaking Memphis as the largest city in the state. And most residents don't live in and around downtown.
Furthermore, public transportation is limited. Provided only by the area's bus system.
But the buses do not have widespread coverage. And in some places, they run infrequently.
So, this means most residents own cars. While population growth stresses the road network. Leading to plenty of road repairs and construction.
What does it mean? In short, it means bad traffic.
It probably won't phase someone moving from New York City, for example. On the other hand, it has gotten pretty lousy in recent years for what is still a mid-sized city.
On a more positive note, regarding transportation. Nashville has an international airport.
It serves the major U.S. airlines. And has frequent non-stop flights to many big cities in the United States.
Consider this next item as one of the reasons not to move to Nashville…
Con: Rising Cost Of Living
Tennessee is known for its low-cost living. But, Nashville is one of the most expensive areas in the state.
Furthermore, it is difficult to think of the Nashville cost of living as being low anymore.
Housing And Other Costs Of Living In Nashville
Because the city's popularity has dramatically increased home prices in recent years. And housing usually takes the biggest share of a family's budget.
For example, Franklin and Brentwood have become extremely pricey.
And with the housing market being so competitive. Make sure your credit score is in good shape. Check it for free using Credit Karma.
Costs for health care and private school tuition have been on the rise too. So, you have to do your homework to find an affordable living situation in Nashville.
Income, Property, And Sales Taxes Living In Nashville
Making matters worse, sales taxes are some of the highest in the country. Tacking large sums onto your daily expenditures. Which you can partially offset. By using a cash rebate app such as Rakuten.
On the other hand, there are some advantages Nashville has. When compared to other popular cities of similar size, like Denver and Portland.
It is that Tennessee has no state income tax. In addition, property tax rates are also quite reasonable.
As a result, low taxes are one of the big aspects of Tennessee's draw.
Managing Your Money Living In Nashville (or anywhere)
With all of these money-related aspects. About deciding whether to move to Nashville or not.
Makes it critical to get your financial house in order. Before, during, and after moving here. Or moving anywhere, for that matter.
For this, I like the free online tool from Personal Capital. For tracking expenses, budgeting, and managing investments.
Personal Capital takes the chore out of money management and saves time. So you can enjoy the best Nashville has to offer. Without all of the financial stress.
Con: Religious Views
Tennessee is known for being located in the bible belt. And Nashville has been dubbed the Buckle of the Bible Belt.
Christianity is the religion of choice. As evidenced by the hundreds of Christian churches located throughout the area.
Although not a bad thing about Nashville living in and of itself. It may make people who aren't interested in religion. Or, practice a different faith. Feel less welcome. Or, out of place.
Here is one more reason not to move to Nashville. Then, I will wrap up.
Con: Lots Of Tourists
Nashville has traditionally been a popular tourist destination. Because of its history, culture, food, and incredible music scene.
But for the average resident, the presence of tourists may not be desirable. Making it tough to enjoy some of the great things the city offers.
Without having to deal with crowds of visitors. That only adds to the traffic congestion. And stress on public places and services.
Okay. That concludes our list of Nashville pros and cons.
Let's wrap up with some concluding thoughts…
Pros And Cons Of Living In Nashville
10 living in Nashville pros and cons include:
Good job market and school system
Epic music scene
Plenty of fun things to do
Great food and drinks
Access to quality health care
Intense summer heat, humidity, and allergies
Tough to get around
The rising cost of living
Religious views
Lots of tourists
Hopefully, this discussion has helped you with some important questions. Such as…
What is it like living in Nashville TN?
and
Should I move to Nashville, Tennessee?
Best of luck with your decision. No matter where you decide to settle down.
More Reading About Living In Nashville And Beyond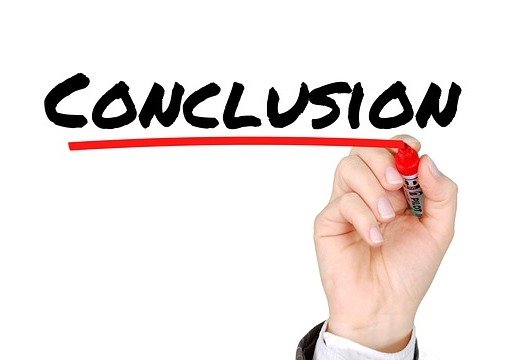 Disclosure & Disclaimer: I am not a licensed investment adviser, financial adviser, or tax professional. And I am not providing you with individual investment advice, financial guidance, or tax counsel. Furthermore, this website's only purpose is information & entertainment. And we are not liable for any losses suffered by any party because of information published on this blog.
Pros And Cons Of Living In Nashville TN Explained