For Anyone Asking: Should I Move To Memphis?
Today, I would like to discuss the pros and cons of living in Memphis TN. And address this question: is Memphis a good place to live?
This is what you are going to find out…
First, there are some specific reasons to live in Memphis. And second, some even better reasons not to move to Memphis in the first place.
Furthermore, Tennessee's population has been growing nicely. So, let's see if Memphis provides any clues about the state's recent popularity.
Okay. With that introduction taken care of.
Let's jump right into the living in Memphis Tennessee pros and cons…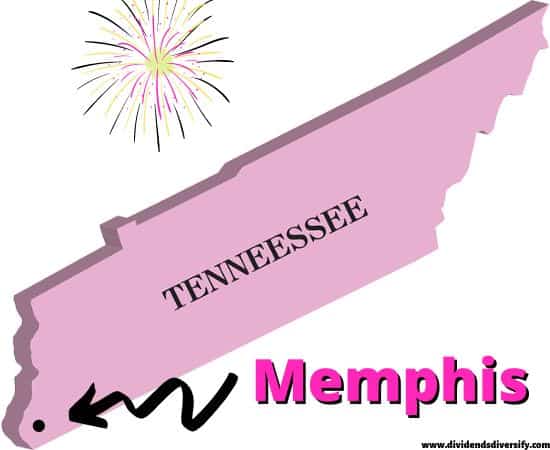 Disclosure: At no cost to you, I may get commissions for purchases made through links in this post.
Pros and Cons of Living in Memphis TN
Our top 10 list of moving to Memphis pros and cons includes:
Low cost of living
Very income tax-friendly
Many educational options
Lots of entertainment
Mild winter weather
Hot and humid summers
Frequency of severe weather
Limited public transportation
High crime and poverty rates
Excessive property and sales taxes
We will cover each of these pros and cons of living in Memphis in a moment.
But first, let's hit head-on the question of the day…
Is Memphis A Good Place To Live?
Like any place, you have to take the good with the bad. And this city has plenty of both.
Reasons To Move To Memphis
First of all, relocating to Memphis means you are choosing a good place to get your finances in order.
Because of the home prices and other costs of living. Like groceries, health care, and utilities. They all fall well below the national average.
And slightly below the average versus other places in Tennessee. An overall low cost of living state to start with.
As a bonus. You will pay no individual state income taxes. When living in Memphis TN.
Furthermore, if you are looking for budget-friendly higher education. The Tennessee Promise program is something you will want to check out.
Finally, throw in the mild winter weather. And the fun things you can enjoy year-round. Such as live music, festivals, the arts, and outdoor recreational options.
And one can conclude. That you can make a pretty good life in Memphis.
On the other hand, an article about living in Memphis TN pros and cons would not be complete.
Without discovering some of the downsides to choosing the Memphis lifestyle…
Reasons Not To Move To Memphis
First, you have to accept that summers will be very hot and humid.
Second, the frequency of severe weather is higher than you might think. Be it from thunderstorms, hail, flooding, or tornado activity.
Finally, several other things detract from the quality of life in Memphis. Specifically, it has one of the highest crime rates in the country. Coupled with high poverty.
Plus there is limited public transportation. Meaning most people need a car. Which in turn leads to heavy traffic. Especially during peak travel periods.
Finally, the last census data showed the city's population is shrinking. Thus, Memphis has not been contributing to the state's overall popularity.
Like the growth experienced in other parts of the state. For example, people have been moving to Chattanooga. For its robust tech and startup business scene. Along with the scenic beauty the area offers.
Other parts of the state are growing too. Such as "The Music City" of Nashville. One of the fastest-growing metropolitan areas in the United States.
On the other hand, there is a shrinking population currently in Memphis. And it is a red flag when searching for a nice new place to live.
Alright. With those key highlights about Memphis living taken care of.
We can now move on to the main event. Specifically the 10 pros and cons of living in Memphis TN.
Let's do it…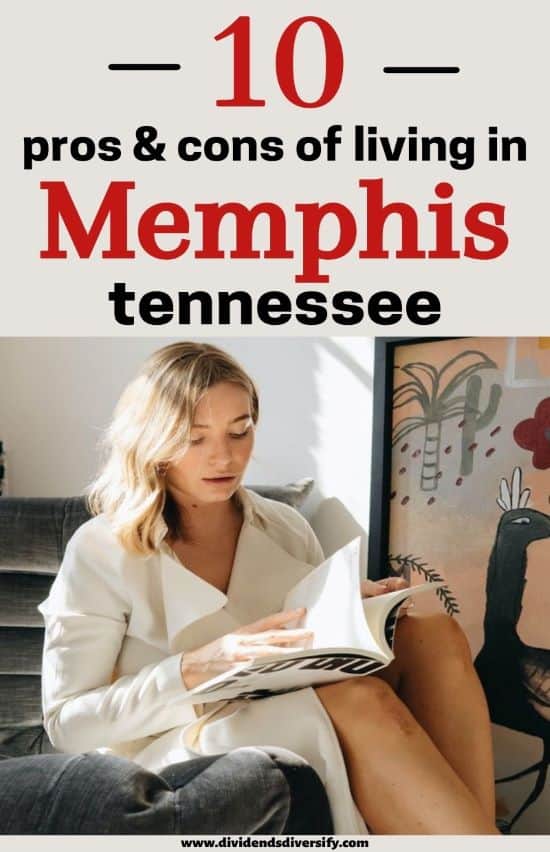 Low Cost Of Living
Certainly, you can identify cheaper places in Tennessee. For living on a low budget.
Just look at some of the smaller towns. In the more rural areas of the state.
On the other hand, we are talking about a major metropolitan area. The state's second-largest city.
And typically, living in major metropolitan areas costs a little more.
Let's see what the numbers tell us. Courtesy of BestPlaces.net.
Home Prices In Memphis
First, there is the median home value. In Memphis, it is about 13% less than the median home value in Tennessee.
And that's very affordable. Considering the median home value in Tennessee is 12% lower than the United States median home price.
Other Costs Of Living In Memphis
Other costs are affordable too.
Since groceries, health care, and utilities run anywhere between 2 and 7% less. Versus the national average.
So, by living in the state of Tennessee. Your costs run cheaper than the national average. And Memphis is one of the least expensive metropolitan areas in the state to live in.
As a result, you are choosing a low-cost city. In a low-cost state. Making a good combination for anyone's finances.
Ways To Save Money Living In Memphis (or anywhere you live)
If you want to save a little more money. You can balance your budget with a few tips that we use.
First, if you are moving to Memphis. And looking for an apartment or home.
Check your credit score for free using Credit Karma because mortgage lenders and apartment landlords will certainly do so. So, get out in front of them.
Second, save on the stuff you buy every day.
Rakuten can't be topped for online cash rebates. Plus, Rakuten gives you 10 dollars for a limited time, just for making your first purchase.
Finally, manage your money for free.
For this, I like the finance app from Empower. You can budget, save, and invest all in one place. Making money management less of a chore.
Okay. Enough about the Memphis cost of living. And some additional ways to make the most out of your money.
Because I want to continue with some of the other benefits of living in Memphis. And I'm sticking with the financial theme for now.
Very Income Tax-Friendly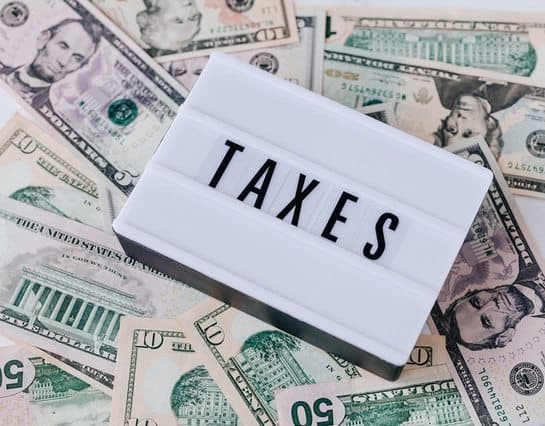 Most of the time people forget to consider taxes when moving. But I urge you not to fall into that trap.
Since state and local taxes are a big deal. And one of the pros and cons of moving to Memphis is this:
Tennessee is an income tax-friendly state. And by being a great city in Tennessee.
Residents benefit from the state's income tax laws. Here's how…
No Individual Income Taxes When Living In Memphis
There is no state income tax on individuals. Not on earnings from your job. Or income from your investments.
This alone, is one of the big financial advantages of moving to Tennessee.
So, whether you are working. Or, asking yourself, is Memphis a good place to retire?
Then rest assured. You can stretch your dollars farther by saving on income taxes.
Especially if you are a higher earner. Or, make a considerable amount of money off investments.
And if either of these is the case. Kudos to you!
Okay. We are just getting warmed up. Let's keep moving through the pros and cons of living in Memphis…
Many Educational Options
The city has a large public school system. But, if you have kids, choose your location wisely.
Like anywhere, some schools are better than others.
Check out Midtown. Or, East Memphis along The Poplar Corridor. And neighboring Germantown too.
For those who can afford it. There are many private and college-prep schools to choose from.
In addition, there are several colleges and universities in the area. Specifically…
The University of Memphis
Rhodes College
Christian Brothers University
Tennessee Promise Program
In addition, for anyone wanting to get a degree. And do so on a budget, there is the Tennessee Promise Program.
First, Tennessee Promise is a higher education scholarship program. Providing last-dollar scholarship money for students to attend community college.
Financially, this means the money covers tuition and fees. Not covered by other grants, scholarships, and student assistance funds.
Second, it is a mentoring program. To help students make a successful transition from high school to higher education.
Next, let's move on to another one of the advantages of living in Memphis…
Lots Of Entertainment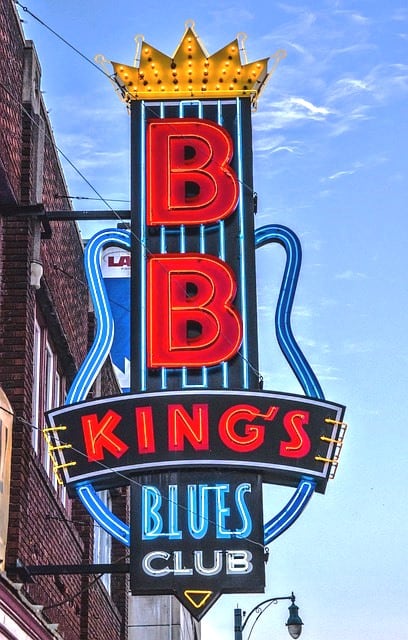 Whether you like outdoor activities. Or, indoor pursuits. Whether your interests are in sports, music, or the arts.
The entertainment scene here has a lot to offer residents…
Music
This city has a rich musical history.
First of all, Beale Street is located in downtown Memphis. And is arguably considered the birthplace of blues music.
Furthermore, the city has strong roots in Rock n Roll. Since Elvis Presley called the city home.
And visitors can still check out his house and property. Known as Graceland.
Finally, some other good choices for music and the arts include:
Stax Museum of American Soul Music
The historic Orpheum Theatre
Cannon Center for Performing Arts
Take note, the last one on the list is home to the Symphony Orchestra.
Festivals
For you festival-goers. Living in Memphis TN won't disappoint.
Here is a sampling of some of the reasons to gather. And have a good time.
Beale Street Music Festival
Bluff City Jazz Festival
Chicken & Beer Festival
Cooper-Young Festival
Craft Food & Wine Festival
Indie Film Festival
Italian Festival
Memphis in May
Mempho Music Festival
River Arts Fest
Tequila Festival
World Championship Barbecue Contest
For more good things about Memphis. Be sure to check out the outdoors…
Outdoor Recreation
For those of you that like to get out. For a stroll, jog, bike ride, or just to take in the view.
You have some good options…
First of all, there is the downtown riverfront. Providing a natural space in the heart of the city.
Furthermore, the Wolf River Greenway is very pleasant. A paved pedestrian pathway along the Wolf River.
Next, there is Shelby Farms Park. One of the largest urban parks in the United States.
Finally, for an up-close look at nature. There is the Memphis Botanic Garden and the Memphis Zoo.
On the other hand, you won't find any mountains nearby. If that's your thing.
So, you may want to consider moving to Knoxville, Tennessee. For easy access to the beautiful Smoky Mountains.
Then we have the weather. An essential component for enjoying outdoor recreation. Also, a big part of every relocation decision…
Mild Winter Weather
Because after moving to Memphis. You can take a pass on cold temperatures and harsh winter weather.
Since this is a southern city with a mild winter climate.
For example, in the coldest months. High temperatures routinely rise into the 50s. And lows only fall to around freezing.
Furthermore, snowfall is limited. So, there is no need to pack your snow shovel and snowblower.
Put all of these advantages about Memphis together. Specifically, costs, taxes, entertainment, and mild winters.
Then you may start to see why some people think this: Memphis may be a good place to retire.
Conversely, reviewing the living in Memphis pros and cons would not be complete.
Without addressing some of the bad things about Memphis. And, I'm not finished with the weather…
Hot And Humid Summers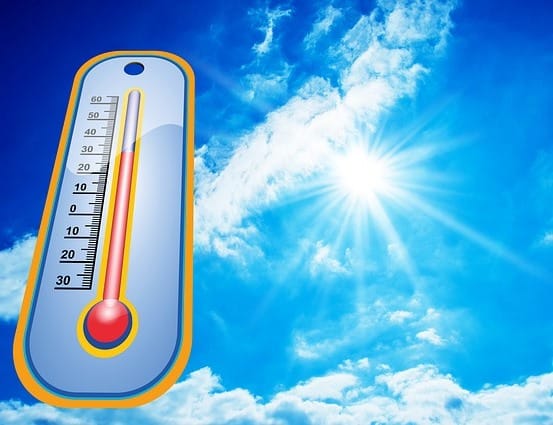 The region has a hot summer season. It lasts from roughly May through September.
High temperatures are routinely in the 90s. Lows in the 70s. Plus plenty of humidity is common during this season.
As humid air arrives from the steamy Gulf of Mexico. Bringing moisture coming from the state of Louisiana. And Mississippi too.
It makes summertime feel a little like a sauna.
As a result, sometimes it's hard to walk outside. Without soaking your clothes in sweat.
Thus, unless you love hot weather. Or, don't mind spending a good chunk of the summer in air conditioning. Living in Memphis TN may not be for you.
And one additional thing is for sure. The bugs and mosquitoes love the heat and humidity here.
So, keep the summer season in mind. When thinking about moving to Memphis.
Okay. Let's continue moving right along with the living in Memphis pros and cons.
Frequency Of Severe Weather
Unfortunately, another one of the worst things about Memphis relates to the weather…
First, there is a rainy season that lasts from spring through early summer. Making low-lying areas prone to flooding.
Also, it's not uncommon to experience tornado activity. These destructive storms can occur almost any time of the year.
The city is not part of Tornado Alley. But it is considered a part of what is known as Dixie Alley.
A phrase used to describe the southeastern parts of the United States. Where there is a higher risk of tornados.
Second, the city is located in an area where colder weather from the North pushes down. And mixes with hot humid weather moving up from the Gulf of Mexico.
It can be a toxic combination. Producing severe thunderstorms. Hail. And remnants of hurricanes. That can drench the area in rain.
Limited Public Transportation
Public transportation options here are not ideal. Since they don't always take you where you need to go. When you need to get there.
Plus, the city is fairly spread out. So, unless you plan on living and working in a confined area. You will find most Memphis residents depend on a car.
This has another impact. Since traffic in and around the metropolitan area can be heavy. Especially during peak travel times.
On the other hand, if you compare it to a larger city like Atlanta. It doesn't seem so bad.
Next up, is probably one of the worst things about living in Memphis. As the living in Memphis TN pros and cons march on…
High Crime Rate And Poverty
Since the city has an unfortunate reputation for high crime.
One study found that the area is the 2nd most dangerous big city in the country. Other analyses support that conclusion.
As often is the case, crime and poverty often go together. As nearly one in four individuals and families live below the poverty line here.
So, you will want to choose your exact location very carefully. Because there are plenty of safe areas.
Thus, do your homework. And you must pay attention to your surroundings when you venture out.
Perhaps consider East Memphis. Out towards Germantown, a well-off suburban city.
One more negative point about Memphis. As part of the pros and cons of Memphis TN. Then I will wrap up…
Excessive Property And Sales Taxes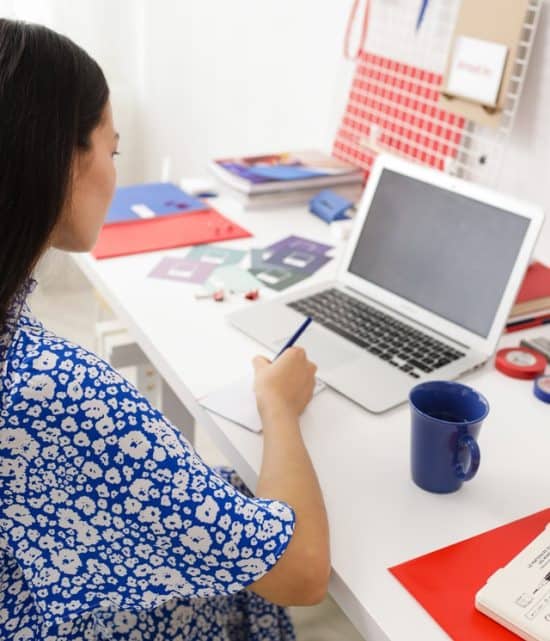 We already know that you can save a lot of money on income taxes here.
On the other hand, local governments have to raise money in some way. To provide residents with the basic state services they require.
As a result, one of the reasons not to move to Memphis is what I call consumption taxes.
Based on the fact the more you consume. The more taxes you will pay.
For example…
Property Taxes When Living In Memphis
At a state level, Tennessee has some of the lowest property taxes in the country. However, at a local level, the city has significantly higher property tax rates. Versus anywhere else in Tennessee.
Because the city of Memphis levies a tax on real estate ownership too. Almost equal to the rate Shelby County charges.
And Shelby County, where Memphis is located. Has the highest property tax rate of any county in Tennessee.
Sales Taxes When Living In Memphis
Then there are sales taxes. They are steep.
The state has a base rate. And Shelby County adds a rate on top of it.
Together, plan on paying almost an additional 10% on everything you buy. That can be a lot of money.
Just think if you buy a $30,000 automobile. That's another $3,000 you will be out of pocket.
I know that is an extreme example. But, sales tax can add up fast on your smaller day-to-day purchases too.
Okay. That's all I have.
Allow me to wrap up with a summary…
Pros and Cons of Living in Memphis TN
Our top 10 moving to Memphis, Tennessee pros and cons include:
Low cost of living
Very income tax-friendly
Many educational options
Lots of entertainment
Mild winter weather
Hot and humid summers
Frequency of severe weather
Limited public transportation
High crime and poverty rates
Excessive property and sales taxes
Hopefully, this discussion has helped you think through some important questions. Such as…
1) What is it like to live in Memphis?
and
2) Should I move to Memphis?
Good luck with your decision. No matter where you decide to live!
More Reading About Living In Memphis And Beyond…
Best Financial Resources No Matter Where You Live
I mentioned several of my favorite financial resources. To make the most of your money no matter where you live.
They are summarized here for your convenience…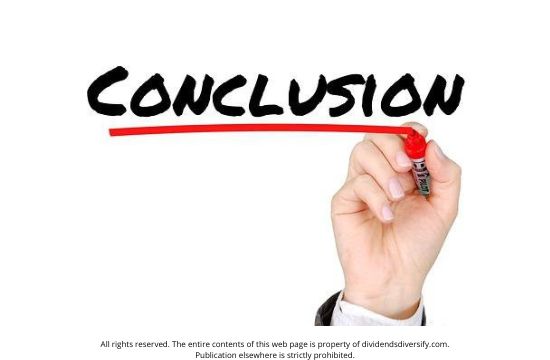 Author Bio, Disclosure, & Disclaimer: Please join me (Tom) as I try to achieve my goals, find my next place to live, and make the most of my money. However, I am not a licensed investment adviser, financial counselor, real estate agent, or tax professional. Instead, I'm a 50-something-year-old, early retired CPA, finance professional, and business school teacher with 40+ years of DIY dividend investing experience. I'm here only to share my thoughts about essential topics for success. As a result, nothing published on this site should be considered individual investment, financial, tax, or real estate advice. This site's only purpose is general information & entertainment. Thus, neither I nor Dividends Diversify can be held liable for losses suffered by any party because of the information published on this website. Finally, all written content is the property of Dividends Diversify LLC. Unauthorized publication elsewhere is strictly prohibited.
10 Living In Memphis, TN Pros and Cons Explained