Important Things To Know Before Moving To Chattanooga, TN
Let's explore the pros and cons of living in Chattanooga to determine if Chattanooga is a good place to live.
First, a head-to-head comparison of the perks and pitfalls.
Living In Chattanooga, TN Pros And Cons: Comparison Table
| | |
| --- | --- |
| Living in Chattanooga Pros | Living in Chattanooga Cons |
| 1. Vibrant economy | 10. Hot summers |
| 2. Low cost of living | 11. Grey winters |
| 3. No state income tax | 12. Seasonal allergies |
| 4. Scenic beauty | 13. Increasing home prices |
| 5. Fun things to do | 14. Low incomes |
| 6. Mild temperatures | 15. Limited public transit |
| 7. Cultural attractions | 16. High poverty rate |
| 8. Lots of festivals | 17. High crime rate |
| 9. Conveniently located | 18. Subpar public schools |
Table 1: Chattanooga Pros and Cons Compared Head To Head
Putting the above facts together about Chattanooga leads me to the next obvious question.
Is Chattanooga A Good Place To Live?
Chattanooga is a great place to live because of its growing economy and low cost of living. Residents love the warm weather, scenic beauty, and fun things to do in and around the area.
However, living in Chattanooga won't be for everyone. So, let's discuss the pros and cons one at a time.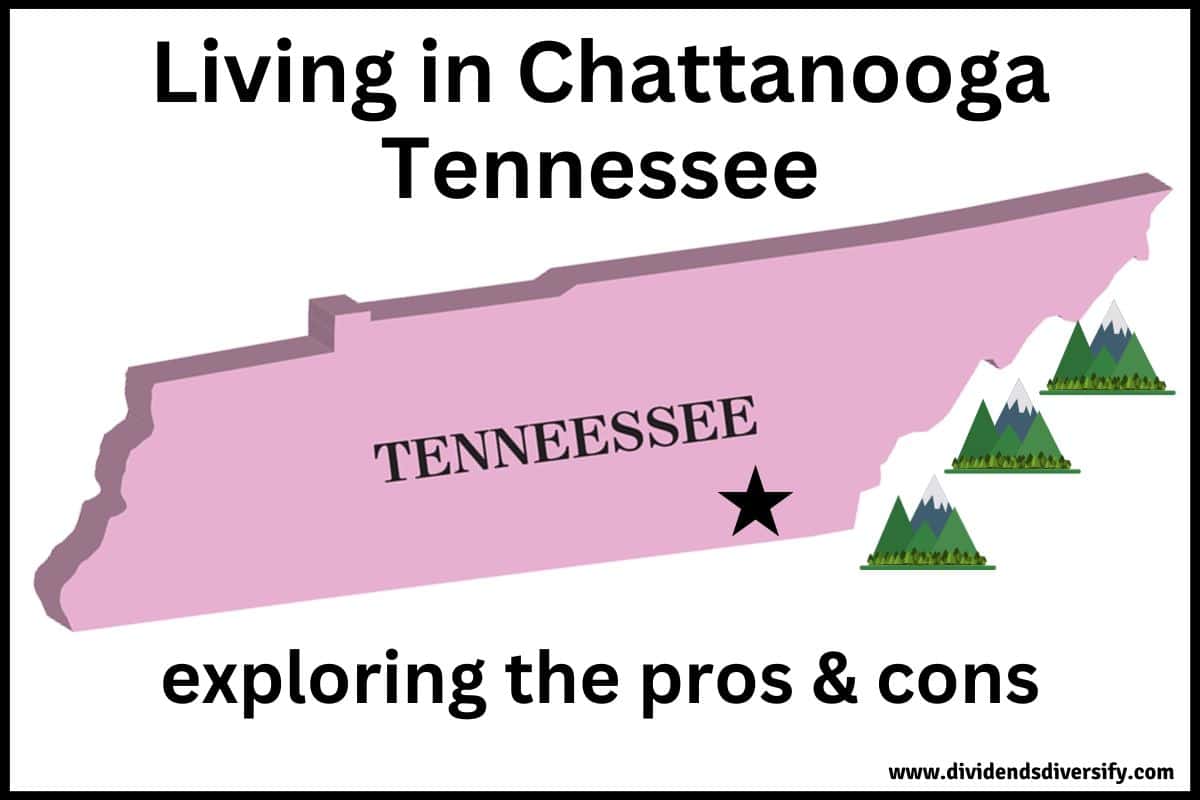 Disclosure: At no cost to you, I may get commissions for purchases made through links in this post.
Pros Of Living In Chattanooga, TN
1. Find Your Dream Job In The Vibrant Economy
Chattanooga has a robust, growing economy.
The city was among the first to offer homes and offices one gigabit-per-second fiber internet service. The tech infrastructure has partly contributed to Chattanooga becoming a go-to location for business startups and technology firms.
Chattanooga's employment opportunities have attracted younger people to the area. Workers choose to participate directly in the local economy or work remotely.
Traditional companies are also thriving.
Volkswagen's manufacturing plant is expanding into electric vehicle production. Amazon and FedEx have large distribution centers. McKee Foods makes Little Debbie snacks.
As a result, there are plenty of jobs to be had in this southern city.
Then, after your employment is in place, I have another one of the best things about the Chattanooga lifestyle.
More reading: A small Tennessee town that feels like a bigger city
2. Chattanooga's Low Cost Of Living Won't Empty Your Wallet
Chattanooga offers residents a low cost of living.
The average cost of living in Chattanooga is less than the national average. And less than the average cost of living in Tennessee. Source: BestPlaces.net.
Pro tip: Save money on your online purchases with the money-back app from Rakuten.
Median home prices, groceries, utilities, and transportation contribute to Chattanooga's cost of living. For homeowners, Hamilton County real estate taxes are affordable, too.
Next, another benefit of living in Chattanooga for your finances…
3. No State Income Taxes Make Your Income Go Further
After moving to Chattanooga, you are not required to pay state income taxes. The favorable state tax environment is one reason more people are moving to Tennessee.
Thus, the money earned from your job, business, social security, and investment income goes further here.
But there's so much more when discussing the Chattanooga lifestyle beyond work, money, and taxes. So, let's look at another one of the advantages of living in Chattanooga…
More reading: reasons people want to move to Tennessee.
4. Enjoy The Views: Lots Of Scenic Beauty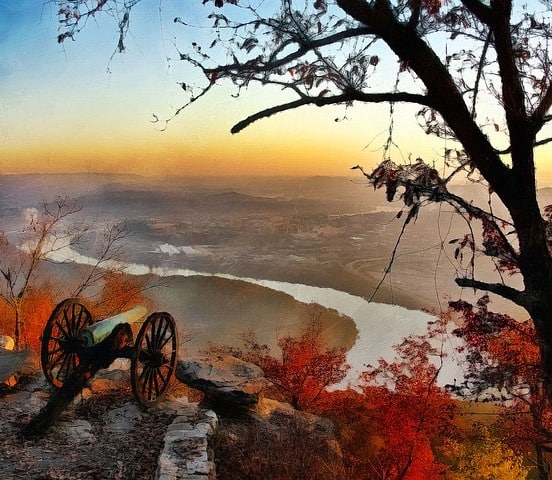 Chattanooga is a scenic and beautiful city. Residents live in a valley between the Appalachian and Cumberland mountain ranges.
The rolling hills, trees, and the Tennessee River make for great views. The landscape is more varied and interesting than heavily populated metropolitan areas.
As a result, Chattanooga's nickname is "The Scenic City".
5. Plenty Of Family-Friendly Fun Things To Do
Chattanooga residents enjoy an active outdoor lifestyle community.
The area is great for:
Hiking
Fishing
Rafting
Kayaking
Canoeing
Whitewater adventures on the nearby Ocoee River are a favorite for outdoor fun.
Hike and explore the Cumberland Trail, an area full of scenic beauty that follows a line of ridges and gorges. The trail is a few miles north, past Red Bank and Signal Mountain neighborhoods.
Chattanooga locals enjoy the Tennessee Riverwalk and the city's parks and greenways.
More reading: 5 great places to live in East Tennessee
6. Pleasant Temperatures For Getting Outdoors
Chattanooga's mild temperatures last for most of the year. The climate provides year-round weather to get out and explore. Thus, residents enjoy what has become one of the most livable southern cities.
However, the fun doesn't stop with the outdoors.
7. Cultural Attractions To Open Your Mind To New Things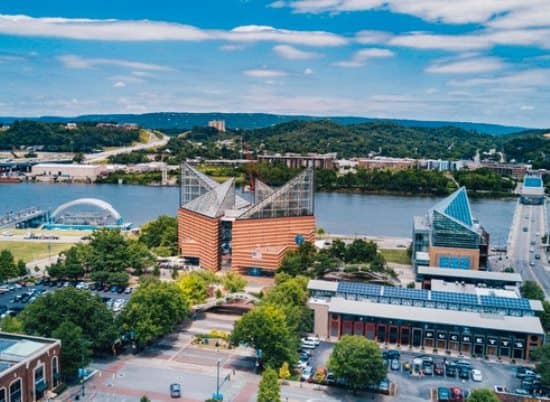 Chattanooga has many other destinations for you and your family. Here is a small sample of what to expect.
Bluff View Art District
Chattanooga Zoo
Hunter Museum of American Art
Lookout Mountain
Signal Mountain Opry
Soldiers and Sailors Memorial Auditorium
Tennessee Aquarium
Tivoli Theater
More reading: a great place to live in North Carolina
8. Living In Chattanooga Means Fun-Filled Festivals
Chattanooga offers an exciting festivals and events scene, including:
4 Bridges Arts Festival
Chattanooga Film Festival
Riverbend Festival
Chattanooga Beer Fest
Chattanooga Street Food Festival
Tennessee Whiskey Festival
MAINx24 Festival
All of these great things come together to create a growing arts scene. And an urban vibe that you might not expect from a smaller city.
More reading: Arkansas has a ton of natural beauty here to enjoy
9. Convenient Location: Sometimes You Just Need To Get Away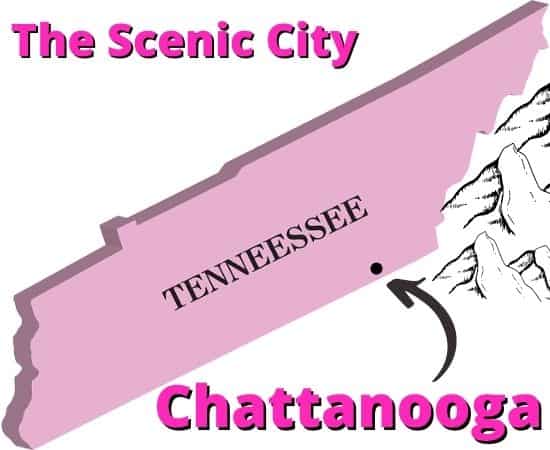 After moving to Chattanooga, you can find a good road trip.
Explore Nashville, known as "The Music City," just 2 hours away in middle Tennessee.
Closer yet is the East Tennessee city of Knoxville. Knoxville is home to the state's flagship school, the University of Tennessee. Located in the foothills of the Appalachian Mountains near Great Smoky Mountains National Park, Knoxville is great for outdoor adventures.
Cons Of Living In Chattanooga, TN
Okay. It's time to switch gears.
An article about the pros and cons of living in Chattanooga, TN, is incomplete without addressing some disadvantages. Let's keep moving and do that now
10. Some People Wilt In the Humid Summer Heat
Chattanooga's summer temperatures rarely crack 100 degrees. However, living here means uncomfortable summer weather. High humidity levels will contribute to your discomfort.
Furthermore, that same high humidity makes the temperatures feel much colder than the thermometer shows during winter.
11. Grey Winters Might Get You Down
Chattanooga gets a lot more rain than other parts of the United States.
Clouds and rain make the winters feel grey and gloomy. So, the grey weather can present a challenge for anyone whose mood is impacted by a lack of sun.
Next, the climate and natural surroundings create another one of the bad things about living in Chattanooga. Let's discuss it.
More reading: All the best places to live in Tennessee
12. Sticky Pollen Is Tough For Those With Allergies
Chattanooga's pollen counts skyrocket during the spring and fall seasons. Thus, this city is tough on seasonal allergy sufferers.
An abundance of trees, shrubs, and flowers combined with ample rainfall and high humidity contribute to the problem.
So, allow me to sum up the last two topics.
You won't like living in Chattanooga if you can't tolerate warm, muggy summers, damp grey winters, and high pollen counts during the spring.
More reading: Cookeville – a small eastern Tennessee town
13. Popularity Has A Price: Increasing Housing Costs
Chattanooga's popularity has increased in recent years. Many people have relocated here, increasing the demand for housing.
Thus, Chattanooga's cost of living advantage has been reduced because home prices have increased. Healthy year-over-year price increases have been the norm.
More reading: Explore other cheap places to live throughout Tennessee.
14. Many Jobs Pay Less Leading To Low Household Incomes
Chattanooga's median household income trails the national average by a wide margin.
So, if you are moving here without a job, make sure to take your earnings potential into account.
15. Getting Around Town When Living In Chattanooga
Chattanooga's public transportation options are limited. Most residents own at least one car.
Unless you will be living and working in a confined area like downtown Chattanooga, plan on owning a car here. Thus, factor car ownership into your budget.
Okay. Moving right along. We have several other issues that plague the city.
More reading: Living in eastern Tennessee – Johnson City
16. Not Everyone Enjoys The Good Life: Poverty And Income Inequality
Chattanooga has a high poverty rate.
Almost one out of every five individuals in Chattanooga lives below the poverty line. The city's poverty is much higher than the national average.
Thus, many struggling citizens live in substandard housing and scrape by to make ends meet.
17. High Crime Rates Are An Unfortunate Reality
Chattanooga has a higher-than-average crime rate. Poverty and crime often go hand in hand.
Crime is mostly isolated in the poorer areas. There is gang activity. Parts of the city are dangerous.
The issue is surprising because Chattanooga is a fairly small town versus a bigger city like St. Louis or Memphis. Crime is high in these cities.
On the other hand, high crime doesn't necessarily mean you will be in danger. It is not very different than living in Memphis in this regard. You can find plenty of safe places to live in Chattanooga.
Research and choose your exact neighborhood wisely. Take normal precautions by locking doors and keeping valuables out of sight. These are good practices no matter what city you choose to live in.
Here is another issue. Furthering the divide between "the haves and the have-nots" in Chattanooga.
18. Subpar Public Schools Leave Students Behind The Curve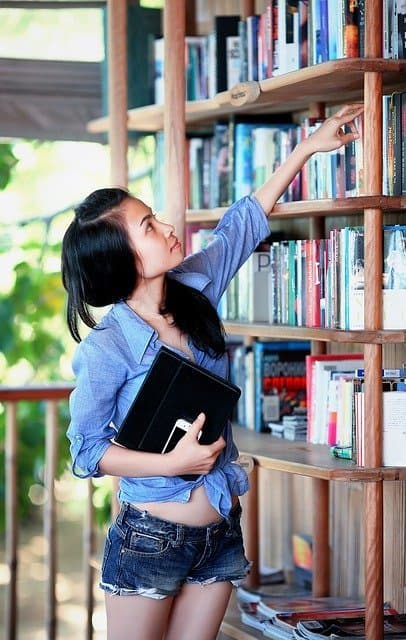 The Hamilton County school system services Chattanooga. The schools are not highly rated. Students here tend to perform at a lower level.
Consider some of the nearby neighborhoods outside the city's core for better schools.
East Brainerd schools to the east, for example, are considered higher quality.
In addition, there are some good schools if you live in Signal Mountain. However, the houses are more expensive in this area.
Or, consider moving to Maryville, Tennessee, just outside of Knoxville. The schools are excellent, and you will still live in East Tennessee.
Chattanooga has many excellent private schools. However, they are very expensive.
So, for anyone with school-age children. Choose your school district wisely or work the cost of private education into your budget before moving to Chattanooga.
Okay. That's all I have for today.
Allow me to wrap up with some concluding thoughts.
Pros and Cons of Living in Chattanooga, TN
Living in Chattanooga has some drawbacks, like any city. However, residents enjoy the overall high quality of life offered here.
Finally, I hope this discussion has helped you address some important questions. Such as…
What is it like living in Chattanooga?
Should I move to Chattanooga?
Is Chattanooga a good place to retire?
Good luck with your decision. No matter where you decide to settle down.
More Reading About Living In Chattanooga And Beyond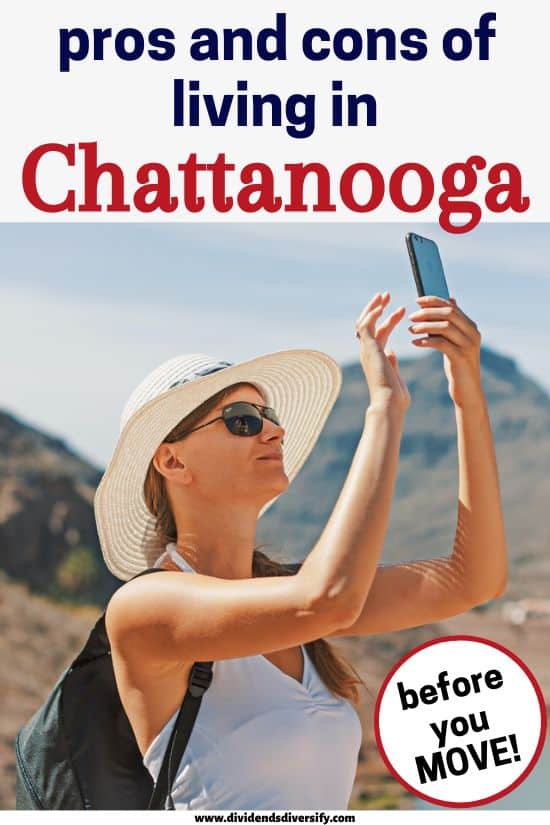 Author Bio: Tom Scott founded the consulting and coaching firm Dividends Diversify, LLC. He leverages his expertise and decades of experience in goal setting, relocation assistance, and investing for long-term wealth to help clients reach their full potential.
Author Bio: Tom Scott founded the consulting and coaching firm Dividends Diversify, LLC. He leverages his expertise and decades of experience in goal setting, relocation assistance, and investing for long-term wealth to help clients reach their full potential.
The Pros And Cons Of Living In Chattanooga, TN Explained