Things To Know Before Moving To Chattanooga
Today's review is about the pros and cons of living in Chattanooga TN.
We will dig into some good reasons to live in Chattanooga. In addition to some reasons not to move to Chattanooga in the first place.
And by putting all of the pieces together, we can answer the all-important question.
Is Chattanooga a good place to live?
Whether you are moving for work, pleasure, or retirement.
So, let's dive into the 10 living in Chattanooga TN pros and cons…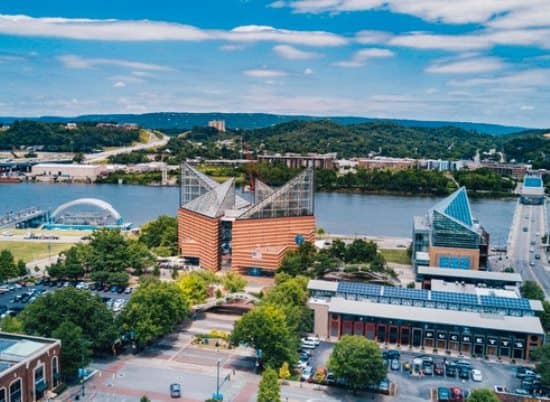 Disclosure: At no cost to you, I may get commissions for purchases made through links in this post.
Pros and Cons of Living in Chattanooga TN
Here's our top 10 list representing the pros and cons of Chattanooga TN;
Vibrant economy
Low cost of living
No state income taxes
Lots of scenic beauty
Plenty of fun things to do
Hot summers and grey winters
Tough on those with allergies
Poverty and income inequality
High crime rates
Subpar public schools
We will review each of these pros and cons of moving to Chattanooga in a moment.
But first, let's answer the question I posed in the introduction.
And before you go, check out 5 great places to live in east Tennessee.
But now, Chattanooga…
Is Chattanooga A Good Place To Live?
Yes. Chattanooga is a great place to live. Especially if you are looking for a really big small town.
Since it offers a closer community feel. But with many of the amenities of big city life.
Some residents say it is the perfect combination of big and small.
It's easy to get around town. And there is a ton of natural beauty to enjoy.
With plenty of outdoor activities that come with it. Right in the area.
Plus, for the less outdoorsy folks in the crowd. There is pretty decent live music, arts, and food scene to explore. That most cities of this size do not offer.
Throw in a healthy economy and a reasonable cost of living. Plus the fact that no place in Tennessee charges a state income tax.
Making this town a good place to work, play, and balance your budget while doing so.
On the other hand, just like any place you choose to live. Some negatives come with the positives.
And, it wouldn't be fair if I didn't point these out too…
Reasons Not To Move To Chattanooga
If you value the anonymity offered by a big city. You won't find it Chattanooga. Because it is a small eastern Tennessee town at its core.
Furthermore, just like Chattanooga possesses some of the positive traits of larger cities. It has similar downsides too.
Since the poverty rate is nearly double the national average here. And, so often the case. Where there is poverty, there is a higher crime rate. Unfortunately, Chattanooga is no different.
What's worse, many of the public schools do not offer a quality educational environment. Complicating the situation. By not providing residents of lesser means. A way to a better life.
Finally, with the spring to summer heat, humidity, and high pollen. Not everyone feels all that comfortable here.
So, with those highlights about Chattanooga living taken care of. Let's go through each of the 10 pros and cons of living in Chattanooga TN right now…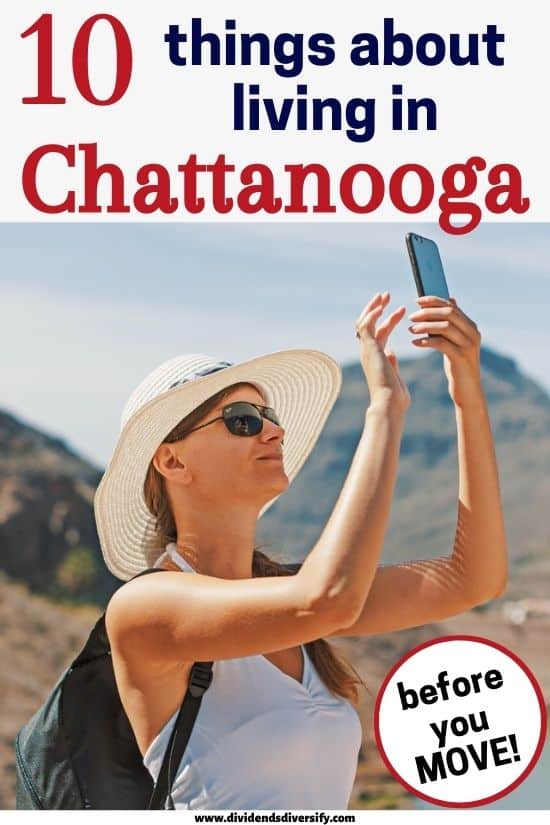 Vibrant Economy
Chattanooga was one of the first cities to offer 1 gigabit-per-second fiber internet service to homes and offices. The infrastructure offers unsurpassed broadband speeds.
This has partly contributed to the city becoming a go-to location. For business startups and technology firms.
What's more, these employment opportunities have attracted younger people to the area. To participate in the local economy. Or, to work remotely.
Furthermore, larger more traditional companies are doing business here too.
For example, there is a Volkswagen manufacturing plant. That is expanding into electric vehicle production.
Amazon and FedEx distribution centers are represented.
In addition to McKee Foods. Best known as the maker of Little Debbie snacks.
As a result, there are plenty of jobs to be had. But note that the median household income here trails the national average. So, you will want to take that into account.
Then, once you have your employment in place. We have another one of the best things about the Chattanooga lifestyle.
Because you will find cheap places to live throughout Tennessee. And Chattanooga is no exception…
Low Cost Of Living
Since according to BestPlaces.net, the average cost of living in Chattanooga is less than the national average. And less than the average cost of living in Tennessee.
For you would-be homeowners. Property tax in Hamilton County. Where Chattanooga is located, is quite reasonable too.
Plus, you will find that the median home price, groceries, utilities, and transportation. All contribute to the low Chattanooga cost of living.
Getting Around When Living In Chattanooga
Speaking of transportation. You should plan on owning a car here.
Since public transportation is limited. Unless you will be living and working in a confined area. Such as downtown Chattanooga.
So, factor car ownership into your budget.
Ways To Save Money Living In Chattanooga (or anywhere)
Furthermore, you can save a little more money in Chattanooga. Or, anywhere you decide to live.
And you can do so in a couple of ways…
First by earning cashback. I think Rakuten is best for getting money back from your online purchases. Amazon included.
While the Ibotta app is great for receiving cash back on groceries. When shopping at the grocery store.
It is also important to take this next point into account. About the Chattanooga housing market. Since homes have been in high demand. Due to the increased interest in moving here.
This means…
Be Sure To Get Your Finances In Order Before Moving To Chattanooga
Home prices have been on the rise. With healthy year-over-year increases.
Thus, limiting the ready supply of homes. And reducing Chattanooga's cost of living advantage.
As a result, many people are buying land. And building a new home on it.
If this interests you, consider the land for sale on AcreTrader.
Also, to compete in a competitive housing market. It's a good idea to make sure your credit score is in good shape.
Since mortgage lenders and landlords can be selective. On whom they choose to do business.
You can check your credit for free. Using Credit Karma.
Finally, pull your budget and all your finances together in one place. So you have a good handle on your money situation before moving.
Personal Capital is a free online tool that does just that. And makes dealing with your finances less of a chore.
As a result, Personal Capital can help you get a handle on your budget and investments before the big move.
Next, another benefit of living in Chattanooga for your finances…
No State Income Taxes
Because no matter where you decide to live in Tennessee. Chattanooga included.
There are no individual state income taxes.
So, whatever way you make money. Be it from a job, your business, social security, investment income, or savings in your retirement accounts.
You won't have to file and pay state income taxes for your household.
This is a huge benefit. Since there are only 8 states in the country without a state income tax.
So, depending on what state you are moving from. The tax savings could be substantial. It's one of the reasons people want to move to Tennessee.
But there's more. When discussing the Chattanooga lifestyle beyond work, money, and taxes.
Leading us to another one of the advantages of living in Chattanooga…
Lots Of Scenic Beauty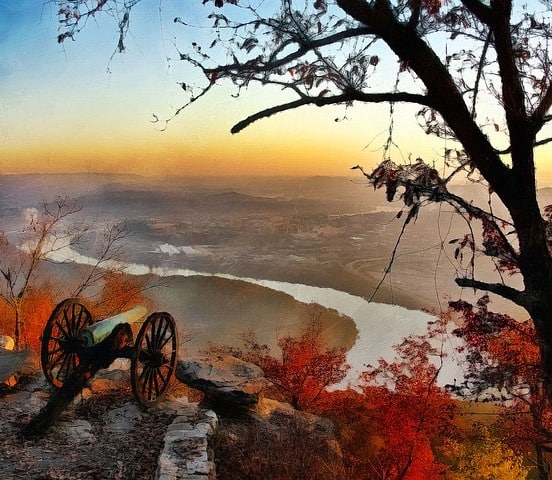 The city sits in a beautiful valley between the Appalachian and Cumberland mountain ranges. After all, its nickname is "The Scenic City".
The rolling hills, trees, and the Tennessee River all make for great views. It is much more interesting than more heavily populated metropolitan areas.
And it provides for many great outdoor activities. That comes with the lovely outdoor terrain.
Bringing us to another one of the best things about living in Chattanooga Tennessee…
Plenty Of Fun Things To Do
The surrounding area is great for hiking, fishing, rafting, kayaking, and canoeing. Including whitewater adventures on the nearby Ocoee River.
Travel a few miles to the north. Past the nearby neighborhoods of Red Bank and Signal Mountain. To hike and explore the Cumberland Trail.
It is an area full of scenic beauty. That follows a line of ridges and gorges.
For the less adventurous, there is the Tennessee Riverwalk. And the city's parks and trails.
With mild temperatures lasting most of the year. It provides an almost year-round climate to get out and explore.
But the fun doesn't stop with the outdoors. There are other things to keep you and the family entertained inside and out.
Such as…
Dining, Arts, And Attractions When Living In Chattanooga TN
That include:
Bluff View Art District
Chattanooga Zoo
Hunter Museum of American Art
Lookout Mountain
Signal Mountain Opry
Soldiers and Sailors Memorial Auditorium
Tennessee Aquarium
Tivoli Theater
Plus an exciting festivals and events scene.
Living In Chattanooga Means Fun-Filled Festivals
For example…
4 Bridges Arts Festival
Chattanooga Film Festival
Riverbend Festival
Chattanooga Beer Fest
Chattanooga Street Food Festival
Tennessee Whiskey Festival
MAINx24 Festival
All of these great things come together to create a growing arts scene. And an urban vibe that you might not expect from a smaller city.
Finally, if you get bored. You can always take a road trip.
To explore Nashville in middle Tennessee.
Nashville is known as "The Music City" and being just 2 hours away.
Closer yet, is the East Tennessee city of Knoxville.
Knoxville is home to the state's flagship school. The University of Tennessee.
Knoxville is located in the foothills of the Appalachian Mountains. On the doorstep of the Great Smoky Mountains National Park.
Make it a point to research all of these cities. Especially for anyone interested in comparing Chattanooga vs Knoxville living. Since they are close. But have their differences.
Leading us to another important question. About living in an eastern Tennessee city. And Chattanooga specifically…
Is Chattanooga A Good Place To Retire?
Since it is easy to conclude that Chattanooga is the perfect place to retire. When you consider the low cost of living, zero state income taxes, temperate climate, and lots of fun-filled activities.
With all of it placed in a small Tennessee town that feels like a bigger city.
So, Chattanooga might be your dream retirement location? If those good things about Chattanooga living get you excited.
On the other hand, an article about the pros and cons of living in Chattanooga TN would not be complete.
Without addressing the worst things about living in Chattanooga. Let's keep moving and do that next…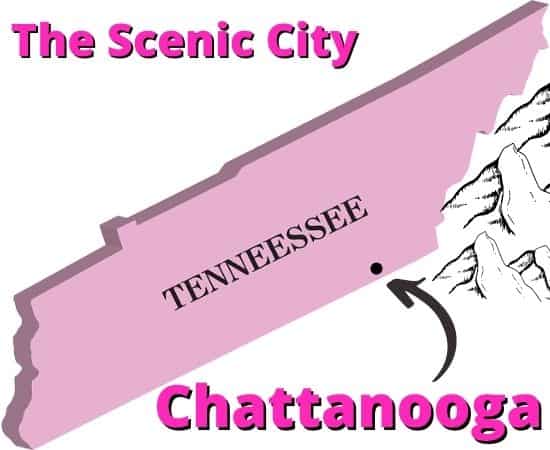 Hot Summers and Grey Winters
Although you won't see the temperatures crack 100 degrees very often around here. Summers can be very uncomfortable.
First, because of the high humidity levels.
And that same high humidity sticks around during the winter. Making the temperatures feel much colder than what the thermometer shows.
Residents rarely have to deal with snowfall. But, it rains a lot in Chattanooga.
Significantly more rain than most parts of the United States. Making the winters feel grey and gloomy.
So, for anyone whose mood is impacted by a lack of sun. The weather during certain times of the year can present a challenge.
Then, the climate and surroundings create another one of the bad things about living in Chattanooga…
Tough On Those With Allergies
With plenty of trees, shrubs, and flowers. Which are usually good things.
Combined with the ample rainfall, high humidity, and an extended spring to the summer season.
Pollen counts can skyrocket.
Making it tough on anyone who suffers from seasonal allergies.
So, allow me to sum up the last two topics…
People who do not like warm, muggy summers. Damp grey winters. And high pollen counts during the spring.
Those people probably won't like living in Chattanooga.
Okay. Moving right along. We have several other issues that plague the city.
It is not very different than living in Memphis in this regard. Making the choice of your exact neighborhood important.
As it relates to safety for your family. And education for your children…
Poverty And Income Inequality
It is estimated that about 1 out of every 5 individuals in Chattanooga live below the poverty line. Much higher than the national average.
This means there is a large population of struggling citizens. Living in substandard housing. Scraping by to make ends meet.
Bringing us to another negative of living in Chattanooga…
High Crime Rates
Since poverty and crime often go hand in hand. And it is no different here. As the crime is mostly isolated in the poorer areas.
There is gang activity. Making parts of town not wise to be in. Especially if you are unfamiliar with your surroundings.
The issue is surprising to me. Because Chattanooga is a fairly small town. Not a bigger city like St. Louis or Memphis. Some of the highest crime cities in the nation.
On the other hand, high crime doesn't necessarily mean you will be in danger. Since it is localized in certain areas of the city.
So, the most important thing is this. Choose your exact location wisely.
And take normal precautions. By locking doors. And keeping valuables out of sign.
These are good practices no matter what city you choose to live in. Because there are plenty of safe places to live in Chattanooga.
Here is another issue. Furthering the divide between "the haves and the have nots" in Chattanooga.
Subpar Public Schools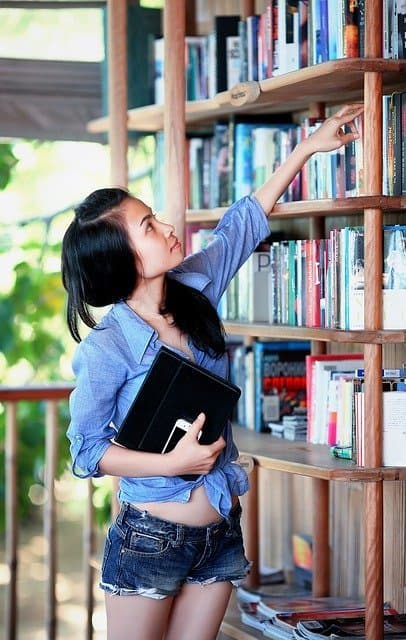 Since the Hamilton county school system is not particularly highly rated. And students here tend to perform at a lower level.
Do your homework and consider some of the nearby neighborhoods. Outside of the heart of the city.
East Brainerd schools to the east, for example. Are considered to be of higher quality.
In addition, there are some good schools if you choose to live in Signal Mountain. It is north of downtown. But understand the housing in that area is more expensive.
Or, consider moving to Maryville, Tennessee. Just outside of Knoxville.
The schools there are excellent. You will still be in east Tennessee. But, it's not Chattanooga.
Also, Chattanooga has many excellent private schools. But they are very expensive.
So, for anyone with school-age children. Choose your school district wisely.
Or, work the cost of private education into your budget. Before deciding to move here.
Okay. That's all I have for today.
Allow me to wrap up with a summary…
Pros and Cons of Living in Chattanooga TN
The living in Chattanooga TN pros and cons include:
Vibrant economy
Low cost of living
No state income taxes
Lots of scenic beauty
Plenty of fun things to do
Hot summers and grey winters
Tough on those with allergies
Poverty and income inequality
High crime rates
Subpar public schools
Hopefully, this discussion has helped you with some important questions. Such as…
What is it like living in Chattanooga?
Should I move to Chattanooga?
Should I move to Knoxville or Chattanooga?
Even though there are some drawbacks. Like any place, you choose to live. Most people feel the overall Chattanooga quality of life is high.
Good luck with your decision. No matter where you decide to settle down.
More Reading About Living In Chattanooga And Beyond
Tools For Making the Most of Your Money In Chattanooga (or anywhere)
I mentioned several of my favorite money tips and tools throughout the article. They are summarized here for your convenience.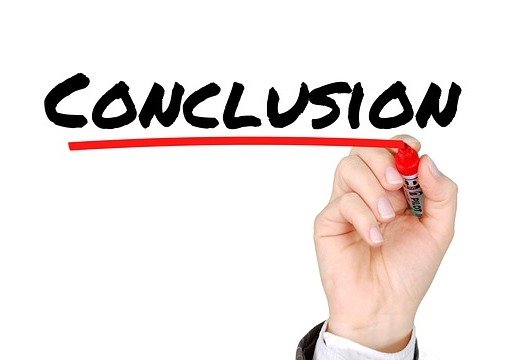 Author Bio, Disclosure, & Disclaimer: Please join me (Tom) as I try to achieve my goals, find my next place to live, and make the most of my money. But understand, I am not a licensed investment adviser, financial adviser, real estate agent, or tax professional. I'm a 50-something-year-old guy, CPA, retired finance professional, and part-time business school teacher with 40+ years of DIY investing experience. I'm just here because I enjoy sharing my findings and research on important topics. However, nothing published on this site should be considered individual investment advice, financial guidance, or tax counsel. Because this website's only purpose is general information & entertainment. As a result, neither I nor Dividends Diversify can be held liable for any losses suffered by any party because of the information published on this blog. Finally, all written content is the property of Dividends Diversify LLC. Unauthorized publication elsewhere is strictly prohibited.
The Pros And Cons Of Living In Chattanooga TN Explained