Raytheon Dividend Stock Analysis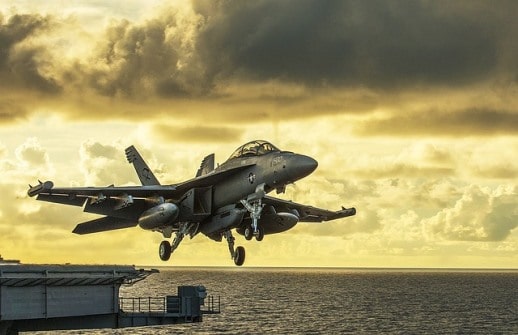 I like to have defense sector companies in my dividend stock portfolio. Why?
Diversification. When the world is threatened by a big conflict and the stock market goes down, defense sector stocks usually go up.
And, stocks in the defense sector typically pay pretty good dividends. Let's take a look at one of my favorites: Raytheon.
Related: Dividend Deep Dive Analysis Process

Certainly, I will have some thoughts on the Raytheon dividend yield, Raytheon dividend growth, and safety.
In addition, Raytheon is a member of the Dividends Deluxe dividend stock portfolio. The Dividends Deluxe is home to more than 40 dividend growth stocks.
Related: The Dividends Deluxe Model Portfolio
Raytheon Today
Raytheon is an international aerospace and defense company headquartered in Waltham, Massachusetts. And, Raytheon stock trades under the stock symbol RTN on the New York Stock Exchange.
Raytheon has four businesses that work together to craft solutions for a wide variety of government and commercial customers. The four businesses are:
Integrated defense systems to protect against attack

Intelligence, information, and services providing cybersecurity products and solutions

Missile systems for both defensive and offensive situations

Space and airborne systems including radars, sensors and communication products
Source: Raytheon – Our Businesses
Raytheon Tomorrow
Earlier this year, Raytheon and United Technologies announced that they will combine forces in a merger of equals.
The merger is expected to close in the first half of 2020. The companies will operate under a new name: Raytheon Technologies Corporation.
Before the 2020 merger, United Technologies will separate into 3 entities. 2 of those entities being Otis and Carrier will not be part of the merger.
Raytheon Technologies will operate from a platform of 4 primary businesses:
Pratt & Whitney aircraft engines & auxiliary power units

Collins Aerospace & defense products

Intelligence, space & airborne systems

Integrated defense & missile systems
The first 2 businesses will come from United Technologies. And the last 2 will be formed by combining Raytheon's existing 4 business units.
Source: Defining The Future Of Aerospace & Defense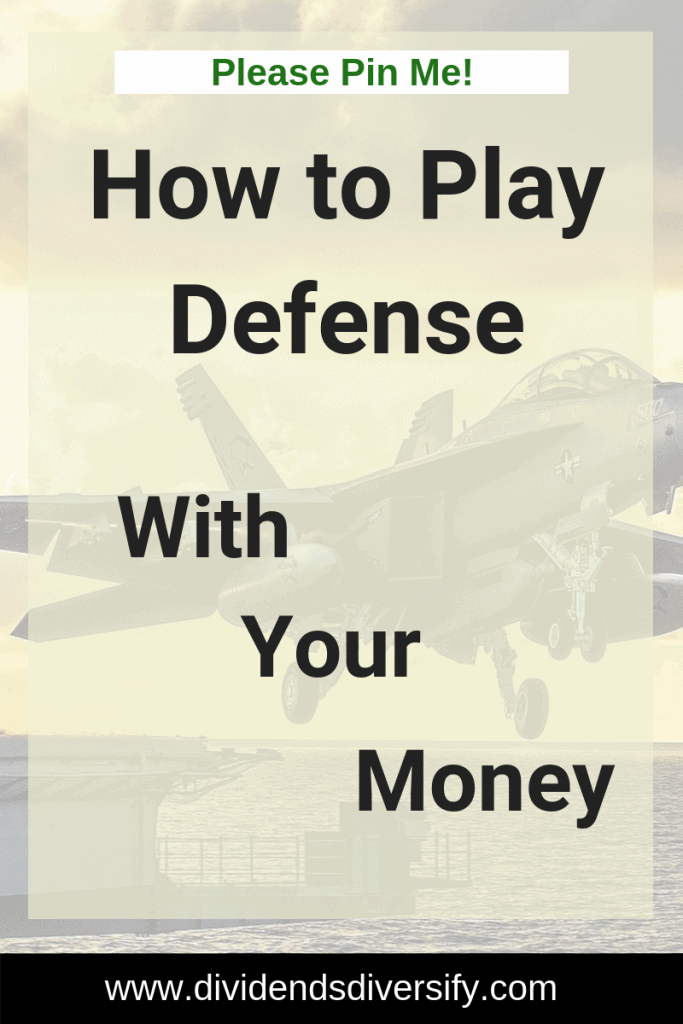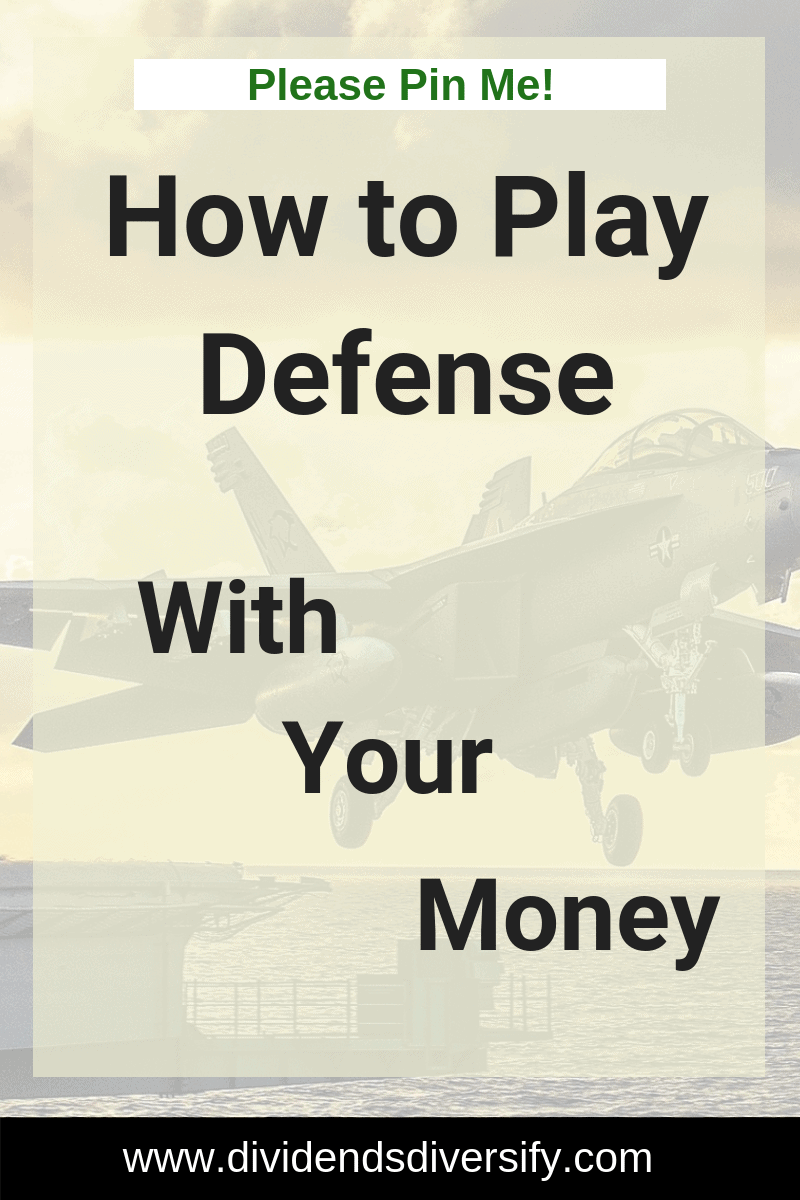 What Does The Future Hold For RTN Stock & The Raytheon Dividend?
I can't predict the future. But I do know this is a big merger.
Assuming the merger goes off as planned, it will create a much bigger company with plenty of integration challenges. And, plenty of opportunities.
Raytheon stock holds a mid-sized position in my personal dividend growth stock portfolio. So what am I trying to accomplish here?
My main objectives for this analysis are to see if Raytheon stock and the Raytheon dividend are:
On solid footing heading into the merger

And, look for red flags that would lead me to sell out in advance of the merger
On the surface, I think the merger is a positive. I often wanted to buy stock in United Technologies, but never did. This gives me a chance to become a part-owner without committing new capital.
So let's check Raytheon's current dividend metrics and business fundamentals. Where appropriate, I will sprinkle in what management is saying about the new company.
I will balance looking at the present company versus what I know about the future of Raytheon. As always, I will be looking through the lens of a dividend growth stock investor.
Related: Cummins Dividend Stock Analysis
Raytheon Dividend Yield
Raytheon pays an annual forward dividend of $3.77 cents per share.
As a result, this gives us a 1.9% Raytheon dividend yield at the recent Raytheon stock price.
Raytheon Dividend Growth Rate
| | | | |
| --- | --- | --- | --- |
| 1 Year | 3 Years | 5 Years | 7 Years |
| 8.7% | 8.2% | 9.3% | 9.7% |
Historical dividend growth has been strong. In addition, the Raytheon dividend has been increased for 15 consecutive years.
Raytheon Revenue Trend
Revenue has been on a nice uptrend in recent years.
In contrast to revenue declines in 2013 and 2014. At that time, revenue growth was pressured from US government spending reductions. These reductions were a result of the Federal government's budget sequestration.
It is important to note that about two-thirds of Raytheon's sales are made to the US government.
Raytheon Technologies Revenue
When formed, the new entity, Raytheon Technologies will have nearly $75 billion in annual revenues. This will almost triple the size of Raytheon's revenue base.
The revenue is projected to break out between the major businesses as follows: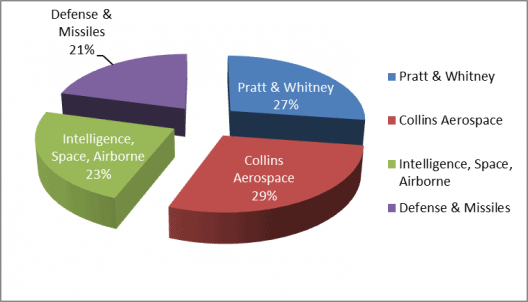 Source: Raytheon Technologies Pro Forma
Raytheon Dividend, Earnings, & Payout Ratio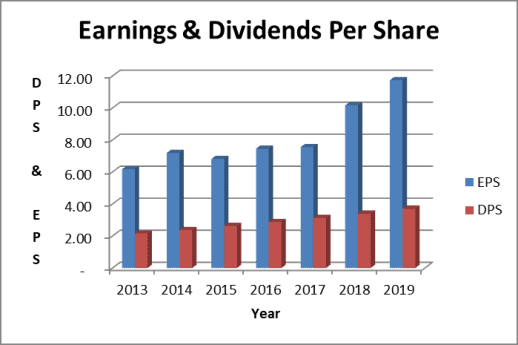 Earnings have been growing at a healthy rate.
Also, the dividend payout ratio is at a modest level. It has ranged between 30% and 40% in recent years. And it looks like, for 2019, the dividend as a percent of earnings will be at the low end of that range.
A lower dividend payout ratio is generally better for the investor. It shows the company has ample room to raise the dividend in the coming years. Or, withstand an earnings drop without having to reduce the dividend.
Raytheon Free Cash Flow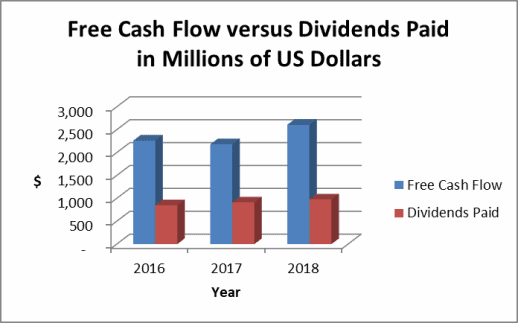 As shown in the chart above, Raytheon generates ample free cash flow. And, the dividend consumes less than 40% of that cash. Raytheon dividend safety appears to be very solid to me.
Returning Capital To Shareholders
Most of the remaining free cash flow is allocated to share repurchases. Over the last 3 years, Raytheon has returned $5.8 billion to shareholders in the form of dividends and share buybacks.
Management has stated that the newly combined company will return $18-$20 billion to shareholders in the first 3 years after the merger.
This capital allocation policy sounds about right to me. The company will be tripling in size and tripling its return of capital to shareholders.
Source: Raytheon/United Technologies Merger Announcement
The New Raytheon Technologies Dividend Rate
One of the announcements I will be on the lookout for is the new dividend rate for the combined companies.
Right now, 1 share of Raytheon pays a $3.77 annual dividend. When the merger closes, each Raytheon shareholder is to receive 2.3348 shares of stock in the new company for every share they own in the current company.
So, the new company will have to set a new dividend rate. The new annual dividend rate has to be at least $1.61 per share. It is just simple math. Otherwise, Raytheon shareholders will receive less cash in the form of dividends from the new entity than they were receiving from the old entity.
I'm not expecting this to happen. But I will be watching it. Anything less than $1.61 per share annual dividend will effectively be a dividend reduction.
To repeat, I do not expect this to happen. But they would not be the first company to pull off this trick. I call it a stealth dividend reduction.
And I would lose trust in the new company very quickly. It would be a reason for me to seriously consider selling my shares.
Related: Emerson Dividend Stock Analysis
Raytheon Balance Sheet & Credit Rating
Raytheon has a very strong balance sheet. Debt to equity checks in at a very conservative .44 to 1.
Moody's provides a credit rating of A3. And S&P rates Raytheon at A+. These are both solid "investment grade-low credit risk" evaluations as shown in the chart below.
Source: FINRA Bond Center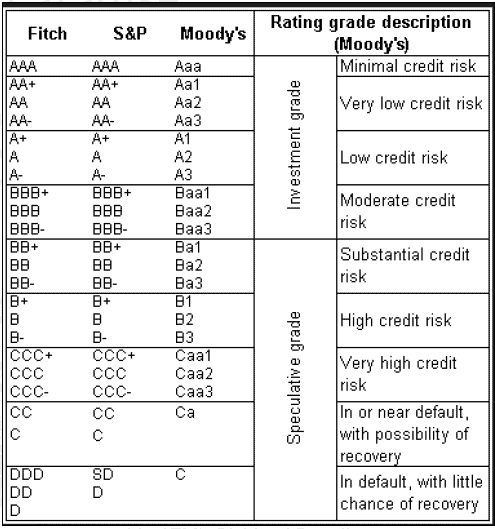 The company is targeting an "A" credit rating at the time the merger transaction closes. This represents a slight deterioration, but nothing that concerns me.
The reduced credit rating is likely due to the combined company's increased debt load. Debt is expected to be $26 billion at the time of closing, up from the $5 billion of debt Raytheon currently holds.
Related: Norfolk Southern Dividend Stock Analysis
Raytheon Stock Valuation
Raytheon's stock price had been on a rapid rise until early 2018. RTN stock then fell 30% from its all-time high. And, it has remained in a narrow trading range for most of 2019.
Raytheon Stock Price to Earnings Ratio
The sizable jump in 2018 and projected 2019 earnings combined with the pullback in the stock price has the forward price to earnings ratio settling in at about 17 times earnings.
Raytheon's price to earnings ratio is at a slight discount to the overall market as represented by the S&P 500. A lower price to earnings ratio typically represents a better value for the investor.
Raytheon Dividend Discount Model
I ran a single-stage dividend discount model on Raytheon stock to assess it's fair value.
Here are the assumptions I used:
Current annual dividend payment – $3.77 per share

Projected annual dividend growth – 8%

My desired annual return on investment – 10%
Based on these assumptions, the single-stage dividend discount model places a fair value on Raytheon stock at $204 per share.
Raytheon Stock Valuation Conclusions
Both the price to earnings ratio and the dividend discount model suggest Raytheon stock is slightly undervalued.
With so much uncertainty about the merger, I feel like the market is in "wait and see" mode regarding Raytheon stock. This attitude is depressing the stock price in my opinion.
Related: UPS Dividend Stock Analysis
Raytheon Dividend Stock Analysis Conclusions & Wrap Up
I built my position in Raytheon during 2011-2012. During that time, the defense industry struggled with the uncertainty surrounding U.S. government spending.
Mainly because of the large stock price appreciation since my purchases, Raytheon holds a mid-size position in my dividend stock portfolio.
Because of the tax implications, I'm not interested in selling at this time. And, given the solid business fundamentals, I see no reason to do so.
Raytheon's stock appears slightly undervalued. But I'm not interested in adding to my shares because of the uncertainty surrounding the merger. So, like the market, I am in a "wait and see" mode of operation.
Raytheon's current dividend metrics and business fundamentals are excellent, in my opinion, heading into the merger. And I see no specific red flags related to the merger that would lead me to sell my shares now.
Absent the merger and all other things being like today, I would be interested in adding to my shares. But's since that is not the case, I will sit back, hold, collect my dividends and wait for further developments.
Related: Vanguard High Dividend Yield (VYM) ETF review
Disclosure & Disclaimer
This article, or any of the articles referenced here, is not intended to be investment advice specific to your situation. I am not a licensed investment adviser, and I am not providing you with individual investment advice. The only purpose of this site is information & entertainment. We are not liable for any losses suffered by any party because of information published on this blog. See this site's Disclaimer and Privacy tab for more information.
I own Raytheon stock and collect the Raytheon dividend.