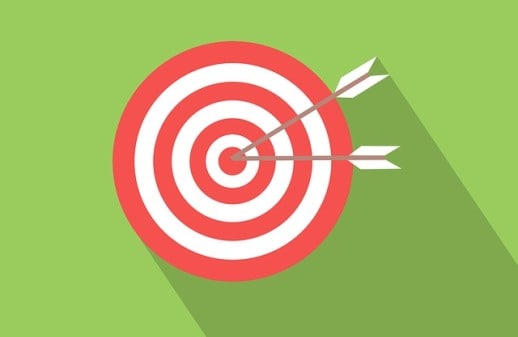 Let's jump right into a Target dividend stock analysis.
I like to have exposure to the retail sector in my dividend stock portfolio. And Target's dividend profile has been attractive in the past.
But with Amazon to compete with, is investing in retailers still a good idea? I like to think so. But unfortunately, Amazon doesn't pay a dividend.
So, let's check in on the Target dividend, dividend growth, and dividend safety.
And see what the dividend metrics look like. Are they supported by solid business fundamentals? We will be sure to find out.
Related: How to pick dividend stocks
Target Company Background
Target's goal is to offer its customers high-quality, on-trend merchandise at discounted prices. Also, they do this through clean, spacious, guest-friendly stores and through digital channels.
Target's customer profile looks like this:
The median age of customers is 40 years

Median household income of approximately $64,000

Approximately 43% have children at home

About 57% have completed college
Source: Target Corporate Overview
Geographically, Target:
Is headquartered in Minneapolis, Minnesota

Has stores in all 50 United States and District of Columbia

Those stores are located within 10 miles of 75% of the US population
Not just another big box store, Target also owns:
Shipt delivery service

Grand Junction, a delivery logistics technology company

Dermstore skincare and beauty e-commerce site
Source: Target – About
Target Growth Strategy
Walmart and Amazon have a distinct scale and cost advantage in the retail segment. So, an effective business strategy is a must for Target to compete.
Target is striving to be "America's Easiest Place To Shop".
Management's goal is to use Target brick and mortar stores as a competitive advantage. Specifically, using them as hubs to support an omnichannel retail strategy.
Those channels being:
Grocery delivery

Drive-up order pick

In-store order pick

In-store shopping

Ship from store
To implement the strategy, significant investment is being made on store renovations to improve the customer in-store experience. And also, supply chain logistics technology to maximize efficiency and reduce costs.
Target's strategy and investments are expected to deliver:
Low single-digit annual percentage revenue growth

High single-digit annual earnings growth
Target Dividend Yield
Target pays an annual forward dividend of $2.64 cents per share. This is a 2.4% Target dividend yield at the recent Target stock price.
Historical Target Dividend Growth
| | | | |
| --- | --- | --- | --- |
| 1 Year | 3 Years | 5 Years | 7 Years |
| 3.2% | 3.9% | 6.5% | 10.2% |
Earlier this year, the Target dividend was increased a modest 3.1%. It appears the cash required to invest in stores and technology has had a negative impact on dividend growth.
Target Consecutive Annual Dividend Increases
On a more positive note, the 2019 dividend increase is the 48th consecutive year in which the Target dividend has been raised. Certainly, that is a nice long history of dividend growth!
Target is closing in on becoming a Dividend King. Dividend Kings are those rare and special companies that have increased their dividends for at least 50 consecutive years.
Target Revenue Trend
Virtually all of the company's revenues are generated in the United States. But you may have noted from the chart above that Target's recent revenue history has been rather inconsistent.
In addition to dealing with a highly competitive retail environment, threats have also come from internal issues including:
Bad press from a significant breach of customer data in 2013

Botched international expansion into Canada that was discontinued in 2014

Loss of strategic and operational focus resulting in a CEO change in 2014
In contrast, the more recent revenue story looks a little brighter. At a minimum, it aligns with management's low single-digit percentage growth rate expectations.
Target Dividend, Earnings & Payout Ratio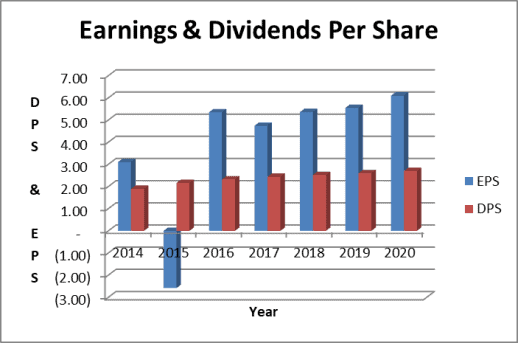 Since incurring a large loss to write off the Canadian operation in 2015, earnings were range-bound at about $5.00 per share from 2016 through 2019.
But finally, Target's strategy appears to be paying off. Management's earnings guidance for the fiscal year ending in January 2020 looks like a nice break to the upside.
We are seeing in the earnings trend what management has been telling investors:
2017 – Investment year

2018

– Transition year

2019 – Positioned for profitable growth
And their positioning for-profits appears to be sustained in 2020.
Most importantly, higher profits combined with modest dividend growth has reduced the dividend payout ratio to 45%
A lower dividend payout ratio is generally better. It shows the company has ample room to raise the dividend in the coming years. Or, withstand an earnings drop without having to reduce the dividend.
Target Free Cash Flow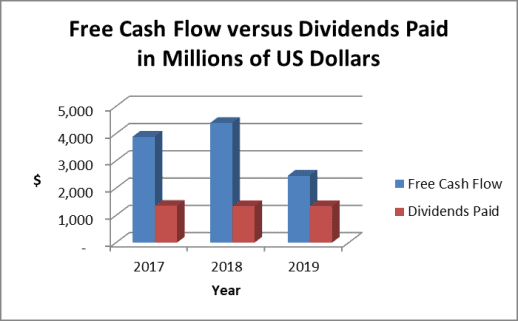 Dividends are paid from cash. So, I like to cross-check a company's dividend payments against its free cash flow.
I see no red flags here. Dividends payments have consumed less than 40% of free cash flow over the past 3 years.
The remaining cash has been allocated to retiring debt and repurchasing shares.
Debt reduction and share buybacks are both good practices. But, this is a slow-growth company. I would prefer that management prioritize faster dividend growth over share repurchases.
Target Dividend Policy
Target does not have a specific and stated dividend policy. The closest they come is communicating general priorities for cash. According to their CFO, during the 2019 financial community meeting, priorities for cash are:
Invest in the business

Support the dividend

Return excess cash
Source: Target 2019 financial community meeting
Target Credit Rating
Knowing a company's credit rating is important. A corporation's credit rating is similar to how your personal credit score works.
Higher credit ratings mean lower risk to those who lend the company money. Put another way, higher ratings mean lenders are more likely to get their loans paid back.
So, it never hurts to check out a company's creditworthiness.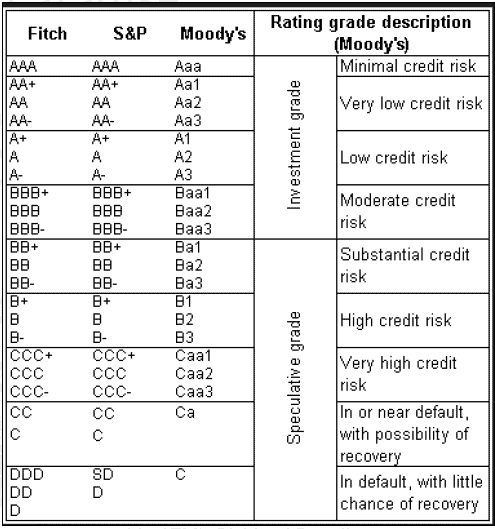 Target has an investment grade, low credit risk rating. The ratings are provided by two of the big rating agencies:
Moody's – A2 rating

S&P – A rating
These ratings are solid. And, a good sign for Target and its ongoing financial stability.
Target Financial Position
Target's debt to equity ratio sits at 1.15 to 1. This is a moderate level of debt and shows a balanced capital structure.
Target Dividend Safety
I make a subjective judgment on dividend safety taking into account a number of the factors we have reviewed thus far:
Dividend payout ratio

Historical dividend track record

Free cash flow generation

Financial position

Business health

Growth strategy
In my estimation, I consider Target's dividend to be very safe from a reduction in the foreseeable future.
Target Dividend Growth Projection
I mentioned earlier that it appeared Target's significant level of business investments were negatively impacting dividend growth. However, according to recent comments from their CFO, she expects the pace of store renovations to be reduced after next year.
Reduced capital expenditures for stores, in theory, will free up cash for other purposes. Maybe faster dividend growth? I don't know for sure. But this is what I see happening:
High single-digit earnings growth

Maintenance of a dividend payout ratio at less than 50% of earnings
This brings me to a 4-5% projected annual dividend growth rate for Target. That is what I will use for my income planning purposes.
Target Stock Valuation
I will judge the Target stock valuation using several different methods:
Dividend discount model

Price to earnings ratio

Morningstar fair value estimate
Target Dividend Discount Model
The single-stage dividend discount model considers several factors I have discussed thus far:
Current annual dividend payments – $2.64 per share

Projected dividend growth – 5%

My desired annual return on investment – 9%
Under these assumptions, the dividend discount model calculates the fair value of Target stock at $69 per share.
Target Stock Price To Earnings Ratio
The Target stock price to earnings ratio sits at about 18 times their fiscal 2020 earnings.
For comparison, the S&P 500 also trades at 18 times forward earnings.
Morningstar Fair Value Estimate
Finally, the investment analysis firm Morningstar believes Target stock is fairly valued at $82 per share.
Source: Morningstar
Target Stock Valuation Conclusions
The valuation metrics show Target stock to be fully valued at a minimum. And worst case, significantly overvalued.
I tend to side with the dividend discount model and Morningstar. I believe Target stock is significantly overvalued at recent price levels.
Target Dividend Stock Analysis Conclusions
From a business standpoint, Target must continue to meet the challenges of stiff competition for consumer dollars.
Have they rediscovered their niche consumers in the US? Can they compete with the likes of Amazon and Walmart? Will revenues and profits continue to rise in the event of an economic downturn? Only time will answer these questions.
From my dividend investors' perspective, the stock doesn't have much current appeal to me. Why?
Low dividend yield (less than 2.5%)

Subpar dividend growth prospects (4-5%)

Overvalued stock price
Target stock holds a mid-size position in my dividend growth stock portfolio. I intend to hold my shares but have no interest in adding to my position at this time.
Related Reading About Dividend Stocks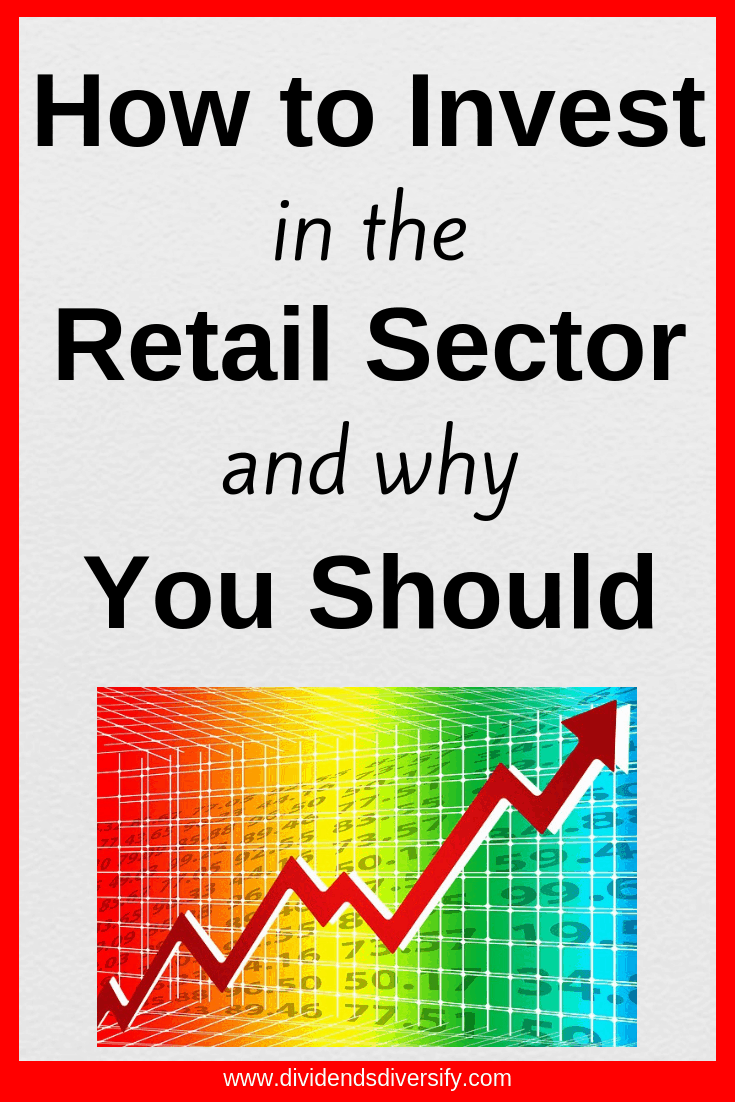 Disclosure & Disclaimer
This article, or any of the articles referenced here, is not intended to be investment advice specific to your situation. I am not a licensed investment adviser, and I am not providing you with individual investment advice. The only purpose of this site is information & entertainment. We are not liable for any losses suffered by any party because of information published on this blog. See this site's Disclaimer and Privacy tab for more information.
I own Target stock and collect the Target dividend.